A Journey Through Modern Art: Museum of Contemporary Art in Sydney
As Henry David Thorean once said "This world is but a canvas to our imagination." I believe that art is definitely a key to the artist's and the onlooker's imagination. To experience this imagination and the mind power or game, I visited the Museum of Contemporary Art (MCA) in Sydney.
About Museum of Contemporary Art (MCA)
Opened in the year 1991, the Museum of Contemporary Art (MCA) is the collection of contemporary art from Australian and around the World. It is a great place to see the art from various artists showcasing the different art ranging from paintings to photography, sculptures to images. Some of the art concepts are absolutely amazing and mind-boggling. Australian contemporary artists mostly create concepts representing their relationship with their land and nature including the images of human figures.
The MCA collection hosts around 4000 works by Australian artists that have been acquired from the year 1989.
The museum comprises of two wings, the main section in the former Maritime Services Board (MSB) building and the new one in the Mordant wing. The former MSB is made up of six floors of brick and concrete with an art deco exterior. The Mordant wing is more contemporary design inspired by cubism and includes a range of facilities of library and a cafe. It also extends to include spaces to exhibit video art.
The museum holds a number of programs throughout the year including an Indigenous learning program and an Art + Dementia research program. Also, in collaboration with the Art Gallery of New South Wales, the Museum of Contemporary Art takes part in the Sydney Festival and Biennale of Sydney events.
How to get there?
The nearest train station to MCA is the Circular Quay train station. Circular Quay is part of the Sydney Central Business District (CBD) line. It has a connectivity from all modes of public transport in Sydney and is probably the best and cheapest way to travel to Circular Quay. There are frequent trains that run between the train stations of the CBD (CBD includes Central, Wynyard, Town Hall, St James, Museum and Circular Quay train stations). There are light rails that run between the various stops within the CBD. And Circular Quay is also reachable by buses and ferries and is a hub for ferry transport.
Up-to-date information on the timings and the routes can be found on the Transport for New South Wales (NSW) website.
One can use Opal transportation card or debit/credit cards to pay for the fare on Sydney public transport.
There are other things to do in Sydney. For a travel guide to Sydney, refer my ultimate guide.
Entrance and Timings
The entry into this museum is FREE.
The museum has a cafe at the top floor where one can enjoy coffee with views of the Sydney Opera House.
The museum is open every day except on Mondays between 10 AM and 5 PM.
There are free guided tours. Refer the official website for more details.
Art works at Museum of Contemporary Art (MCA)
As I mentioned earlier, there are up to 4000 art pieces at the museum. However, there were a few of them that I captured during my visit and would like to mention a few of them.
Automated Colour Field, 2011
This is an art piece by artist Rebecca Baumann. The artwork is a kinetic sculpture of 100 flip wall mounted clocks. The numbered panels have been replaced by paper cards. The battery operated clocks keep their own time. The paper cards are turned on the minute and the hour to create a kaleidoscopic field of colour.
Read more on MCA website.
I travel your dream
The paintings are by Constanze Zikos. They feature classic European imagery such as urns, temples, frets and spirals.
Read more on MCA website.
My father's studio
This artwork is created by the poet, artist and an activist Kevin Gilbert. The print depicts Wiradjuri subjects, stories and heroes. It was made in the year 1965 when the artist was in prison. Wiradjuri are a group of aboriginal people scattered throughout central New South Wales (NSW). They were united by a common language, strong ties of kinship.
Read more on MCA website.
Please note: This post may contain affiliate links which means I may earn a commission if you make a purchase by clicking a link on this post. This will be at no additional cost to you. Affiliate links help me keep this website up and running. Thank you for your support.
The craftiest of eyes
One of my favourite art pieces was the craftiest of eyes. This art work is created by Sally Smart. The art is a collage of paper patterns representing three female bodies having a conversation.
Read more on MCA website.
Crutch dance
Created in the year 2011, this art work was created by Justene Williams. The artwork relates to a group of moving image works.
Read more on MCA website.
O
O is a painting by Linda Marrinon, created in 1989. It is a painting of a grey male in black bathers surrounded by various shapes. The shapes suggest the distortion of vision created by alcohol with the 'O' possible translating to 'Oh'.
Read more on MCA website.
Untitled (PSM)
Unfortunately, I could not find the information on this art piece.
The Moir sisters
Another art piece by Linda Marrinon, the Moir sisters is a trio of female figures based on the Australian pop group. The Moir sisters were a young Melbourne based singing group of three sisters.
Read more on MCA website.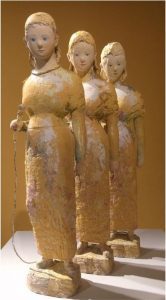 Closing notes
It is definitely worth visiting the Museum of Contemporary Art if you are an art lover. The art pieces are exclusive and are very beautiful. Even if you are not an art lover, visit the cafe at the roof top to get spend a nice evening overlooking at the Sydney Opera House and the harbour.
Have you visited the museum of contemporary art? If yes, I would love to hear from you regarding your experience. Please leave a comment below or write to me on Solopassport@gmail.com.