One Day Trip to Avalabetta from Bangalore
Bangalore is blessed with many hills around and there are many places that can be visited for just one day. And one such hill is the Avalabetta. It is one of the hills that I had heard and wanted to visit for a very long time, but never had an opportunity to do so. And hence a few weeks ago, my friend and I decided to head to Avalabetta and do this short trek.
PIN for later reference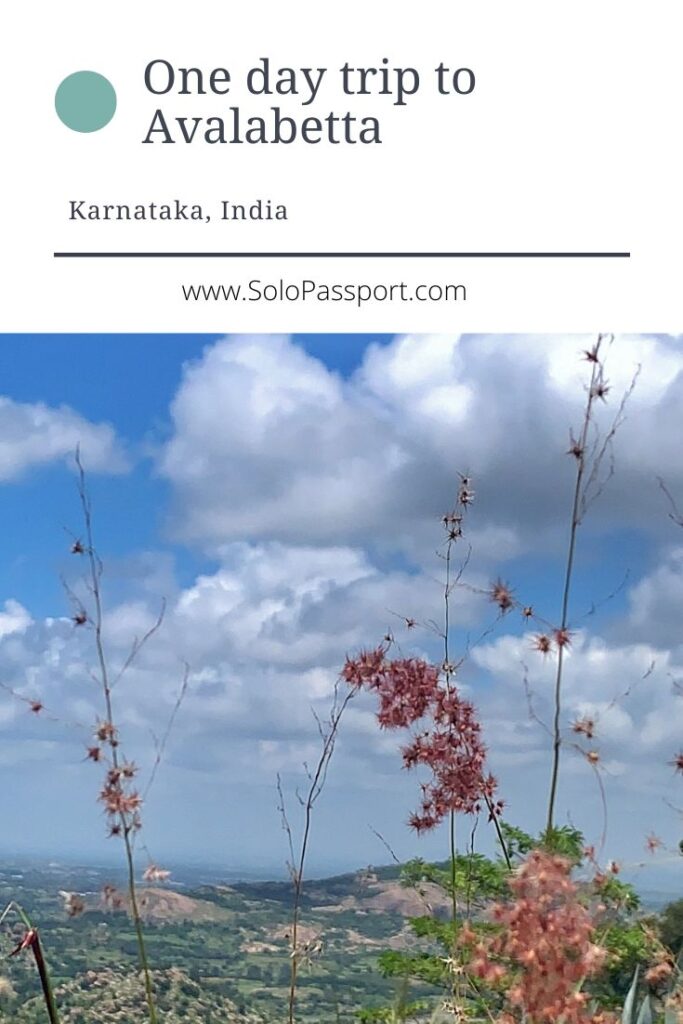 This article may contain affiliate links, meaning if you decide to make a purchase via my links, I may earn a commission at no additional cost to you. For full information, please see our affiliate disclaimer here.
About Avalabetta
Also known as Dhenugiri, Avalabetta is one of the offbeat places around Bangalore. Avalabetta is located in the Chikkaballapura district and is an alternate option to Nandi Hill.
You can do many one day treks around Bangalore that are of different grades, read 14 one day treks from Bangalore.
The best time to visit Avalabetta is during the winter season (between October and February) and it is also advisable to visit the hill in the mornings as it does get hot in the afternoon.
Mythological story of Avalabetta
Avalabetta is associated to a mythological story of Samudra Manthana (churning of the ocean). Samdura Manthana is one of the epic stories in Hinduism which is mentioned in Vishmu Purana and it explains the story of the origin of elixir (amrita).
During this churning of ocean to find the elixir of eternal life, the daemons and gods found many things and creatures, and one of the creatures that came out of the churning was a cow. This cow is believed to have landed on Avalabetta. And as time passed, many cows started flocking to the hill and hence the name Dhenugiri. Locals say that there are pawprints of the cows on the hill that makes them believe that the legend is true.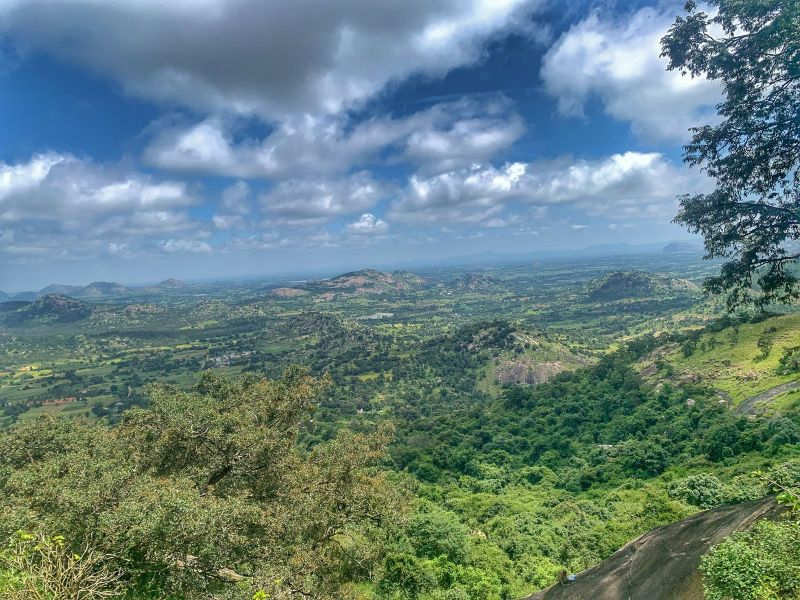 Avalabetta trek statistics
Avalabetta is a very easy trek. In fact it is not a trek or a hike, it is just a very short walk that can be enjoyed by everyone including kids. The trail is picturesque with amazing green cover.
Total distance: 2 kilometres one way.
Time taken: 30 minutes one way.
Grade: Very easy.
Avalabetta trail can be divided into three parts:

First is the road from parking till the starting point of the steps. There are two ways to reach the starting point of the steps: one is by road and the other by uneven steps. Road is the easy one and if you wish a short cut and a bit challenging then those uneven steps are the ones to opt for.
Second are the steps to Lakshmi Narasimha temple. There are around 50 steps to the temple.
Third are another set of steps to Lakshmi temple or the peak. There are only about 10 to 20 steps.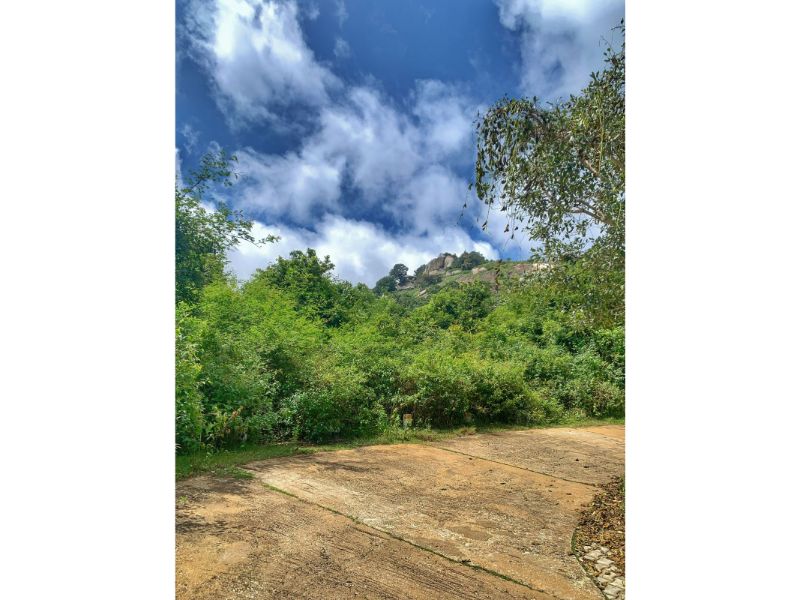 Things to look for on Avalabetta
Avalabetta entrance gate
The starting and ending points for the trek is at the entrance gate. This is where the road to the stairs start and it is a straightforward road that needs to be walked up. Even though we walked this road for some time and took the off-the-trail stairs after that. Also there were some people who rode and drove this road to reach the starting point of the actual stairs that lead to the temples.
Lakshmi Narasimha temple
Dedicated to Lakshmi Narasimha Swamy, the temple is in Dravidian style. The temple also has a sanctum in a pyramid like structure called Vimana. Because of its mythological history and significance, locals or the visitors offer cow milk to the deity.
As it is a religious place, ensure to respect the religious beliefs of the locals and the priests.
Lakshmi temple
Dedicated to Goddess Lakshmi, wife of Lakshmi Narasimha Swamy, this temple is at the peak. This temple is a few more steps from the Lakshmi Narasimha Swamy temple. The views from the peak are breath-taking.
Pond and Beak rock
Just behind on the right hand side of the Lakshmi Narasimha Swamy temple is a path that leads to a small pond and Beak rock. The pond is a great spot to take pictures with reflections and the Beak rock is the social media famous photographic cliff.
Unfortunately, one cannot go near the Beak rock as it is fenced and there are local police monitoring the place. DO NOT jump the fence.
Important Information
Wear comfortable clothing and shoes for the trail.
Be prepared for lots of monkeys at the temples and the trail.
There are local vendors who sell tender coconut and cucumber at the base of the hill, near the parking.
Carry sufficient water and food to the peak as there are no stalls on the trail or peak.
The hill closes at 6 PM so ensure to be back before that time.
DO NOT throw garbage and ensure to take your rubbish with you and throw them only in dustbins.
How to get to Avalabetta?
Driving
Avalabetta is around 90 kilometres from Bangalore and is towards Chikkaballapura. The roads are in good condition till the parking at the base.
There are plenty of free parking spaces at the base.
Public transport
Unfortunately, there is no public transportation to the base of the hill. But one can take a bus to Chikkaballapura and then take an auto rickshaw till the base. The issue with this is the return journey as you may not get an auto to drop you back to the bus stop.
Safety for solo female trekkers
I found this trek very safe for solo female travelers. The road and the path have other trekkers and is absolutely fine doing it on your own. However, stick to the path and do not deviate from the trail. Also, make sure you are at the base before it gets dark.
Note: Even though this trail is safe for solo travelers, always be alert and on your guard. And trust your instinct.
Frequently asked questions about Avalabetta
Q: How far is Avalabetta from Bangalore?
The base of Avalabetta is around 90 kilometres from Bangalore and the journey by road takes around 2 hours.
Q: Is there any public transportation to Avalabetta?
Unfortunately, the nearest bus stop is at Chikkaballapura and one needs to make an arrangement on their own to the base of the hill.
Q: What is the height of Avalabetta?
Avalabetta is at an altitude of 800 metres (1160 feet).
Q: How long does it take to climb Avalabetta?
The trek or rather a short hike takes only about 30 minutes to get to the top. They are well laid roads and steps.
Q: How many steps are there in Avalabetta?
Avalabetta trek can be divided into three parts:
Parking to starting point of steps – This is just around 1.5 kilometres and it is a proper road where one can just walk. The road has gradual ascend.
Starting point of steps to Lakshmi Narasimha Swamy temple – There are around 50 steps to get to the temple.
Lakshmi Narasimha Swamy temple to Lakshmi temple/ peak – There are only 10 to 20 steps.
Q: Is Avalabetta suitable for families and kids?
Absolutely yes! The trek is family and kid friendly.
Q: What is the best time to visit Avalabetta?
The best time to visit Avalabetta is during the winter season (October to February) and in the mornings.
Q: What are the other places I can visit while visiting Avalabetta?
There are many places to visit around Chikkaballapura. You can also visit Muddenahalli which was the birthplace of Sri M. Visvesvarayya, Nandi Hill, Skandagiri or Gudibande Fort.
Do you have more questions about the trail? Let me know in the comments below or send me an email at Solopassport@gmail.com. I will get back to you.
Closing Notes
Avalabetta trek is surely worth it. The views are stunning from the peak and you will enjoy the greenery throughout the trail. I highly recommend Avalabetta trek as one of the beginner's treks.
Which other one day trips around Bangalore do you recommend?
How can you support me?
You know how much I love coffee, so you can buy me coffee – Buy me Coffee!

Or you can purchase from one of the below travel resources without any extra charge to you:
Travel Resources
Book your flight on Skyscanner.com or Trip.com
Reserve your accommodation on Stay22
Buy comprehensive travel insurance on SafetyWing and WorldNomads
Book your tours and travels or purchase tickets on Viator or GetYourGuide
For a universal SIM card, use DrimSim
If you liked this article and if it was helpful in your planning or traveling, do share, tweet, or pin this post.

Follow me on Instagram | Facebook | YouTube | Twitter | LinkedIn
Do you have a question? Or want any suggestions, and tips for travels, hikes and scuba dives? Use the Subscription box below to sign-up and get updates by email.
PIN for later reference