Travel with your fur baby in and around Bangalore
One cannot have a better travel buddy than their fur babies. Pets, especially dogs are wonderful to travel with and they definitely are a person's best friend. Be it for emotional support or as a great travel companion, dogs can be anything and perfectly fit the bill.
Willie, my cute and fur baby, a golden retriever with loads of energy, has always been one of the best travel buddies I have ever had. Even though I wish I had travelled more with him when I had the time, I still managed to go to places in and around Bangalore.
In this post, I would like to highlight some of the places in and around Bangalore where you can travel with your pet and have the best of times with it.
This post is also an ode to my darling baby Willie as today (9 August) happens to be his birthday.
PIN for later reference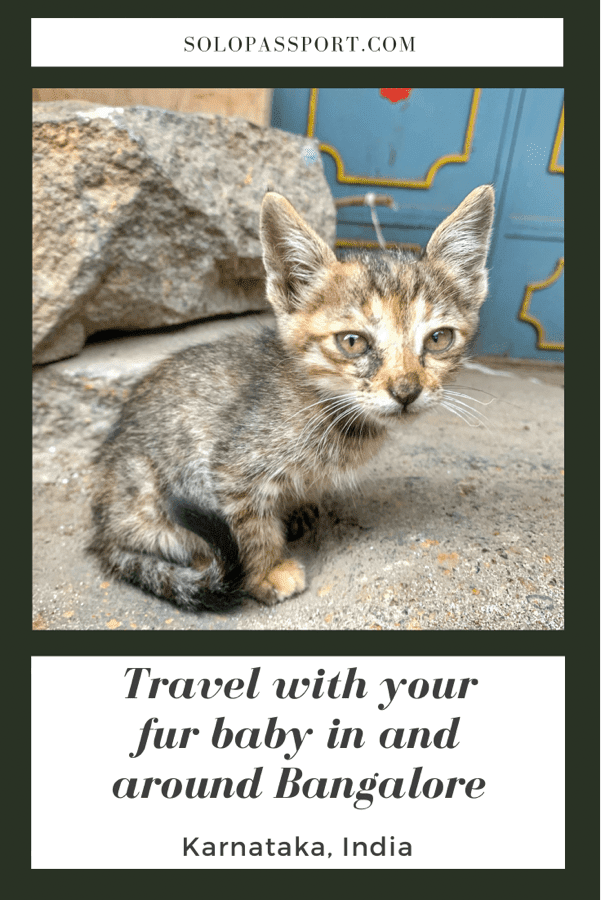 This article may contain affiliate links. For full information, please see our affiliate disclaimer here.
Travel with your fur baby in and around Bangalore
Bangalore has plenty of places around that can be visited in a day, refer One day trips from Bangalore section for more details.
Note that Traveling with pets can be very difficult and stressful for the pets. But by taking easy and important steps, you can make the pets more comfortable.
Remember!! Be a responsible pet parent. Make sure to take care of your pet and others while traveling with your pet. Ensure everyone's safety.
Lakes in Bangalore
Bangalore is known for its lakes. In fact, the city is called City of Lakes. And some of these lakes make an awesome outing for your fur babies. This lake (unfortunately, it has no name), near Hosakote, is one of the few lakes which are not commercialised and still has the village vibes.
Remember!! Make sure to keep your pet on a leash. Only remove the leash when you think it is safe for your pet and does not have a rule that states that the pet needs to be on a leash.
This lake was Willie's first outing and he surely had a great time at the lake. He was intrigued by the buffaloes that were bathing in the lake. I think this was probably one of his best trips. There were also crooked walls (more like ruins) around the lake, which served as an exercise and fun point for Willie.
Bagaluru Lake
Bagaluru lake, almost close to the Bangalore airport, in Bangalore is another beautiful lake where you could visit with your pet. The distance between Bagaluru lake and Bangalore city is about 25 kilometres and takes around 1 hour to drive.
Remember!! Train your pet well so it does not harm or destroy any of the nature. Also, make sure to clean up if your pet dirties or messes up the surroundings.
Willie visited the Bagaluru lake when the lake was not commercialised and there was very little development work around the area. There was plenty of space for him to run around and play with sticks.
Bagaluru lake was on the verge of going extinct but has now been revived because of the treated water from the city.
Tippagondanahalli (TG Halli) Reservoir
Absolutely amazing place to travel with your pet is the Kanva or Tippagondanahalli Reservoir. It is a man made reservoir, located on the confluence of Arkavathy and Kumudavathi Rivers. A late afternoon or an evening picnic is a great way to spend at the reservoir.
Remember!! Make sure to check with the locals if swimming is allowed. As it is a reservoir, only certain parts of the water (like puddles formed) where water is not used is where swimming is allowed. Also, make sure to check if your pet is comfortable in the water before allowing it to swim alone.
Willie swam in the puddle for the first time. He also played around the area digging and finding sticks and stones. Visiting the Tippagondanahalli reservoir did make an awesome one day trip from Bangalore.
When you are in Tippagondanahalli reservoir, make sure to visit the Big Banyan tree or the Dodda Alada mara on your way back.
Srirangapatna
Srirangapatna is a small town on the way to Mysore from Bangalore. It is a beautiful town that has plenty of farms and spaces. Trip to Srirangapatna makes a great road trip with your fur baby. The distance between Bangalore city and Srirangapatna is around 135 kilometres and takes 3 hours 10 minutes by car.
Remember!! If your pet has motion sickness or is scared to travel by car, be patient. Try habituating your pet with road trips by taking it for small distances and then once it becomes comfortable, then trying out longer distances. On long distances, make sure to take regular breaks in between.
Willie travelled to Srirangapatna by car. He had motion sickness and hence he could not travel for long distances in the car. However, he slowly was getting used to traveling by car and the longest distance he travelled from Bangalore was to Srirangapatna. Even though he was stressed in the beginning of the drive because of traffic around, he became at ease once the car hit the highway. I visited my aunt's house so he can be relaxed rather than staying at a hotel or a resort for the night.
Closing Notes
I agree that in India, we do not have too many places where we can freely take our pets. However, there are a few places where we still have the freedom and travel with our fur baby responsibly. Cubbon Park in Bangalore is another place where one can go with their pets. In fact, there are pet clubs organised by people with pets, who meet at the parks to have some fun and exercise.
Do you have a pet? Is your pet the best travel buddy you have had? Let me know in the comments below.
How can you support me?
You know how much I love coffee, so you can buy me coffee – Buy me Coffee!
Or you can purchase from one of the below travel resources without any extra charge to you.

Travel Resources
Click to book your flight on Skyscanner.com
Click to book your accommodation on Stay22
Click to book a comprehensive travel insurance on Safety Wing
Click to book your tours and travels on Viator or GetYourGuide
If you liked this article and if it was helpful in your planning or traveling, do share, tweet, or pin this post.

Follow me on Instagram | Facebook | YouTube | Twitter | LinkedIn
Do you have a question? Or want any suggestions, and tips for travels, hikes and scuba dives? Use the Subscription box below to sign-up and get updates by email.