Rappelling into the Wild: Abseiling in Australia's Blue Mountains
Abseiling in Blue Mountains
I was standing on top of a cliff and saw people ahead of me (including my friend Vijay) go down one by one. I was last in the queue (of course, I like to panic while others easily get through by going first). My heart was beating faster than normal and I was nervous.
'Can I do it?' said one side of my brain.
'Of course you need to do it! No questions asked' said the other side of my brain.
'It sure looks scary' repeated the first side.
'Well you did the 5 feet, how hard can this be?' said the second side.
PIN for later reference
Please note: This post may contain affiliate links which means I may earn a commission if you make a purchase by clicking a link on this post. This will be at no additional cost to you. Affiliate links help me keep this website up and running. Thank you for your support.
15 metres cliff
While I was debating with my own self (it was a total chaotic mess in my head), I heard the instructor call out for me. He had asked me to step ahead. I walked slowly and cautiously to the edge (not quite, it was almost edge) of the cliff. Oh my God! What am I thinking? It is a 15 meters cliff that I would be getting down from. I can't even see the ground.
But I had to do it. The instructor attached my harness to the rope. I had to face the back towards the edge of the cliff and look at my instructor. The technique was that I had to hold the harness with my left hand and the rope on my right. As and when I stepped back to go to the edge of the cliff I had to release the rope bit by bit with my right hand.
I took a step and came right at the edge of the cliff. I froze. What in case I fall as soon as I go one more step back? What in case I die? I wouldn't be able to see Antarctica! I know I did the 5 meters abseiling, but that was just 5 meters. What in case I won't be able to get a golden retriever? What will happen to all the food that I have not tasted? When I was thinking about all these wonderful panicky things, I again was distracted by my instructor. I came back to my senses and saw him. He gave me a broad smile and said 'Go!'.
What? Go where? I looked around. There was another queue that had formed after me, so these were the guys who had gone first and had come back to do the 15 meters abseiling again. Like for God sake!
I looked at my instructor and asked 'Can I please quit?'. He said 'Nope! You have only one way and that is through the edge of the cliff. Now, Go!' I remembered my favourite Hindu God Lord Ganesha and stepped back. I slowly tried to release the rope using my right hand.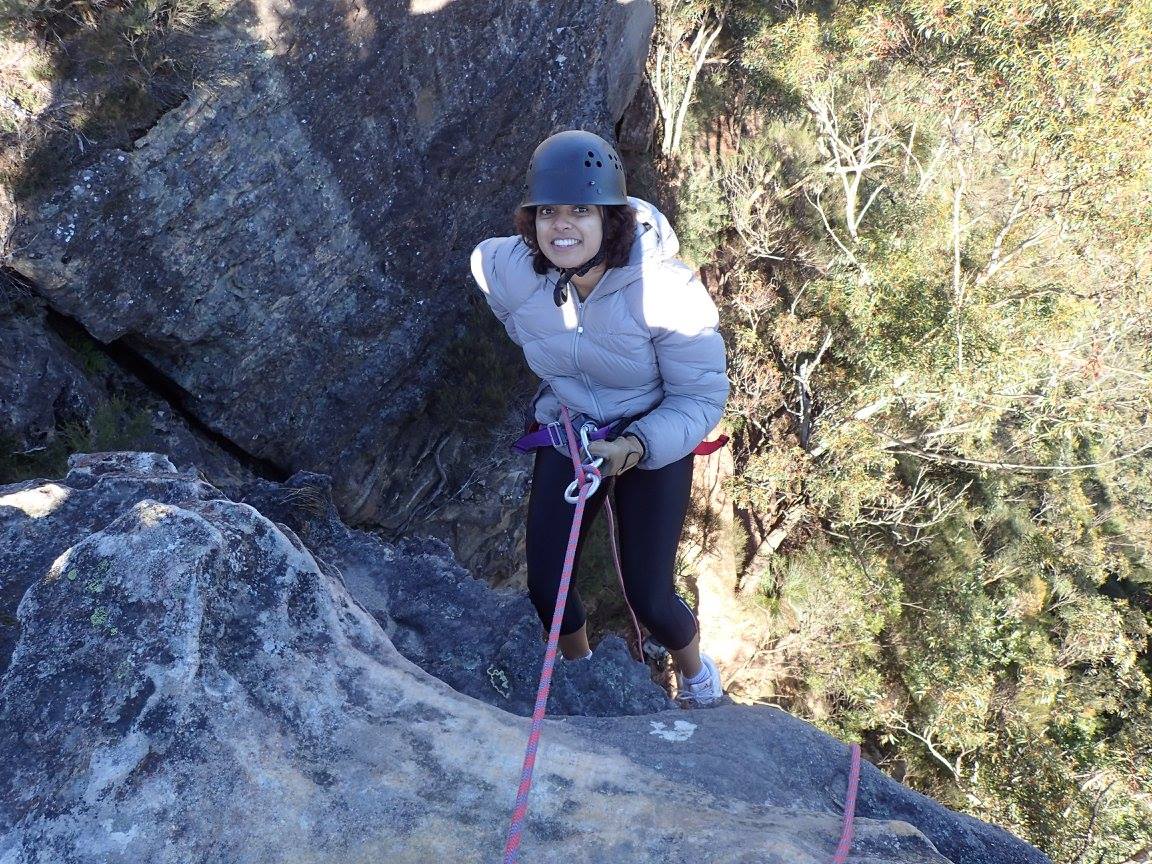 At the first few steps, it was hard. I was not getting the technique right. Because I was focusing too much on the rope, I had forgotten the panic and the cliff and the 15 meters and what not!
I reached at up to 10 meters down the cliff and then I saw Vijay standing on the ground and waiting for me. At that point of time, I thought I was going down the cliff a little too fast, I looked up and asked my first instructor who was still on top of the cliff whether I was going fast. He laughed (and I was embarrassed) and shouted 'Yes, very fast'. I turned pink and probably I was the slowest person who had done the abseiling, even a tortoise would have gone faster than me.
30 metres cliff
I landed on the ground and hi-fied to the second instructor who was waiting for me. And I asked Vijay if he wanted to do the 15 meters again. He said 'Let's do the 30 meters twice'. 'Come on man!' Now there is 30 meters cliff? Are you kidding me? I have to go through the same emotions again at 30 meters? I know it was very safe and I had no reason at all for the worry. But I had to have the same confusion and debates with my two sides of the brain again? This time there would be probably a third or a fourth sides of my brain fighting.
I walked up to the top of the 15 meters cliff and sat there wondering if I could continue to do the 30 meters.
After all the others had finished the 15 meters, we walked some more distance to the 30 meters cliff. The first glance of the cliff was **** scary. There was no way a person without the safety harness would survive a fall from that cliff. I was the last of the queue (as usual) and waited for my chance.
In the 30 meters abseil, there had to be a buddy who was required to wait at the end of the 30 meters cliff to pull the second person into the cave. To give a background, the cliff was taller than 30 meters, but at the end of 30 meters, there was a small cave formation. And this is where we had to stop the abseil and get down to the cave to walk to the top of the cliff again.
I had heard all these. I decided to switch off my brain (completely – no one side or five sides of the brain was required anymore). Slowly one by one, everyone ahead of me (including Vijay) went down the cliff. It was my turn now. I did not think anything. I had decided not to look down the cliff, I did not want to torture myself anymore. My instructor tied two ropes to my harness. I then knew that these guys (I mean my instructors) knew what they were doing and it was totally safe to do the abseiling without any worry at all. I confidently took one step at a time and stood at the edge of the cliff. My instructor asked to flash a smile and I did.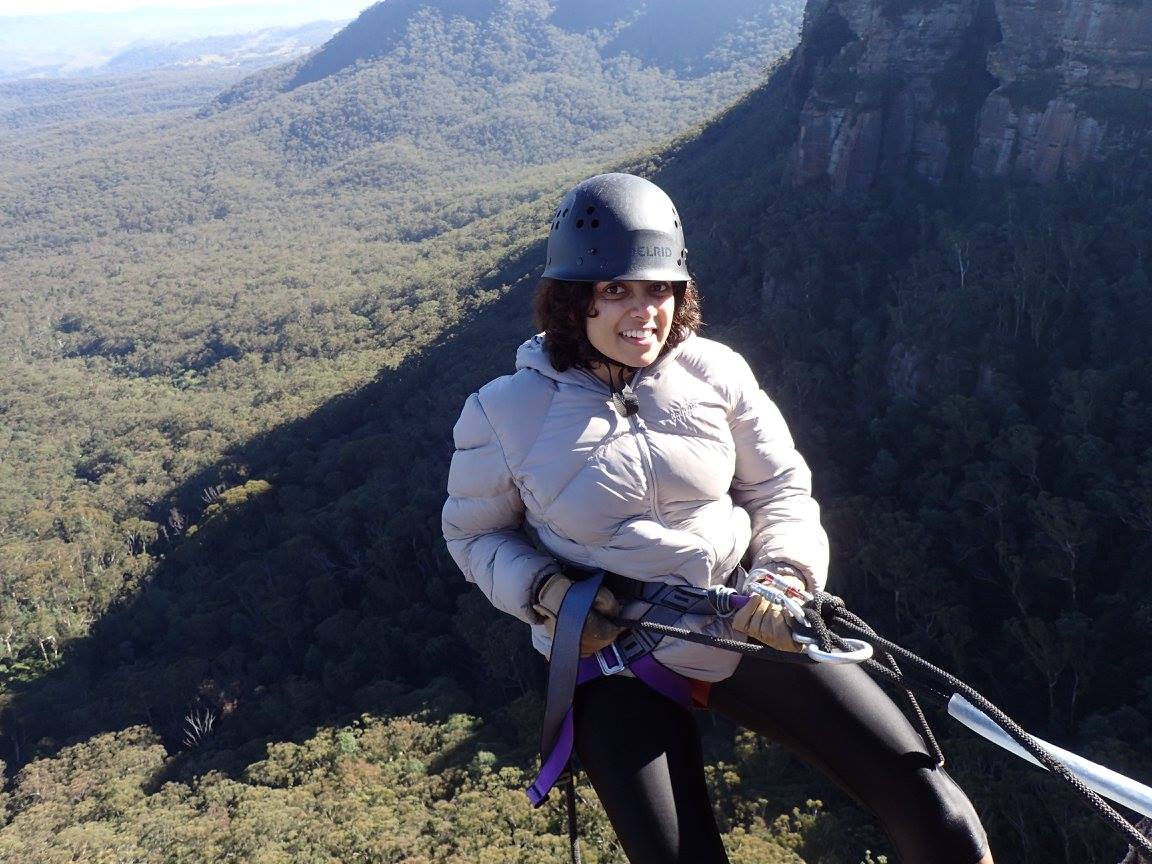 I had no fear this time. I took my time and I went down the cliff. This was my favourite experience of abseiling. I know I am weird that way – I should have felt safe at 15 meters as opposed to 30 meters, but I did feel safe at 30 meters.
Tour agency details
Below is the information about the tour that Vijay and I took:
Place of abseil: Narrow Neck, Blue Mountains.
Package: Beginner Abseiling.
Cost: Generally AU$160 per person. Since I had bought the vouchers on Groupon it costed me AU$79 per person.
Closing Notes
This was one of the best experiences I had experienced for a long time. I enjoyed the abseiling and had a memorable day.
In a nutshell, another bucket list item ticked.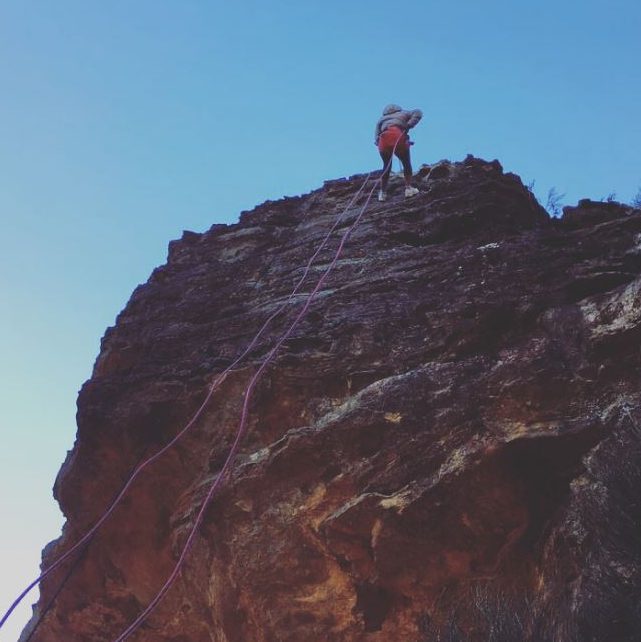 And this is my friend Vijay who had done the abseiling along with me on the same day.
PIN for later reference