5 Places to See Milky Way in India
Are you one of those who love stars, planets and anything in the galaxy? Then I am sure you are in love with Milky Way as well. The first time I saw the Milky Way was when I was camping in the Western Ghats. And instantly I was in love with it. I had never seen so many stars let alone Milky Way and till then I did not even know one could see the Milky Way. Trust me, the sight is truly mesmerising and out of the world. This post is to list the 5 places where one can spot Milky Way in India.
PIN for later reference
This article may contain affiliate links, meaning if you decide to make a purchase via my links, I may earn a commission at no additional cost to you. For full information, please see our affiliate disclaimer here.
Disclaimers:
The prices mentioned in the post are valid only at the time of publication. Ensure to check the booking websites for up to date information and prices.
Opinions and views expressed solely mine and are unbiased. If the post is a collaboration, then they are specifically mentioned.
Ensure to check the relevant websites for up to date information on COVID protocols.
For any adventurous activities, please note that there is a risk that can be dangerous. Ensure to read the terms and conditions with individual agencies recommended and do them at your own risk.
For visas, it is best to see the embassy website for any changing rules.
What is Milky Way?
Milky Way is the galaxy that includes our solar system and earth resides. From Earth, a hazy band of dust made up of plenty of stars can be seen. The term Milky Way is limited to this band of light. It appears as a band of light because its the disk-shaped structure that is viewed from earth. It is estimated that the Milky Way contains 100 to 400 billion stars and the oldest are nearly as old as the universe itself.
The best time to see the Milky Way is during the winter season. In India, the winter season is between the months of November and January (included). It is also best seen when it is new moon.
5 places to see Milky Way in India
India is blessed with a lot of places where Milky Way can be spotted. Any treks or hikes in the Himalayas are surely amazing places to see the stars. However, there are places accessible by road to see the Milky Way.
Are you in New South Wales (NSW) state of Australia? Read 10 places to see Milky Way in NSW.
Pangong Tso (Lake) in Ladakh (Jammu and Kashmir)
One of the top most places to see the Milky Way is the Pangong Tso in Ladakh. Pangong Tso is situated at a height of 4350 metres and is world's highest saltwater lake. Located in eastern Ladakh and west Tibet, the Pangong Tso is an endorheic lake. With zero light pollution, it is truly a great place to capture and see the stars.
Note: Be prepared for extremely cold weather.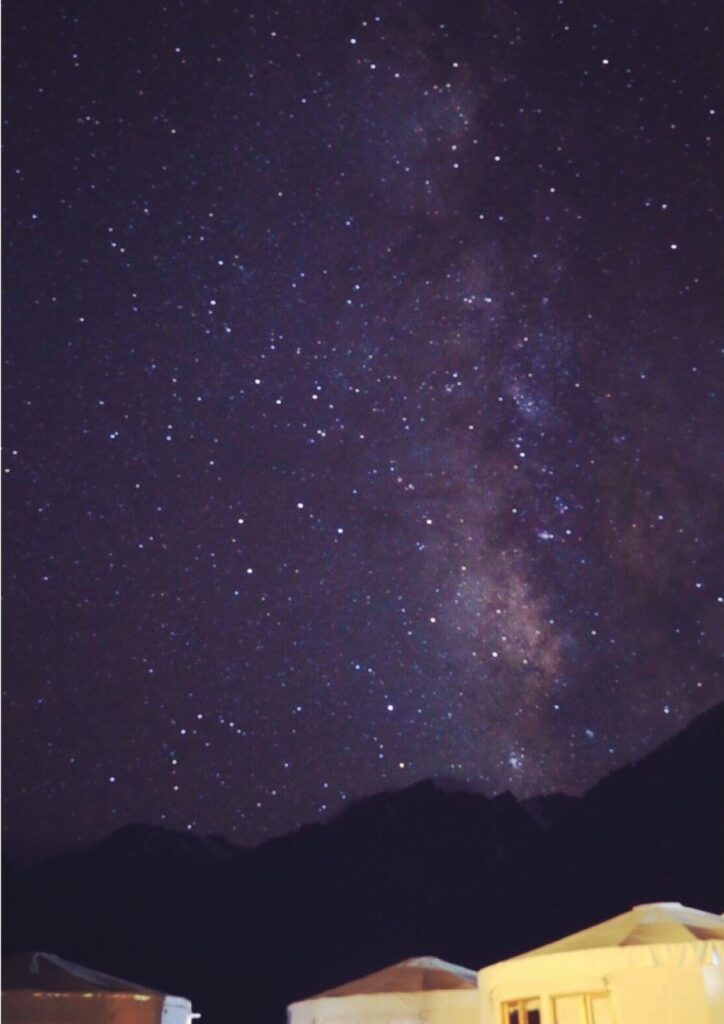 The Western Ghats (Gujarat to Kerala)
As I mentioned earlier, the Western Ghats is where I had seen Milky Way for the first time. The Western Ghats or the Sahyadri mountains is a mountain range on the western coast of India. Declared as an UNESCO World Heritage site, the mountain range traverses from Gujarat till Kerala. Some of the mountains and places in the Western Ghats to spot Milky Way are Kumara Parvatha, Kodachadri or Chikkamagaluru.
How to get to the Western Ghats? Depending on which village or town you are visiting, you can either drive or take a bus that is operated frequently by the state transport corporations.
Red Hills Nature Resort in Ooty (Tamil Nadu)
Also known as Udhagamandalam, Ooty is a city in the Nilgiris district of Tamil Nadu state. Famous for its tea plantations, Ooty is one of the most visited hill stations in India and is called the Queen of Hill stations. Just outskirts of Ooty is a beautiful getaway called the Red Hills nature resort. The resort has no light pollution at night and is an awesome place to see the Milky Way from your cosy accommodation.
Note: Be careful of the leopards at night as there have been a few sightings in the area.
How to get to the Red Hills nature resort? Ooty is very connected with buses and trains from all the cities and towns in India. And the resort is around 5 kilometres from the Emerald lake in Ooty. The resort organises pick up and drop from Ooty.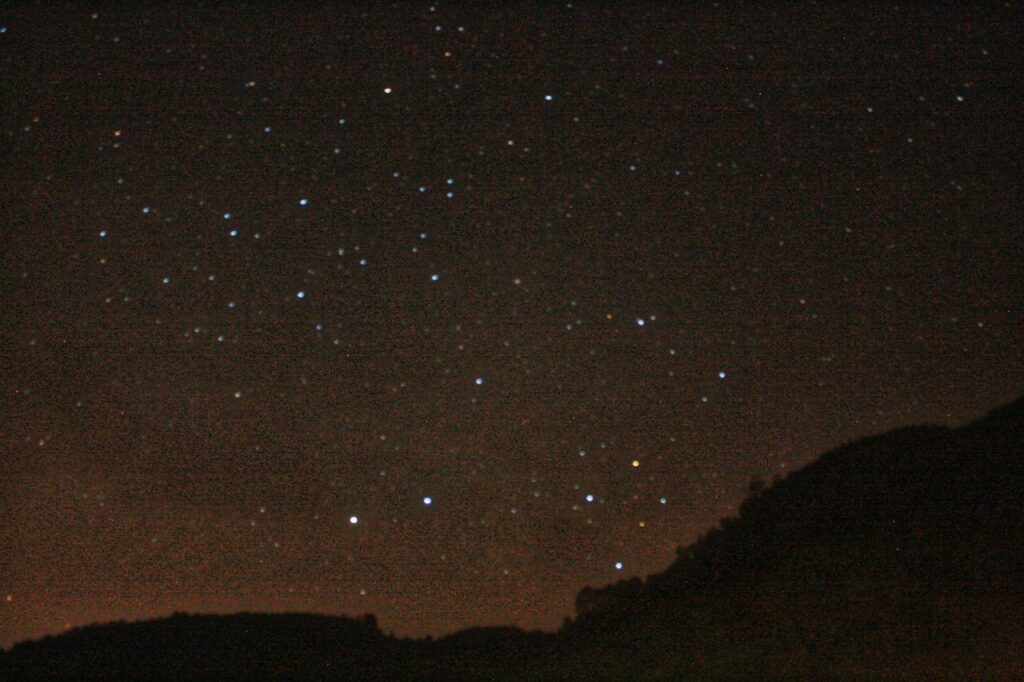 Nubra Valley in Ladakh (Jammu and Kashmir)
At an altitude of 3048 metres, Nubra Valley is another gorgeous place in Ladakh where one can spot Milky Way. Known for its Bactrian camels and monasteries, Nubra Valley is in the northernmost part of Jammu and Kashmir. Also called as Dumra, Nubra Valley was once a trading route between Tibet and Turkistan.
How to get to Nubra Valley? Nubra Valley is around 160 kilometres (5 hours drive) from Leh city. And you can either take a taxi or a bus. There are frequent buses between Leh and Nubra Valley, operated by JKSRTC.
Redstone Resort in Wai (Maharashtra)
Located about 20 minutes from Wai, the Redstone Resort is an amazing place to see Milky Way. The property and the surroundings have zero light pollution and hence the stars can easily be spotted without any disturbance.
How to get to the Redstone Resort? Wai is around 100 kilometres from Pune city and the journey by road takes 2 hours 30 minutes. And the Redstone Resort is around 18 kilometres from Wai.
Camera settings for Milky Way
I love taking pictures of Milky Way. With so many phones providing a lot of options to take the pictures these days, I am still old school and love taking pictures with my camera Canon 7D Mark II. Below are the settings that I use and experiment with while capturing the Milky Way.
Ensure you have a tripod.
Wide angle lens provide the best result.
f point is lowest, between f1.4 and f4.
ISO between 1600 and 3200.
Shutter speed between 15 and 20 seconds.
The above settings are just guidelines. So feel free to experiment and try various options depending on the camera that you have.
Closing Notes
If you love skyscapes and the night sky, then you will definitely love the Milky Way. Just a glimpse of Milky Way can just transport you to a fairy tale. I hope to travel to more places in India and discover the places that have the best view of the Milky Way.
Have you seen Milky Way? Which was the best place you saw this beauty? Let me know in the comments below.
How can you support me?
You know how much I love coffee, so you can buy me coffee – Buy me Coffee!

Or you can purchase from one of the below travel resources without any extra charge to you:
Travel Resources
Book your flight on Skyscanner.com or Trip.com
Reserve your accommodation on Stay22
Buy comprehensive travel insurance on SafetyWing and WorldNomads
Book your tours and travels or purchase tickets on Viator or GetYourGuide
For a universal SIM card, use DrimSim
If you liked this article and if it was helpful in your planning or traveling, do share, tweet, or pin this post.

Follow me on Instagram | Facebook | YouTube | Twitter | LinkedIn
Do you have a question? Or want any suggestions, and tips for travels, hikes and scuba dives? Use the Subscription box below to sign-up and get updates by email.
PIN for later reference