Trekking guide to Kodachadri
One of the most spectacular and difficult treks I have done in the Western Ghats is the trek to Kodachadri peak. It is a well known and famous trek and every trekker in Southern India has this mountain on their trekking bucket list.
Kodachadri peak is technically a hike than a trek but in India, everyone refers hikes and treks as treks so for this post I am using the term trek.
PIN for later reference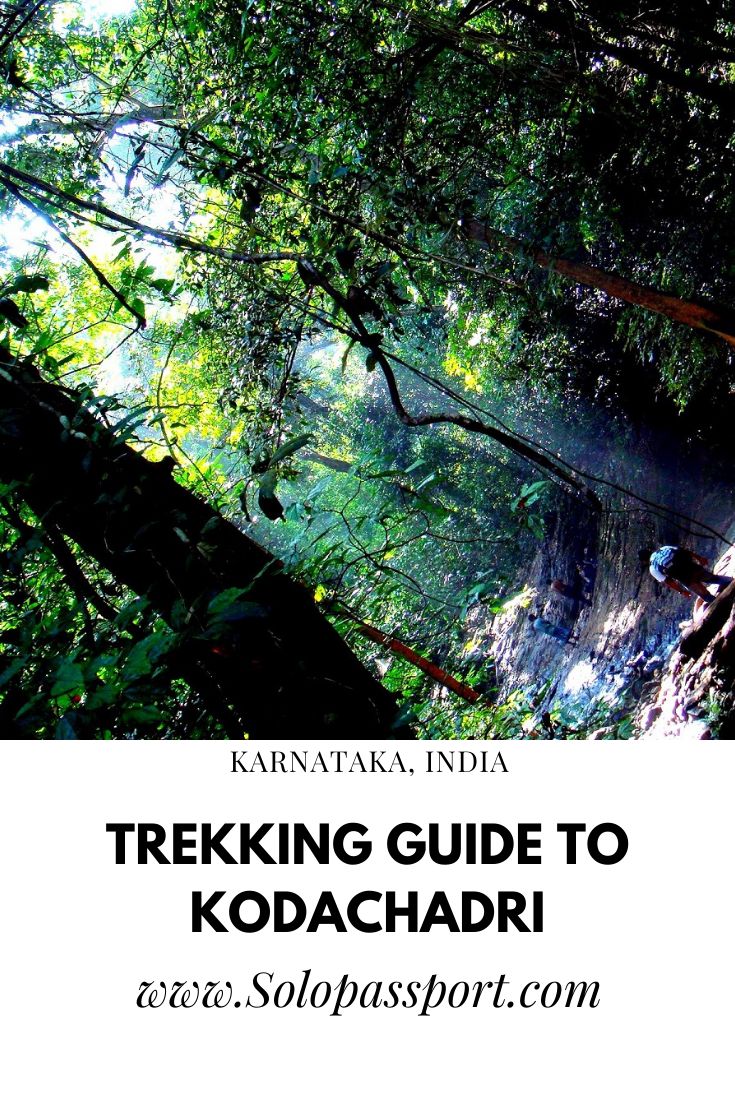 This article may contain affiliate links. For full information, please see our affiliate disclaimer here.
Where is Kodachadri?
Situated in the state of Karnataka, Kodachadri is a mountain in the Western Ghats of South India. Part of Mookambika National Park, the mountain is the 13th highest peak and is around 1343 metres high. It is one of the most famous treks in Karnataka. Kodachadri name is derived from one of the flowering plants and is called the Jasmine of the hills.
For other treks and hikes in the Western Ghats, refer trekking in the Western Ghats section.
The best time to trek the Kodachadri peak is between the months of September and January as the weather is pleasant and the mountains are lush green. And note that the trek to Kodachadri peak is a weekend trip from Bangalore city.
How to get to Kodachadri base?
Note: The starting point of the Kodachadri trek is from three villages – Nittur, Kattinahole and Vallur. Trekkers can decide where they wish to start the trek. I started the trek from a small village called Nittur. Nittur village is around 110 kilometres from Shimoga.
Note: There are many places in Karnataka with the same name called Nittur.
Driving
Kodachadri is around 400 kilometres from Bangalore city and the journey by car takes about 8 hours 10 minutes one way. The route is towards Tumkur and has toll roads.
Public transportation
The closest railway station is Kundapura railway station. There are many frequent trains between Bangalore and Kundapura railway station. The distance between Nittur and Kundapura railway station is about 61 kilometres.

One can take taxis or local buses to Nittur.
Up to date information on train timings and routes can be found on the IRCTC website.
Always go for KSRCTC buses as they are government buses.
There are also many buses between Bangalore and Kollur. The distance between Kollur and Nittur is just 21 kilometres. For up to date information on buses, refer Redbus website.
Trekking/ Hiking agencies
Even though I did not trek to Kodachadri peak with any trekking agency, I usually go on treks with Bangalore Mountaineering Club (BMC) as I have found them to be the best among the ones I have tried. The treks are very well organised and the trek leads are fun.
Trekking agency: BMC.
Cost: INR 3550 + GST for Kodachadri trek.
Trekking in Kodachadri
The trail of Kodachadri takes the trekkers through villages, waterfalls, forests and paddy fields. It also passes through a historic temple dedicated to Goddess Mookambika, that is said to have been built one thousand years ago.
Statistics
Starting point: Nittur.
Total distance: 20 kilometres.
Type of trek: One way. You can take a jeep ride for one way. The roads are suitable only for 4 wheel drives.
Grade: Difficult.
Time taken: 6 to 7 hours.
Important Trek Information
You do not need permissions to trek in Kodachadri.
There are water streams along the way. It is best to take water purifying tablets.
Food is available at Battara Mane and at Nittur village. It is best to carry food for two days.
When I visited Kodachadri, I camped at the peak. Unfortunately, in 2015, the forest department banned camping at the peak. You can stay at Battara Mane. You can also stay at PWD Guest House that needs to be booked in advance.
There is intermittent mobile network (Airtel and BSNL) on the trail.
Other Important Safety Information
Wear sturdy and comfortable shoes.
Carry extra pair of socks for the trail.
Ensure to take your first aid kit and any personal medicines required.
Take sufficient water (at least 2 litres). There are waterfalls and water streams where you can refill the water bottles.
There are no shops on the trail.
Carry trail snacks such as energy bars, chocolates, and dry fruits.
Lunch will need to be carried for the trail. Ensure to take a secured and tight lunch box.
Be careful of the leeches. There are many on the trail especially if you are visiting post monsoons. Best is to take a diluted mixture of Dettol and water and spay that mixture at regular intervals on the shoes and socks.
Wear full sleeved t-shirts and pants to avoid insect bites.
Take your garbage with you. Do not litter and dirty the trail or the place.
Be prepared for cold and rains, carry a rain jacket/ poncho and a jacket. Take rain cover for your backpack.
Respect nature. Do not write anything on trees or rocks.
Do not pluck flowers or harm trees.
Be careful at the waterfalls. Talk to your local guides before trying to swim or jump into the waterfalls.
Safety for solo female travelers
I would not suggest doing this trek alone unless you are going with a trekking agency. The mountains and forests are wild and there are many wild animals. So, it is always best to go with a group or a guide who knows the area well.
Download Emergency Plus app for any unforeseen situations. The app does not require mobile network and it shows the location of where you are. This is useful to let the emergency services know, in case there is any emergency.
If you are a tourist, always make sure to have a good comprehensive travel insurance to cover yourself in case of any emergency.
Closing Notes
Kodachadri is surely one of the most beautiful treks in South India. It has everything that are trekker wishes for. I highly recommend adding this trek to your list and completing it when you can.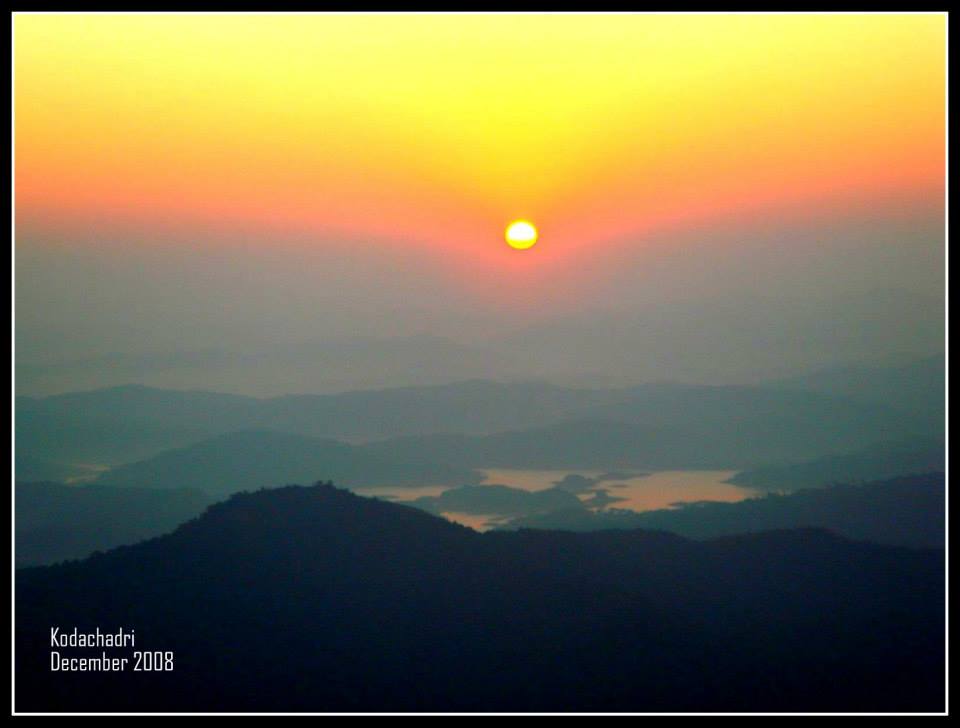 Have you done the Kodachadri trek? What did you think of it? Let me know in the comments below.
How can you support me?
You know how much I love coffee, so you can buy me coffee – Buy me Coffee!
Or you can purchase from one of the below travel resources without any extra charge to you.

Travel Resources
Click to book your flight on Skyscanner.com
Click to book your accommodation on Stay22
Click to book a comprehensive travel insurance on Safety Wing
Click to book your tours and travels on Viator or GetYourGuide
If you liked this article and if it was helpful in your planning or traveling, do share, tweet, or pin this post.

Follow me on Instagram | Facebook | YouTube | Twitter | LinkedIn
Do you have a question? Or want any suggestions, and tips for travels, hikes and scuba dives? Use the Subscription box below to sign-up and get updates by email.
PIN for later reference