Bandaje Arbi Falls trek via Ballalarayana Durga Fort
Whenever I am in Bangalore, I find every opportunity to run away to the mountains in the Western Ghats for treks and hikes. And in that quest to find new mountains and places in the Western Ghats, I decided to head to Bandaje Arbi falls trek.
Technically, Bandaje Arbi falls is a hike and not a trek as it is just one day. But as even hikes are known as treks in India, I am using the word trek.
PIN for later reference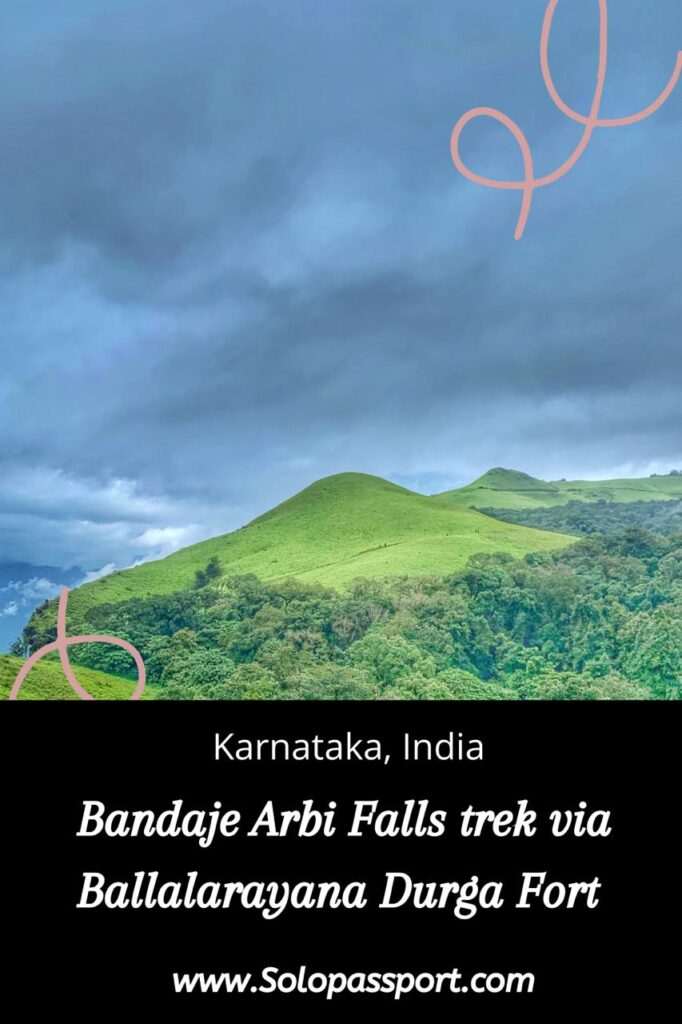 This article may contain affiliate links. For full information, please see our affiliate disclaimer here.
Bandaje Arbi Falls trek details
Starting from Rani Jhari view point, the trail passes through Ballalarayana Durga Fort, which is a 15th century fort. The total hike is around 15 kilometres return.
The best time to trek to the Bandaje Arbi falls is from November to May. The months between June and September are monsoons as the trek becomes even hard because of the rains.
Statistics
Always hire a local guide or go with a reputed trekking agency!
Starting and finishing point: Rani Jhari view point.
Total distance: 15 kilometres return.
Type of trek: Return.
Time taken: 8 hours with lots of breaks.
Grade: Moderate to Hard.
Path: Rani Jhari view point — Ballalarayana Durga Fort — Bandaje Arbi Falls — Rani Jhari view point.
Even though there are no restrictions on the camping, ensure to finish the trek before sunset and be back at the homestay.
Rani Jhari view point
Rani Jhari view point or the edge point is a view point near Kalasa in Chikamagaluru district of Karnataka. The view point provides stunning and breath taking views of the Western Ghats and Ballalarayana Fort. There is no entrance fee or timings to visit the Rani Jhari view point.
How to get to Rani Jhari view point?
Driving
The only way to reach Rani Jhari view point is by a 4 wheel drive. The 2 wheel drives (cars) cannot be driven on these roads. Roads are in horrible condition and is somewhat like off-roading. The best way is to hire a jeep from the home stay you are staying and asking one of the jeep owners to drop and pick you from the view point.
If you are going with a trekking agency, then these charges are included and the arrangements are made by the trekking agency.
Public transport
There is no public transport to Rani Jhari view point. One can walk from the home stays as well.
Ballalarayana Durga Fort
Ballalarayana Durga Fort is an abandoned old hill fort, constructed by the wife of Veera Ballala I, the King of Hoysala Empire. There is no correct information about when the fort was constructed. According to some websites, the fort was constructed in the 12th century but according to the locals, it was constructed in the 15th century.
Currently, the only remaining thing of the fort is a wall (or compound) around the fort and there is nothing much to see as a fort. There is an orange flag at the top that is the peak of the hill.
Bandaje Arbi Falls
At a height of 200 feet, Bandaje Arbi Falls or just Bandaje Falls is in the Charmadi section of Belthangady taluk in Karnataka. The only way to reach the falls (at the top) is by hiking. Usually, the waterfalls is covered by fog and is hardly seen. But on a good day with good weather, the spot on the top of the waterfalls (which is where one will hike to) provides beautiful views of the Ghats and the valleys.
Arbi in local language means waterfalls.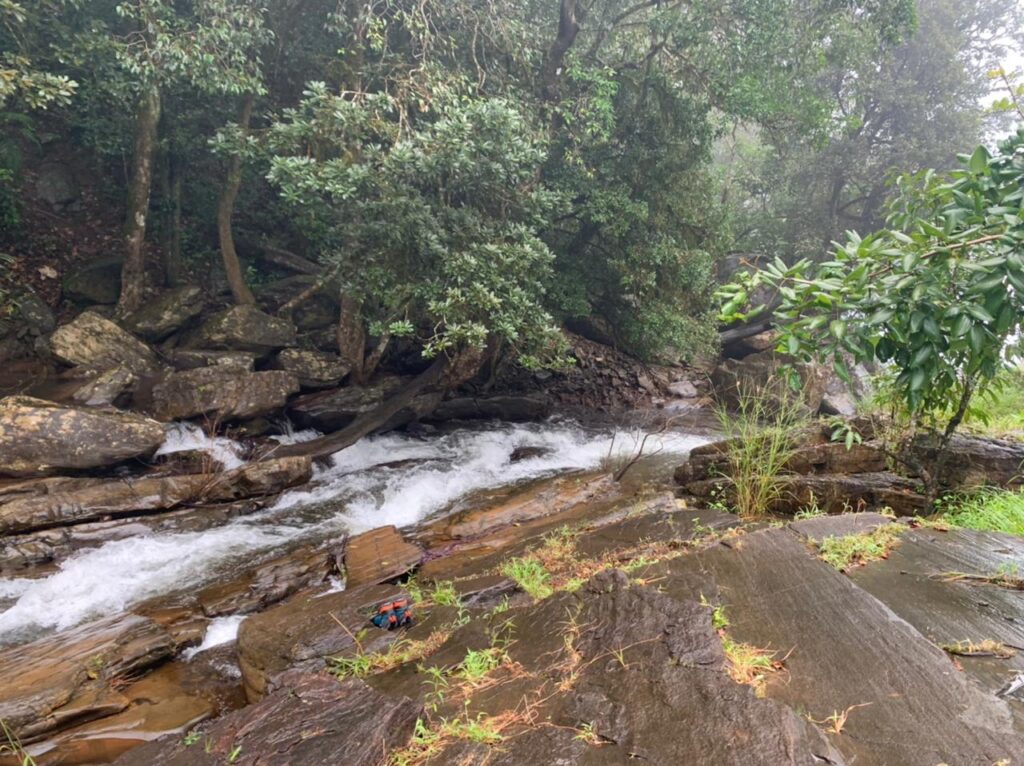 Important information
Are you new to hiking or trekking? Read my beginner's guide for hiking and trekking.
Wear sturdy and comfortable hiking shoes.
Carry your lunch with you on the trek. Ensure to take a secured lunch box so you do not have any spills.
Take sufficient water (at least 1 to 2 litres). There are two water streams from where one can refill water bottles. I suggest taking water purifying tablets so you can purify the stream water before drinking it.
There is intermittent mobile coverage on the trail. And only Airtel network works at the homestay.
There are no shops on the trail.
Be careful at the edges as they are steep drops.
Beware of the slippery rocks. Have a firm grip and be very slow.
There are leeches on the trail. Ensure to carry salt, turmeric or sanitizer to get rid of the leeches.
Wear full pants and full sleeved t-shirts to avoid any insect bites.
There are a few snakes on the trail so know where you step. I did not see any snakes but my trek lead mentioned that he spotted a small snake.
Do not pluck the flowers or plants from the national park. It was very disheartening to see people plucking the Neelakurinji plants to carry them home. They are easily available in the markets for very less price. Do not take them from the national parks.
Take your garbage with you. Do not litter and dirty the place.
For any emergency, the nearest hospital is at Ujire.
Be prepared for rains and carry a poncho or a rain coat.
Do not write on the rocks. It is sheer stupidity to spoil nature.
Trekking agency
I prefer going on hikes with Bangalore Mountaineering Club (BMC) as I really enjoy the crowd and the treks they organise. The treks are affordable, well managed and organised, and some of the initiatives they do such as seed bombing is very unique and environment friendly. With BMC, I have been to Vattakanal, Kumara Parvatha and a few other treks and I have thoroughly enjoyed each one of them.
Weekend itinerary
Note: This weekend itinerary was planned and managed by BMC.
Friday evening –

We started at around 9:30 PM from Bangalore on a Friday evening.

The whole night was spent on the bus.
The distance between Bangalore and Durgadahalli homestay is around 290 kilometres and it takes about 6 to 7 hours.
Saturday morning –

After having breakfast, we were dropped off at the Rani Jhari view point.
From the Rani Jhari view point, we started our trek. It took us an entire day to trek and be back.
Up on returning from our trek, we were again picked up by the homestay owner to drive us to the homestay.

Sunday morning –

Our first stop was to the Kodige falls. After spending an hour at the falls, we headed back to the homestay for our breakfast.
We started for Bangalore at around 10 AM.
On the way, we stopped at Belur temple and we reached Bangalore at around 8 PM.
Accommodation at Durgadahalli home stay
As part of our weekend trip, we all stayed at Durgadahalli home stay. The home stay is amidst nature and one can hear the sounds of peacocks in the mornings. Even though the dorms were minimal, it was still a very nice homestay. The owner Sanjay and his family were very friendly, including their dog Rocky. And the food served was very delicious and tasty. For bookings, Sanjay can be reached on Whatsapp +91 94497 01866 and can be called on +91 77957 54335.
Other things to see
Neelakunji flowers
Neelakurinji is a shrub that is grown in the forests of Western Ghats in Southern part of India. The plant is named after the Kunthi River that flows in the Silent Valley National Park of Kerala state. Usually, these flowers are seen in Kerala, Karnataka and Tamil Nadu. The speciality of these flowers is that they bloom only once in 12 years. We were very lucky to have spotted these amazingly pretty flowers while hiking to the Bandaje Arbi falls.
Kodige Falls
Kodige falls is a privately owned waterfalls. It is a great place to dip and have some fun in the waterfalls. The water is not shallow but there are rocks that are slippery. There is an entrance fee of INR 30 per person. One can only go by 4 wheel drive to the waterfalls. This waterfalls was suggested to us by our homestay owner Sanjay and he dropped and picked us up in his jeep. The jeep ride (return to the homestay) for all of us costed INR 800.
Safety for solo female hikers
If you are a solo female hiker, then I suggest going with a reputed trekking agency. Going with an agency is hassle free as they take care of all the arrangements like booking homestays, transports and food. Even though I did not find the place dangerous, but it is very isolated and is in the forests, which can quickly become dangerous.
Download Emergency Plus app for any unforeseen situations. The app does not require mobile network and it shows the location of where you are. This is useful to let the emergency services know, in case there is any emergency.
If you are a tourist, always make sure to have a good comprehensive travel insurance to cover yourself in case of any emergency.
Closing Notes
Bandaje Arbi falls trek is surely one of the beautiful hikes I have done in the Western Ghats. The views throughout the hike were spectacular with all shades of greens, and blues. I highly recommend the Bandaje Arbi falls trek for all the trekking enthusiasts.
How can you support me?
You know how much I love coffee, so you can buy me coffee – Buy me Coffee!
Or you can purchase from one of the below travel resources without any extra charge to you.

Travel Resources
Click to book your flight on Skyscanner.com
Click to book your accommodation on Stay22
Click to book a comprehensive travel insurance on Safety Wing
Click to book your tours and travels on Viator or GetYourGuide
If you liked this article and if it was helpful in your planning or traveling, do share, tweet, or pin this post.

Follow me on Instagram | Facebook | YouTube | Twitter | LinkedIn
Do you have a question? Or want any suggestions, and tips for travels, hikes and scuba dives? Use the Subscription box below to sign-up and get updates by email.
PIN for later reference