The Narasimha Parvatha trek happened by chance. I was on a trek to Bananthi Maari betta trek and that is when my trek lead mentioned about Narasimha Parvatha. He had said that it is best to do it now as the mountain is open for trekkers only for a few months.
PIN for later reference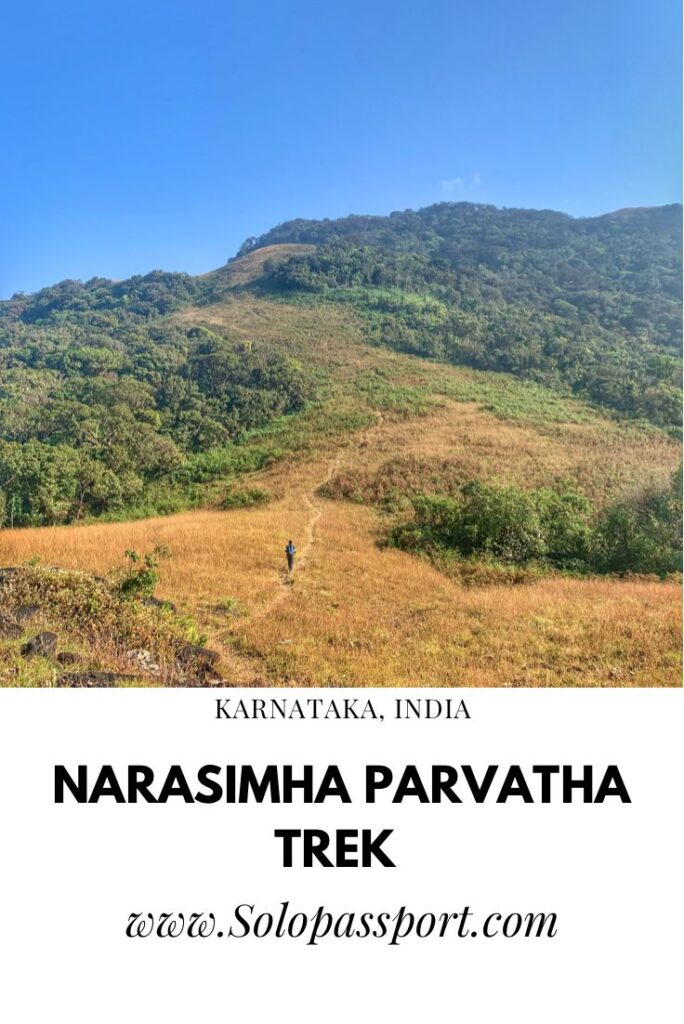 This article may contain affiliate links. For full information, please see our affiliate disclaimer here.
About Narasimha Parvatha
At an altitude of 1150 metres, Narasimha Parvatha is part of the Kudremukha National Park and is the tallest peak in Agumbe. It is one of the offbeat treks as the trail is open only for few months. At the peak, there are foot prints of Narasimha.
The best time to visit: Narasimha Parvatha is open only between November and February as Agumbe receives lots of rainfall during other months.
Kudremukha National Park has other beautiful treks, such as the Kudremukha peak and Gangadikal treks.
Narasimha Parvatha Trek details
The trail is mostly in the forest and the ascends are gradual and not very difficult as long as the climb is in the forest. Then the trail reaches the grassland which is the most difficult part of the trek as it is very steep and has no shade so it can get very hot. The descend is pretty straight forward but it can get very monotonous.
One can also do a return trek from Kigga which is a moderate trek as it is not as steep as the one starting from Malandur.
Statistics
Starting point: Malandur, Agumbe.
Finishing point: Kigga, Chikkamangaluru.
Total distance: 21 kilometres (13 kilometres ascend and 8 kilometres descend).
Type of trek: One way.
Time taken: 9 to 10 hours.
Grade: Hard. Hard because the last part of the ascend is steep and also because of the distance to be covered in one day.
Path: Malandur – Barkana waterfalls – Narsimha Parvatha peak – Kigga.
One needs to take forest department's permission to trek. This can be obtained en route Malandur at forest checkpoint.
Trekking agency
I went with Bangalore Mountaineering Club (BMC) Adventures and I had a great time. The trek lead was very friendly and the whole trek was organised and managed very well. I highly recommend going with BMC as I have been on many treks with them and have always enjoyed.
How to get to Agumbe?
Traveling by your own car might be an issue for this trek as it is one way trek. You need to start at Malandur and get off at Kigga. If you wish to go by your own car, then do the return trek from Kigga.
Driving
Agumbe is around 380 kilometres from Bangalore and by road, the journey takes 7 hours 30 minutes. The route is towards Nelmangala and has toll roads.
Malandur village is about 6 kilometres from Agumbe.
Public transport
There are frequent overnight buses between Bangalore and Augumbe. The bus journey is around 8 hours.
For up to date information on bus routes and timings, refer RedBus website.
How to get from Chikkamangaluru?
Driving
Kigga is about 330 kilometres from Bangalore and by road, the journey takes 7 hours.
Kigga is a small village about 9 kilometres from Sringeri.
And if you are staying at Bella homestay, then the distance between Kigga and Bella homestay is around 62 kilometres which takes 2 hours by car.
Also read - a complete travel guide to Chikkamangaluru.
Public transport
Sringeri has good connectivity from Bangalore. There are many buses that travel between Bangalore and Singeri.
Kalasa is the closest town to Bella homestay and there are frequent buses (overnight journeys) between Kalasa and Bangalore.
For up to date information on bus routes and timings, refer RedBus website.
Important Information
Wear sturdy and comfortable shoes.
Ensure to carry an extra pair of socks.
Carry sufficient water. There are water streams along the way where one can refill water bottles. However, if you are sensitive to the water, carry water purifying tablets.
Carry lunch so you can enjoy a nice meal.
Be prepared for leeches during monsoons and post monsoons.
There is intermittent mobile network (Jio) along the trail.
There are no shops along the trail or on the peak. Carry trail snacks and chocolates.
Carry a spare pair of pants in your day pack. The trail is rugged and there are chances that the trek pants may tear.
One cannot camp on the trail or at the peak. Camping is banned.
Ensure to carry a headlamp. The trek is long and there are high chances that you may descend after dark.
There is a pair of footprints of Lord Narasimha on the peak.
Be careful of the snakes. Agumbe is known for snakes and there are king cobras in the national park.
Accommodation
Mallya Residency at Agumbe
The stay is very basic at Mallya Residency. The rooms were not that very clean. We used this as a transit freshen up point, just to get ready before the trek. I would not recommend staying at Mallya Residency if you wish to stay at Agumbe for a few days.
Bella homestay at Chikkamangaluru
I have stayed at Bella homestay twice and I love the hospitality here. The rooms are basic but the food and the homestay owners are very good and they make sure that the guests are comfortable. I highly recommend staying at Bella homestay when you are in Chikkamangaluru.
Safety for solo female trekkers
I would not recommend doing the Narasimha Parvatha trek alone. There are lots of snakes and other wildlife. It is advisable to take a local guide or go with a reputed trekking agency for this trek. Also, as a trekking 101, it is best to go with a trekking buddy for any unforeseen situations.
Download Emergency Plus app for any unforeseen situations. The app does not require mobile network and it shows the location of where you are. This is useful to let the emergency services know, in case there is any emergency.
If you are a tourist, always make sure to have a good comprehensive travel insurance to cover yourself in case of any emergency.
Closing Notes
Narsimha Parvatha trek is surely a very beautiful trek with the trail within the dense forests. The peak has spectacular views. It is surely one of the challenging treks I have done and I suggest having this trek as part of your Western Ghats trekking bucket list.
Travel Resources
Click here to book your flight on Skyscanner.com
Click here to book your accommodation on Stay22 or Booking.com
Click here to book your tours and travels on Viator or GetYourGuide.
If you liked this article, do comment, tweet, or share this post.
Follow me on Instagram | Facebook | YouTube | Twitter
Do you have a question? Or want any suggestions, and tips for travels, hikes and scuba dives? Use the Subscription box below to sign-up and get updates by email.
PIN for later reference