Bananthi Maari betta trek
One of the most beautiful one day hikes (treks) around Bangalore is the Bananthi Maari betta. It is a hidden gem around Bangalore which is not very popular. Even over the weekends, there are hardly any people on the trail.
Technically, Bananthi Maari betta is a hike as it is just one day hike. But in India, even hikes are referred as treks and so as to use a local language, I am using the term trek and hike interchangeably.
PIN for later reference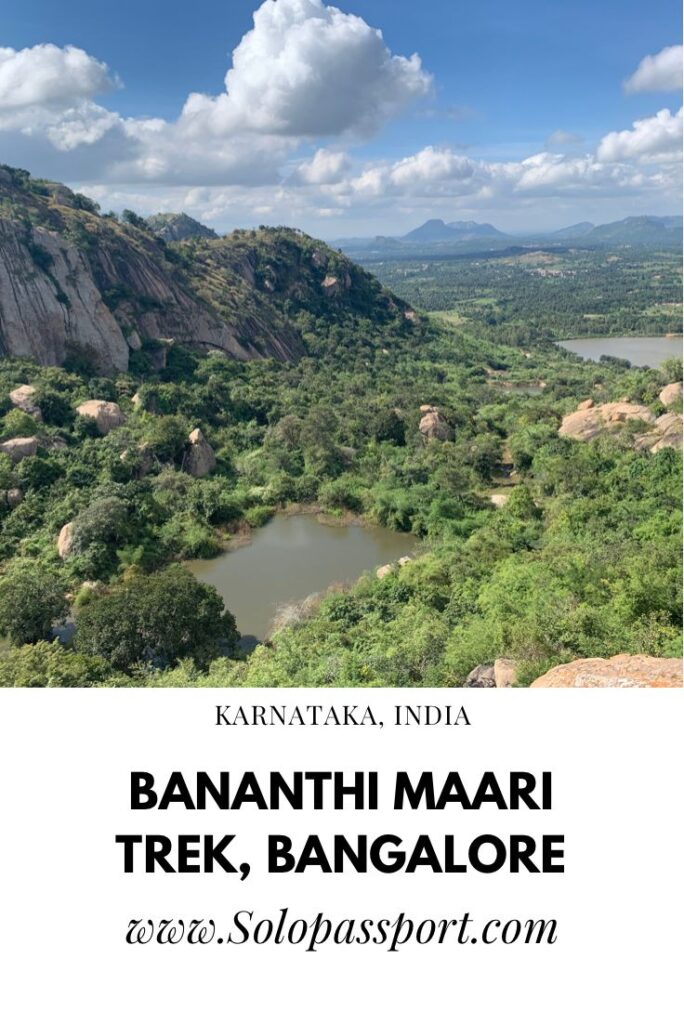 This article may contain affiliate links. For full information, please see our affiliate disclaimer here.
Disclaimers:
The prices mentioned in the post are valid only at the time of publication. Ensure to check the booking websites for up to date information and prices.
Opinions and views expressed solely mine and are unbiased. If the post is a collaboration, then they are specifically mentioned.
Ensure to check the relevant websites for up to date information on COVID protocols.
For any adventurous activities, please note that there is a risk that can be dangerous. Ensure to read the terms and conditions with individual agencies recommended and do them at your own risk.
For visas, it is best to see the embassy website for any changing rules.
About Bananthi Maari betta
Named after the village goddess, Bananthi Maari Amma, the twin hills are a great spot for trekking in isolation without any crowd.
Hill 1 – Trek to one hill (which I am referring to as hill #1) is very easy trail with just one kilometre to the peak and
Hill 2 – Trek to the other hill (and say, hill #2) is also a easy trail with a bit longer distance of 2 kilometres to the peak.
I trekked the second hill (hill #2) which is 2 kilometres to the peak. That hill is at an elevation of around 3000 feet. Even though the ascend to the peak is easy, the path is very confusing and one can easily get lost.
In this post, I am writing about the hill #2 as that is the one that I trekked.
Bananthi Maari betta trek can be done in any season of the year except during the summer season as the trail can get very hot at the top. I would also avoid the rainy season as the rocks can become very slippery.
How to get to Bananthi Maari betta?
Driving
Bananthi Maari betta is located near Kanakpura (around 3 kilometres from Kanakpura). The distance between Bangalore and Bananthi Maari temple is about 75 kilometres and by road, the journey takes up to 2 hours 10 minutes.
Public transport
Bus – There are frequent private and government buses from Majestic (main bus interchange in Bangalore) to Kanakpura. One need not book the buses prior as there are plenty of them going to Kanakpura. The fare on the buses need to be paid by cash. Ensure to have the exact amount. For buses, refer KSRTC website.
Metro – There is a metro (purple line) from Majestic to Kanakpura. For trains, refer Namma Metro website.
Statistics of the trek
The trail passes through the forests and rocks. It starts off at a barricade and is a flat path for certain distance and then the trail deviates to a steep rocky climb. It is best to go with a trekking agency as one can easily get lost on the trail, even though there are arrows marked.
If you are doing the trek by yourself, then walk from the temple into the trail and take a left just before the huge holy tree.
The trail has wild animals such as sloth bears. And hence be careful at all times and be with the group.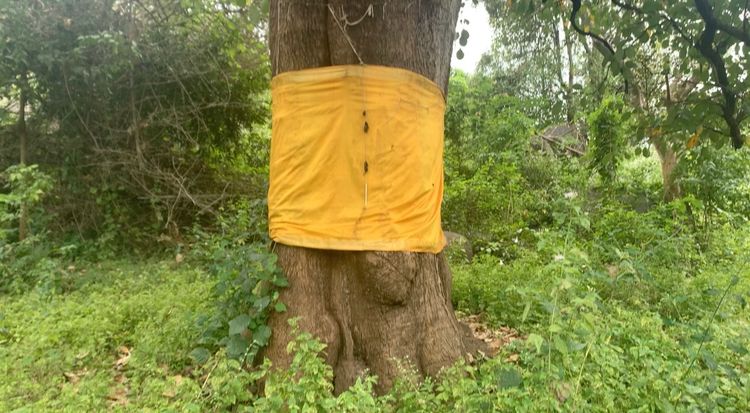 Starting and finishing points: Bananthi Maari Amma temple.
Total distance: 4 kilometres return.
Time taken: 2 hours return.
Grade: Easy.
Trekking agency
I went with Bangalore Mountaineering Club (BMC) Adventures and as usual had a great time. The day was very well organised and I had a lot of fun meeting new people in the group.
For trekking the hill #1, go with Plan the Unplanned (PTU). I did not go with them but I was informed by my trekking lead (of BMC) that the PTU organises the trek to hill #1.
Important information
If you are doing this trail by yourself, ensure to go with a local guide as the trail is very isolated and is easy to get lost.
There is intermittent network range.
On every Sunday, the village organises non-vegetarian lunch for everyone. They invite even the trekkers. And I have been told that if you do not wish to have the lunch, you need to pay some cash to them.
Wear comfortable and study shoes as the trail is rocky and in the bushes.
Carry a small day pack with your lunch packed and secured.
Carry an extra pair of socks, just in case.
Take sufficient drinking water, about 2 litres. Stay hydrated throughout the trek. There is a water source at the temple where one can refill water.
Pack small snacks for the trail and to enjoy at the peak.
Take first aid kit and jacket.
Be prepared to wildlife on the trail and be cautious at all times.
The hill has religious significance so respect the local villager's emotions at all times.

Respect the nature and do not throw any garbage. Take your rubbish with you and throw them at dedicated bins.

There are no toilet facilities, even at the base of the trek.
There are no shops at the base, on the trail or at the peak.
Be slow and alert on the trail. Remember to take small steps and do not race.
Safety for solo female hikers
Bananthi Maari betta trail is very isolated and the trail also has a lot of bears because of which it is also called Karadi betta. And because of that, I would not suggest going on a trek to Bananthi Maari betta without a proper guide. It is best to go with a trekking agency or a local guide.
Download Emergency Plus app for any unforeseen situations. The app does not require mobile network and it shows the location of where you are. This is useful to let the emergency services know, in case there is any emergency.
If you are a tourist, always make sure to have a good comprehensive travel insurance to cover yourself in case of any emergency.
Closing Notes
Bananthi Maari betta is surely one of my favourite treks around Bangalore. It has spectacular views of the surrounding villages and the trail is raw and not crowded at all. I loved trekking in this area and I highly recommend trekking this when you are in Bangalore.
Have you trekked the Bananthi Maari betta? Let me know if you loved the trail in the comments below.
How can you support me?
You know how much I love coffee, so you can buy me coffee – Buy me Coffee!
Or you can purchase from one of the below travel resources without any extra charge to you.

Travel Resources
Click to book your flight on Skyscanner.com
Click to book your accommodation on Stay22
Click to book a comprehensive travel insurance on Safety Wing
Click to book your tours and travels on Viator or GetYourGuide
If you liked this article and if it was helpful in your planning or traveling, do share, tweet, or pin this post.

Follow me on Instagram | Facebook | YouTube | Twitter | LinkedIn
Do you have a question? Or want any suggestions, and tips for travels, hikes and scuba dives? Use the Subscription box below to sign-up and get updates by email.
PIN for later reference