Have you ever imagined trekking in a tea estate? Amongst green tea plantations with fresh breeze blowing through your hair and paths with breath-taking views of the mountains? Trekking on a trail surrounded by lush green plantations and Shola forest are what you get when you trek in Kotagiri. The views of Nilgiri mountain range and the encounters with abundant wildlife is every trekker's/ adventurer's desire.
I have been planning for Kotagiri trek for a very long time. Unfortunately, every time I booked something else popped up and due to which I had postponed this trek quite a few times. But couple of weeks ago, I finally completed the Kotagiri trek and I must admit that it is one of the most beautiful trails I have trekked in recent times.
In this post, I would like to give information on Kotagiri trek by answering a few questions and listing some important information for the trail.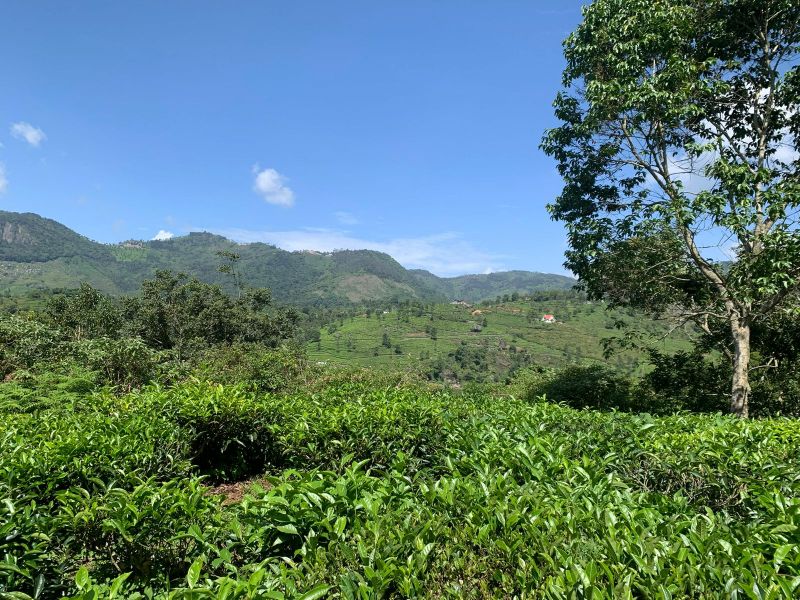 Disclaimers:
The prices mentioned in the post are valid only at the time of publication. Ensure to check the booking websites for up to date information and prices.
Opinions and views expressed solely mine and are unbiased. If the post is a collaboration, then they are specifically mentioned.
Ensure to check the relevant websites for up to date information on COVID protocols.
For any adventurous activities, please note that there is a risk that can be dangerous. Ensure to read the terms and conditions with individual agencies recommended and do them at your own risk.
For visas, it is best to see the embassy website for any changing rules.
PIN for later reference
This article may contain affiliate links. For full information, please see our affiliate disclaimer here.
About Kotagiri
At a height of 5890 feet, Kotagiri is a hill station situated in the Nilgiris district, which is part of the Western Ghats, in Tamil Nadu state of India. It is a quiet hill station in Ooty that has rich flora and fauna. The town once served as a summer resort for the colonial rulers.
The Western Ghats is known for spectacular trekking trails and wildlife, refer trekking in Western Ghats for information on trails.
As Kotagiri is a hill station, the weather is beautiful throughout the year but the best season is during summer (between March and May) as the weather is pleasant and not too cold. Post monsoons (after September) is also an amazing time to trek as the mountains are lush green.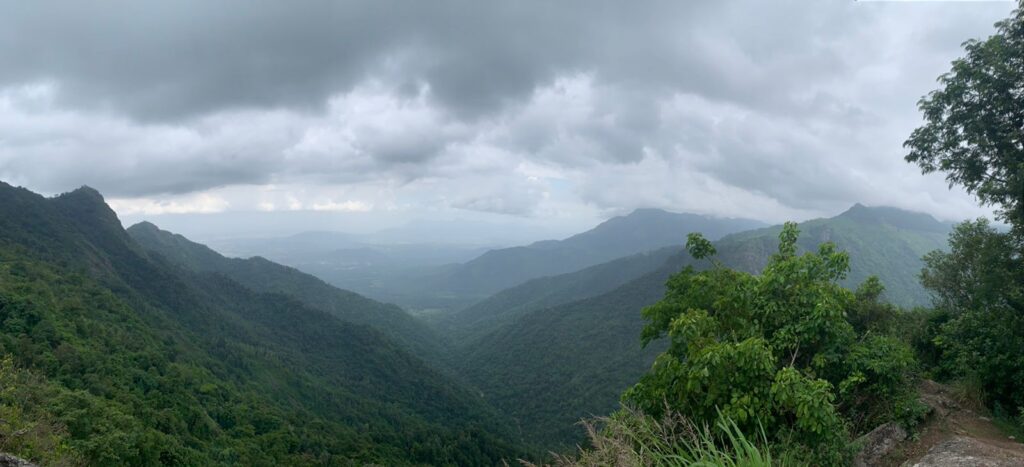 Kotagiri Trek
The Kotagiri trek trail is beautiful with views of the Nilgiri mountains and colourful villages. It is amidst tea gardens and Shola forests. And also has views of Kodanad and Catherine waterfalls. The best thing about the trail is the wildlife that you see. We saw bisons (also known as Indian gaurs), many species of birds and a Malabar giant squirrel. The trail is absolutely divine for adventure and wildlife lovers. Locals say they have spotted black panthers too, how cool is that!
Trek statistics
Total distance: Around 12 kilometres return.
Time taken: Even though this trek just needs 4 to 5 hours, we took a lot of breaks and did it at leisurely pace taking 8 hours.
Grade: Easy as there are only few steep ascents.
Trail: Tea estates and Shola forest.
Trekking agency
I trekked in Kotagiri with Bangalore Mountaineering Club (BMC) adventures and I must say that I had a great time. The trek was very well organised and the trek lead ensured that we enjoyed the trek the entire time. I highly recommend going with them.
Trekking agency: BMC Adventures.
Cost: INR 4150 + GST (includes transportation, trek charges, trek lead charges and meals for one day).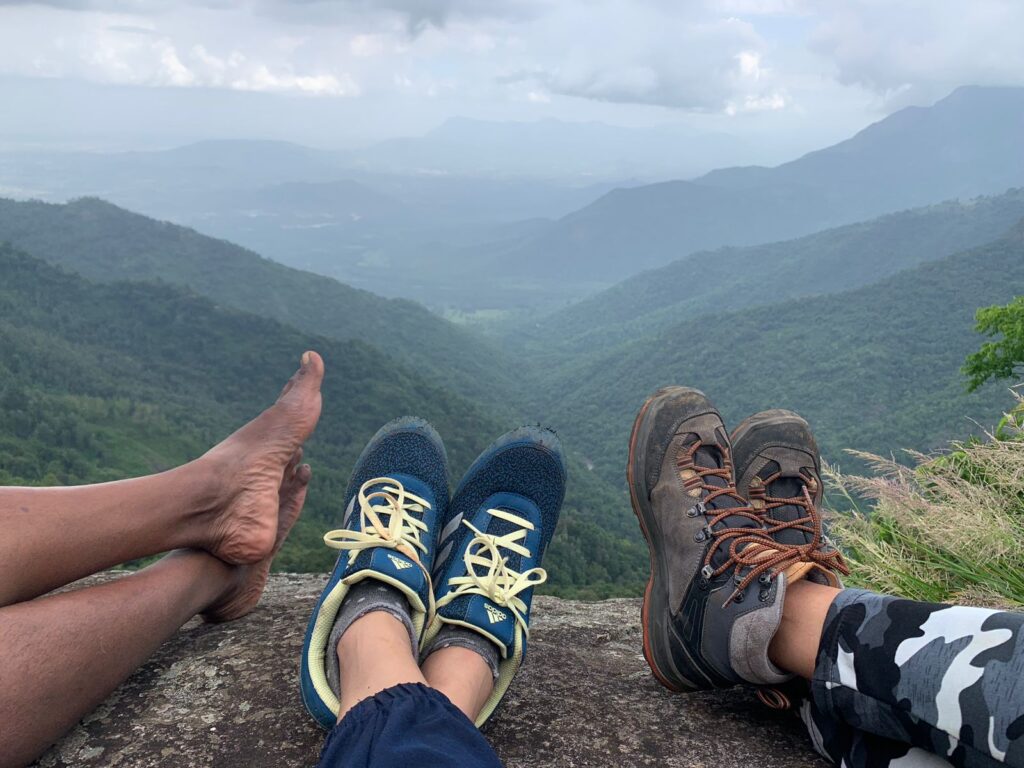 Important information
Even though Kotagiri trek is an easy one, the trail has a lot of wildlife. So be cautious at all times and do not go close to the wildlife.
Be careful at the edges and cliffs. Know where you step.
Keep yourself hydrated and ensure to take sufficient water. There are very few water sources on the trail such as at the beginning of the trail, near the villages and waterfalls.
The trail does have a lot of leeches so be prepared. There are a number of ways you can avoid leeches:

Wear a pair leech socks. The socks are available for sale on the internet, so you can purchase a pair of them.
Carry a solution made of Dettol and water. This solution does wonders and the leeches do fall off when the solution is sprayed on them.
If you do not have the above solution, you can either use salt or spray sanitizer to get rid of them.

Carry a day pack with sunscreen, fit aid kit, extra pair of socks, trail snacks and chocolates, and sunglasses.
There are no toilet facilities on the trail.
Wear sturdy and comfortable trekking shoes.
Carry your lunch with you so you can have it in between along the way.
Sparrow nest homestay
At Kotagiri, we stayed at one of the most beautiful homestays called Sparrow nest homestay. They have dorms for bigger groups and tent accommodation for adventurous travelers. I really liked the tent stay as it was under the beautiful stars. The homestay also provides food and some of their food was very delicious.
Note: The stay cost was included in the trek cost.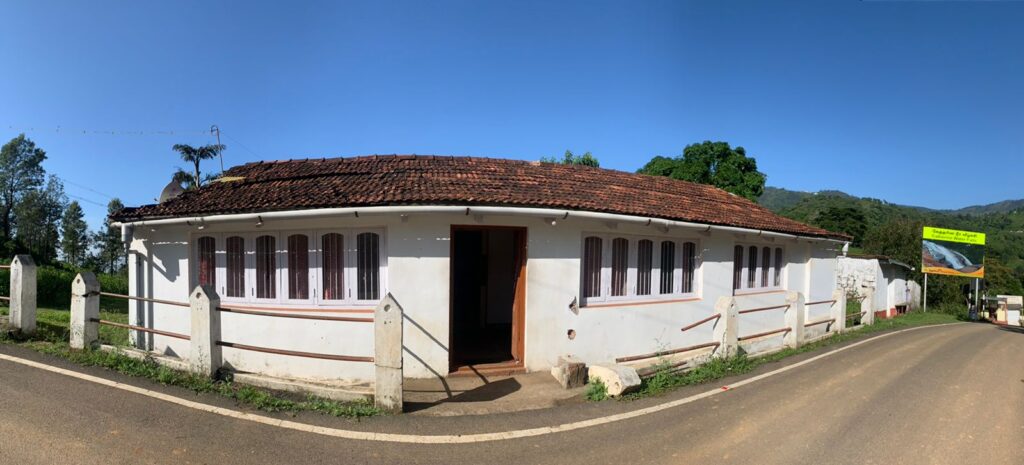 How to get to Kotagiri?
Airport – The nearest airport is at Coimbatore and the Coimbatore airport is around 100 kilometres from Kotagiri. Coimbatore airport is well connected with major cities in India and a few international cities.
Driving – Kotagiri is around 350 kilometres from Bangalore city and the journey by road takes about 8 hours. The city of Ooty is about 30 kilometres from Kotagiri and it takes just an hour to reach Kotagiri from Ooty.
Public transportation – There are frequent buses, operated by government and private operators, between Bangalore and Ooty and the journey by bus takes about 8 hours.
Safety for solo female trekkers
As per trekking 101, it is always best to go on a trek with a trekking buddy or a group for any unforeseen situations. Even if you go with a trekking agency, they in turn hire a local guide to take you on the trail as these are some of the remote places.
Frequently asked questions about Kotagiri trek
Q: Where is Kotagiri?
Kotagiri is a hill station near Ooty in the Nilgiris district.
Q: How long does it take to trek the Kotagiri trail?
The distance for Kotagiri trek is around 12 kilometres return and the total time to complete the trek takes just 4 to 5 hours.
Q: Is Kotagiri trek suitable for beginners?
Yes, Kotagiri trek is perfect for beginners. The trail is easy and can be done at a relaxing pace. If you are just starting to trek or want to know how you can start your trekking journey, refer my beginners guide for trekking and hiking.
Q: Is Kotagiri trek a one day trek or a multiday trek?
Even though the trip to Kotagiri and back from Bangalore requires a weekend, the Kotagiri trek itself is just a one day trek.
Closing Notes
Kotagiri trek is surely one of the best treks in South India. It is an easy and relaxed trek with so many interesting things to see along the way. I absolutely loved trekking here and I would love to go back again and spend a few more days at the town exploring other trails if possible.
I do hope I have answered all the questions related to the trek. if not, let me know in the comments below and I will get back to you.
How can you support me?
You know how much I love coffee, so you can buy me coffee – Buy me Coffee!
Or you can purchase from one of the below travel resources without any extra charge to you.

Travel Resources
Click to book your flight on Skyscanner.com
Click to book your accommodation on Stay22
Click to book a comprehensive travel insurance on Safety Wing
Click to book your tours and travels on Viator or GetYourGuide
If you liked this article and if it was helpful in your planning or traveling, do share, tweet, or pin this post.

Follow me on Instagram | Facebook | YouTube | Twitter | LinkedIn
Do you have a question? Or want any suggestions, and tips for travels, hikes and scuba dives? Use the Subscription box below to sign-up and get updates by email.
PIN for later reference