4 places to see in Coimbatore
Even though I am not a Sadhguru follower, visiting the Isha Yoga Centre was always on my list and I really wanted to see the famous Adiyogi. And this was the reason I planned Coimbatore. Honestly speaking, I was not aware of other things to do in Coimbatore when I planned for this holiday. I always stopped by at Coimbatore as a passing city and never spent much time there. But when I visited it this time around, I ensured I stayed there for a little longer than my previous visits and explore the city.
PIN for later reference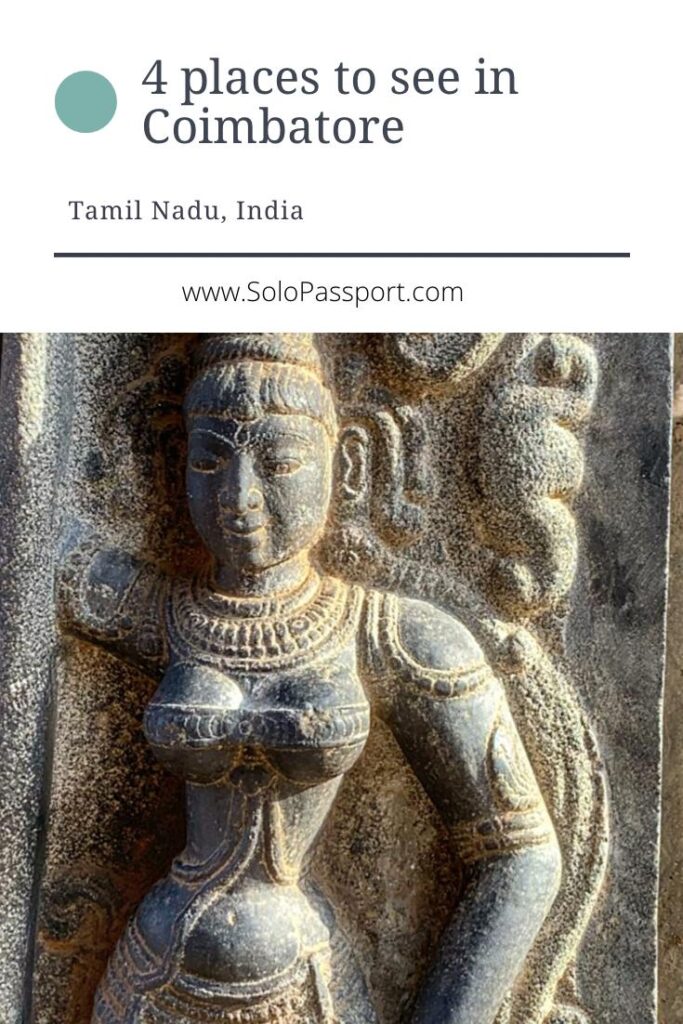 This article may contain affiliate links. For full information, please see our affiliate disclaimer here.
About Coimbatore
Famous for its ancient and colourful temples, Coimbatore is the second largest city in the state of Tamil Nadu. The city is also known as the Manchester of South India because of its textile industry which is a hub in South India.
The best time to visit Coimbatore is during the monsoon and winter seasons (between the months of July and February) as the weather is pleasant. But be prepared for hot weather irrespective, especially in the afternoon. One needs only 2 days to explore Coimbatore.
How to get to Coimbatore?
Airport
As Coimbatore is the second largest city in Tamil Nadu, the city itself has an airport of its own. The Coimbatore International Airport serves as a major airport for domestic and international airlines. Indigo and Air India are some of the popular airlines that operate from the Coimbatore International Airport.
The airport is around 10 kilometres from the city of Coimbatore.
Driving
Coimbatore is around 360 kilometres from Bangalore, and it takes about 7 hours by road. The best route is towards Hosur, and the roads are very well laid and maintained.
Coimbatore is around 500 kilometres from Chennai and is much closer to the city of Bangalore than Chennai. The journey by road takes up to 9 hours.
Public transportation
Coimbatore is well connected by public transportation. There are frequent buses and trains from major cities and towns to Coimbatore.
Train – The main railway station at Coimbatore is the Kovai Junction railway station. As it is a major railway station, there are many trains that operate from the railway station. Up-to-date information on train routes, timings and fares can be found on IRCTC website.
Bus – Many buses, operated by government and private operators, run between the cities/towns and Coimbatore. More details on the buses can be found on the Redbus website.
Stay at Coimbatore
Radisson Blu Coimbatore
During my travel this time, I decided to stay in a comfortable place and hence booked a room at Radisson Blu. Radisson Blu is a five-star hotel that has 135 rooms in their property and is very close to the Coimbatore airport and railway station. It is an ideal stay when you are traveling for business of leisure.
The booking process was very easy as it can be done online. They have three types of room:
Superior.
Business.
Junior Suite.
I stayed at Superior room and it cost me around INR 5800 per night including taxes and breakfast. The room was spacious and clean. I loved the décor of the room and the size of their bathroom. I also had amazing views of the sunset every evening.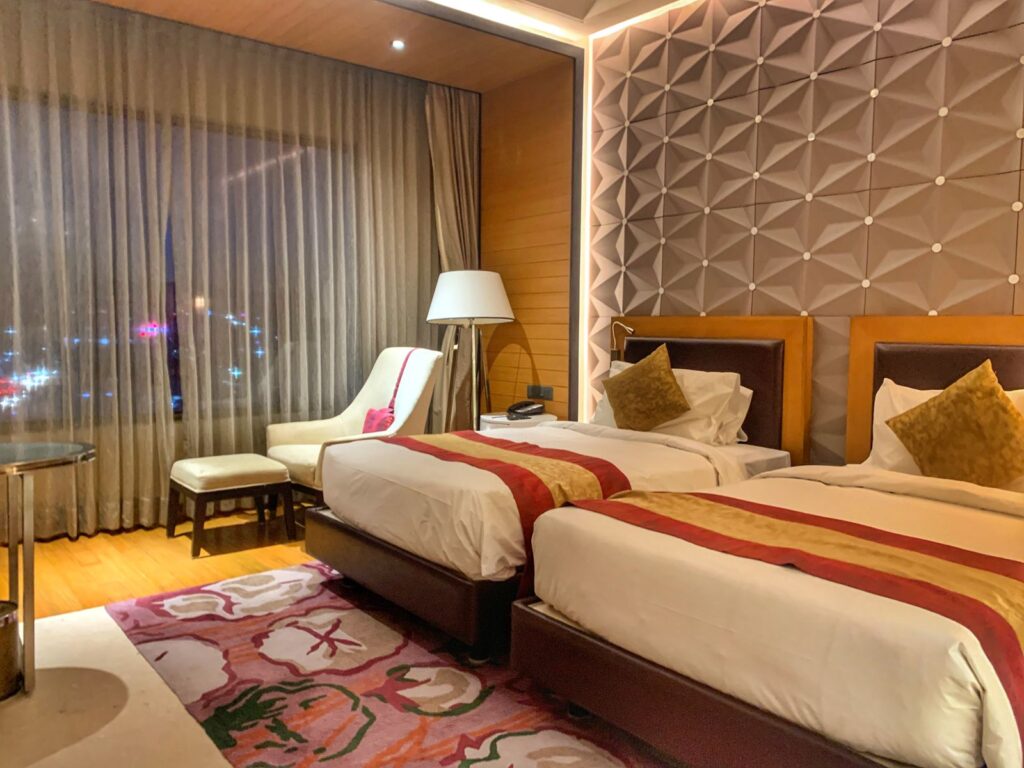 The hotel has facilities like a swimming pool and a spa. Unfortunately, when I stayed at the hotel, their swimming pool was not operational as I was informed by the staff that it had some chemicals. They also have an in-house restaurant that serves buffet and ala-carte food. I opted for their buffet on all days, and I must say I loved the food. There were so many varieties of food and desserts. It was amazing.
I would like to specifically mention about the staff and their service. The staff were very friendly and nice. Not once did I feel unsafe, and they attended to their customers diligently. It was wonderful and I rate them even higher because of the service.
4 places to see in Coimbatore
Arulmigu Subramaniyaswami temple
Situated on a beautiful hill called Marudamalai, the Arulmigu Subramaniya Swamy temple is a 12th century temple built by Tamil Kings. The temple is dedicated to Lord Subramaniya Swamy/ Murugan. Just around 15 kilometers from Coimbatore city and at an elevation of 700 metres, the temple is classified as one of the six main abodes of God under Kunruthoradal.
The temple is open between 6 AM and 8:30 PM every day.
Ensure to look out for peacocks and peahens along the way.
Car goes up till the parking area and after which you need to climb about 10 to 20 steps. The parking cost about INR 15 per car.
As it is a religious place, ensure to be dressed appropriately as the temples in Coimbatore are a little more conservative than Karnataka.
Arulmigu Patteeswarar Swamy temple
Situated at Perur, Arulmigu Patteeswarar Swamy temple is a 2nd century temple that was built by Karikala Chola. The temple is dedicated to Lord Shiva known as Patteeswara and Goddess Parvathi known as Pachainayaki.
The temple is open every day between 6:15 AM and 1 PM, and between 4 PM and 8 PM.
Every year the temple celebrates two festivals:

Panguni Uthiram, and
Seedling Plant festival.

The temple complex has paid car parking and the parking cost around INR 15 per car.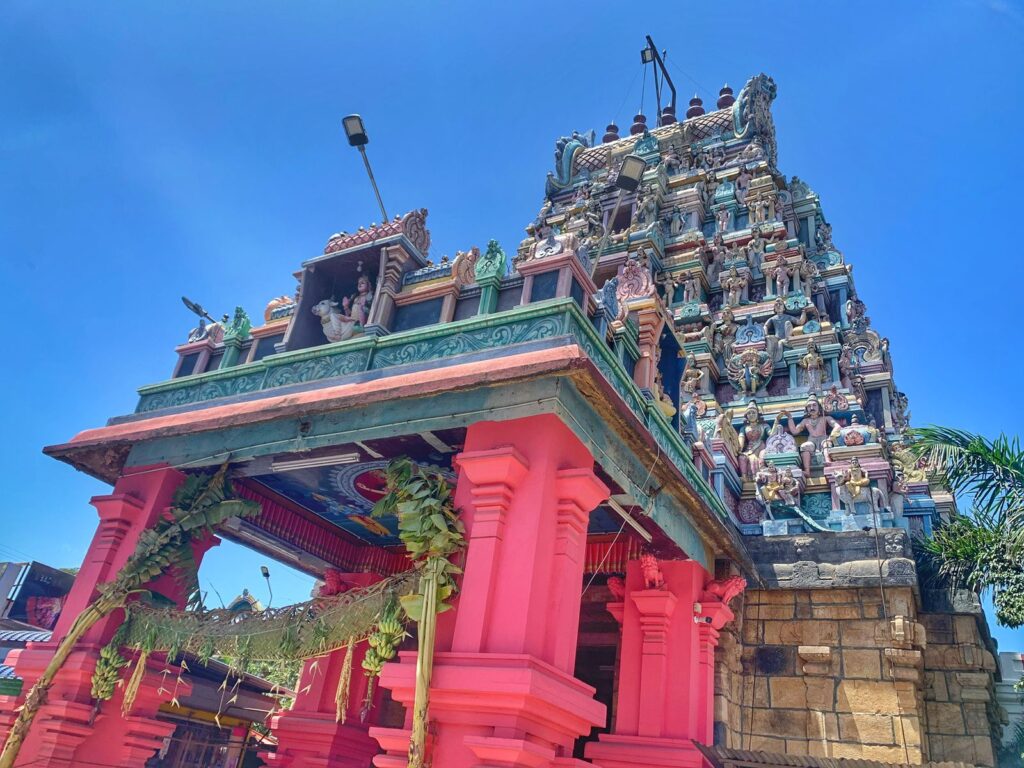 Gedee Car museum
With a collection of vintage cars, Gedee Car museum is unique and is located in Anna Salai. It has a wide range of car collections. Set up by Sri G.D. Naidu, the museum is a great place to learn about cars and its history.
The museum is open from Tuesday to Saturday between 9 AM and 5 PM, and on Sunday between 10 AM and 6 PM. It is closed on Mondays.
There is an entrance fee of INR 75 per person.
Isha Yoga centre
Established in 1992 by Sadhguru, the Isha Yoga Centre is a non-profit and spiritual centre. Isha means formless divine and is mostly run by volunteers. The Isha Yoga centre can be divided into two parts:
Dhyanalinga (that also has Linga Bhairavi and Theerthakunds), and
Adiyogi.
Did you know that there is another Isha foundation at Chikkaballapura (one day trip from Bangalore)?
Dhyanalinga
Even though Dhyanalinga is a huge Shiva Linga in the meditation hall, there are many more things to do in the complex. As soon as you enter the complex, you are welcomed with information centres and a series of stalls. And then you see a dining hall with an in-house restaurant. Just after the dining hall is the Surya khund which is a pool for men. Guests are encouraged to take a dip in the khunds (pools). For women there is Chandra khund which is right next to the Linga Bhairavi temple.
A dip in Chandra khund was refreshing and when I asked one of the volunteers as to why everyone is encouraged to take a dip in the pools before entering the Dhyanalinga (meditation centre), I was informed that it is for two reasons: one is that it has medicinal benefit and the other is to have a soothing effect before the meditation. I was also told that one can see that affect if they stay in the pool for at least 7 minutes.
Dhaynalinga complex is a meditation hall where guests are asked to meditate for 10 minutes in front of a huge 33 feet high Linga that is made of black granite stone. The meditation hall is lit only using the natural lights or the lamps. Visitors can offer lotus flowers, lamps, and garlands if they wish.
Adiyogi
My most favourite space was the Adiyogi, a statue of the first Yogi that is standing tall at 112 feet. The first Yogi was the Lord Shiva, and this sculpture is 112 feet tall to represent the 112 ways he offered people to attain wellbeing and ultimate nature. The statue has been recognised by the Guinness World Records as the Largest Bust Sculpture in the world.
Visitor Information
Dhyanalinga and Adiyogi are open between 6 AM and 8 PM every day.
There is no entrance fee for entering the Dhyanalinga complex and to see the Adiyogi statue.
You cannot take pictures inside the Dhyanalinga complex. The mobile phones must be deposited at the Deposit counters that are just outside the complex.
As it is a spiritual place, there is a dress code that one needs to follow. No shorts or revealing clothes are allowed.
Isha Yoga centre is around 30 kilometres from Coimbatore city, and one needs a transport to get there. You can either go by a taxi or there are also frequent buses between the city and the Yoga centre.
You can also stay at Isha Yoga Centre for a few nights. The booking for the accommodation needs to be done in advance as they do get booked out quite quickly. You can call them to make the bookings.
There are parking spaces available at Adiyogi. And visitors can take a bullock cart rides between Dhyanalinga complex and Adiyogi.
Safety for solo female travelers
Coimbatore is absolutely safe for solo female travelers. I did not have any issue whatsoever and everyone whom I interacted with were very friendly and nice. I highly recommend this city as one of the places for solo female travelers in India. However, like any other city in the world, be cautious at all times, especially at night.
Closing Notes
Coimbatore is surely an upcoming tourist destination in Tamil Nadu, especially because of Isha Foundation. I was awed by the fact that Sadhguru and his team have created a mini city within a huge city of Coimbatore. I would say that do try to spend here for a couple of days when you are in Tamil Nadu.
How can you support me?
You know how much I love coffee, so you can buy me coffee – Buy me Coffee!
Or you can purchase from one of the below travel resources without any extra charge to you.

Travel Resources
Click to book your flight on Skyscanner.com
Click to book your accommodation on Stay22
Click to book a comprehensive travel insurance on Safety Wing
Click to book your tours and travels on Viator or GetYourGuide
If you liked this article and if it was helpful in your planning or traveling, do share, tweet, or pin this post.

Follow me on Instagram | Facebook | YouTube | Twitter | LinkedIn
Do you have a question? Or want any suggestions, and tips for travels, hikes and scuba dives? Use the Subscription box below to sign-up and get updates by email.
PIN for later reference