Individual First Aid Kit Contents: Tailoring Your Emergency Supplies to Your Needs (2024)
Having a first aid kit with some basic medicines is a must for every travel and adventure. From essential supplies to tailored solutions, the individual first aid kit contents is the collection of the basic medicines and equipment to administer anyone at the first stage before getting the medical help.
This article may contain affiliate links, meaning if you decide to make a purchase via my links, I may earn a commission at no additional cost to you. For full information, please see our affiliate disclaimer here.
Importance of First Aid Kit
Playing a crucial role in providing immediate care and assistance during emergencies or unexpected situations, there are many reasons why you need to carry a first aid kit:
Immediate Response to Injuries – The first aid kit enables you to administer immediate care for injuries like cuts, burns, and sprains.
Preventing Infection – The first aid kit enables you to minimise the risk of infection by cleaning and dressing wounds.
Managing Allergies – The first aid kit contains medications for immediate management of symptoms until proper medical assistance can be obtained.
Promoting Safety in Outdoor Activities – The first aid kit provides a means to address injuries and medical issues in remote locations, especially on outdoor activities such as hiking and trekking or camping.
Emergency Preparedness – The first aid kit ensures that you are equipped for any unforeseen situations, natural disasters and accidents.
First Aid Kit
More than all these reasons, you will have peace of mind that you are prepared to handle unexpected situations and circumstances.
If there is serious medical condition, the person requires Cardiopulmonary Resuscitation (CPR) or requires medical attention from a professional, ensure to call the emergency number immediately.
Individual First Aid Kit Contents
Having a comprehensive and effective first aid kit requires a list of essential items that can address the basic injuries and health issues. I maintain a small pouch / box (in my carry-on bag) with: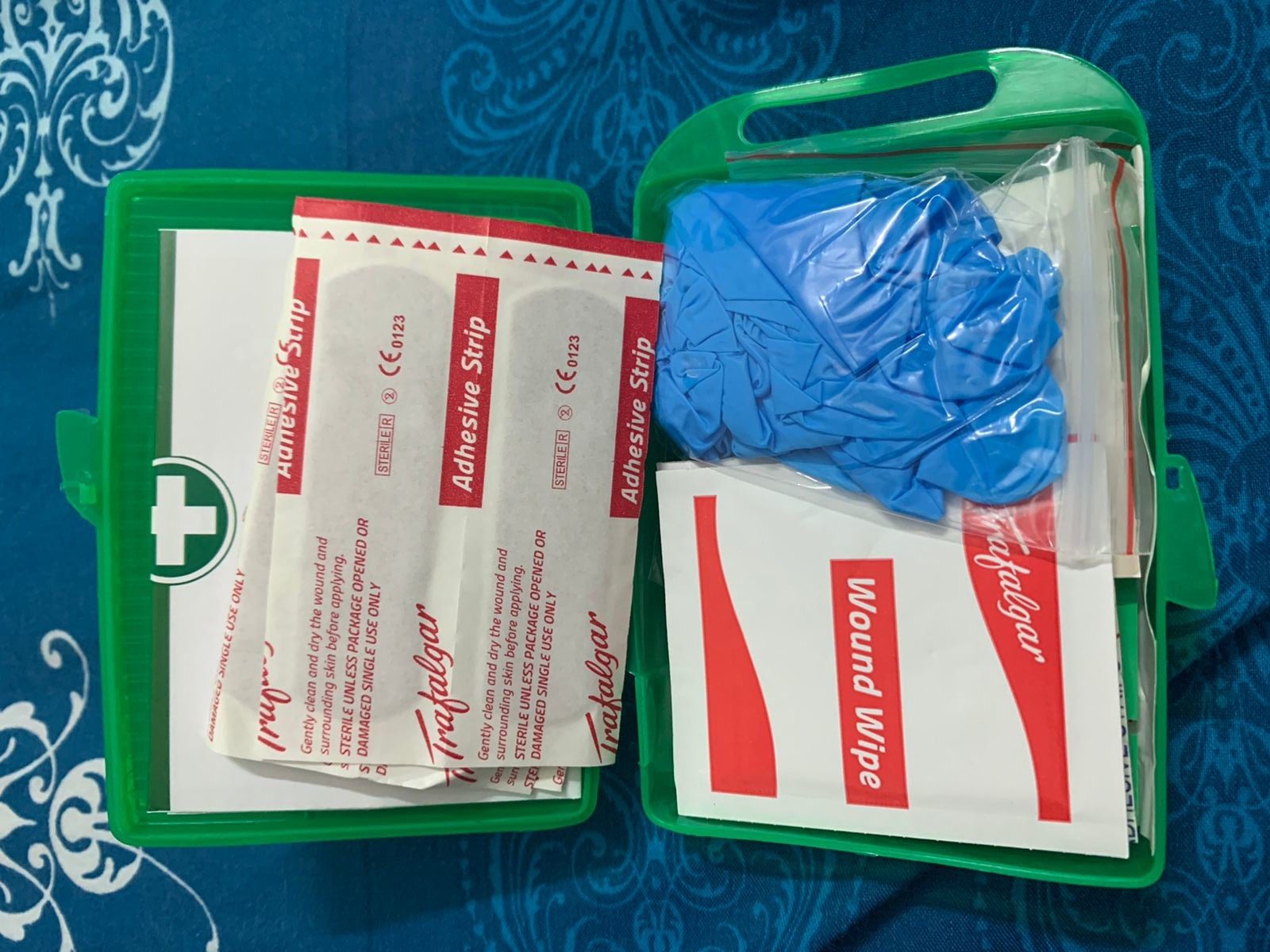 Bandages and Creams
Bandages with either a sticky tape or butterfly clips. This is required to cover small cuts, and blisters.
Waterproof band aids. I carry plenty of these as they are especially useful when I am hiking or diving.
Antiseptic cream and wipes (Dettol wipes). This is to clean wounds and prevent infection.
Wet wipes.
Burn cream. This is required to relief for minor burns.
Other Essentials
Scissors and tweezers. This is required for cutting bandages and tweezers are required for removing splinters. I do not carry these two in my carry-on. And I usually place these in my check-in baggage.
Instant Cold Packs. This is required to reduce swelling and provide relief to minor injuries.
Surgery gloves. This is to protect contamination and ensure hygienic care.
Insect repellent. I carry the Aero Guard insect repellent which is available in India.
Thermometer. This is required to monitor body temperature and detect fever.
Oximeter. This is required to monitor the O2 level.
Emergency blanket. This is required to retain body heat and providing warmth in emergency situation.
List of emergency contacts. Have a list of names and phone numbers of emergency contacts, health providers and important medical information.
Basic Medicines
Ensure to contact your local doctor to get the right names of the medicines.
Paracetamol tablets (such as Panadols or Crocin).
Pain killer tablets (such as Nurofen).
Anti-nausea tablets.
Loose motion tablets.
Constipation tablets.
Headache tablets.
Cough and sore throat tablets.
Eye drops.
Any personal medications.
First Aid Kit Maintenance
Important:
Prior to using any medications, verify their expiration dates.
If you intend to bring the first aid kit as carry-on baggage, refrain from including scissors and tweezers in the kit.
Keep a checklist of items in your first aid kit.
Ensure that the scissors and tweezers are in good condition.
Keep your emergency contact list up-to-date.
Find out and research out the legal requirements when you are traveling overseas, like which medicines are not allowed in the country and which ones are.
Ensure to customise the kit based on individual health considerations, activities, and potential risks in your environment.
Survival Kit
Closing Notes | Individual First Aid Kit Contents
It is imperative to have an individual first aid kit contents on hand for unexpected emergencies. I highly recommend assembling this compact pouch if you haven't already done so. I personally carry a straightforward first aid kit, and there are numerous pre-made kits available in the market. Choose one that aligns with your specific needs and is tailored to the essentials for your situation.
How can you support me?
You know how much I love coffee, so you can buy me coffee – Buy me Coffee!

Or you can purchase from one of the below travel resources without any extra charge to you:
Travel Resources
Book your flight on Skyscanner.com or Trip.com
Reserve your accommodation on Stay22
Buy comprehensive travel insurance on SafetyWing and WorldNomads
Book your tours and travels or purchase tickets on Viator or GetYourGuide
For a universal SIM card, use DrimSim
If you liked this article and if it was helpful in your planning or traveling, do share, tweet, or pin this post.

Follow me on Instagram | Facebook | YouTube | Twitter | LinkedIn
Do you have a question? Or want any suggestions, and tips for travels, hikes and scuba dives? Use the Subscription box below to sign-up and get updates by email.