A few years ago, I backpacked around Europe for 5 weeks. And it is during that time I visited Belgium. It was a sudden trip from Amsterdam. As Belgium was the neighbouring country, I had decided to take a bus to Brussels and spend two days before flying from Amsterdam to Bucharest.
PIN for later reference
This article may contain affiliate links. For full information, please see our affiliate disclaimer here.
About Brussels
Brussels is the largest and capital city of Belgium and it lies on the northern park of Belgium. Even though French is the prominent language, English is widely and easily spoken throughout the city. Famous for its waffles, chocolates and iconic landmarks, the city is worth visiting once. One needs only a day or two in the city as there is not many things to do.
The best time to visit Brussels is between the months of April and June and between the months of September and October as the weather is pleasant. I visit Brussels in the month of October and both the days were perfect.
I stayed at 2GO4 Quality Hostel in the city centre. Read hostels in Europe for stay options.
How to get to Brussels?
Flight – Brussels has two international airports. One is closer to the city and the other is around 55 kilometres from the city. Ryanair is one of the budgeted airlines in Europe.
Bus – As I mentioned, I took a bus, operated by FlixBus, from Amsterdam to Brussels. The journey is around 200 kilometres by road and takes only 2 hours 30 minutes. Brussels is very well connected with buses from different cities. For a detailed planning for Europe, read Europe travel planner.
Train – There are a number of trains that run between the major cities and Brussels. The train journey from Amsterdam is just 2 hours and costs as low as Euros 29 per adult. Eurostar is one of the train providers.
Eat in L'Express
During a bus tour in Belgium, I met an Indian girl. After the tour ended, we both decided to have dinner together and that's when she introduced me to a Lebanese restaurant called 'L'Express'. It is very close to the Grand Place and it is a small narrow looking restaurant.
The pita chicken (normal) costs Euros 9 and the food is absolutely delicious. The sauces, meat and the veggies are fresh and I am totally in love with that pita. This was the first time ever where I have completely finished my wrap. It was that good, and I totally recommend it.
Contact details
Rue des Chapeliers 8, 1000 Bruxelles, Belgium.
+32 2 512 88 83.
Note: Unfortunately, I was so tempted eating that I did not take any pictures of my food.
Also, if you are a vegan and is looking for a vegan restaurant, then Brussels has many vegan restaurants that you can eat in.
Things to see in one day
I was in the Brussels city only for a day and I spent most of my time eating, especially chocolate and waffles. However, I did manage to walk around the city centre and see some of the places.
Grand Place
The Grand Place is the central square of Brussels and is surrounded by beautiful landmarks of the city, including the Town Hall. It is an important tourist location and has been declared a UNESCO World heritage site since 1998. The Grand Place is definitely one of the coolest things to see in Brussels.
Cathedral of St. Michael and St. Gudula
The Cathedral of St. Michael and St. Gudula is a Roman Catholic church, dedicated to the patrol saints of Brussels city. Completed in 1519, the church has characteristics of Brabantine Gothic style.
Brabantine Gothic style of architecture emerged in the 14th century and is a variant of Gothic architecture.
Manneken Pis
Manneken Pis is a bronze sculpture of a naked little boy pissing into a fountain. It is an iconic symbol of Brussels as it is supposed to represent the sense of humour and independence of mind of people of Brussels. And you would see souvenirs, stamps and magnets of this statue. The statue was designed by Jerome Duquesnoy the Elder and was open to public in 1618.
One day tour to Bruges and Ghent from Brussels
Bruges and Ghent are the two beautiful cities which I surely recommend visiting from Brussels. As I had very little time in Belgium, I had planned to take only one day tour. I had taken a bus tour with Buendia Tours (Phone +32471587908). The tour cost around AUD 72.73 and I booked it through the Viator website. The tour company itself with all the guides were very organised and excellent. I especially liked the guide. He was very good, funny, knowledgeable, and sarcastic and I enjoyed the tour each minute because of him.
About Bruges
Bruges is a city in the northwest of Belgium and is the capital of West Flanders. It is a tourity city, well known for its cobbled streets and old medieval buildings. The buildings date back to 13th century. The distance between Brussels and Bruges is around 100 kilometres. There are frequent trains and buses between Brussels and Bruges. The train journey takes around 1 hour and costs about 20 Euros.
About Ghent
Ghent is a city in the Flemish region of Belgium. The city is spectacular with its architecture and history. It has buildings dating back to 12th century. And the place also has a shop that sells the best waffles in Belgium (at least that's what my guide said). Ghent is around 60 kilometres from Brussels and 52 kilometres from Bruges.
Closing Notes
Even though I was in Brussels only for two days this time, I would love to go back and explore more places around the city. I know that Belgium as a nation has so much to offer to all kinds of travelers. So, it is definitely on my list of countries to visit again.
PIN for later reference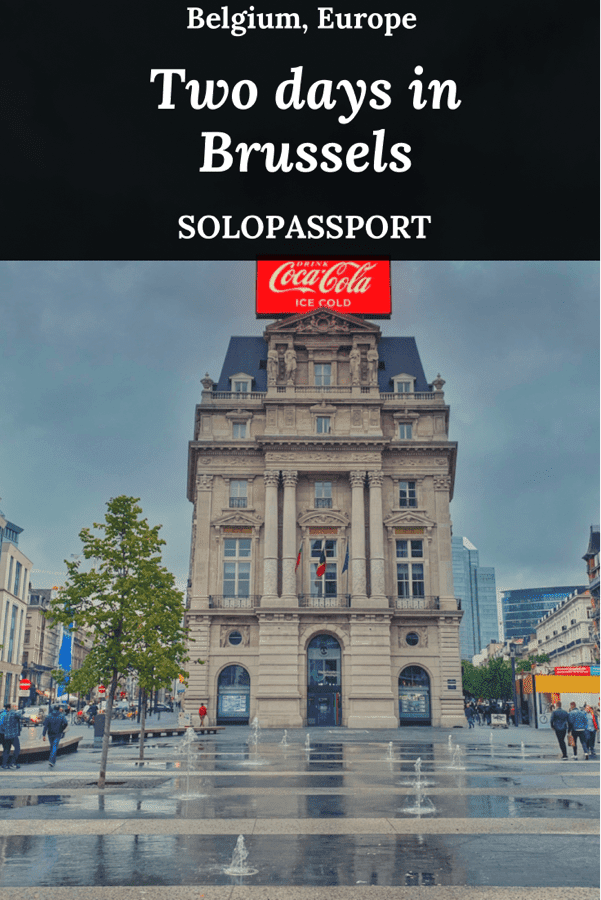 Also read
Please note: This post may contain affiliate links which means I may earn a commission if you make a purchase by clicking a link on this post. This will be at no additional cost to you. Affiliate links help me keep this website up and running. Thank you for your support.