Hike from Otford to Figure 8 Pool in Royal National Park (2023)
Have you heard of a natural pool near Sydney? It is in the shape of number 8 and is named as Figure 8 Pools. It is one of those places where you can get stunning pictures of the pools and cliffs. In this post, you will find the information on the hike from Otford to Figure 8 Pools.
I have been to Figure 8 pool twice, one with a hiking agency and the other with my friends. Both the times, the hiking experience was amazing even though the second time was nearly a life and death experience.
This article may contain affiliate links. For full information, please see our affiliate disclaimer here.
What are Figure 8 Pools in Australia?
Located in the Royal National Park near Burning Palms Beach, Figure 8 pools are the natural pools in the shape of the number 8. Royal National Park is a protected national park in the south of Sydney in New South Wales (NSW) state of Australia.
Note: Visit Figure 8 pools only during low tides.
Hike from Otford to Figure 8 Pools
The hike from the Otford car park is about 7 to 8 kilometres one way. It is rated as 'Hard' due to the steep, rocky and slippery paths. The hike can take around 3 to 4 hours.
There are two ways to reach the Figure 8 pool:
Long and not so steep path – Starting off at Otford, the hike is through the coastal rainforest and spectacular scenery. It passes through the Burning Palms Beach and the last stretch of the hike is on the rocks. The rock surface could be dangerous as it is covered in slippery seaweed. I took this path while going to the Figure 8 pool the second time. Nevertheless, the views of the walk were breathtakingly beautiful.
Very steep path – The initial stretch of the hike was climbing up the steep rocks. I took this path while returning from the Figure 8 pool during my first time and honestly the initial stretch of this hike was the most difficult part of the entire hike.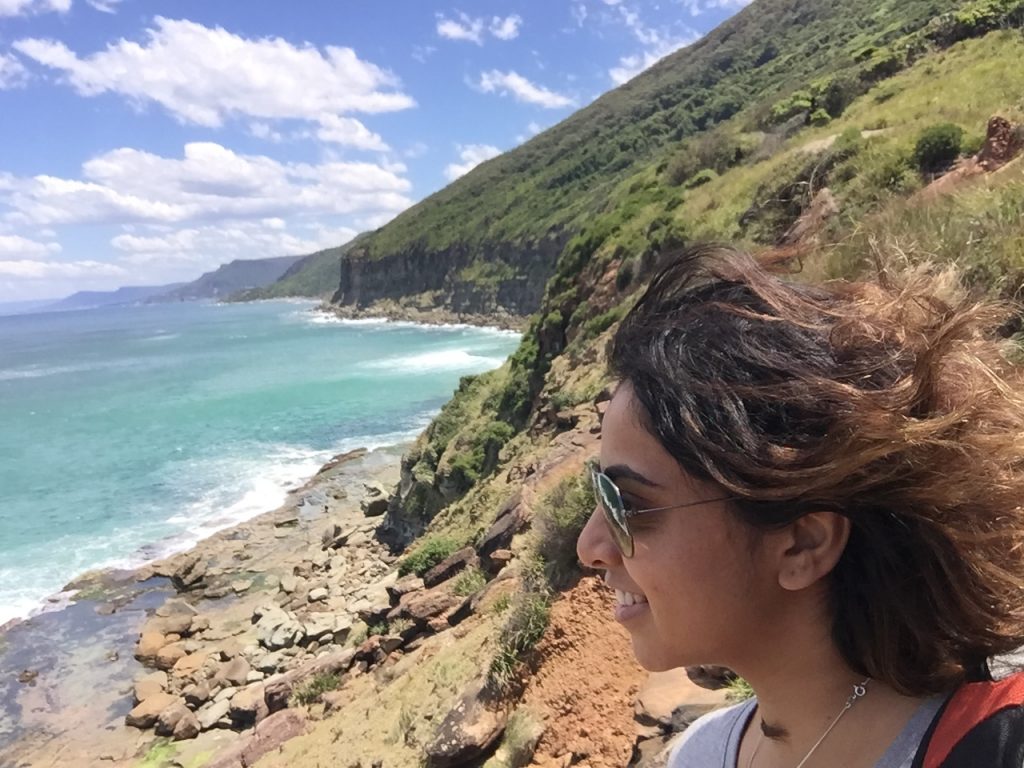 Logistics of the hike
Distance: 7 to 8 kilometres from Otford car park one way.
Time taken: 3 to 4 hours one way.
Grade: Hard.
Hiking agency details
During my first visit, I went with a hiking agency. I was new to Sydney and was just exploring the places alone. Since there is no direct public transportation to the starting point, I decided to go with a hiking agency.
The hike from Otford to Figure 8 pool can also be done by ourselves without any tour agency. During my second visit with my friends, I hiked without any hiking agency. Note that the hike needs to be done only during low tide, else it can be very dangerous.
I think the only tour company that offers a day trip to the Figure 8 pool is Barefoot Downunder. My experience with them was very good and I was well taken care of the entire day.
How to get to the car park at Otford or Garawarra Farm?
By Road – Figure 8 pool is not accessible by car.

The nearest car park is at Garawarra Farm car park, off Garie Road.
The parking is also available at Otford. We did our hike from Otford car park.
The Garawarra Farm car park is around 53 kilometres from Sydney Central Business District (CBD) and takes about 60 minutes to drive.
By Public transport – The nearest train station is Otford.

There are trains between Sydney Central train station and Otford train station.
Up to date information can be found on the Transport for NSW website.
The train fares can be paid using either Opal or credit/ debit cards.
Best Time to Hike from Otford to Figure 8 Pools
The hike to the Figure 8 pool is possible only at low tide i.e. the tide is less than 1 metre and at no dangerous surf conditions. The weather and the tide forecast must be checked at Bureau of Meteorology before attempting to hike to the Figure 8 pool.
Our story of hike from Otford to Figure 8 Pool during the high tide
I cannot stress enough as to how dangerous the hike gets during high tides. My friends and I escaped the dangerous level of high tide during one of our visits to the Figure 8 pool.
It was a beautiful Saturday and as part of our weekend exercise, my four friends and I had picked Figure 8 pool. Two of my friends had checked various websites to see the best time to visit (i.e. what time the low tide was) on that Saturday.
The websites had told us 1:30 PM was the best time as it was the low tide. Long story short, we had started the hike from Otford at around 10 AM and had reached the Burning Palms beach at around 1 PM. First thing we had noticed that the waves were still very huge. And we had thought that eventually the waves would subside as the low tide was at around 1:30 PM.
After few clicks here and there, we had made it to the Figure 8 pool platform at around 2 PM. The pools are at the edge of a cliff that drops down to the ocean and there is a platform along the pools away from the cliff where one can sit on rocks, under the shade of another cliff, and watch the ocean.
Disappointed with the huge waves, I had sat on a big rock under the shade and had fallen asleep. After few minutes, two of my friends had came over and informed that the waves had subsided and that they had taken pictures of the Figure 8 pool. Being the greedy person I am for the photographs, I had decided to go and take pictures with the pool.
Three of us had headed to the Figure 8 pool. There was a queue to get into the pool and we had patiently waited in the queue. Just when I was about to get in, out of nowhere a couple had barged in who had skipped the queue. The guy immediately had got into the pool and the girl had started taking his picture from outside the pool. Even though I was frustrated and angry, I had decided to let it go.
While waiting for my chance, I had accidentally seen beyond the cliff and had noticed a huge wave coming our way. I had turned towards one of my friends and had screamed 'Run'.
Just when we had turned to run away from the cliff, the wave had hit all of us and we were inside the water. The water had pushed us towards the platform and our legs and butts had scrapped on the shells that were near the pools. Because I do not know how to swim, my friend had held my left hand very tight so I do not go back with the wave into the ocean. His right hand had scrapped so badly that the flesh had come out and he was bleeding badly.
Before we had come to our senses, a second wave had hit us. We had again got inside the water. And this time my other friend had held my hand tightly. He was hurt, and had scrapped his calf and foot. And he was bleeding as well.
There was no time, a third wave had hit us! But luckily we were almost very close to the platform. We were only swept a little more towards the platform.
One thing we learned that day and we learned it the hard way, Never ever mess with an ocean. It is way powerful than one can imagine. It was a miracle that nothing serious happened to three of us. And I must be thankful to both these amazing people in my life for always ensuring and thinking about my safety.
Undoubtedly, it was an epic adventure of 15 kilometres hike. Having said that always ensure you visit Figure 8 pool ONLY during low tides and to ensure to check multiple websites before visiting it.
Do you know what had happened to the couple who had barged in before me? They were very seriously hurt. I only saw the girl and I saw that she had cuts all over her back from shoulders till her legs.
Safety for solo female travelers
I did not find this track unsafe for solo hikers. However, as a general rule it is always best to go on hikes with a hiking buddy, to be prepared for any unforeseen situations. I would definitely suggest going with at least another person for sure.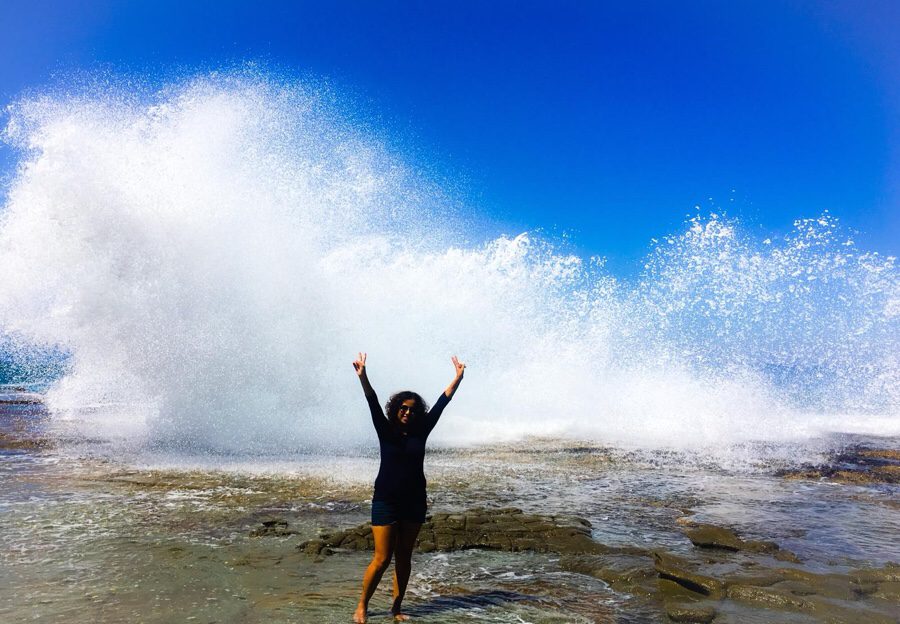 Closing Notes
In a nutshell, this one day trip to the Figure 8 pool is one of the must do hikes around Sydney. It is definitely worth it. I loved the hike more than the pools itself. The pools are not that big and they look much prettier on the pictures than in real life.
How can you support me?
You know how much I love coffee, so you can buy me coffee – Buy me Coffee!
Or you can purchase from one of the below travel resources without any extra charge to you.

Travel Resources
Click to book your flight on Skyscanner.com
Click to book your accommodation on Stay22
Click to book a comprehensive travel insurance on Safety Wing
Click to book your tours and travels on Viator or GetYourGuide
If you liked this article and if it was helpful in your planning or traveling, do share, tweet, or pin this post.

Follow me on Instagram | Facebook | YouTube | Twitter | LinkedIn
Do you have a question? Or want any suggestions, and tips for travels, hikes and scuba dives? Use the Subscription box below to sign-up and get updates by email.
Also read