9 Creative Ways to Save Money for Travel (2023)
'You are lucky, you are rich!' 'I wish I was as rich as you!' 'See, I am not as lucky as you!' 'I wish I had the money to travel!' 'How do you get so much money?' 'How do you manage your funds?' And many more…
First of all, let me start my saying that I am neither rich nor do I have a money plant that gives me money to travel. I also do not have a long lost uncle who left me huge chunk of money. In this post, you will find doable and creative ways to save money for travel.
Are you new to solo travel? Do you have a lot of questions regarding solo travels? Read frequently asked questions for solo traveling.
So, the big question – How do I pay for my travels if I am not rich? Well, the answer is simple I work hard, earn, pay for my travels and travel. I have a full time 9 to 5 job, just like anyone else, during the weekdays.
Also, read as to how I manage my leave.
So with a full time job and without the huge wealth, how do I travel so much? Well, I plan for my travels. Right now, I exactly know what I am doing end of the year. Just kidding! Having said that I do know roughly where I am traveling to for the next few months.
And honestly speaking, travel does not require too much money like how most people think. My passion is to travel, I don't care if I travel by budgeted airlines, stay at dorms or volunteer at various places.
This article may contain affiliate links, meaning if you decide to make a purchase via my links, I may earn a commission at no additional cost to you. For full information, please see our affiliate disclaimer here.
Creative Ways to Save Money for Travel
Here are some of the practical and creative ways to save money for travel:
Planning
As I mentioned before, I plan for my travels. I plan a lot and I come up with a rough itinerary. However, I do not book everything at once, I distribute the bookings across my pay days. And I understand sometimes the cost go up and I am okay with it. I am okay to bear the $100 extra cost than to put a lot of burden on my salary or credit card.
You need to get into a habit of planning if you want to travel for reasonable prices. Sometimes, planning will help you find good deals on the internet.
Off-Peak Season
Try to travel during the off-peak season. This way you can travel to places at discounted rates. The hotels and accommodations provide huge deals during the off-peak season.
Budgeted Stay
I stay at dorms or camping sites where possible. Usually, I go for a hostel when traveling. The simple reason being:
It is cheap.
I get to meet fellow travelers from all over the world.
The dorms can cost as less as AUD 23 for a bed. This helps me not spending too much money on my stay. For example, when I travel in Europe, I usually stay in the hostels.
Some of my friends also opt for Couch Surfing. I have never tried Couch Surfing till date as I am not comfortable with the idea of staying on someone's couch. But if you do want to try it out, ensure to do your research before deciding on a place. Read other's reviews and trust your instinct.
Budgeted Airlines
I travel by budgeted airlines. I am fine with traveling with just 7 kilos or in a affordable budgeted airlines. You will find me traveling mostly in budgeted airlines such as AirAsia, Scoot or Jetstar.
Frequent flyer
I use my frequent flyer cards. Sometimes, I get my flight tickets funded with the frequent flyer cards. For example, I had got a flight from Auckland to Santiago with around 90,000 Qantas points and AUD 75.
Volunteer
One of the easiest and amazing ways to travel is to volunteer. There are plenty of other ways to volunteer while traveling. You can check out websites such as Global Work and Travel, and Workaway to find volunteering opportunities.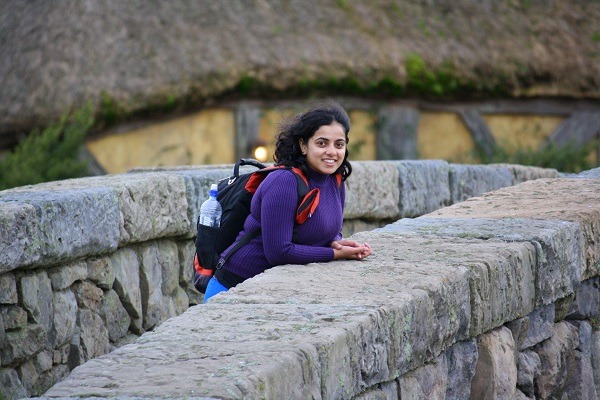 No liabilities
I do not have too many liabilities and I do not have too many expenses tied for a month. There are very few bills that I have to pay and the rest goes towards my travel funding. So, try your best not to have too many loans or debts. This way you are free and the master of your own travels.
Domestic or Backyard travels
I do many local domestic travels and I believe in backyard travel. As I have the advantage of living in Bangalore and Sydney, I do explore both these cities quite a lot. For Bangalore, I also started Bengaluru Prayana to explore and promote Bangalore as a tourist destination.
When I am at home, I do a lot of road trips and my main expenses during those road trips are just fuel and food. For stay, I try out homestays, camping or hostels.
Travel card
I have a travel debit card. I constantly transfer some amount (sometimes as less as AUD 20) every month into my travel debit card. This amount builds up and I use this for the expenses that I incur during my travels.
Do your research and try to get a travel card that helps you in your goal of travel. Have a zero international fee travel card so you don't have to pay the banks unnecessarily.
Closing Notes
I do all the above for reducing the expenses for my travels. Having said that, I never compromise on my food and the activities that I do. My huge expenses for any travel are usually the food and experiences. And this where the travel debit card comes for rescue.
"Where there is a will, there is always a way".
So, if your priority is travel, there will always be a way to travel 🙂 . I hope these creative ways to save money for travel have helped you give some ideas for saving money.
How can you support me?
You know how much I love coffee, so you can buy me coffee – Buy me Coffee!

Or you can purchase from one of the below travel resources without any extra charge to you:
Travel Resources
Book your flight on Skyscanner.com
Reserve your accommodation on Stay22
Buy a comprehensive travel insurance on SafetyWing and WorldNomads
Book your tours and travels or purchase tickets on Viator or GetYourGuide
If you liked this article and if it was helpful in your planning or traveling, do share, tweet, or pin this post.

Follow me on Instagram | Facebook | YouTube | Twitter | LinkedIn
Do you have a question? Or want any suggestions, and tips for travels, hikes and scuba dives? Use the Subscription box below to sign-up and get updates by email.
PIN for later reference | Creative Ways to Save Money for Travel