Hike Hulukadi Betta (Bangalore, India)
From the time I had planned for my career break in 2019, I had been browsing through different hikes and treks that I can do around Bangalore. I stumbled upon Hulukadi Betta and would like to confess that I had never heard of Hulukadi Betta before. It is one of those bettas (hills) around Bangalore that has been less explored.
PIN for later reference
Please note: This post may contain affiliate links which means I may earn a commission if you make a purchase by clicking a link on this post. This will be at no additional cost to you. Affiliate links help me keep this website up and running. Thank you for your support.
About Hulukaddi Betta
Hulukaddi Betta is a lesser-known hill which is less crowded and makes a great one day trip from Bangalore. The hill is surrounded by lakes and spectacular views.
The peak has a temple, remains of the fort walls and watch tower. It is said that the fort walls and the watch tower were built by the Chola kings in the 16th century.
Definitely visit the hill either at sunset or sunrise.
How to get there?
Driving – The starting point of the hike, which is the base of the hill is about 70 kilometres from Bangalore. Hulukaddi betta is towards Doddaballapura. The best way to reach the hill is by driving and it takes around 1 hour 30 minutes by car. There is plenty of car parking spaces at the base of the hill.
Note: My friend Akshata and I took an outstation cab (Ola cabs) which costed us INR 1500 (excluding toll).
Public transport – Reaching Hulukaddi betta is tricky. The nearest train station is the Doddaballapura train station which is about 20 kilometres from the base of the hill. After reaching the train station, one can either take a local bus or an auto-rickshaw to be dropped at the starting point/base.

The train to Doddaballapura train station can be taken from the Bangalore city railway station (Majestic).
The up-to-date information including the timings can be found on the IRCTC website.
Since the destination is so close, one need not book the tickets in advance. They can be purchased at the railway station.
Note: This can be a problem while traveling at nights or early morning.
Legend
The place is said to have some interesting mythological stories of Lord Veerabhadra. Atop the hill, there is a Veerabhadra temple which has a 4 feet tall statue of Lord Veerabhadra. And also, it is believed that every year in the month of February during a festival, a large snake visits the temple and circles itself around the Lord Veerabhadra's statue.
Did you know that Lord Veerabhadra is an incarnation of Lord Shiva and is also known as Natraja (the dancing form of Lord Shiva)?
There is also a story that Lord Veerabhadra and Lord Narasimha fought to stay in this place. However, Lord Narasimha later moved to Andhra Pradesh after losing the fight.
I suggest talking to the locals to get some insight into the mysterious and interesting stories about Hulukaddi Betta.
Hiking
A perfect and easy hike to spend half a day/one day over the weekend is Hukuladdi betta. With some amazing views from the hill, this is one of the best and easy hikes around Bangalore.
Best time to visit
The best time to visit Hulukaddi betta is from the month of January till April and from August till November. These months are pleasant and are not too hot.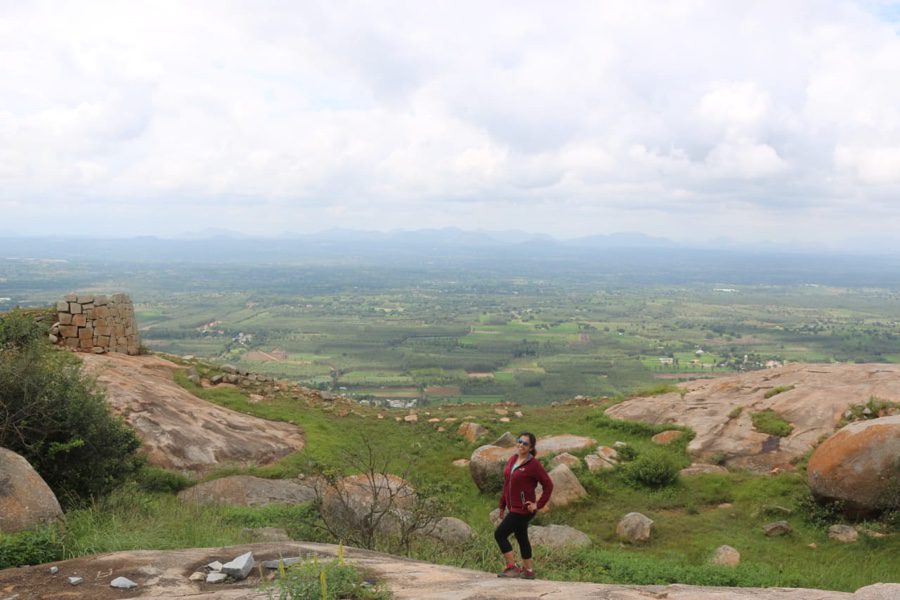 Logistics (Path: Steps)
Distance from Bangalore: 60 to 70 kilometres.
Distance of hike: 7 to 8 kilometres in total.
Grade: Easy to Moderate as there are around 1400 steps one way.
Time taken to reach the peak: 1 hour one way. I suggest keeping at least 2.5 hours for return.
Routes: There are two ways to get to the peak where Lord Veerabhadra's temple resides – one is through the stairs and the other through a trail that requires climbing boulders. We took the stairs.
The trek is ideal for the family including kids, ensure to take the path that has the stairs instead of boulders.
Itinerary
Even though there are many trekking/hiking agencies across Bangalore that organise one-day trips to Hulukaddi betta, my friend Akshata and I decided to hike this hill on our own.
If one is taking the steps to get to the top, the path is very easy and can be done by yourself.
If taking the trail/boulders, it is advisable to go with a trekking agency.
There is a shop at the entrance where one can purchase light snacks and water.
5:00 AM – We started from Bangalore at around 5 AM.
7:00 AM – We reached Hulukaddi betta at around 7 AM and started the climb. Note: We did stop for breakfast at one of the darshinins (breakfast joints) along the way.
8 AM – We reached atop and spent some time admiring the views.
10:00 AM – We reached the bottom of the hill and started for Bangalore.
11:30 AM – We reached Bangalore.
Important Information
Wear comfortable and sturdy shoes. A good pair of shoes makes a lot of difference for the trek.
Always carry an extra pair of socks. I usually carry an extra pair in the bag as sometimes while trekking, we do suffer from blisters. And during these times, it is best to change the worn socks with a fresh pair.
Carry sufficient water to the peak. Even though this trek is not difficult, it is best to keep ourselves hydrated and carry sufficient water during the trek.
There are shops at the base of the hill. So one can purchase water, snacks, and chocolates. And do carry some of the chocolates and snacks to the top so you can have them once you reach the peak.
DO NOT litter the hill. Carry your garbage with you and dispose it properly at a garbage bin. I cannot stress enough about this. Please respect nature and do not throw your rubbish anywhere on the hill or path.
Safety for solo female travelers
If you are traveling alone, I would not suggest visiting this place when it is dark (early morning or after sunset). It is best to go with a reputed trekking agency so you can enjoy the trek without worrying much.
Closing notes
Hulukaddi betta may not be my most favourite hike around Bangalore. But it is definitely worth visiting at least once and soaking in some history and pretty views of the villages around.
Also read
PIN for later reference