Captivating Japan: 10 Must-See Instagram Photos for Travel Inspiration (2023)
Japan, a land of culture and ancient traditions, is one of the most beautiful countries I have visited so far. It has immense amounts of breath taking scenic beauty. The people are extremely friendly and are the nicest people I have come across to date. The technology is so well advanced and is known for its hi-tech heated toilets. And the public transport system is one of the best. You name it and Japan has it all and hence Japan is perfect for Instagram photos.
PIN for later reference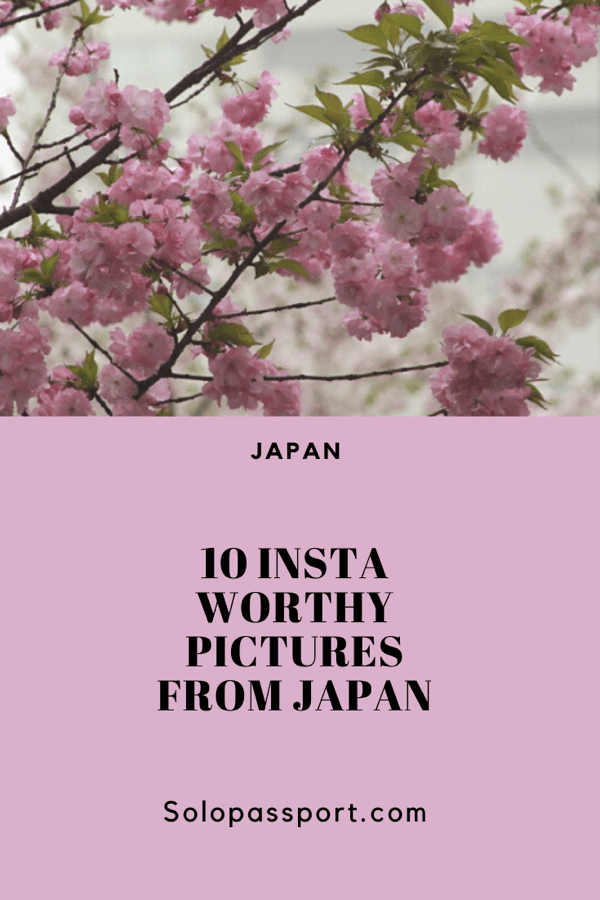 This article may contain affiliate links. For full information, please see our affiliate disclaimer here.
Captivating Japan: 10 Must-See Instagram Photos for Travel Inspiration
Known as the Land of the Rising Sun, Japan is an island nation in Asia. It is popular for its unique culture, modernisation, technology and spectacular landscapes. Here are the 10 Instagram Worthy Photographs that will make you pack your bags and leave for Japan now.
Are you in Japan for 9 days? Then here is the detailed itinerary of Japan that provides all the information required to have a great holiday.
Prayer flags called Ema
I love the prayer blocks that I say in Japan. They were every where, in the shrines and at souvenir shops. Ema or Shinto are the wooden blocks which has prayers or wishes written on them by the Shinto or Buddhist worshippers. Once a wish is written on the block, they are hung at the shrine until they are ritually buried at special occasions. The burying signifies the liberation of that wish from the wisher.
I visited a shrine in Tokyo called the Hie-Jinja Shrine. There I saw these beautiful prayer blocks. I was mesmerised by them. It had wishes written by all the people irrespective of religion or nationality. People had written their wishes and had hung those blocks on a massive wooden plank. I thought these wooden prayer blocks symbolised hope, hope that God is listening, and hope that someday these wishes would come true.
Like a child seeing the candy in a candy store, I went running to the souvenir shop and bought one of those prayer blocks. I wrote a message to God on the back of the block. I then carefully hung the block on the massive plank. I was super excited. I am not a very spiritual person, but I do believe that sometimes writing what you want with hope, helps and motivates your inner subconscious to get and achieve it.
During these days, I was going through really tough times. I had written the wish in my native language which is Kannada and had hung it with the remaining blocks. I had wished God would understand what I was going through and gave me strength to overcome the phase.
Read Stories from Japan to listen to more.
I am not sure if my wish had come true but this whole process gave a positive vibe for the day. It was meditation according to me, as the whole act brought me peace and happiness.
Cherry blossoms
If you are visiting Japan during the Spring season, then be rest assured that Japan is pink or white. Spring season is one of the best seasons to visit this amazing country, as it is the season of sakuras or the cherry blossoms.
Cherry blossom is also known as Sakura. This flower turns pink and white during the spring season in Japan. The best time to view the cherry blossoms is in the months of March to April and the places I visited were Tokyo, Osaka, Kyoto, Arashiyama and Hiroshima. "Hanami" is an old tradition in Japan that has been carried along from centuries. The custom is picnicking under a blooming Sakura tree.
Did you know that Sydney celebrates this Hanami festival at a Japanese garden in Auburn?
Thousand Torri Gates
Opened in 711 AD, the Fushimi Inari Shrine is home to the Thousand Torii Gates. The Thousand Torri Gates as the name suggests has one thousand shrine gates. It is a photographer's delight and a dream.
Did you know Torri is a traditional Japanese gate symbolising the transition from the mundane to the sacred? And the colour of the gate is generally red or orange referred to vermilion (kumkum in Hindi) and is considered as a protective colour against the evil forces.
Golden Palace
Opened in the year 1955, the Kinkakuji or the Temple of Golden pavilion, officially known as Rokuon-ji, is a Zen temple in Kyoto. It is a three storey building. The top two floors of the temple are covered in a golden leaf. Its reflections on the waters and the surroundings of the temple around are truly spectacular and worth a visit.
The history of the temple dates back to 1397. It was originally known as Kitayama-dai and it belonged to a powerful statesman Saionji Kintsune. It was then purchased by shogun Ashikaga Yoshimitsu. After the death of Yoshimitsu, the complex was turned into a Zen temple by his son.
Miyajima Floating Torii
The Miyajima Floating Torii is a gate in the shrine on Itsukushima island, which is in the city of Hatsukaichi in Hiroshima. The shine is listed as a UNESCO World Heritage site and showcases the 12th century architectural history. It is one of the most popular destinations in Japan. I think there is no other structure in the World that can compete with the Miyajima Floating Torii. It's a marvel and a beauty.
Atomic Bomb Dome
Atomic bomb dome and the peace memorial park are a great place to read and witness the history of the atomic bombing. The dome and the memorial park are in Hiroshima and are the UNESCO World Heritage sites. They signify as the memorial for the 140,000 people who died in the atomic bombing of Hiroshima in the year 1945.
Mount Fuji
One of Japan's "Three Holy Mountains", Mount Fuji is the highest mountain. It is an active volcano and is around 100 kilometres from Japan. The mountain stands at a height of 3776 metres. One of my bucket list items of Japan is to climb this mountain. Unfortunately, when I was there the mountain was closed and no hikers were allowed to climb.
Arashiyama
Arashiyama, also known as 'Place of scenic beauty', is a district on the outskirts of Kyoto in Japan. True to what it is known as, Arashiyama is definitely one of the most beautiful places I have visited in Japan. The place offers a lot of things and sites to see, from the beautiful bridges to the bamboo forest, from lots of authentic restaurants to an owl café, it has it all.
Togetsuky bridge
Togetsuky bridge, also known as Moon crossing bridge, is a bridge crossing the river in Arashiyama. A 509 feet long bridge built across the river is a great picturesque spot especially during the cherry blossom festival. The river has different names, River Oigawa in the upper course, River Hozugawa in the middle course and River Katsuragawa in the lower course.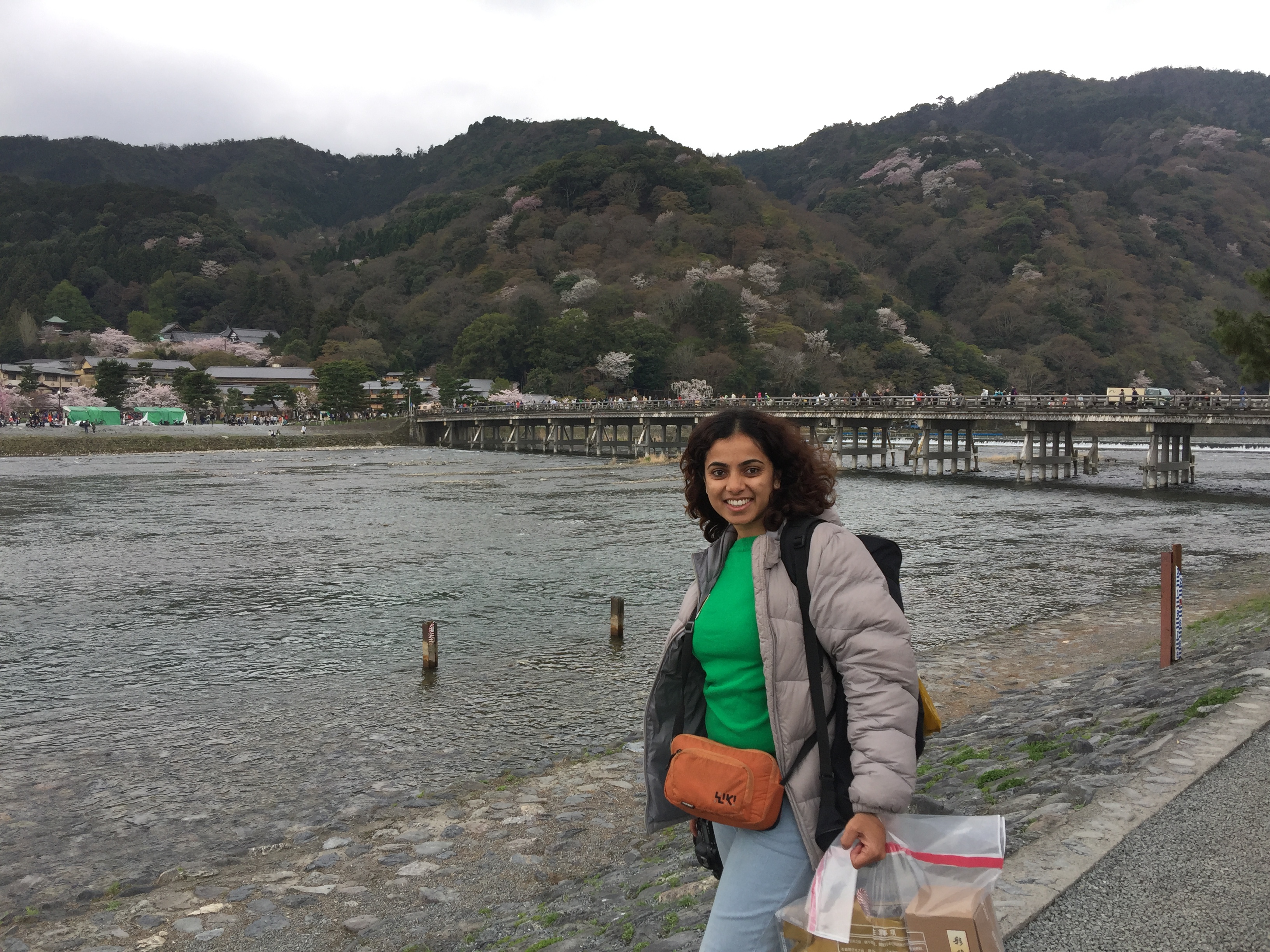 I was excited to see the pretty cherry blossom trees on either side of the river.
Sangano bamboo forest
Sangano bamboo forest, one of the main tourist sites in Arashiyama, this is one stop for spectacular photos. It is a natural forest of Moso Bamboo.
Tenry-ji temple
Tenry-ji temple, also located in Arashiyama, is one of the two main sects of Zen Buddhism in Japan. The temple was founded in 1339 by Ashikaga Takauji. In 1994, the temple was declared as UNESCO World heritage site.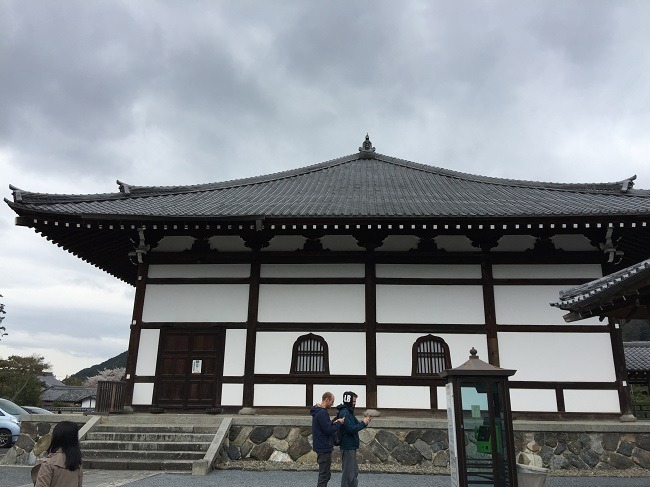 Is Japan safe for solo female travelers?
Japan is one of the safest countries in the World for solo female travelers. I have never seen such beautiful and friendly people in any of my travels. In spite of language barriers, there was no one who refused to help. In fact the Japanese people go out of their way to make you feel welcomed and help you.
Where to stay in Japan?
Japan is perfect for all kinds of travellers. From luxury travelers to the budgeted backpackers, it has accommodation for all.
As I love staying at hostels while I am solo traveling, Japan was no different. I stayed at hostels and these are the three hostels that I stayed at:
According to my planned itinerary, my first stop was at Osaka.
My second stop was at Hiroshima.
My third and the last stop is was Tokyo.
Closing Notes
I enjoyed traveling in Japan. I was there for two weeks and every part of Japan was beautiful and I recommend having Japan as one of the must countries to visit in every traveler's bucket list.
How can you support me?
You know how much I love coffee, so you can buy me coffee – Buy me Coffee!
Or you can purchase from one of the below travel resources without any extra charge to you.

Travel Resources
Click to book your flight on Skyscanner.com
Click to book your accommodation on Stay22
Click to book a comprehensive travel insurance on Safety Wing
Click to book your tours and travels on Viator or GetYourGuide
If you liked this article and if it was helpful in your planning or traveling, do share, tweet, or pin this post.

Follow me on Instagram | Facebook | YouTube | Twitter | LinkedIn
Do you have a question? Or want any suggestions, and tips for travels, hikes and scuba dives? Use the Subscription box below to sign-up and get updates by email.