Hike to the Rainbow mountain peak
All of us have seen pictures of the colourful mountain called Rainbow mountain. The pictures and videos of this beautiful mountain is everywhere on social media. When I visited Peru a few years ago, I managed to visit this amazingly photogenic mountain. As I had only one spare day left after the trek to Machu Picchu, I had taken a one day tour from Cusco.
By the way did you know that there are four rainbow mountains in the world that travelers can explore and trek?
PIN for later reference
This article may contain affiliate links. For full information, please see our affiliate disclaimer here.
Disclaimers:
The prices mentioned in the post are valid only at the time of publication. Ensure to check the booking websites for up to date information and prices.
Opinions and views expressed solely mine and are unbiased. If the post is a collaboration, then they are specifically mentioned.
Ensure to check the relevant websites for up to date information on COVID protocols.
For any adventurous activities, please note that there is a risk that can be dangerous. Ensure to read the terms and conditions with individual agencies recommended and do them at your own risk.
For visas, it is best to see the embassy website for any changing rules.
About Rainbow mountain
At an altitude of 5200 metres, the Rainbow mountain is second most popular tourist destination after Machu Picchu in Peru. Located in the Cusco region, the Rainbow mountain is a mountain part of Willkanuta mountain range in the Andes and is also called as Vinicunca or Winikunka. The local name is Montana de Siete Colores which means mountain of seven colours. It was formed when the Nazca tectonic plate fell beneath the South American plate.
The mountain is called as a Rainbow mountain because of the seven colours of sand and mud on the mountain. Unfortunately, the mountain has been a victim of over-tourism and corrosion that the exterior colours are not that bright anymore.
The seven colours are due to the mineralogical composition and the various colours are due to:
Pink due to red clay, mud and sand.
White due to quartzose, sandstone and marls.
Red due to the claystones.
Green due to phyllites.
Brown due to fanglomerate and magnesium.
Mustard yellow due to calcareous sandstones.
Locals consider the Rainbow mountain as holy and is a pilgrimage site. It is considered as a symbol of the father and masculinity.
Even though the trail is open throughout the year and looks beautiful at every season, it is best to visit is between June and August. I visited the mountain during December and as it was the wet season, it rained most of the time.
By the way, Cusco is a beautiful city where you can spend a few days exploring. Here is a perfect 5 days itinerary in Cusco that will help you plan your holiday in Cusco. I spent around 7 days in Peru and I had the best time in the country.
How to get to Rainbow mountain?
Driving
The starting point of the trail is Fula Wasi. Fula Wasi is around 140 kilometres from Cusco city via Checacupe and the journey by road takes up to 3 to 3.5 hours. Checacupe is around 40 kilometres from Rainbow mountain parking.
There are plenty of parking places at Fula Wasi.
Public transport
Getting to Fula Wasi by a public transport can be very tricky. There are no direct buses to Fula Wasi. One needs to take a bus to Checacupe and then hire a taxi to the Rainbow mountain parking and this may cost around Soles 100.
Note: This may be an issue for the return journey as you may have limited number of taxis waiting at the parking.
One day trip to Rainbow mountain
I opted for a day tour to Rainbow mountain from Cusco as I did not hire any vehicle and had less time for planning my own transportation. The one day tour was operated by Rainbow mountain Cusco tour agency and it cost me around USD 85 per person. The booking was done on Viator website.
Cost includes transportation, breakfast, lunch and English speaking guide.
Pickup from the hotel happens very early at around 3:30 AM and drop happens at about 6 PM.
Statistics of the hike
The hike is done as a one day hike and the trail is spectacular with surrounding mountains and fresh air.
Starting and finishing points: Fula Wasi.
Total distance: 4 to 5 kilometres one way and last 1 kilometre is very steep.
Time taken: 4 to 5 hours return.
Type of hike: Return.
Grade: Hard and one must be in good physical condition to hike up this mountain.
Trail: Well defined path.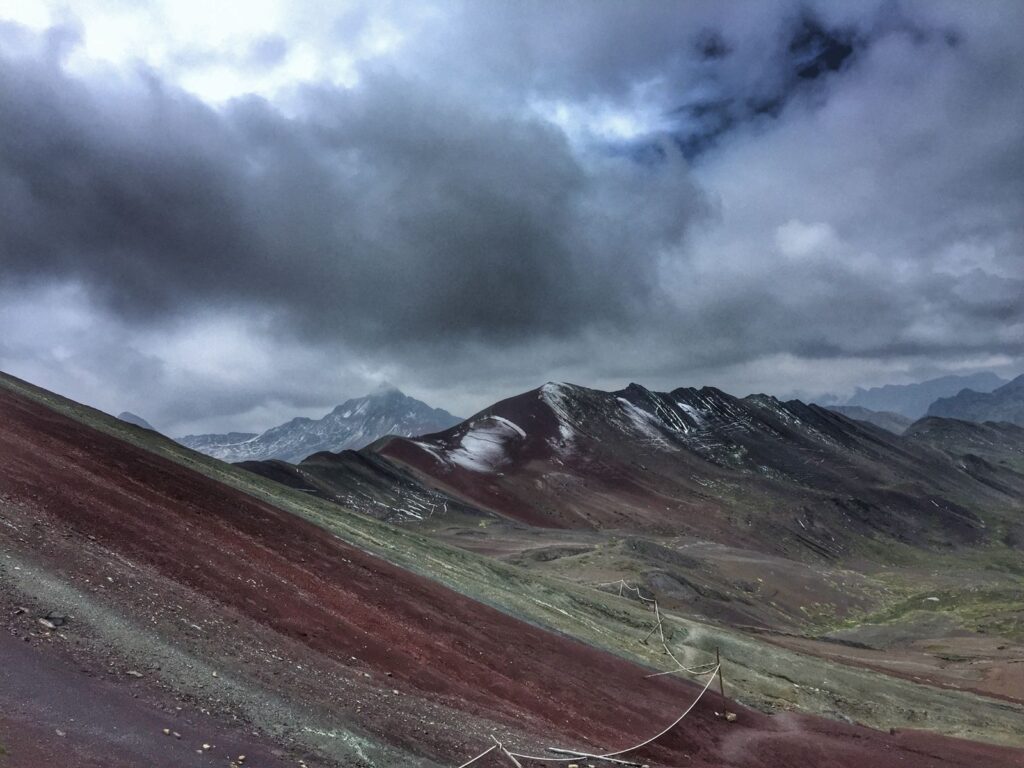 Important information
The mountain is at a high altitude of 5200 metres, so ensure to get acclimatise before attempting to climb the mountain.
There is an entrance fee of Soles 10 for parking the vehicle.
There are two ways to get to the peak, one is by hiking and the other is by riding a horse. The horse ride is about Soles 90 per person.
Note: Even though I have ridden a horse in the past, my thoughts have changed over the years and I do not like to ride any animals and do not encourage it as well.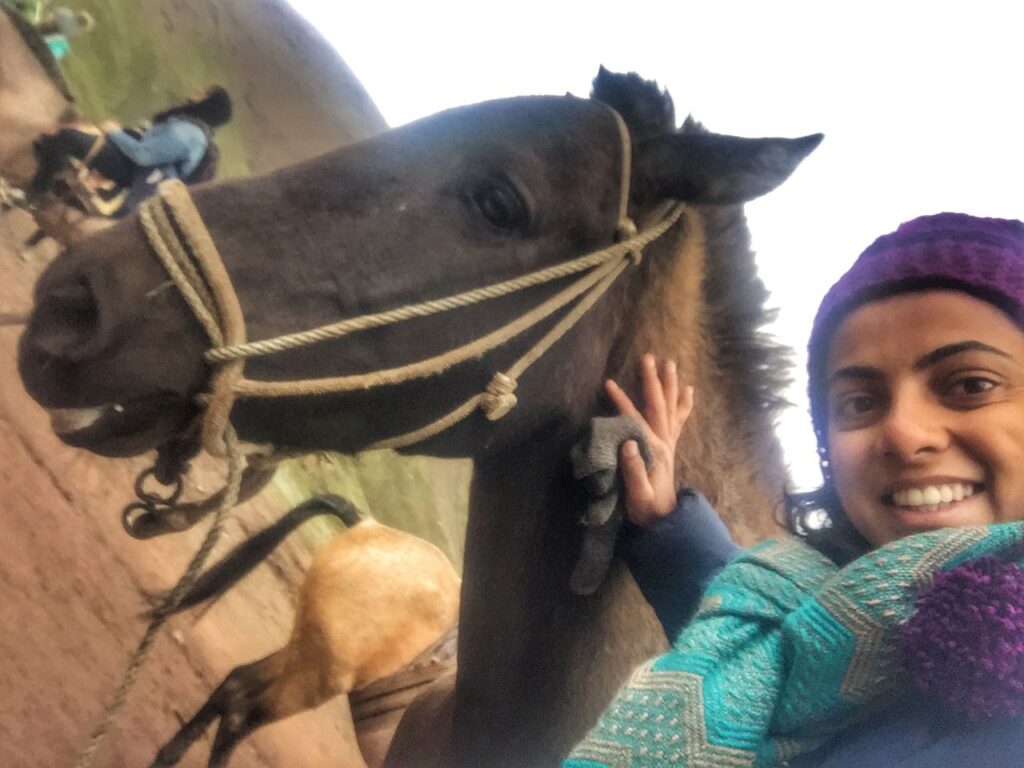 It is best to hire a guide to hike the Rainbow mountain.
Ensure to carry a jacket even during the dry and summer season as it can become chilly while ascending.
Be prepared for a lot of people at the peak and on the trail. As it is one of the popular destinations, everyone visits the Rainbow mountain.
Leave place for the horses on the trail.
There are fences to protect the clay, mud and soil at the peak. Be respectful and do not cross those fences.
The trail has a lot of life, including lots of people, horses and llamas.
Trekkers can also stay at some of the lodges available at the nearby towns and villages.
Safety for solo female hikers
I would not suggest going solo for this hike even though it is doable as there are a lot of people on the trail. It is best to go with a trekking agency or at least hiring a guide while attempting to climb the mountain. Also, as hiking 101, it is always advisable to have a buddy while hiking for any unforeseen situations. And like any other place in the world, be cautious at all times, especially at night.
Are you new to trekking or hiking? Or do not know where to start? Read my beginner's guide into trekking and hiking.
Download Emergency Plus app for any unforeseen situations. The app does not require mobile network and it shows the location of where you are. This is useful to let the emergency services know, in case there is any emergency.
If you are a tourist, always make sure to have a good comprehensive travel insurance to cover yourself in case of any emergency.
Closing Notes
Rainbow mountain is one of the beautiful geological mountains in the world. It is highly photogenic and is surely worth climbing. I was really happy to see this natural wonder as the colours are truly mesmerising.
Hope this post has provided you the information you need, if not, leave your questions or queries on the comments below.
How can you support me?
You know how much I love coffee, so you can buy me coffee – Buy me Coffee!
Or you can purchase from one of the below travel resources without any extra charge to you.

Travel Resources
Click to book your flight on Skyscanner.com
Click to book your accommodation on Stay22
Click to book a comprehensive travel insurance on Safety Wing
Click to book your tours and travels on Viator or GetYourGuide
If you liked this article and if it was helpful in your planning or traveling, do share, tweet, or pin this post.

Follow me on Instagram | Facebook | YouTube | Twitter | LinkedIn
Do you have a question? Or want any suggestions, and tips for travels, hikes and scuba dives? Use the Subscription box below to sign-up and get updates by email.
PIN for later reference