Discovering Viking Heritage: A Guide to Sverd i fjell in Norway (2023)
One of the most beautiful sights to visit in Stavanger is Sverd i fjell. The feeling of seeing these giant swords is an extraordinary and unique experience. Even though I visited Stavanger mainly for the hike to Preikestolen (Pulpit Rock), I had an opportunity to see the Sverd i fjell.
Did you know that there is a Pulpit Rock even in Australia? I found that out after visiting the Pulpit Rock in Norway.
PIN for later reference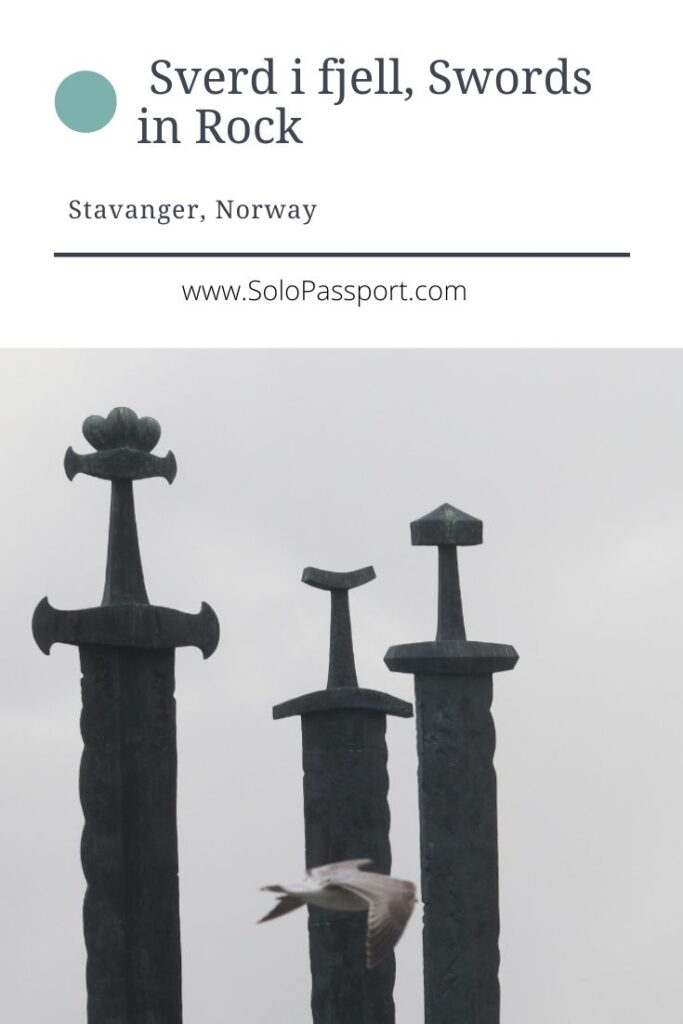 This article may contain affiliate links. For full information, please see our affiliate disclaimer here.
About Sverd i fjell
Sverd i fjell, translating to Swords in Rock in English, is one of the must see places in Stavanger, Norway. The monument is a commemorative monument of three swords with a background of an ocean. These swords are made of bronze and stand at 10 meters tall. They represent peace, unity and freedom.
The largest sword represents the victorious Harald, and the two smaller swords represent the defeated petty kings. The Viking swords hilts are modelled on the swords.
By the way Tromso in Norway is one of the amazing places where you can see the Northern Lights.
History of Sverd i fjell
The monument was created by sculptor Fritz Roed. And was unveiled by King Olav. The swords commemorate the Battle of Hafrsfjord in the year 872. This is the battle when Harald Harfagre united Norway into one kingdom.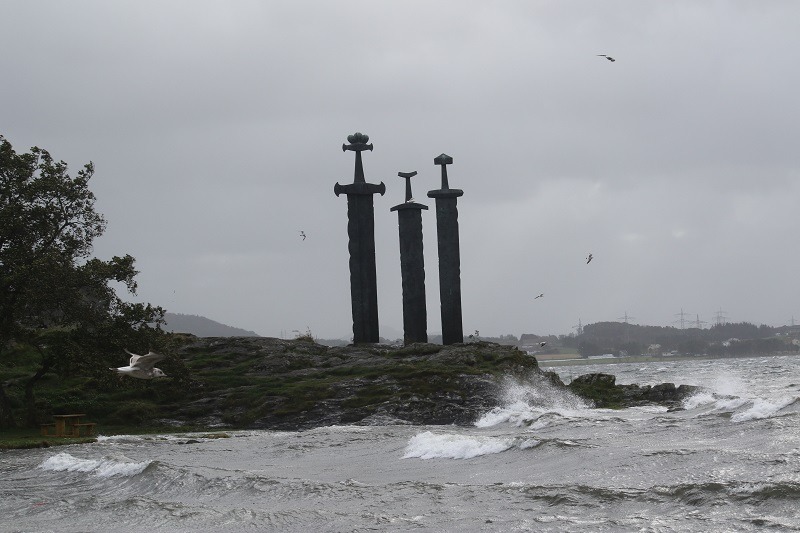 How to get to Sverd i fjell?
Sverd i fjell is about 10 minutes bus ride from the city center. The bus number 16 goes from the city center to the monument and it costs about 40 Norwegian Krone. Latest information can be found at https://www.kolumbus.no/en/.
My experience of seeing these beautiful swords
Visiting Swords in Rock was never part of my things to see list for Stavanger. But something on the map, given to me by the hotel receptionist, drew my attention. It was a picture of three swords. It looked interesting and definitely became a part of my must-sees immediately.
Even though the weather was really bad on the day and it was raining continuously, I decided to head to the Swords in Rock. I took a bus from a bus stop closer to my accommodation, that was in between the city center and the Swords in Rock, and was dropped at the bus stop that was about 2 minutes walk from the Swords in Rock.
The first glimpse of the swords were that there stood the tall bronze swords high with a rough ocean and the dark clouds in the background. It was spectacular.
The bad weather added more drama to the sight. I took many pictures and videos, to my heart's content as I was awed by the beauty of the monument.
Safety for solo female travelers
Stavanger is one of the safest cities for solo female travelers. The people are very nice and friendly, and I had no issues when I traveled there by myself. It was in fact great as I met so many people from different ethnicities and phases of life. However, like any other city in the world, be cautious, especially at night.
Closing Notes
I am glad to have found this beautiful piece of history in Stavanger and would definitely recommend this to every traveler who visits Stavanger.
How can you support me?
You know how much I love coffee, so you can buy me coffee – Buy me Coffee!
Or you can purchase from one of the below travel resources without any extra charge to you.

Travel Resources
Click to book your flight on Skyscanner.com
Click to book your accommodation on Stay22
Click to book a comprehensive travel insurance on Safety Wing
Click to book your tours and travels on Viator or GetYourGuide
If you liked this article and if it was helpful in your planning or traveling, do share, tweet, or pin this post.

Follow me on Instagram | Facebook | YouTube | Twitter | LinkedIn
Do you have a question? Or want any suggestions, and tips for travels, hikes and scuba dives? Use the Subscription box below to sign-up and get updates by email.
PIN for later reference