The Grand Mosque in Abu Dhabi (2023)
Are you interested in seeing a breathtakingly beautiful mosque? With white columns and intricate detailing and amazing architecture? Then The Grand Mosque in Abu Dhabi is the place for you.
One of the prettiest mosques I have ever visited is the Sheikh Zayed Grand Mosque in Abu Dhabi. Visiting this spectacular mosque in Abu Dhabi was part of the tour that I had taken when I visited United Arab Emirates (U.A.E.). This package tour also included visiting Dubai.
This article may contain affiliate links. For full information, please see our affiliate disclaimer here.
United Arab Emirates (U.A.E.) Travel Resources
For best airfare, use Skyscanner
For hotel bookings, use Booking.com
If you are a budgeted traveler, use Hostelworld for hostel bookings
To hire a car, use Rentalcars
Always travel abroad with comprehensive travel insurance, use Safety Wing
For tours and travels, use Viator or GetYourGuide
About The Grand Mosque / Sheikh Zayed Grand Mosque
Constructed between 1996 and 2007, Sheikh Zayed Grand Mosque is one of the remarkable landmarks and a must do in the capital city of Abu Dhabi in U.A.E. The mosque was inaugurated to establish a structure that would unite the cultural diversity of the Islamic world. The mosque features domes, columns, chandeliers and a carpet.
Sheikh Zayed Grand mosque is a symbol of peace, diversity and tolerance. The main axis of the mosque aligns in the direction of Kaaba in Mecca of Saudi Arabia.
Interiors of the Grand Mosque
The architecture of the mosque is breath taking and is one of the fine examples. The mosque has many and unique elements, such as:
Chandeliers – The chandeliers are imported from Germany and has millions of Swarovski crystals. There are seven of these imported chandeliers and the largest chandelier among the seven is the second largest chandelier inside a mosque.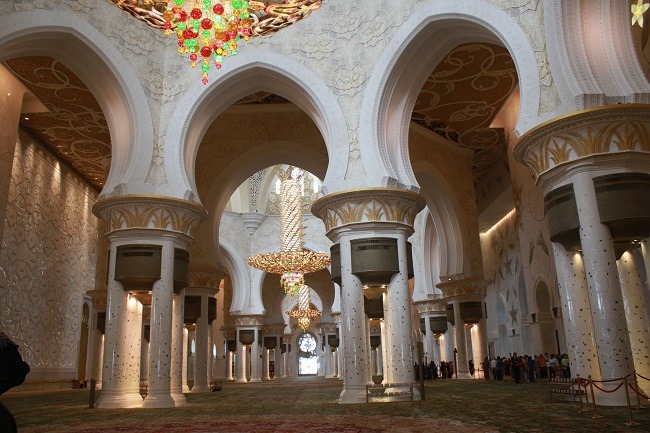 Carpet – The carpet in the hall is world's largest carpet and is predominantly made of wool. Designed by Iranian artist and made by Iran's carpet company, the carpet took approximately two years to complete. It measures over 60,000 square feet and was made by around 1300 carpet knotters.
Columns – The mosque has over 1,000 columns out of which 96 are in the main prayer hall. They are all made of marble and some of them exhibit amazing craftsmanship.
Pools – The mosque is surrounded by pools that reflects the mosque's columns. These are illuminated at night and were designed to reflect the different phases of the moon.
The Grand Mosque Abu Dhabi Dress Code
The Grand Mosque requires appropriate and conservative dressing. You can wear jeans but it should not be torn anywhere. And the top needs to be full sleeved. Even a see through full sleeved top is not allowed inside the mosque. Also, a head scarf is a must.
Women have to cover head, wrists and ankles with loose fitting clothes. 'Abaya' can be hired at the mosque free of charge.
Men cannot wear any shorts or tank tops.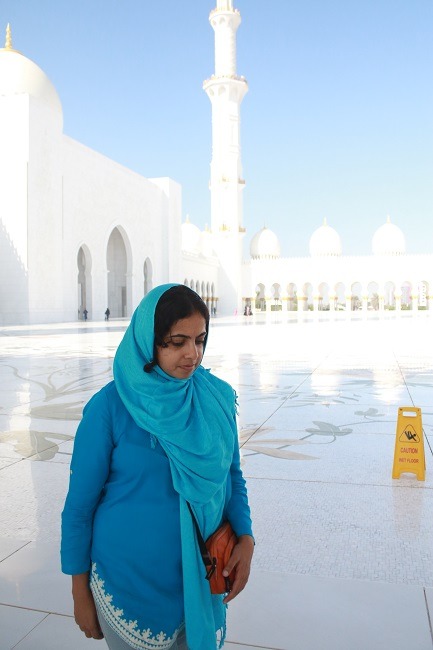 Visiting Hours
The mosque is open Saturday to Thursday between 9 AM and 10 PM. On Friday mornings, the mosque is closed for tourists but is open after 4:30 PM on Fridays. Recent information regarding the visiting hours can be found at Sheikh Zayed Grand Mosque Center website.
It is free to enter the mosque and one need not book any tickets. However, you need to carry a valid photo identification. There are strict security checking that happen prior to entering the mosque.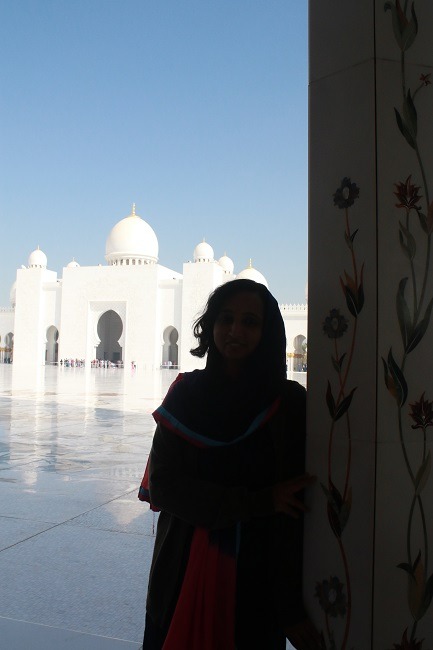 How to get to Abu Dhabi from Dubai?
The best and easiest way to get to Abu Dhabi from Dubai is by driving. The distance between the cities is just around 110 kilometres and it takes a little over an hour by road.
There is also a local bus between Abu Dhabi and Dubai. The bus journey is around 2 hours. For up to date information on buses, refer Dubai Roads and Transport Authority website.
Closing Notes
I was amazed by the beautiful architecture and art that the mosque depicts. It is one of the beautiful places of worship that I have visited. The visit to the mosque is totally worth it as it is truly amazing from the inside. I highly recommend visiting the mosque when in Abu Dhabi.
How can you support me?
You know how much I love coffee, so you can buy me coffee – Buy me Coffee!
Or you can purchase from one of the below travel resources without any extra charge to you.

Travel Resources
Click to book your flight on Skyscanner.com
Click to book your accommodation on Stay22
Click to book a comprehensive travel insurance on Safety Wing
Click to book your tours and travels on Viator or GetYourGuide
If you liked this article and if it was helpful in your planning or traveling, do share, tweet, or pin this post.

Follow me on Instagram | Facebook | YouTube | Twitter | LinkedIn
Do you have a question? Or want any suggestions, and tips for travels, hikes and scuba dives? Use the Subscription box below to sign-up and get updates by email.