Photo Diary: Niagara Falls (2023)
Who hasn't heard of Niagara Falls? Probably every Indian out there would have heard of how beautiful the Niagara Falls is from her or his United States (US) returned sibling or a cousin.
Same as every other Indian, I had heard a lot about how beautiful the waterfall is. I dreamt of seeing it as well. But… from the Canadian side. So, as part of my travel tour, East Coast US and Canada Highlights, I ensured that Niagara Falls was on the itinerary.
This article may contain affiliate links, meaning if you decide to make a purchase via my links, I may earn a commission at no additional cost to you. For full information, please see our affiliate disclaimer here.
About Niagara Falls
Group of three waterfalls, Niagara falls is one of the most famous waterfalls in the world and is a geological wonder. The largest of the three waterfalls is the Horseshoe falls. Sharing the borders between Canada and United States of America (USA), the Niagara falls is a major source of hydroelectric power. It is also the most photographed and tourist destination in both the countries.
Best time to visit Niagara Falls
The best time to visit Niagara Falls is during the summer season which is between the months of June and August as the weather is warm and there is clear visibility of the Niagara Falls. However, winter season is equally beautiful and there are many things to do in Niagara Falls during the winter season.
Tips for visiting Niagara Falls
One of the easiest and best ways to explore Niagara Falls is by booking tours on Viator. These tour agencies make sure everything is arranged and your visit is hassle free.
Even though Niagara Falls share borders between Canada and United States of America, the best views are from the Canadian side.
If you are taking the Hornblower boat ride, then make sure you leave all important things back at the hotel.
You need at least 2 to 3 days to see everything in and around Niagara Falls.
Plan to stay at a hotel that has a view of the falls.
It is advisable to walk around Niagara Falls as it is easier to get around by foot.
Sunrise is the best time to see Niagara Falls without any people around to photobomb or disturb your views.
Places to stay in Niagara Falls
Ramada by Wyndham
I stayed at Ramada by Wyndham when I visited Niagara Falls. Located just around 5 to 10 minutes walk to the falls, this property is very comfortable and convenient.
Click here to check for prices on Booking.com
The Oakes Hotel
One of the best properties to stay in Niagara Falls is The Oakes Hotel as it has stunning views of the Horseshoe falls. It is located right next to Fallsview Casino and is about a kilometre from the centre.
Click here to check for availability on Booking.com
DoubleTree FallsView Resort and Spa by Hilton
Located close to the centre and Niagara Falls, the DoubleTree FallsView Resort and Spa by Hilton is perfect stay if you want to stay close to the falls with its awesome views.
Click here to check for prices on Booking.com
Best way to experience and see Niagara Falls
Viewing Niagara Falls during the Sunrise
I got up by 5 AM and headed out to see the sunrise at the Niagara Falls. I walked from my hotel Ramada by Wydham to the park around the falls (it was very scary, as there were nobody on the street).
Even though scared, I set up my tripod and was eagerly waiting for the spectacular sunrise. And yes, the sunrise was breathtakingly beautiful and it was no way less dramatic than what I had visualised. Waking up so early at around 5 AM was totally worth it. And I highly recommend doing this.
Hornblower boat ride
The Niagara cruises offer a Hornblower boat tour. It is a 20 to 30 minutes boat ride and cost about USD 22.25 for adults (13 years +) and USD 13 for children. The boat ride is a great way to come up close to the Niagara Falls. And I must admit, it was a thrilling and an amazing experience. A must do for sure when visiting the Niagara falls. 100%!
Ensure to check the website for up to date information on prices and availability.
Skylon Tower, 360 degrees rotating restaurant
A view is never complete if you do not see it from the top. The Skylon Tower provides a view of the Niagara Falls from the top, which is surely a view to remember. The city of Niagara falls also has a 360 degrees rotating restaurant that provides spectacular views with delicious lunch.
Wouldn't it be awesome to enjoy a delicious lunch (I had an egg plant lasagne, which was tasty) and a glass of wine with a top view of Niagara Falls? It's pretty cool and the one to remember. Trust me, I know!
Niagara SkyWheel
Another great way to see Niagara Falls from the top is by taking a 8 to 10 minutes Sky Wheel ride. Just costing about USD 15 per adult, this is one of its kind in Niagara Falls and it goes up to a height of 175 feet.
Rainbow with the waterfalls
This was like a dream come true. I so wanted to see a rainbow over Niagara Falls. And yes God was on my side that day :). The sight was stunning and it was a sight straight from the fairy tale.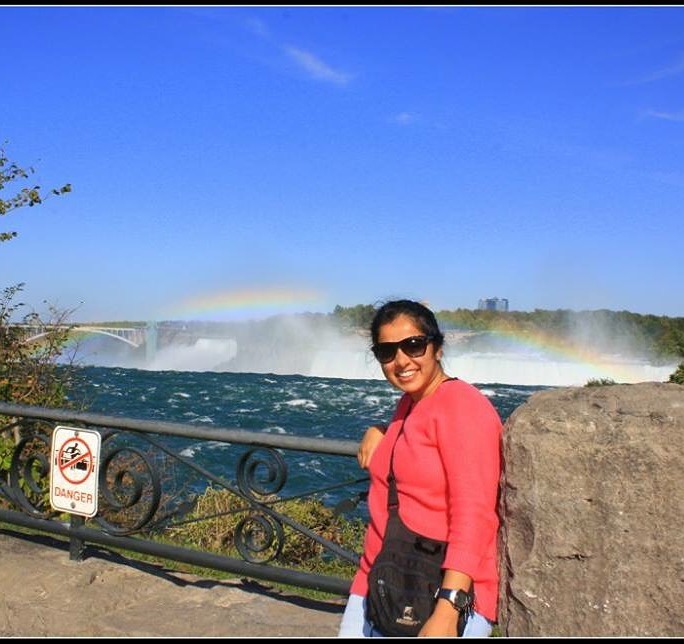 Safety for solo female travelers
Niagara Falls was very safe for solo female travelers. As I mentioned, I walked at around 5 AM in the dark and I did not have any issues. However, like any other city in the world, be cautious, especially at night.
Are you new to solo traveling? Or do you have lot of questions on solo traveling? Read frequently asked questions on solo traveling.
Closing Notes
Niagara Falls was surely the highlight of my 10 days East Coast road trip Canada and USA. The time that I spent in the city was truly wonderful and I do hope to go back someday for a longer period of time.
Have you been to Niagara Falls? Let me know in the comments below or write to me on Solopassport@gmail.com.
How can you support me?
You know how much I love coffee, so you can buy me coffee – Buy me Coffee!

Or you can purchase from one of the below travel resources without any extra charge to you:
Travel Resources
Book your flight on Skyscanner.com
Reserve your accommodation on Stay22
Buy a comprehensive travel insurance on SafetyWing and WorldNomads
Book your tours and travels or purchase tickets on Viator or GetYourGuide
If you liked this article and if it was helpful in your planning or traveling, do share, tweet, or pin this post.

Follow me on Instagram | Facebook | YouTube | Twitter | LinkedIn
Do you have a question? Or want any suggestions, and tips for travels, hikes and scuba dives? Use the Subscription box below to sign-up and get updates by email.