RIM walk in Kings Canyon (2023)
One of the most awesome trails I have hiked in Australia is in the Kings Canyon, which is part of Watarraka National Park in the Northern Territory of Australia. The rugged mountains and trails will make you fall in love with the country, especially the Outback. In this post, I will narrate my story and give you the information so you can do the RIM hike in Kings Canyon.
PIN for later reference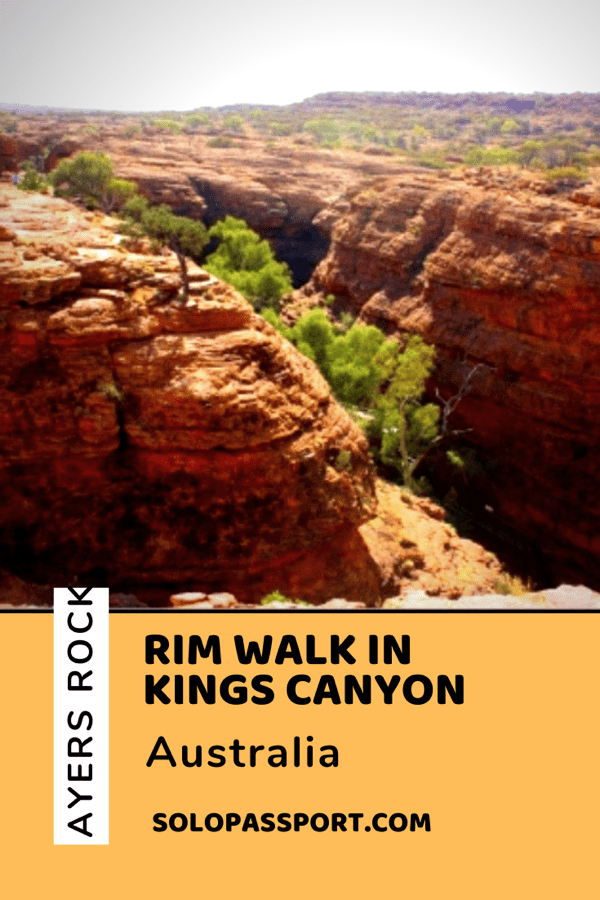 This article may contain affiliate links. For full information, please see our affiliate disclaimer here.
Three days before the tour
"Is it worth the amount I am spending?" I asked two of my colleagues.
One of my colleagues answered, "I did not visit Kings Canyon when I visited Ayers Rock". I wondered why, but chose to ignore it.
Another colleague had said, "You should visit Kings Canyon, and it is very beautiful. And I drove from Ayers Rock".
With conflicting thoughts, I decided to spend my last savings on the experience and finally booked my day tour to Kings Canyon with AAT Kings via Viator, blaming whoever said it is worth spending the money on experiences rather than materialistic things!
By the way did you know that another amazing and multiday hiking trail that you can do in Northern Territory is the Larapinta trail. This is surely on my bucket list and one day I will hike the trail.
Previous night of the tour
AAT Kings had emailed me the detailed itinerary about the tour. The pick-up time from my hotel (Outback Pioneer, which is a really cool place to stay at by the way) was at 4:50 AM. I set up two alarms, one for 4:00 AM and the other for 4:10 AM, exactly calculating every minute between 4:10 AM to 4:50 AM. I am all organised and am the best, thinking to myself, I went to bed.
On the day of the tour
I switched off my first alarm (4:00 AM) happily thinking about the extra 10 minutes I had, for my sleep. I woke up 2 minutes later and checked my phone, only to find out that it was 4:46 AM and that my bus was parked outside waiting for me to be picked up. Oh my God! I panicked. How did this happen? I broke any girl's record (and I think I should be awarded for this!!) and got ready in flat 8 minutes. Okay I agree, it's exaggeration! I got ready in 12 flat minutes (Wooohooo!).
The bus driver gave me a stressed out look (Come on dude! It's just 4:58 AM) as I ran towards the bus. Clumsily getting into the bus and surpassing all the eyes staring at me in anger (some were picked up at 4:00 AM), I settled down on a two seater with my tripod and my huge heavy backpack. After about 2 minutes, we finally started our drive to Kings Canyon.
About Kings Canyon
Kings Canyon is part of the Watarrka National Park in the Northern Territory of Australia. It comprises of massive 100 meters sandstone walls and lush palm trees. The drive is approximately 3 hours' from Ayers Rock. And the only way to get to the Kings Canyon is by driving.
Note: One can take 2WD vehicles even though 4WD is recommended.
The name of Kings Canyon originate from Kings Creek. It was named by the explorer Ernest Giles after his friend Fielder King. The land is the traditional home for the Luritja people of Central Australia.
Did you know that Kings Canyon is called as the rival of Yosemite?
Hikes in Kings Canyon
Just before reaching the base of Kings Canyon, our driver gave us a heads up of what to expect during the day. He briefed us about the two famous walks:
One being the short 2 kilometre return walk at the base of the Canyon and
Other being the most challenged 6 kilometres return RIM walk, with 500+ rocky steps and a path at the top around the Canyon.
The best time to do the hikes in the Northern Territory is during the autumn and winter seasons (April to August) as the weather is pleasant and not too hot.
Note: Do not attempt this hike during the hot months which is between September and March.
RIM Walk (6 kilometres return)
32 of us decided to do the RIM walk and signed our health declaration forms. I decided to leave my tripod in the bus (which was a pretty good idea) and carried my backpack with two mini water bottles and some snacks including the M&Ms and trail mix.
Ensure to carry sufficient drinking water for the hike.
The walk started at approximately 9 AM. At the base, I agree, it did look very scary, but I had to do it, no chance I would have backed out. The first 200 steps, I think, were the hardest and I maintained my slow pace and also took a lot of pictures along the way.
We did have an option to return to the bus anytime between the first 200 steps. All 32 of us were determined to complete the RIM walk and decided to climb the rest 300 steps. Some rocks were more difficult to climb than the others.
Step by step and one rock at a time, all of us made it to the top. Once we reached the top of the Canyon, we forgot how strenuous the climb was and started enjoying the spectacular views of the gorge below.
The other walk that you can do in the Northern Territory is the Valley of the Winds. This walk is as beautiful as that of the RIM walk in the Kings Canyon.
The red rock structures with patches of green palm trees were something to die for. The sandstone walls were a delight for the photographers as they were bright and had pretty colors. I have close to 300 pictures of just the sandstone wall alone.
Logistics of the hike
Distance of the hike: 6 kilometres.
Hours required: 4 hours.
Grade: Moderate to Difficult (Starts off with Steep steps).
Steps: 500+ steps.
Type of walk: Return (clockwise direction).
Stay on the track (stairs and boardwalks). Do not deviate from the track as it can be dangerous.
Do not attempt this walk if the temperature forecast for the day is hot.
Wear comfortable shoes.
Take sufficient water.
For other walks in Northern Territory (NT), refer the hiking in NT section.
Tour operator and details
Tour provider: AAT Kings via Viator.
Tour Name: Kings Canyon & Outback Panoramas.
Cost: Approximately AUD 250.
My experience of the tour provider: The driver of AAT Kings was very good. Their tours are well organised and are on time. So I recommend going with this tour agency for sure.
Safety for Solo female travelers
I would not attempt hiking the RIM walk alone. Not because it is not safe, but because it is so isolated from the nearest city. It is always a good idea to go with a buddy or a travel agency that takes care of the safety during the hikes.
Are you new to hiking or trekking? Read Beginner's guide to hiking and trekking.
Closing Notes
In approximately 4 hours, just before the lunch, we had completed the RIM walk. At the end of the walk, I had a smile and a satisfaction of climbing up one of the prominent landmarks of Australia. And yes, I am thankful to my French colleague who convinced me to do this day tour as Kings Canyon is definitely worth the day trip.
How can you support me?
You know how much I love coffee, so you can buy me coffee – Buy me Coffee!
Or you can purchase from one of the below travel resources without any extra charge to you.

Travel Resources
Click to book your flight on Skyscanner.com
Click to book your accommodation on Stay22
Click to book a comprehensive travel insurance on Safety Wing
Click to book your tours and travels on Viator or GetYourGuide
If you liked this article and if it was helpful in your planning or traveling, do share, tweet, or pin this post.

Follow me on Instagram | Facebook | YouTube | Twitter | LinkedIn
Do you have a question? Or want any suggestions, and tips for travels, hikes and scuba dives? Use the Subscription box below to sign-up and get updates by email.
PIN for later reference
Also read