Trail Tales: A Journey through the Six Foot Track in the Blue Mountains (2024)
Nestled within the rugged beauty of the Blue Mountains in New South Wales (NSW), the Six Foot Track (or 6 foot track) stands as a hiker's haven, inviting adventurers to embark on a multi-day journey through breathtaking landscapes and rich historical terrain. Spanning from the charming town of Katoomba to the mystical Jenolan Caves, this iconic trail covers 44.8 kilometers of diverse terrain, promising a trek filled with challenges and awe-inspiring natural wonders.
My friend and I conquered the exhilarating Six Foot Track (#6fttrack), and the thrill still lingers. This challenging hike spans for three-day hike covering a total distance of 44.8 kilometers. Remarkably, we completed the entire journey in an impressive 29 hours and 20 minutes, leaving us with unforgettable memories and a sense of accomplishment.
During our research on the walk, we encountered a scarcity of information regarding what essentials to carry and what to anticipate on the journey. Consequently, I have taken the initiative to provide a comprehensive breakdown of the items we packed and our meticulous planning process for the walk. This guide aims to fill the information gap, offering valuable insights for future adventurers undertaking the same trek.
PIN for later reference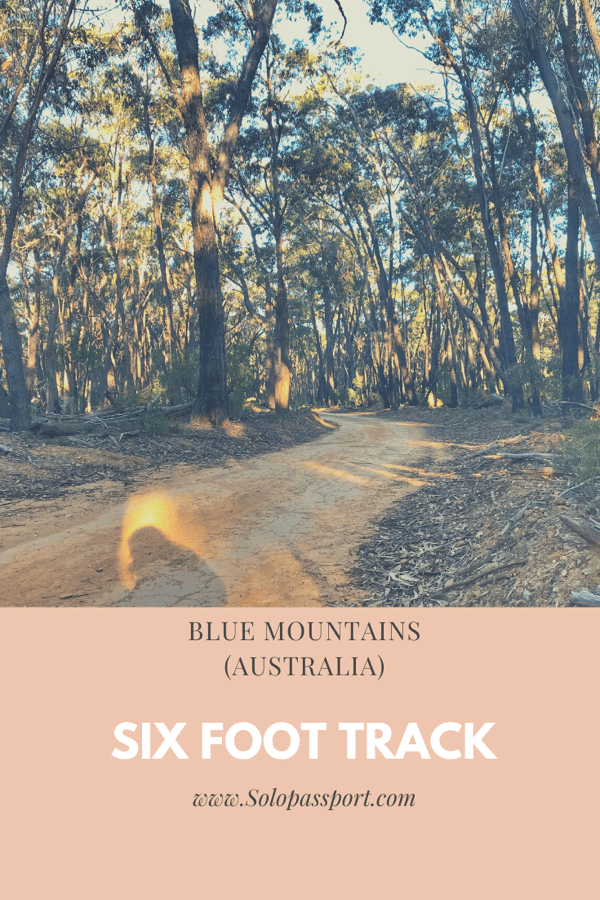 This article may contain affiliate links, meaning if you decide to make a purchase via my links, I may earn a commission at no additional cost to you. For full information, please see our affiliate disclaimer here.
Preparations and Planning
Embarking on this hike requires thorough preparations, making it suitable for seasoned hikers. Spanning a challenging distance of 44.8 kilometers, the trail encompasses sections with notably steep terrain. Connecting the towns of Katoomba and Jenolan Caves, this hike often commences from the iconic Katoomba Explorers Tree, serving as the designated starting point for many intrepid hikers.
Tip: Ensure you have completed few long hikes before attempting the Six Foot Track in the Blue Mountains.
Our journey unfolded from Jenolan Caves to Katoomba, a decision dictated by the ambition to accomplish the entire walk over one weekend. Knowing that the last bus from Jenolan Caves to Katoomba, our return point, departed at 3:30 PM, we recognized the logistical challenge of completing a 44.8 kilometers hike within 25 hours timeframe. And hence we made a choice in the direction of our trek that allowed us to align with the available transportation options and make the most of our hiking adventure.
Food and Water
We had to carry provisions such as food and water for a full day, covering for four meals in total. This included Saturday's lunch and dinner, as well as Sunday's breakfast and lunch. For hikers undertaking a three-day expedition, it becomes imperative to carry provisions for each day, ensuring a well-prepared and nourished trekking experience.
Our food was easy and my friend had planned really well for what we were going to eat for the 4 meals. We carried the below:
Dehydrated food packets. The dehydrated food packets are available at any of the outdoor shops. They come in variety and are delicious.
Packet of chilli chips.
Bread.
Dry fruits.
Chocolates and energy bars.
Biscuits.
Portable stove with cannister.
Fruits.
Milk cartons (small ones) and coffee.
For dehydrated food packets, you need to pour them in a bowl and heat them up with some water. It takes around 3 to 4 minutes to get hot food and they are very tasty.
We carried 3 litres of water for each person. There are water sources in five places along the way between Jenolan Caves and Katoomba. And there are three camp grounds on the trails and all of these campsites have rain water collected water tanks. We also carried a water filter to sterilise and purify the water that we drank from these water tanks and the creeks.
Camping and Lodges
There are three camping grounds in between Jenolan Caves and Katoomba:
Black range camping ground,
Alum Creek camping ground, and
Cox River camping ground.
All three have basic facilities like water tank, wooden tables and eco-friendly toilets. You do not need to book in advance and you can just walk into the campsites. And they are all available to the hikers for free.
If you are camping in your caravan, the visit Caravan Camping website for best camping equipment solutions.
There are three other stay options along the trail with the campsites:
Jenolan Caves Cottages.
Six Foot eco-lodge.
Dryridge Vineyard Homestead and Lodge.
As preparation for our camping for the nights, we carried the below things:
Tent.
Sleeping bag.
Sleeping mat.
Torch or lantern.
Toilet roll.
Toiletries.
First aid kit (with some thick bandages).
Trail Map
The below image of the trail shows the height of ascend and descend during the hike.
The trail is well marked and has signs to guide the hikers. Some sections of the hikes are on private properties and it is advisable to hike on the marked paths in those properties.
Tip: Ensure you carry a printed copy of the map so you can use it even when you do not have internet.
Weight of Backpacks
You surely need a sturdy and strong backpack for the hike. I carried ~8 kilograms of weight in my backpack whereas my friend carried ~11 kilograms in his backpack.
Tip: The lighter the backpack is, the easier it is to hike. So carry the minimal things required.
The following table provides the weight of each of the items we carried:
Backpack Name
Item
Weight
Unit
Backpack 1 (My Backpack)
Sleeping bag
0.75
kilograms
Tent
1
kilograms
Yoga mat
0.5
kilograms
Clothes  and toiletries
1
kilograms
Water bottles
3
kilograms
Food
1
kilograms
Dry fruits
1
kilograms
Coffee powder
0.1
kilograms
Total Weight of Backpack 1
8.35 kilograms
Backpack 2 (My friend's backpack)
Clothes, toiletries and first aid kit
2
kilograms
Water bottles
3
kilograms
Food
1
kilograms
Bread
1
kilograms
Sleeping bag
0.75
kilograms
Chocolates and energy bars
0.5
kilograms
Plates, spoons, cuttlery, chips, salt, pepper & mayo
1
kilograms
Milk cartons
0.5
kilograms
Hooks
0.25
kilograms
Water filter
0.15
kilograms
Fruits
1
kilograms
Total Weight of Backpack 2
11.2 kilograms
Hiking Boots and Socks
Having a comfortable and sturdy hiking boots is very important. With a nice grip, the hiking journey becomes very easy and comfortable. I had previously worn my Kathmandu hiking boots for few of the walks so they were used to the hiking trails. And I also wore fresh socks every day to avoid blisters. It is also better if the boots are waterproof as the hike does have few small creeks that have to be crossed.
Tip: Ensure you have used these hiking boots before and you are comfortable in them. Do not wear brand new ones for the trail.
Six Foot Track Hike
Statistics
Distance: 44.8 kilometres one way.
Starting point: Katoomba Explorers tree if hiking from Katoomba to Jenolan Caves or Jenolan Caves if hiking from Jenolan Caves to Katoomba.
Time: 3 days for comfortable hiking.
Elevation (highest point): 2066 meters or 6778 feet.
Difficulty: Hard.
Transportation Between Sydney and Katoomba, Between Katoomba and Jenolan Caves
Frequent trains run between Sydney and Katoomba. For more information on trains, visit NSW Transport planner.
Trolley Tours run frequent buses between Katoomba and Jenolan Caves. They are the only bus tour providers that provide one way drop off between the two places. The cost of one way bus trip is AUD 50 (USD 39).
The Explorers Tree is about 3 kilometres from the Katoomba station. We booked a taxi that costed us about AUD 15.
Best Time to Do Six Foot Track
The weather definitely plays an important role during hiking. The best time to do the hike is during the Spring (September to November) or Autumn (March to May) seasons as the weather is pleasant. Anything very hot or too cold makes it a very uncomfortable experience.
Tip: Ensure to check on the updated weather conditions. Some sections of the national parks are closed when the weather is too hot.
Telephone Network
There is no network on the phones. It is advisable to carry Personal Locating Beacon (PLB) for any unforeseen situations. The PLB is a hand held device sending an emergency message with your location to the emergency services. And this device can be rented out for free from the National Parks and Wildlife Services (NPWS) office.
Two Days of Our Hiking Journey
Our itinerary
Day 1
We took a train from Sydney Central to Katoomba station and we arrived at 9:30 AM at Katoomba station. The bus from Katoomba picked us at 10:30 AM to drop us off at Jenolan Caves by 12:30 PM.
First Stop: Jenolan Caves to Jenolan Caves Cottages – We started the walk at around 1 PM and walked from Jenolan Caves to Jenolan Caves Cottages, which was our first stop.
Distance: 4.1 kilometres.
Grade: Hard.
Second Stop: Jenolan Caves Cottages to Black Range camping ground – We walked further to the Black Range campsite where we had our late lunch.
Distance: 6 kilometres.
Grade: Moderate and few sections Hard.
Facilities: Water tank, tables and toilets at Black Range camping ground.
Third and Final Stop: Black Range camping ground to Alum Creek camping ground – We camped at Alum Creek for the night where we had spectacular views of the stars.
Distance: 8.7 kilometres (Black Range camping ground to Pluviometer) + 4.3 kilometres (Pluviometer to Alum Creek camping ground) = 13 kilometres.
Grade: Moderate & few sections Hard.
Facilities: Water tank, tables and toilets at Alum Creek camping ground.
Day 2
We were supposed to start the day at around 6 AM but as we are late risers, we started only at 7:30 AM.
First stop: Alum Creek camping ground to Cox River camping ground – We had our breakfast at Cox River campsite which is extremely pretty and a great spot for morning meal.
Distance: 2 kilometres (Alum Creek camping ground to Mini Mini Saddle) + 4 kilometres (Mini Mini Saddle to Cox River camping ground) = 6 kilometres.
Grade: Moderate.
Facilities: Water tank, tables and toilets at Cox River camping ground.
Second Stop: Cox River camping ground to Bowtells Swing bridge – During this walk, you get an opportunity to walk on the swing bridge and walking on the swing bridge is an awesome experience. Note that there are signs at both ends that only one person can cross the bridge at a time.
Distance: 1.5 kilometres.
Grade: Moderate.
Third Stop: Bowtells Swing bridge to Megalong Cemetery – We did not actually see the cemetery but there is an information board at the end of cemetery.
Distance: 7.4 kilometres
Grade: Moderate and few sections Hard
Fourth Stop: Megalong Cemetery to Megalong Village –
Distance: 3.7 kilometres
Grade: Easy
Fifth Stop: Megalong Village to Explorers Tree – The last one hour is the steepest section of the hike with lots of stairs.
Distance: 4.6 kilometres
Grade: Hard
Tip: Ensure you watch out for snakes and leeches.
Our experience
We knew this was a challenging hike and we had previously hiked quite a bit before but had never done it with heavy backpacks. Everyone including my family and friends believed I could do this walk. But I had my doubts, not because I have not walked 44 kilometres before, but because of the time constraint and the weight of my backpack.
The whole hike tested my limits and pushed my ability to the maximum. This has by far been my best record, 44.8 kilometres in 29 hours 20 minutes. And we are very proud of ourselves to have completed this walk.
Our recommendation is definitely to walk from Jenolan Caves to Katoomba Explorers Tree.
Total Expenses
Food for two days = AUD 120 (~USD 93) for two people
Bus tour between Katoomba and Jenolan Caves = AUD 100 (~USD 78) for two people
Train from Sydney Central to Katoomba = AUD 17 (~USD 13) for two people
Train from Katoomba to Sydney Central = AUD 17 (~USD 13) for two people
Camping on the camp ground = FREE
Taxi from Explorers Tree to Katoomba station = AUD 15 (~USD 12) for two people
Total expenses for two people = AUD 269 (~USD 209)
More information
The NSW national park and the wild walks websites have the latest and updated information.
Have fun!
And most importantly click lots of pictures, stay hydrated and have fun! I would like to conclude this post by quoting a famous quote by an unknown person and by thanking my friend for encouraging me throughout and pushing me to do things that I never imagined.
"It's impossible", said pride.
"It's risky", said experience.
"It's pointless", said reason.
"Give it a try", whispered the HEART.
How can you support me?
You know how much I love coffee, so you can buy me coffee – Buy me Coffee!

Or you can purchase from one of the below travel resources without any extra charge to you:
Travel Resources
Book your flight on Skyscanner.com or Trip.com
Reserve your accommodation on Stay22
Buy comprehensive travel insurance on SafetyWing and WorldNomads
Book your tours and travels or purchase tickets on Viator or GetYourGuide
For a universal SIM card, use DrimSim
If you liked this article and if it was helpful in your planning or traveling, do share, tweet, or pin this post.

Follow me on Instagram | Facebook | YouTube | Twitter | LinkedIn
Do you have a question? Or want any suggestions, and tips for travels, hikes and scuba dives? Use the Subscription box below to sign-up and get updates by email.
Also read
PIN for later reference