One Day Tour to Zaanse Schans, Edam, Volendam and Marken from Amsterdam
Who does not love quaint villages? Decked with pretty flowers, beautiful rivers / ponds between the villages and towns? And surrounded by green mountains with freshness in the air? That is what Netherlands is all about. From the time I had seen the windmills of Zaanse Schans in the Bollywood movies, I wanted to visit and see them in real life.
As part of my 6 weeks backpacking trip in Europe, I visited Amsterdam. And from Amsterdam, I took a one day bus tour to cover four towns and villages of the Netherlands. It was a full-day tour, picking us from the Central station of Amsterdam to cover Zaanse Schans, Edam, Volendam and Marken.
Also Read | 3 days itinerary in Amsterdam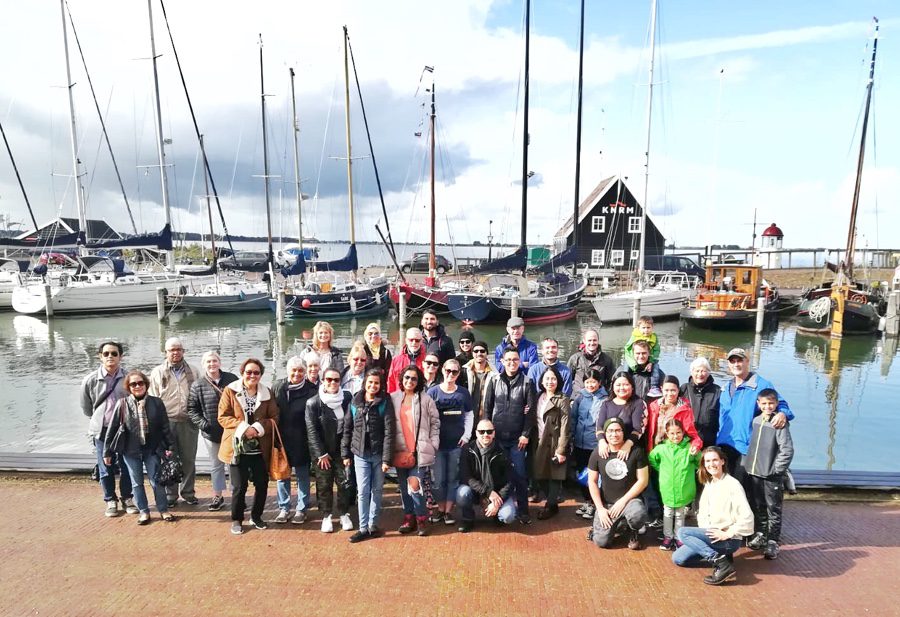 There are many one day and weekend trips from Amsterdam and these make perfect getaways from the city. Apart from these towns and villages, you can also take a tour to Giethoorn, which is known as the Venice of the Netherlands. Geithoorn is around 120 kilometres from Amsterdam.
This article may contain affiliate links. For full information, please see our affiliate disclaimer here.
Places covered on the one day tour
Zaanse Schans
Every traveler has the windmills of Amsterdam in their bucket list. That is the first and foremost thing to see when you search for Netherlands on Google.
'Zaanse Schans' is the name of the place where you can see those beautiful windmills. The town is in a neighborhood of Zaandam, which is around 17 kilometres (less than one hour drive) from Amsterdam.
Zaanse Schans derived its name from the river Zaan. The place is also known for its green wooden houses. The windmills and the green coloured houses were relocated to Zaanse Schans to give a look of the 18th and 19th-century village.
You can easily spend around 2 to 3 hours at Zaanse Schans. The timings to visit Zaanse Schans is between 9 AM and 5 PM and it is open everyday. A must-try is the hot chocolate in one of those windmill shops and look out for the rainbows.
Trivia: According to Wikipedia, there were 1.6 million visitors in the year 2014.
Zaanse Schans can be reached by public transport (a bus or a train) from the Central station in Amsterdam. The bus is the quickest and easiest way to travel between Zaanse Schans and Amsterdam.
Edam
Edam is a beautiful town in North Holland. It is very close to Amsterdam, about 30 minutes drive from Amsterdam. The town has very few thousands of people residing. Famous for its cheese, the town has an authentic village feel. The town also hosts 18th century cheese warehouses.
You can try and buy different varieties of cheese in this town. For vegetarians, ensure to ask and then taste the various cheese as some of it contain meet flavours.
Volendam
Volendam is another Dutch town on the Markermeer Lake. The town is around 20 kilometres from Amsterdam. This town is famous for its cute little colourful wooden houses and is a very popular tourist destination in Amsterdam. Apart from the wooden shoes, the town is also famous for its fishing boats and traditional attire.
Usually, Volendam is visited in combination with Edam. Beware that the towns are extremely crowded during the peak season.
You can visit the warehouses and see a demo of how these shoes are made.
A Bollywood trivia about Voldendam
In the Bollywood movie Queen, played by Kangana Ranaut, there is a scene where the actors set up an Indian golguppa shop. That scene was filmed in Voldendam.
Marken
Marken, 25 kilometres from Amsterdam, is a fishing village in the province of North Holland. It is a village with just a population of 1800 people (as of 2012). The major attraction of Marken are the wooden characteristic houses.
Marken was an island, historically in the Markermeer. The anthropologists and ethnographers fled to Marken to study the relic of traditional culture in the 19th and 20th centuries.
Marken has a museum called Marker Museum, that provides Marken's history and fascinating cultural experience.
One day Bus tour details
The bus tour was with Amsterdam Guias Tours and it costed me about AUD 48.16. The phone number of the provider is +31689931423. I booked the tour using the Viator website and everything was taken care of. All I had to do was reach the Central station to take the bus.
I loved this tour company, especially my tour guide Laura. She was absolutely brilliant. A funny and very knowledgeable guide is what I would describe Laura as. It was a day of a lot of fun and exploration. The tour company had organised the entire day very well and we did not face any issues during the tour. I definitely recommend going with this tour company if you wish to take this day tour.
Closing Notes
I had an awesome day visiting these stunning four towns of the Netherlands. They are very pretty and gives a taste of the countryside villages and towns. I surely recommend taking this tour or at least visiting these pretty little towns.
How can you support me?
You know how much I love coffee, so you can buy me coffee – Buy me Coffee!
Or you can purchase from one of the below travel resources without any extra charge to you.

Travel Resources
Click to book your flight on Skyscanner.com
Click to book your accommodation on Stay22
Click to book a comprehensive travel insurance on Safety Wing
Click to book your tours and travels on Viator or GetYourGuide
If you liked this article and if it was helpful in your planning or traveling, do share, tweet, or pin this post.

Follow me on Instagram | Facebook | YouTube | Twitter | LinkedIn
Do you have a question? Or want any suggestions, and tips for travels, hikes and scuba dives? Use the Subscription box below to sign-up and get updates by email.
Also read