Anyone who has traveled in New Zealand would be very fond of Wanaka. It's a beautiful and cute small town that is extremely picturesque. I traveled to Wanaka as part of my backpacking trip in South Island and I must say that Wanaka was one of the most beautiful places I visited during my travel. In this post, you will find the details of what to do in Wanaka.
This article may contain affiliate links. For full information, please see our affiliate disclaimer here.
About Wanaka
Wanaka, a resort town, is in the Otago region of South Island in New Zealand (NZ). It is a gateway to the Southern Alps Mount Aspiring National Park. The town is famous for its lone tree, snow capped mountains, forests and lakes. It is great for hiking, biking and skiing. Spending time at Wanaka is one of the best things to do in South Island.
According to legend and history, Wanaka is believed to have been named after the word Wanaka, which in turn is a South Island form of Wnanga. Wnanga means sacred knowledge or a place of learning.
Wanaka can be enjoyed throughout the year. Hiking and biking are awesome during the summer season (between December and March) and skiing is perfect during the winter season (between June and September). You need at least 2 to 3 days to enjoy everything Wanaka has to offer.
How to get to Wanaka?
Flight – The closest airport is at Queenstown in the South Island. The Queenstown airport is about 60 minutes drive to Wanaka. Jetstar (budgeted) and Air New Zealand are the flight providers that run between major cities and Queenstown.
Bus – Intercity NZ is the most famous provider that run buses very frequently between other cities in NZ such as Christchurch or Queenstown and Wanaka.
Drive – The best way to reach Wanaka is by driving from the nearest airport Queenstown. The distance between Queenstown and Wanaka is just about 75 kilometres and the road trip takes 60 minutes. Driving in NZ is very picturesque as the landscapes and the views are stunning.
Review of YHA in Wanaka
Being an avid traveler, I usually search for budgeted travels. I also like to stay at hostels as I can meet like minded solo travelers and many of them become friends. I stayed at Youth Hostels Association (YHA) Wanaka and I must say YHA is the place to be in Wanaka. The hostel was very close to the town centre and there were many restaurants and cafes close to the hostel.
If you are not into hostel but are looking for a decent and comfortable stay, you can consider Oakridge Resort Lake Wanaka, Wanaka Springs Lodge and Distinction Wanaka Alpine Resort.
What to do in Wanaka?
Even though Wanaka is famous for its most photographed tree, the town has so much to offer. I stayed in the town just for one day and I did manage to see all the below listed things.
Wanaka or Lone tree
'The lone tree' or the Wanaka tree is definitely the number one thing to see when visiting Wanaka. The Wanaka tree is a crooked crack willow tree that sits on Lake Wanaka. Being the most photographed tree in NZ, this tree appears to be floating on the lake. It's a spectacle to watch this beautiful tree especially during the sunset. Watching and clicking pictures of this pretty tree is absolutely free.
Watch the Milky Way
New Zealand is definitely one of the most beautiful places in the world to see the Milky Way. Viewing the Milky Way over the Lake Wanaka is something to die for. It's breathtakingly beautiful. During winter, one may get to see the southern lights as well.
My story of watching the Milky Way in Wanaka
At around 5 PM in the evening, three of us with tripods and big cameras were standing near the Wanaka tree to take pictures. I spoke to the person, standing next to me, arranging his tripod. He was from China, traveling around. I asked him whether he was waiting for the stars as well. With a short pause he said the stars are visible only at 11 PM. He had some kind of app that he showed me.
Then he asked me 'Are you still going to be here?' I smiled at him. I knew I was being crazy, it was a very cold night and it was cloudy as well. Well the sun set and everyone left at around 5:30 PM including the person who had shown me the app and mentioned that the stars would come up only by 11 PM. It became dark as there was absolutely no light pollution. I looked around and there were only two people sitting near the banks of water and waiting for the stars. One was me and the other was the third person with a big camera. Long story short, we waited for another 2 hours and only got a short glimpse of the dust. Even though, I could not take many pictures of the Milky Way as the clouds covered the view of the stars, I am glad to have waited as I did see many stars before the cloud took over. I also saw two shooting stars.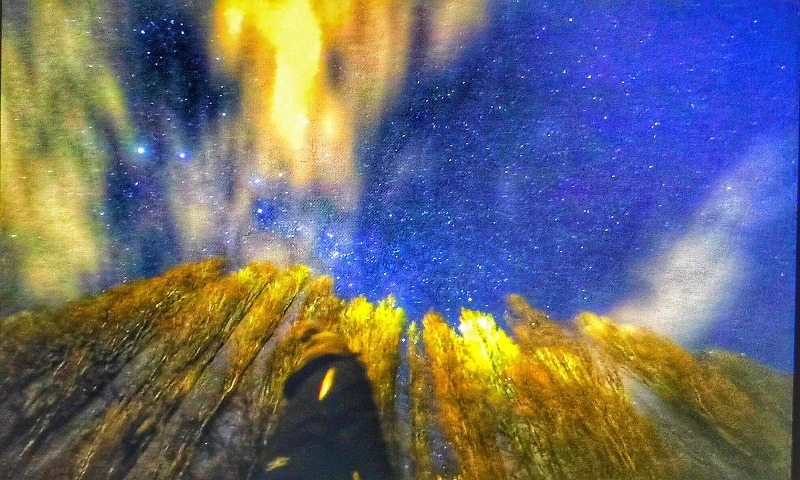 Hiking the Mount Iron
Hiking the Mount Iron to get the 360 degrees view of Lake Wanaka and the Wanaka town is a great way to spend a few hours, especially in the morning. The hike is around 1.5 hours to the summit. I walked from the town centre and the total hike was around 8.6 kilometres. There is no entrance fee to climb Mount Iron and the views from the summit is spectacular.
You can also travel north of Wanaka to see the Blue Pools which makes a perfect and easy short hike.
Puzzling World
One of the most visited places in Wanaka is the Puzzling World. Puzzling World, an awesome tourist attraction, is a great place to test the brain and most importantly have fun. It started in 1973 and soon became an award winning complex of illusions and mazes. One needs to spend at least an hour to see all the puzzles and enjoy the experience. There is an entrance fee to visit Puzzling World and the ticket varies depending on what you want to see.
The Puzzling World is famous for its Leaning Tower and the locals call it as the Leaning Tower of Wanaka. It is surely worth getting a picture in front of it.
Safety for solo female travelers
Wanaka was very safe for solo female travelers. I traveled alone and did not have any issues. In fact, I made new friends at Wanaka and they are still friends with me even now. However, like any other place in the world, I advise you to be cautious and know your surroundings, especially at night.
Are you new to solo traveling? Or do you have questions regarding where to start solo travels? Read frequently asked question about solo traveling.
Closing Notes | What to do in Wanaka?
I really wish I could travel back to Wanaka and spend more time in the town. The town is pretty and has a very cosy feeling to it. I highly recommend visiting it as part of the South Island travel.
How can you support me?
You know how much I love coffee, so you can buy me coffee – Buy me Coffee!
Or you can purchase from one of the below travel resources without any extra charge to you.

Travel Resources
Click to book your flight on Skyscanner.com
Click to book your accommodation on Stay22
Click to book a comprehensive travel insurance on Safety Wing
Click to book your tours and travels on Viator or GetYourGuide
If you liked this article and if it was helpful in your planning or traveling, do share, tweet, or pin this post.

Follow me on Instagram | Facebook | YouTube | Twitter | LinkedIn
Do you have a question? Or want any suggestions, and tips for travels, hikes and scuba dives? Use the Subscription box below to sign-up and get updates by email.