Phuket has been a very special destination. It was my first destination in Thailand and ever since have always loved visiting this beautiful city and province. During my first visit, I spent 3 days in Phuket exploring the island.
Known for its pristine beaches and nightlife, Phuket remains as one of the most favourite destinations in Thailand, especially for Indian travelers. Being a solo female traveler, I have found that Phuket is also one of the destinations that is very safe and female friendly.
PIN for later reference
This article may contain affiliate links. For full information, please see our affiliate disclaimer here.
About Phuket
Phuket is Thailand's largest island, one of the southern provinces, and has another 32 small islands off its coast. Formerly known as Thalang, Phuket lies in the Andaman Sea. The island has everything, ranging from the mountains to the pretty beaches.
The letter 'h' is silent in when pronouncing the word 'Phuket'.
Traveling in Phuket on a budget can be a bit challenging but it can be done with the right deal or pass - Phuket on a budget with TAGTHAi Phuket pass.
The best time to visit Phuket is between December and February as it is a dry season. Other remaining months are wet season. Also, note that Phuket is humid. Even though Phuket has many things to do, one needs at least 3 days to explore Phuket city.
First timer's information
Phuket is a large island, which is 48 kilometres in length from north to south and 21 kilometres in width from west to east. It is best to stay in a location that is based on the activities you wish to do. If you select the location that is not near the activities you wish to do, you might spend most of your time riding or driving between places.
When you arrive in Phuket, ensure to purchase a TAGTHAi Phuket day pass to explore the city. The Phuket day pass provides a variety of outdoor activities and food options, including the amazing Hanuman World Zipline and a taste into Thai cuisine.
To commute within Phuket, hire a two wheeler from one of the local bike shops. The basic two wheeler (gearless) cost around 300 THB per day with a refundable deposit of 3000 THB.
Almost everyone speaks English language. However, the local's English is not the fluent and ensure to be a bit slow while speaking to the locals.
The food is spicy and matches up to the spice levels of Indian cuisine. If you do not eat spicy food, ensure to tell the restaurant staff to prepare the food mild.
There are 7 elevens everywhere on Phuket. So, any basic things including water and medicines can be found at 7 eleven.
Tap water is not drinkable. And you need to purchase water bottle everywhere on Phuket.
Did you know that Thailand has more than 1400 islands and some of the most popular ones are Phuket, Koh Similan and Krabi. It might be daunting to find which one is a better island and which one to visit. So here is a guide that can help you decide Krabi vs. Phuket and which one to consider.
How do you get to Phuket?
Phuket has an international airport of its own. Most of the airline providers connect Phuket with other parts of the world. From India, Go First Airways is the budgeted airlines that has direct flights from major cities like Delhi and Bangalore to Phuket.
Phuket is also very well connected by road, and domestic flights from other cities in Thailand.
Accommodation in Phuket
Karon Phunaka Resort and Spa
During my first visit to Phuket, my friend and I stayed at one of the beautiful resorts in Phuket, Karon Phunaka Resort & Spa. Situated on a hill with spectacular views, the resort is very comfortable and lovely. The location is convenient as well that is at a walkable distance from local market and temple. And the staff are very friendly.
MA Maison Boutique Hotel
If you are looking for a budgeted stay in Phuket, then MA Maison Boutique hotel is a good option. Located near Bangtao beach, the MA Maison Boutique hotel is equivalent to a motel in other countries. The rooms are basic and has very minimal facilities. And the reception is open everyday between 8 AM and 8 PM. The hotel is in a convenient place that is next to restaurants and 7 eleven.
Angsana Laguna
If you are looking for a luxurious stay, then Angsana Laguna is the perfect property. Located in the Laguna area of Phuket, the Angsana Laguna is a spacious beachfront 5 star resort with multiple room types and private pools.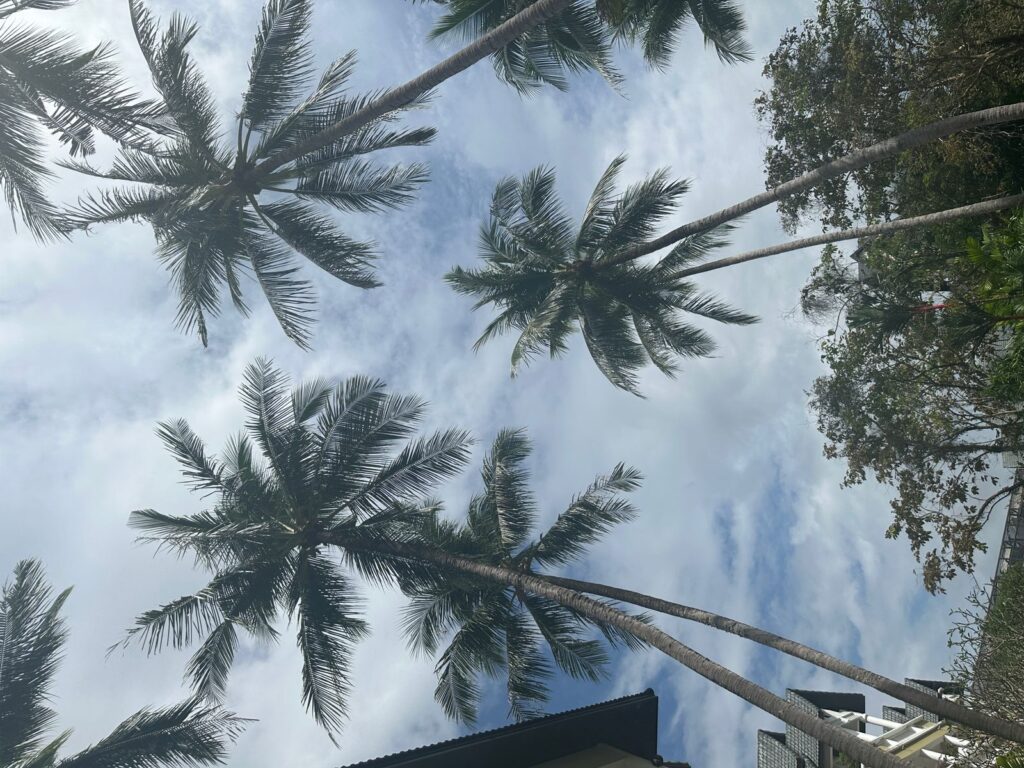 3 days in Phuket Itinerary
Day 1 – Beaches and Fanta Sea
On day 1, you can choose to visit one of the below areas and the surrounding beaches/things to do during the day.
North Phuket
Nai Thon beach is almost a white sand beach which is isolated and quiet with not too many commercial activities. The entire stretch of beach can be walked from one end to the other in just 15 minutes.
Layan beach is a secluded beach with a few trees along the beach. It is a small beach with a couple of restaurants and is next to the Bangtao beach.
Surin beach is associated to a luxury hotel called The Surin Phuket. With white sand and blue waters, the Surin beach is a perfect spot for sunbathing and relaxing by the beach.
Kamala beach is one of the popular beaches in Phuket. There are lots of restaurants and bars near the beach and the beach stretches to around 10 kilometres.
Patong beach has golden sand and stretches to around 3.5 kilometres. The beach is famous for its water activities such as parasailing, and jet skies.
Freedom beach is a beautiful beach with white sand and clear blue waters. Just stretching 300 metres, the Freedom beach is one of the top visited beaches in Phuket.
South Phuket
Karon beach is the white sand beach overlooking the Andaman Sea and is one of the longest beaches in Phuket. The beach stretches for about 3 kilometres and is on the west coast of Phuket.
Kata Noi Beach – Around 700 metres long, Kata Noi Beach is a private and less crowded beach in Phuket. It is a great place to relax under the sun.
Karon View Point is a viewpoint providing stunning views of the Andaman Sea. It is one of the iconic landmarks in Phuket.
(Optional) Promthep Cape is a look out and one of the photographed points in Phuket, especially at sunsets. Also known as Laem Promthep, Promthep Cape is a small peninsula located west of Rawai.

Try visiting this during sunset if you have time.
Elephant Jungle sanctuary
With 19 elephants in care, the Elephant Jungle sanctuary claims itself to be the first and most ethical sanctuary in Thailand. They focus on rescuing the elephants and caring for them. At this sanctuary you can feed and touch the beautiful elephants.
Remember the TAGTHAi day pass that I asked you to purchase in the beginning of this post? The visit to Elephant Jungle Sanctuary is included in that pass where you can feed elephants.
The sanctuary has various types of programs and visits and depending on the type of visit, the price varies.
It is open everyday between 7 AM and 5 PM.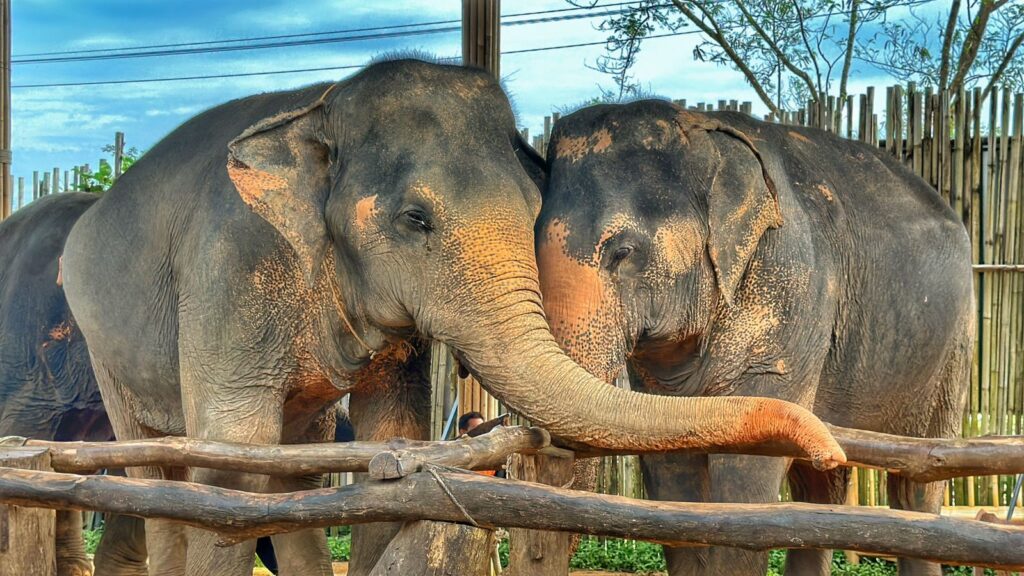 The Upside Down house museum
One of the unique museums to visit is the Upside Down house museum. With inverted house, garden and escape room, this museum is fun and one of its kinds.
The museum is open everyday between 10 AM and 6 PM.
There is an entry fee of 350 THB per adult.
Phuket Fanta Sea
In the evening, visit the famous Phuket Fanta Sea. Fanta Sea Phuket show is a Thai night time cultural theme park and has many attractions such as a Thai cultural theatrical show, shopping street and a themed buffet restaurant. There are themes that showcase the Thai culture and mythology. This is one of the must visit places in Phuket to get a cultural immersion into Thai culture.
Phuket Fanta Sea operates only on Tuesday, Friday and Sunday between 5:30 PM and 11:30 PM.
The entry ticket depends on whether you wish to visit only for the show or the show and dinner. It also varies depending on the class of the seat at the show.
Phuket nightlife
As I mentioned, Phuket is one of those places that have the best nightlife in Thailand. You can spend exploring and enjoying the nightlife that the city has to offer. There are many pubs, bars and discos that are open till late night. The city also has many Cabaret shows that you can watch and enjoy.
Day 2 – Visit one of the islands
On Day 2, take a ferry to the near by islands. There are many of the islands that can easily be done in a day. Some of the islands include Phi Phi Island, James Bond Island, Racha Island Yai, and Coral Island.
Phi Phi Islands
Phi Phi Islands are the largest group of islands in Thailand with a collection of 6 islands. Located on the west coast of Thailand, the largest island of the Phi Phi Islands group is Ko Phi Phi Don, which is a non volcanic island is mostly made of limestone.
Just 2 hours boat ride on a normal ferry from Phuket, Phi Phi island is one of the popular islands to visit for a day trip. There are two ways (boat rides) to get to Phi Phi Islands, one is by a normal ferry and the other by a speed boat.
The boat ride on a normal ferry cost about 500 to 800 THB.
There are many activities one can do at Ko Phi Phi Don and some of them include:
Snorkel and swim in the ocean. The water is shallow and is perfect for non-confident swimmers.
Kayak in the sea and there is a Viking cave that you can explore.
Hike up to the viewpoint.
There is also a nice restaurant on the island where you can have a delicious lunch by the beach, watching the pristine blue waters.
James Bond Island
Known for its signature rocky pinnacle, James Bond island was featured in the 1974 James Bond movie. Located around 25 kilometres from Phuket, the James Bond island has a marine national park that is protected.
The best way to reach James Bond island is by taking an island tour, which includes the transportation by the longtail boat or the speed boat. As the island has a protected marine national park around it, huge boats are not allowed.
The island tour cost about 1400 TBH and is a one entire day trip.
James Bond island also offers multiple things to do to the visitors.
Snorkeling and swimming is a popular activity at the island.
Sailing is also very famous.
Kayaking on the beautiful clear waters.
Having a seafood lunch by the beach. This is usually included in the island tour.
Racha Island Yai and Noi
There are two islands by the same name, Racha island. But one of the them is bigger than the other and the bigger one is known as Yai and the smaller is known as Noi. Racha Island Yai is famous for scuba diving sites and the Racha Island Noi is known for its snorkelling, and beaches.
Both these islands are accessible by boats. However, it is best to either go with catamarans and/or dive centre boats. The permissions and the equipment are then taken care of. For Racha island Noi, Nikorn Marine Tour Phuket are one of the best. And for Racha Island Yai scuba diving, go with Sea Bees Diving tour.
Coral island
Located just 9 kilometres from Phuket mainland, the Coral island is perfect for one day trip from Phuket. The island has a resort of its own but do allow the visitors to visit the island for a day. Also known as Koh Hae, the Coral island is popular for its blue waters and corals.
The island is accessible from Chalong Pier and can be visited as part of an island tour organised by Nikorn Marine Tour Phuket. The boat ride is just 20 minutes.
Coral island offers many activities to its visitors.
Banana boat ride is a fun activity to do.
Snorkeling and swimming in the ocean.
Kayaking on the calm ocean waters.
Parasailing.
Sunbathing by the beach.
Spotting the hornbills. There are close to 400 hornbills on the island.
Relaxing at the restaurant.
Day 3 – Explore Phuket old town and The Big Buddha
The day 3 is packed with exploration of Phuket old town and the Big Buddha.
The Big Buddha – At a height of 45 metres, the Big Buddha is another famous tourist spots in Phuket. The Big Buddha is the seated Maravija Buddha statue.

It is open between 8 AM and 6 PM everyday.

Wat Chalong Temple – Built in the 19th century, Wat Chalong temple is a Buddhist temple in Phuket. Its real name is Wat Chaiyathararam and is one of the most important 29 Buddhist temples in Phuket.

The temple is open between 8 AM and 5 PM.

Phuket old town – This is the best place to see and walk around, exploring to see some of the most beautiful souvenirs and clothes. There were plenty of things to shop.
In the evening, if you have time, do not forget to get a good Thai massage. The Thai massage in Thailand is an experience in itself and you cannot leave the country or the city without getting a good relaxing massage. The massage centres are open every day till 11:00 PM so you can get a good one before going to bed.
Safety for solo female travelers
Being an avid solo female traveler, I always look for safety. And I felt Phuket is one of the most solo female friendliest destinations in the world. Even though Phuket offers many things to do for couples, it is also a great destination for solo travelers.
People here are extremely friendly and nice. It is very safe to travel around Phuket and I highly recommend this destination for your solo travels. However, like any other city in the world, be cautious and know your surroundings, especially at night.
Closing Notes
Phuket is surely one of those amazing places that grow on you. It has everything that a traveler needs. I have already visited it twice and still long to visit the place again. You will have a great time in Phuket as the night life is amazing, the beaches are spectacular, the people are very friendly and there are so many things to do.
How can you support me?
You know how much I love coffee, so you can buy me coffee – Buy me Coffee!
Or you can purchase from one of the below travel resources without any extra charge to you.

Travel Resources
Click to book your flight on Skyscanner.com
Click to book your accommodation on Stay22
Click to book a comprehensive travel insurance on Safety Wing
Click to book your tours and travels on Viator or GetYourGuide
If you liked this article and if it was helpful in your planning or traveling, do share, tweet, or pin this post.

Follow me on Instagram | Facebook | YouTube | Twitter | LinkedIn
Do you have a question? Or want any suggestions, and tips for travels, hikes and scuba dives? Use the Subscription box below to sign-up and get updates by email.
PIN for later reference