Do you enjoy diving in warm waters? Clear blue ocean with plenty of marine life? Then Koh Racha Yai Diving is surely for you. With some of the amazing dive sites, the diving at Koh Racha Yai stands out in Thailand and the best part is that the dive tour is just one day dive trip from mainland Phuket.
During my recent travel to Phuket as part of the Travel Blog Exchange (TBEX) programme, I took a day to dive at these pristine dive sites. As I love scuba diving, I usually keep a day or two to dive and explore in a destination I am visiting. And diving at Koh Racha Yai was perfect as the weather and the visibility were great when I dived.
PIN for later reference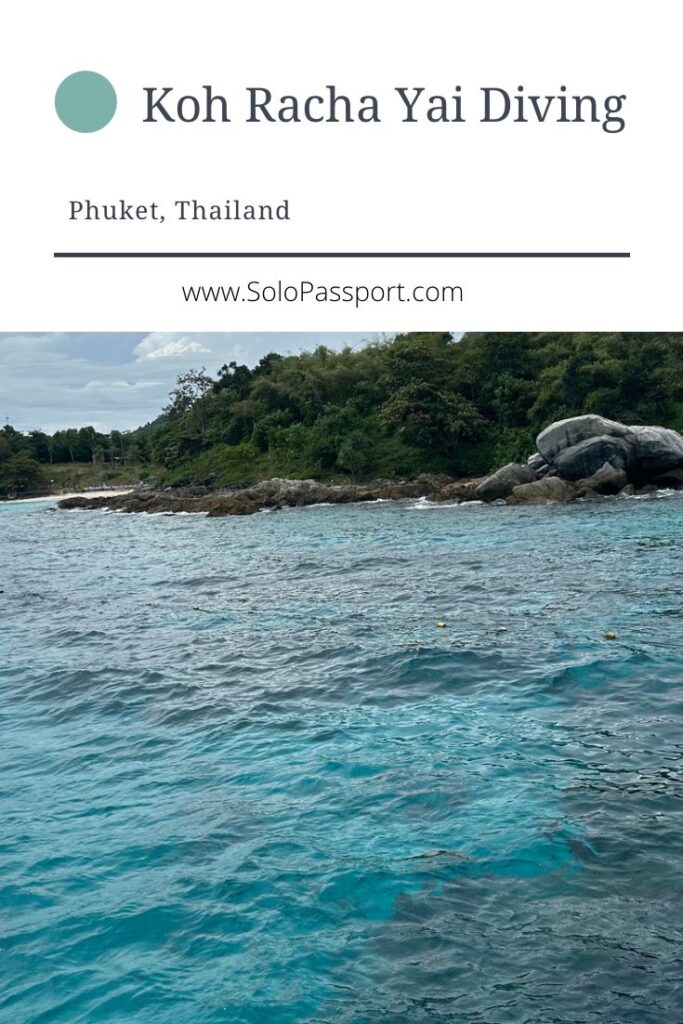 This article may contain affiliate links. For full information, please see our affiliate disclaimer here.
Disclaimers:
The prices mentioned in the post are valid only at the time of publication. Ensure to check the booking websites for up to date information and prices.
Opinions and views expressed solely mine and are unbiased. If the post is a collaboration, then they are specifically mentioned.
Ensure to check the relevant websites for up to date information on COVID protocols.
For any adventurous activities, please note that there is a risk that can be dangerous. Ensure to read the terms and conditions with individual agencies recommended and do them at your own risk.
For visas, it is best to see the embassy website for any changing rules.
About Koh Racha Yai
Located around 20 kilometres on the southeast coast of Phuket, there are two Racha islands. One is Koh Racha Yai (Yai meaning big) and the other Koh Racha Noi (Noi meaning small). With crystal clear blue water and white sand beaches, the islands are very popular among the visitors for a day trip.
Also known as Raya island, Koh Racha Yai is home to a 5 star resort The Racha. Mostly inhabited by Muslim farmers and fishermen, the main beach of the island is Ao Bungalow or Ao Tawan Tok.
One day dive tour to Koh Racha Yai
As Koh Racha Yai is so close to the mainland Phuket, Koh Racha Yai is one of the perfect islands to visit as a one day trip from Phuket. There are many providers who run one day diving trips to Koh Racha Yai.
Koh Racha Yai Diving
Koh Racha Yai is the most famous one that has plenty of dive sites that attract scuba divers. With abundant marine life, Koh Racha Yai diving is perfect for a relaxing and beautiful diving. The water is warm and clear, and has a great visibility.
Koh Racha Yai has many dive sites that suit scuba divers from beginner to experienced levels. The dive sites at Koh Racha Yai have artificial reefs (cement blocks) and colourful corals.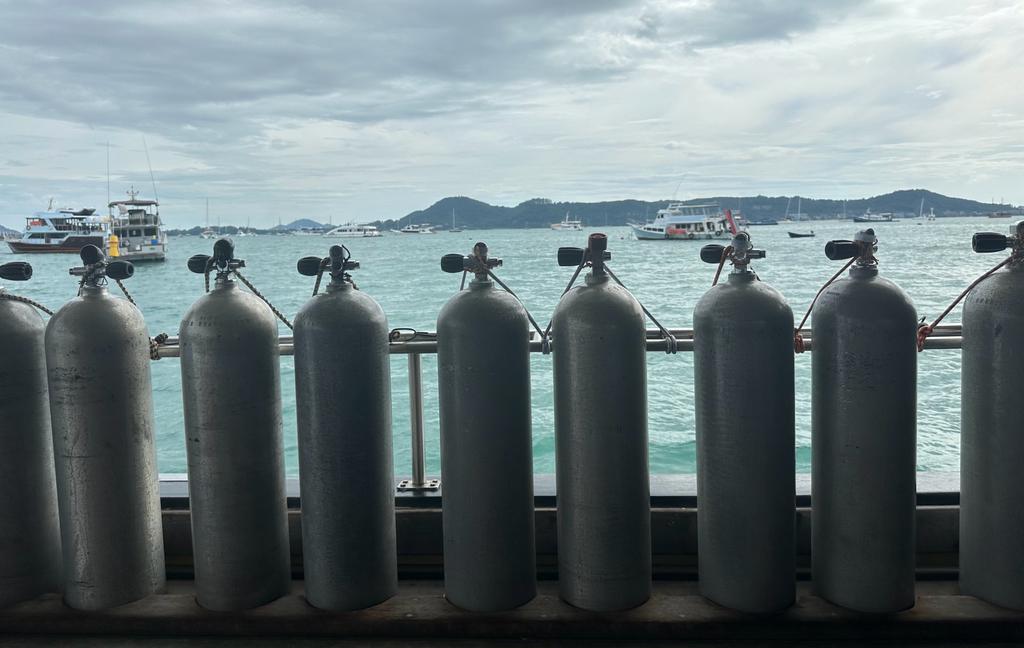 Best time to dive
The best time to dive in and around Phuket, including Koh Racha Yai is between the months of December and February as it is the dry season. The other months are wet and there are storms and rains that can impact diving and visibility. I dived during the month of November and fortunately, during my dive day, I had good weather and visibility. But on other days, there were heavy rains.
Dive sites
The day trip to Koh Racha Yai is for certified divers only.
Bay 1 and 2
My first dive was at Bay 1 and 2. With sandy bottom and artificial reefs, Bay 1 and 2 are stunning dive sites to dive at. They are beginner friendly and gradually goes deeper.
Dive statistics
Suitable for: Certified divers. Open water and above.
Visibility: 15 to 30 metres.
Maximum depth: 35 metres.
Marine life that you can spot on the dive site
The dive sites have very active marine life. There are all kinds of fishes, including dancing star fishes (Bushy feather stars), puffer fishes, parrot fishes, moray eels lion fishes, barracudas, butterfly fishes, clown fish colonies, trigger fishes and many more.
Harruby Ship wreck
At around 20 metres of depth is the Harruby ship wreck. The ship was a liveaboard wreck and the top of the wreck is accessible at 14 metres. This was sunk on purpose to create an interesting dive site and to use it as an artificial reef to attract marine life. The wreck in now home to many interesting fishes, including the sting rays and nudi branches.
Bay 4 and 5
The bay 4 and 5 dive sites start off shallow and are filled with a few rocks. Even though they start shallow, the dive sites do go up to 30 metres.
Dive statistics
Suitable for: Certified divers. Open water and above.
Visibility: 15 to 30 metres.
Maximum depth: 30 metres and above.
Marine life that you can spot on the dive site
Again, this is a dive site that has too much of activity. There are trigger fishes, Moray eels (massive ones), lion fishes, rays and many more.
Which dive centre should you go with for Koh Racha Yai Diving?
As I mentioned there are many dive centres in Phuket that take you to the Koh Racha Yai. Each of them are affiliated dive centres with either PADI or SSI, but selecting a good dive centre with staff who know what they are doing makes a huge difference. I went with Sea Bees Diving for the two dives I did in Koh Racha Yai.
With more than 25 years of experience in diving, Sea Bees diving are one of the best in Phuket. They have a range of dive centres across Thailand and conduct scheduled one day trips to different islands on each day of the week.
Why should you go with Sea Bees Diving?
As I mentioned, selecting a good scuba dive centre either makes it or breaks it. There are many factors because of which I recommend Sea Bees Diving for scuba diving in Phuket or Koh Racha Yai. Some of the reasons why I enjoyed diving with Sea Bees Diving are:
The dive instructor and the staff members onboard are extremely friendly and approachable. They are knowledgeable and understand what they are doing. I had a great time interacting with each one of them.
The equipment is well maintained and sanitised. Usually, equipment are a big issue while scuba diving as they play a major factor in a good dive. All the equipment I used during my two dives did not give me any problems whatsoever. They were in very good condition.
The boat that took us to Koh Racha Yai was fancy and one of the elite ones. The coach were clean and very comfortable. I loved it.
Safety was number one priority. They briefed us on all the safety protocols and took care of us during the entire day.
The food provided onboard was delicious. We were served with breakfast, lunch and snacks and all were equally tasty.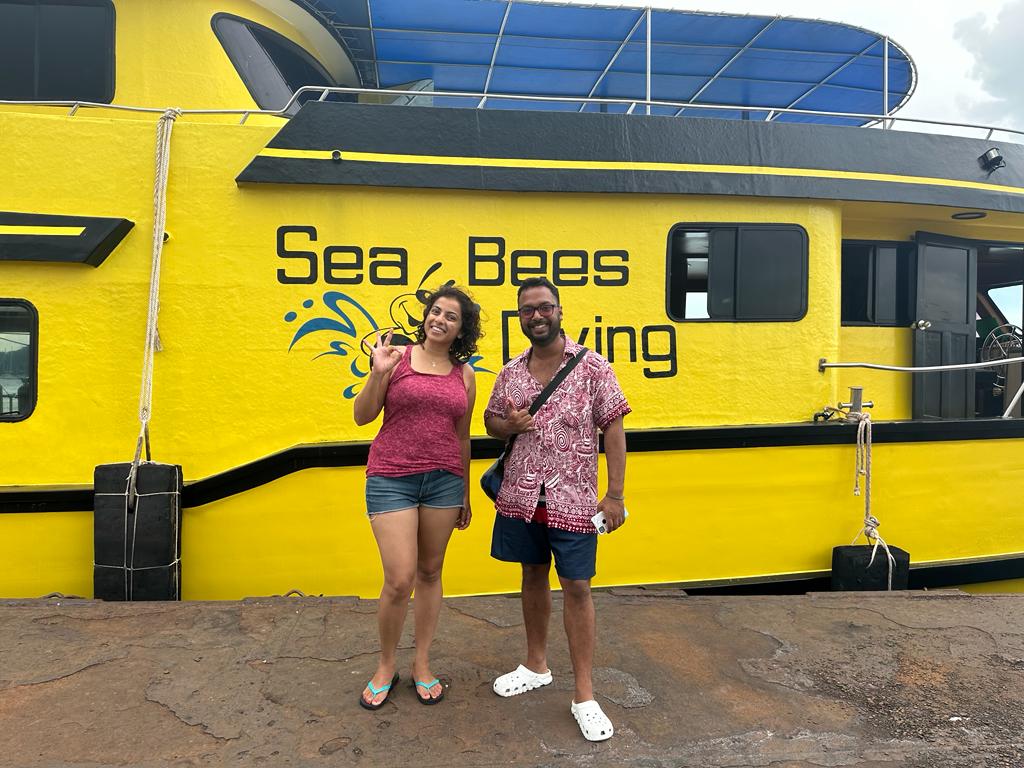 How much does it cost to go on a one day dive tour to Koh Racha Yai?
As mentioned on Sea Bees Diving website, the cost for a one day dive tour to Koh Racha Yai is 4000 TBH (USD 110). The cost includes 2 guided recreational dives, transportation from the dive centre and food onboard. However, the equipment cost extra and depending on what you hire, the price changes.
Also, note that the price varies based on which island/dive site you are visiting.
For up to date prices and availability, it is best to check Sea Bees Diving website.
Safety for solo female divers
As per Diving 101, you always have to dive with a buddy even if you are certified. And Koh Racha Yai diving requires you to travel by boat. Hence, I suggest you to go with a reputed dive centre that can take care of your safety. Diving with Sea Bees Diving was very safe and there were many solo divers onboard.
Closing Notes
Having dived in at least 7 countries, I can definitely say that Koh Racha Yai Diving is one of the best I have done around the world. As the dive sites are beautiful with great visibility, and have varied marine life, I highly recommend them for your next dives.
Note: This post is written in collaboration with Sea Bees Diving dive centre. But the views and the opinions expressed in the post are honest and unbiased.
How can you support me?
You know how much I love coffee, so you can buy me coffee – Buy me Coffee!
Or you can purchase from one of the below travel resources without any extra charge to you.

Travel Resources
Click to book your flight on Skyscanner.com
Click to book your accommodation on Stay22
Click to book a comprehensive travel insurance on Safety Wing
Click to book your tours and travels on Viator or GetYourGuide
If you liked this article and if it was helpful in your planning or traveling, do share, tweet, or pin this post.

Follow me on Instagram | Facebook | YouTube | Twitter | LinkedIn
Do you have a question? Or want any suggestions, and tips for travels, hikes and scuba dives? Use the Subscription box below to sign-up and get updates by email.
PIN for later reference