PADI certified Open Water Scuba Diving at Samoa
I have mentioned plenty of times on my blog and social media that I love water and I can be in the water all day every day. I have scuba dived many times (10 to be precise) in the past and every time I have dived, the instructor has advised me that I do the open water scuba diving course. Unfortunately, I kept pushing my certification forward as I was not sure whether I was ready to take the scuba diving to the next level.
PIN for later reference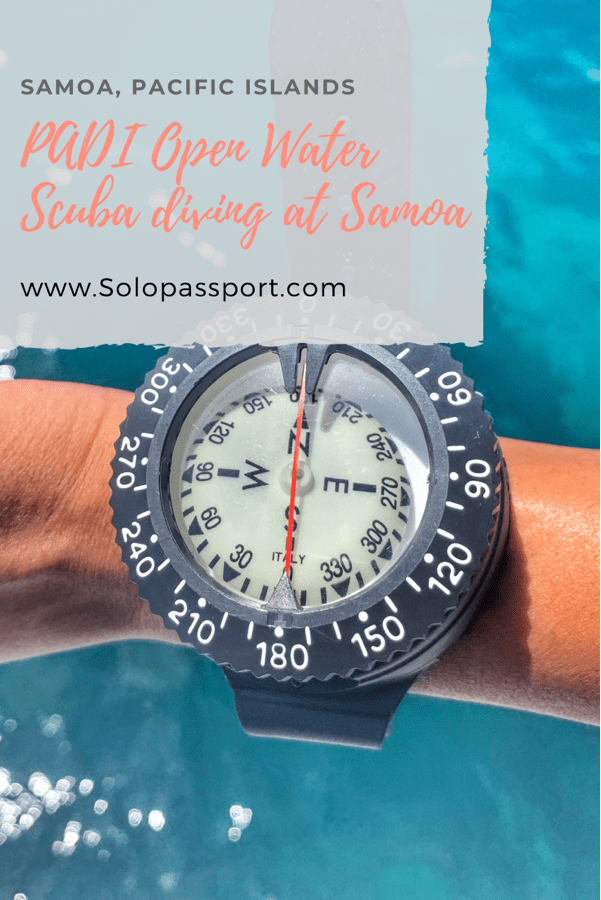 This article may contain affiliate links. For full information, please see our affiliate disclaimer here.
Dive centre at Samoa
When I planned for Samoa, I was under a fix whether to do the course or not. I discussed with my friend Vijay who was also coming along. And we both decided to inquire about the various PADI certified options with different providers in Apia. We received multiple replies and after researching a bit more, we decided to go with Aqua Samoa on the Beach Road in Apia. The reasons why we decided for Aqua Samoa were:
They were cheaper than the other providers.
They had an option of e-Learning which was reducing the number of days we were spending doing the course.
And they were structured in providing us with the information required.
PADI stands for Professional Association of Diving Instructors. It is a diver training organisation in 1966.
Aqua Samoa provided us with two different options:
Option 1: PADI Open Water Diver Certification course with e-Learning.
In this option, the candidate can complete the e-Learning before arriving at Aqua Samoa. The e-Learning takes around 8-10 hours and a final assessment has to be completed with at least 75% of passing marks. After the e-Learning, the course would be for 2 full days with 5 swimming pool sessions and 4 dives in the ocean. The total cost for option 1 is, AUD 220 for e-Learning + Samoan Tala 850 (approx. AUD 459) for 2 days course including the scuba gear, AUD 679 per person.
Option 2: PADI Open Water Diver Certification course without e-Learning.
In this option, the course will include the classroom, 5 pool sessions and 4 dives in the ocean. And the course would be of 4 days. The total cost for option 2 is Samoan Tala 1250 (approx. AUD 675) per person.
Course
We selected for option 1, PADI Open water diver certification course with e-Learning.
e-Learning
Once registered (with payment of AUD 220), PADI provides access to its library where the candidate can get information on all the modules. It is a free mobile app, downloaded on mobiles so it can be accessed anywhere anytime.
The e-Learning was a lot of information. It provided insights about the buoyancy, gear, how lungs expand and contract and all the skills. It was intense. At the end of each module, there were assessment questions. These were kind of practice questions. If answered incorrect, the app would provide the correct answer and provide an option to retry. After all the modules, there is a final assessment which has to be taken and it requires at least 75% scoring. The difference between this assessment and the practice questions assessment was that the app would provide you with the correct answer when a question is answered incorrectly, but in case of final assessment there was no option to retry.
I scored 89% in my final assessment. I lost most of my marks around the calculations of depths, surface times and others. Note: I was sent a certificate from PADI showing how much I had scored.
Please note: This post may contain affiliate links which means I may earn a commission if you make a purchase by clicking a link on this post. This will be at no additional cost to you. Affiliate links help me keep this website up and running. Thank you for your support.
Day 1
We arrived at Aqua Samoa at 9 AM. Aqua Samoa is owned by an Australian couple Karin and Ted. Karin is from Bathurst in New South Wales. She is really wonderful and extremely friendly.
Our instructor was Joe who had done more than 500 scuba dives till now. That's pretty cool! After talking to her about my medical conditions, I realised that I had to take a signature from my General Practitioner (GP) on the PADI medical assessment form. Vijay and I quickly went to a nearby hospital in Apia and the doctor confirmed that the medical condition was never a problem for diving and she was not sure why that was even included in the diving medical assessment form.
After clearing out the medical assessment form and filling in few other forms, Joe handed us another set of assessment papers. This did not have scoring but this was to let her analyse the areas in which we needed more concentration during our course.
We then headed to the swimming pool at a nearby resort. Since we had wasted some time at the hospital, we only did 3 pool sessions in the morning. At the pool sessions, we learned basic diving skills under water. One skill that I struggled the most at the session was not to touch the ground and orally inflate my Buoyancy Control Device (BCD). I struggled because it was a pool and it was difficult to kick my legs without touching the ground. The fins were not helping either.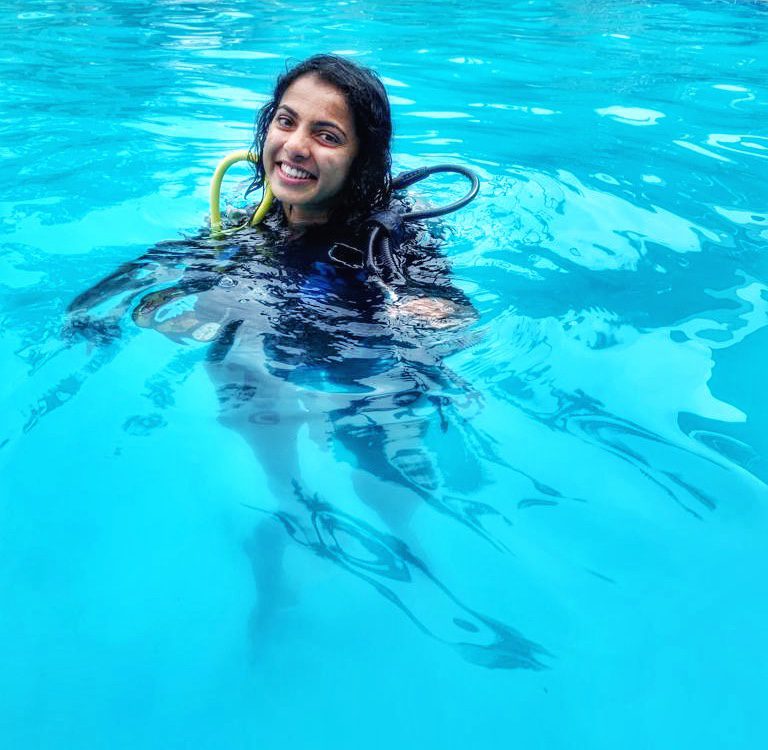 In the afternoon, we headed to ocean. It was a short boat drive from Aqua Samoa and we were diving in the lagoon, which was around 8 metres.
The biggest hurdle for me was to clear the two requirements set by PADI. I have mentioned before I can float and I can swim with one breathe but I find it difficult to breathe in between the swimming strokes. I was tensed and I thought I would not clear these two requirements and I had to try taking up the course again sometime later in my life.
The two requirements set by PADI are:
Swim 200 metres without snorkeling gear or swim 300 metres with snorkeling gear. This came up to about either 11 times around our boat or 18 times around our boat. I selected the later one i.e. 300 metres with snorkeling gear. And guess what? I completed it.
Float in the ocean for 10 minutes without any gear. I miraculously floated and I still cannot believe it that I did this.
After these two skills were done and dusted, we headed for a dive.
We held on to the rope that was tied to a balloon shaped float and went into the water slowly and steadily. And we dived with a bigger tank and yes by then we had learned how to assemble and dismantle our scuba gear.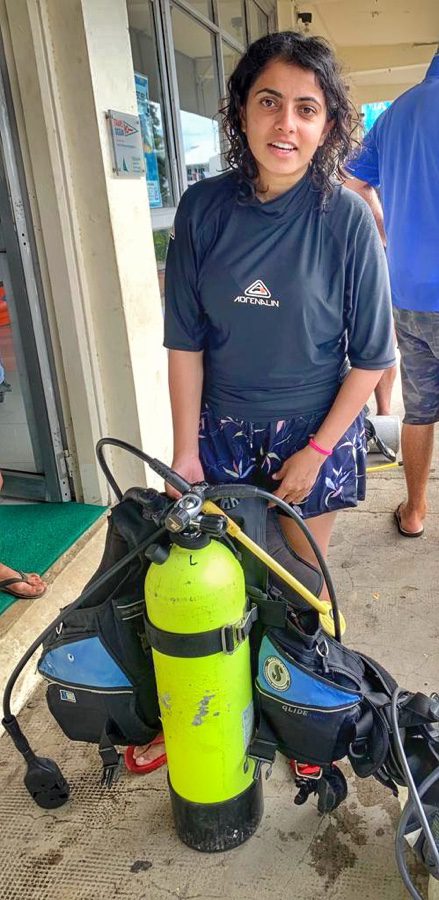 We had to repeat all the skills we had learned at the pool under the water in the ocean and we dived for about 7.9 metres.
I was very dehydrated that night that I did not sleep well. I kept drinking lots of water the entire night. It was not a good feeling for sure.
Day 2
Karin and Joe had asked us to be there at Aqua Samoa at 8:30 AM as we had lost a bit of time during day 1 and there were lots of things to go through.
For me the day started off dull as I was dehydrated from day 1. So, the morning 2 sessions at the pool were not that great. We learned some more skills and we were getting a hang of it. One of the skills was to remove our BCDs and align all the hoses and wear the BCD again.
In the afternoon, we headed to the ocean again, the boat ride was a little longer as we were heading into the ocean and not to the lagoon. Unfortunately, Vijay had not completed his float requirement on day 1 and he had to complete it before doing the remaining part of the course. For some reason, he was not able to complete the requirement on day 2 as well and had to opt out of the course. This was very unfortunate as he desperately wanted to do this for this birthday which was on the next day of day 2.
Even though I was sad, I went ahead with the course. I had to complete 3 other dives in the ocean to be certified where I had to exhibit all the skills I had learned in the pool on day 2 in the ocean. I completed all these skills in the first 2 dives itself.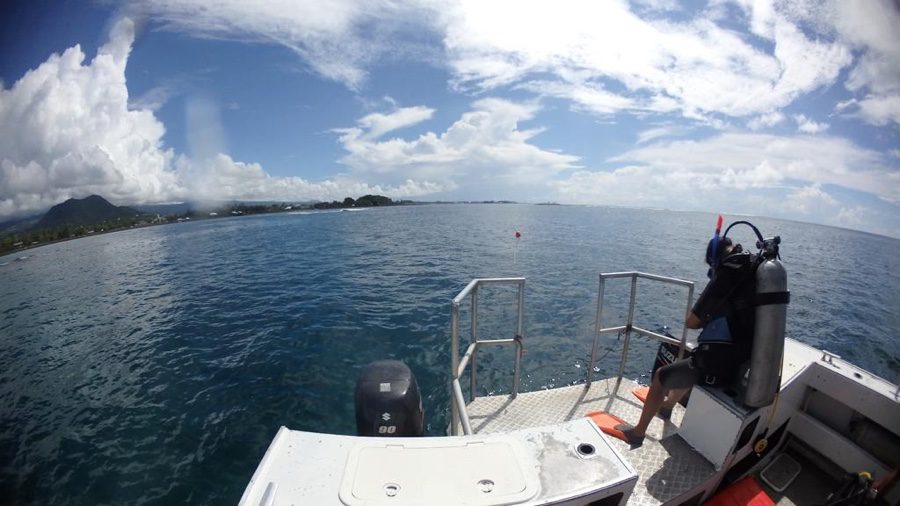 We dived to about 11.8 and 17.4 metres. On the first dive, we went down under water by holding the rope again. But on the third dive, there was no rope but I had to deflate the BCD and head down slowly.
I also had to do some skills involving the cool compass.
The fourth dive was a fun dive and I had the opportunity to take pictures. The pictures did not come too well. as I had not turned on the underwater mode and the visibility of the water was not that great.
In this dive, we dived for about 17.9 metres. I enjoyed learning these new skills and realised there is so much to scuba diving than just going under water and seeing fishes. I loved it and I am glad to have done this.
After the long day, we headed back to the shore and that's when Joe and Karin came up with an option for Vijay. Joe suggested that he complete the Scuba Diver certification instead. In this, he does not need to do the float requirement but still has to complete some of the skills under water and has to do 1 dive. And guess what? Viola, Vijay got his scuba diver certificate 🙂 . We were so happy.
At the end of the day, we completed some more paperwork and Joe provided a reference for Vijay to complete his open water certification with any other dive centre at any place. We also received our completion certificates from Karin.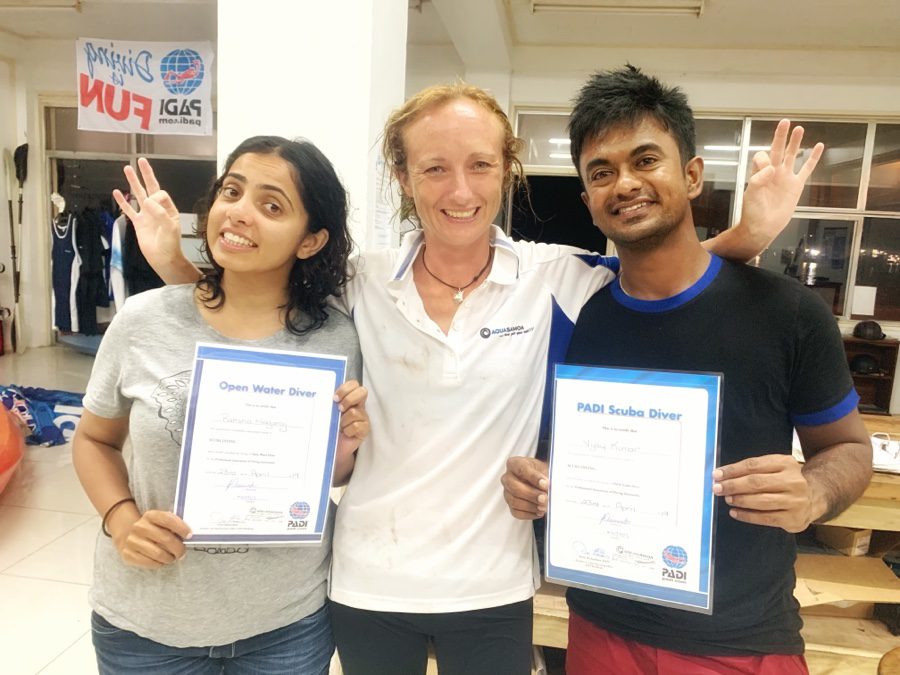 What does this certificate allow me to do?
I can now dive up to 18 metres (60 feet).
I need a dive master to go for diving instead of instructor.
Or I can buddy up with my dive master and go diving.
My next step would be to do the PADI Advanced level certification. As of now, it's all happy days and hopefully I would be doing for more dives around the world.
How can you support me?
You know how much I love coffee, so you can buy me coffee – Buy me Coffee!
Or you can purchase from one of the below travel resources without any extra charge to you.

Travel Resources
Click to book your flight on Skyscanner.com
Click to book your accommodation on Stay22
Click to book a comprehensive travel insurance on Safety Wing
Click to book your tours and travels on Viator or GetYourGuide
If you liked this article and if it was helpful in your planning or traveling, do share, tweet, or pin this post.

Follow me on Instagram | Facebook | YouTube | Twitter | LinkedIn
Do you have a question? Or want any suggestions, and tips for travels, hikes and scuba dives? Use the Subscription box below to sign-up and get updates by email.
PIN for later reference