Molchanovs Wave 1 freediving course
I was introduced to freediving on one of the Pre-Bex tours, organised by Travel Blog Exchange (TBEX) and Thailand Tourism, late last year. During this Pre-Bex tour, a few of content creators were given half a day of freediving introduction and pool session. And this pool session opened up an opportunity and realisation that I can free dive too. All I needed were the right skills and training. And this is the reason why I collaborated with Mitr freediving community in Phuket to complete my Molchanovs Wave 1 freediving course.
PIN for later reference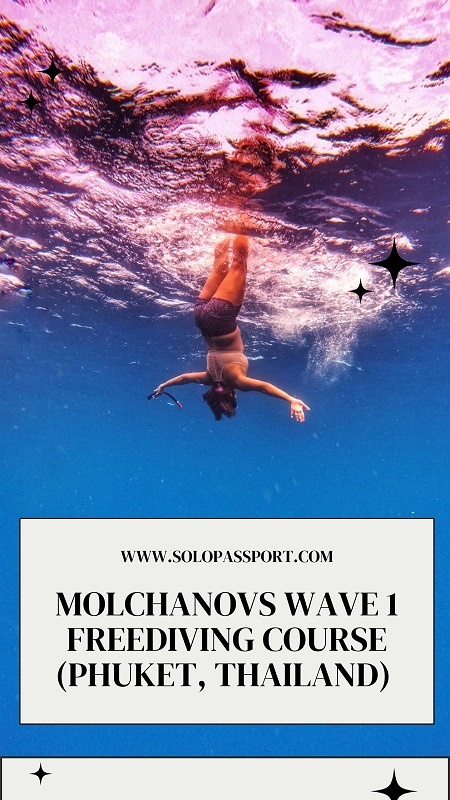 This article may contain affiliate links, meaning if you decide to make a purchase via my links, I may earn a commission at no additional cost to you. For full information, please see our affiliate disclaimer here.
About freediving
A traditional and an oldest form of diving is the freediving. Freediving is an underwater diving skill where the divers go underwater holding their breath. It relies on breath-holding until the divers resurface. There is no usage of any equipment that helps in breathing underwater. Some of the examples of freediving is spearfishing, traditional fishing technique and target shooting.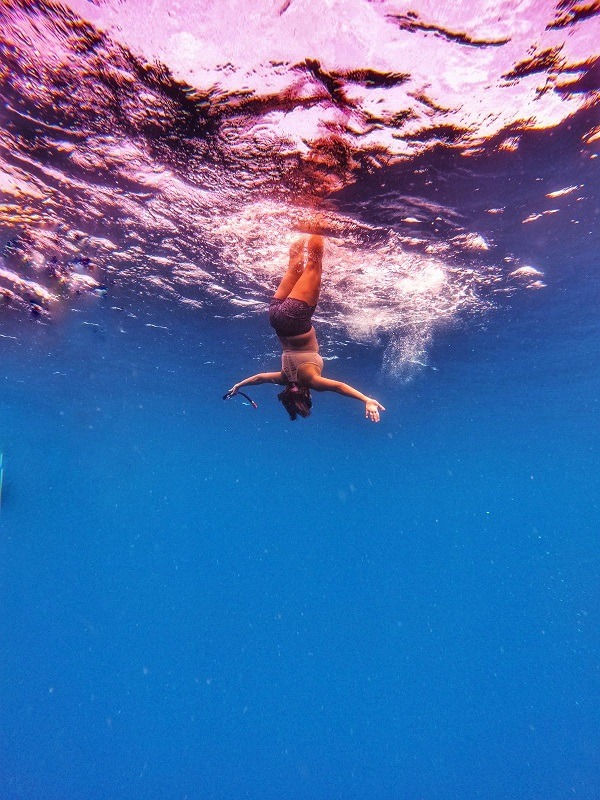 What are the advantages of freediving?
There are many benefits in freediving. Some of the advantages include:
The first step of freediving is to relax and calm your mind. And hence the number one benefit is that it is a stress buster and helps in meditation and focus.
As freediving is free of any equipment, it is perfect for improving flexibility and self-confidence.
Freediving increases the lung capacity and strength of your body. It also assists in building endurance.
What are the negatives of freediving?
Even though freediving has many benefits, it does have a few disadvantages. With freediving, there is a restriction on the depth limit as it solely depends on how long the diver can hold their breath underwater. And it does require the diver to have the right technique and skills to go longer underwater.
Difference between freediving and scuba diving
The difference between freediving and scuba diving is mainly in the way the divers breathe underwater. In scuba diving, the divers use scuba regulator to breathe. SCUBA means Self-Contained Underwater Breathing Apparatus. The scuba regulator is connected to the air tank and that is where you get the air supply from. In freediving, the divers hold their breath while diving. There is no regulator or air supply for free divers underwater.
Is freediving safer than scuba diving?
Freediving is safer than scuba diving as scuba diving heavily depends on the equipment you use where as freediving is self-dependant and you can control the way you breathe and how longer you can hold.
Is freediving same as snorkeling?
Freediving starts with snorkeling but free divers dive deeper underwater holding their breath for longer periods of time. In snorkeling, you are at the water surface, and are breathing using a snorkel and do not hold your breathe. But in freediving, you go underwater and hold your breathe.
About Molchanovs
Officially launched in 2018, the Molchanovs Movement was launched to get the global community of free divers who have access to latest freediving education, workouts, and exclusive early access and discounts to the gear. The freediving education system was founded by Natalia Molchanovs for the Russian Freediving Federation.
Molchanovs Wave 1 freediving course details
Molchanovs Wave 1 freediving is the first level of freediving course. The course focuses on making you a safe and focused diver.
Eligibility criteria
To do the Molchanovs Wave 1 freediving course, you must:
Be medically fit.
Have the ability to swim unassisted 200 metres non-stop.
Theory session
In the theory session, you will learn the physics and basics of freediving. It is an in-depth learning of the science behind freediving such as how your body reacts while freediving, what is required to hold the breath, Boyle's law, techniques for duck diving, safety procedures, and assisting / rescuing your buddy during free dive.
You will need to read Molchanovs manual providing all the information and also take an assessment with the instructor validating and reiterating what you learn in the manual.
Day 1 – Pool session
During the pool session, you learn the skills and practice them underwater but in a controlled environment. The session lasts around 3 to 4 hours where you do understand and learn:
Static 1 minute 30 seconds apnea.
Duck dive.
Free dive for 35 metres.
Turn underwater.
Rescue when your buddy blacks out underwater.
And many more.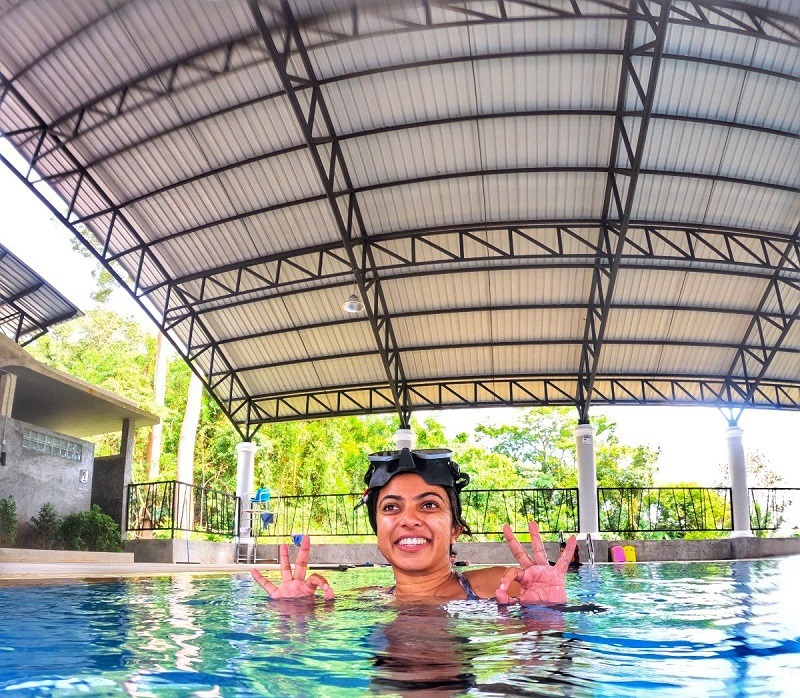 Day 2 – Open water session
On day 2 is where the fun begins and you practise the skills that you learned in day 1. These skills are practised in open water and are applied to go deeper. The divers practise the skills around a rope that hangs down and be comfortable in the ocean. All you use are fins to dive. The session in the open water lasts for around 3 hours.
Day 3 – Open water session
On day 3, you are assessed on the skills you have learned. You are also taught the buddy and rescue skills where you understand the process of diving with a buddy and rescue. The session in the open water lasts for around 3 hours.
Passing criteria and examination
To get certified as Molchanovs Wave 1 free diver, you must pass:
Pool requirements:
1 minute 30 seconds static apnea.
30 metres free dive (dynamic with fins).
Open water requirements:
Free dive between 12 to 20 metres (constant weight with fins and free immersion).
Buddy skill between 6 to 12 metres (constant weight with fins).
Rescue skill between 6 to 12 metres.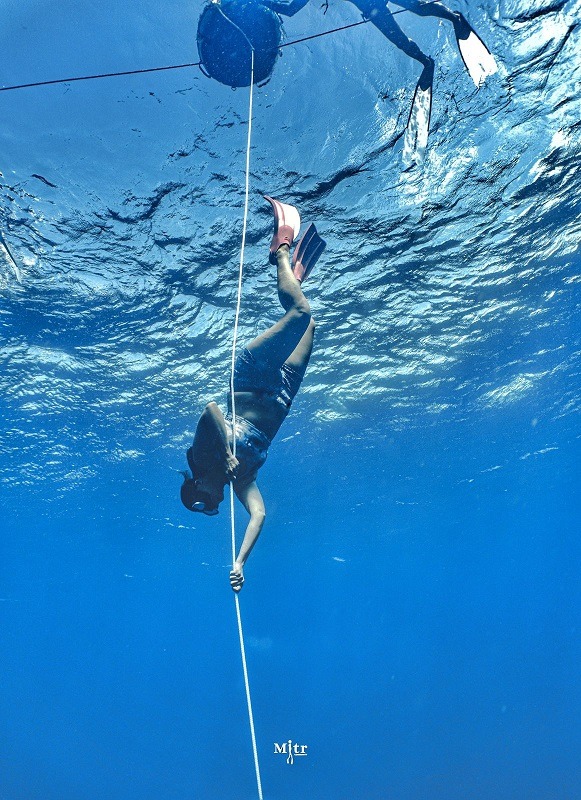 Dive school in Phuket
As I mentioned earlier in the post, I collaborated with Mitr freediving community to do the Molchanovs Wave 1 freediving course. Associated with World Confederation of Underwater Activities (CMAS) and Association of Thailand Underwater Sports (ATUS), it is a community of divers who have the same passion for freediving. They offer many services, including:
Freediving training and courses, ranging from beginner to advance levels.
Special training of certain skills required.
Equipment rental.
Homestay.
Frequently asked questions (FAQ)
Q: Is freediving easy to learn?
With the right skills and training, freediving is easy to learn. It does require practice and understanding your body.
Q: How do free divers hold their breath?
Free divers practice and understand how longer they can hold their breathes underwater. They specifically train their lungs to hold their breathes longer. The key is in a calm mind and body, where you decrease the heart rate and oxygen consumption.
Q: How long do free divers hold their breath?
Some free divers can hold their breathe more than 10 minutes. Budimir Sobat holds a Guinness world record of holding 24 minutes 37.36 seconds. I was able to hold my breathe for 1 minute 40 seconds.
Q: How long is Molchanovs Wave 1 freediving course?
Molchanovs Wave 1 freediving course is for three days. The first day is in the pool and the last two days are in the ocean.
Q: How much does it cost to do Molchanovs Wave 1 freediving course?
Molchanovs Wave 1 freediving course cost around 7900 Thai Baht (approximately 240 USD) and this includes the manual, theory lesson, equipment, instructor fees and boat charges.
Q: What are the different waves and levels of Molchanovs freediving education?
Below table provides the various levels/ waves of Molchanovs freediving education:
| | | | |
| --- | --- | --- | --- |
| Wave | Name | Breathe holding | Depth |
| Wave 1 | Introduction to Freediving | > 1 minute 30 seconds | 12 to 20 metres |
| Wave 2 | Intermediate Freediving | > 2 minute 30 seconds | 24 to 30 metres |
| Wave 3 | Advance Freediving * | > 3 minute 30 seconds | 34 to 40 metres |
| Wave 4 | Competitive Freediving | | > 50 metres |
* Once you complete your Wave 3, you can participate in Molchanovs Instructor Course
Closing Notes
Learning freediving and understanding your body while freediving is a great skill to have. And I am glad to have done this course. I am sure this will also help me in becoming a better scuba diver as well.
Note: This post is written in collaboration with Mitr Freediving Community. But the views and the opinions expressed are honest and unbiased.
How can you support me?
You know how much I love coffee, so you can buy me coffee – Buy me Coffee!

Or you can purchase from one of the below travel resources without any extra charge to you:
Travel Resources
Book your flight on Skyscanner.com or Trip.com
Reserve your accommodation on Stay22
Buy comprehensive travel insurance on SafetyWing and WorldNomads
Book your tours and travels or purchase tickets on Viator or GetYourGuide
For a universal SIM card, use DrimSim
If you liked this article and if it was helpful in your planning or traveling, do share, tweet, or pin this post.

Follow me on Instagram | Facebook | YouTube | Twitter | LinkedIn
Do you have a question? Or want any suggestions, and tips for travels, hikes and scuba dives? Use the Subscription box below to sign-up and get updates by email.
PIN for later reference