Scuba diving at underwater working post office in Vanuatu
I did not believe the first time I heard that there is an underwater working post office in the world. "Really? That's crazy!" I had thought and had ignored thinking that it was one of those touristy hyped up not-so-true-kind of stories. During one of the Easter holidays, I had planned for a holiday to Vanuatu, a small island country in the South Pacific ocean. When I started researching on the things to do and see in Vanuatu, I stumbled upon the underwater post office again and surprisingly it was real, very real!
I visited Vanuatu for 4 days and on one of the days, I ended up scuba diving so I can see the underwater working post office. Note it is not necessary to dive to see the post office, the water is so clear that snorkelers can easily see the post office from the surface as well. In fact, many of the visitors opt to snorkel around the island and hence there are more snorkelers and free divers than the scuba divers.
PIN for later reference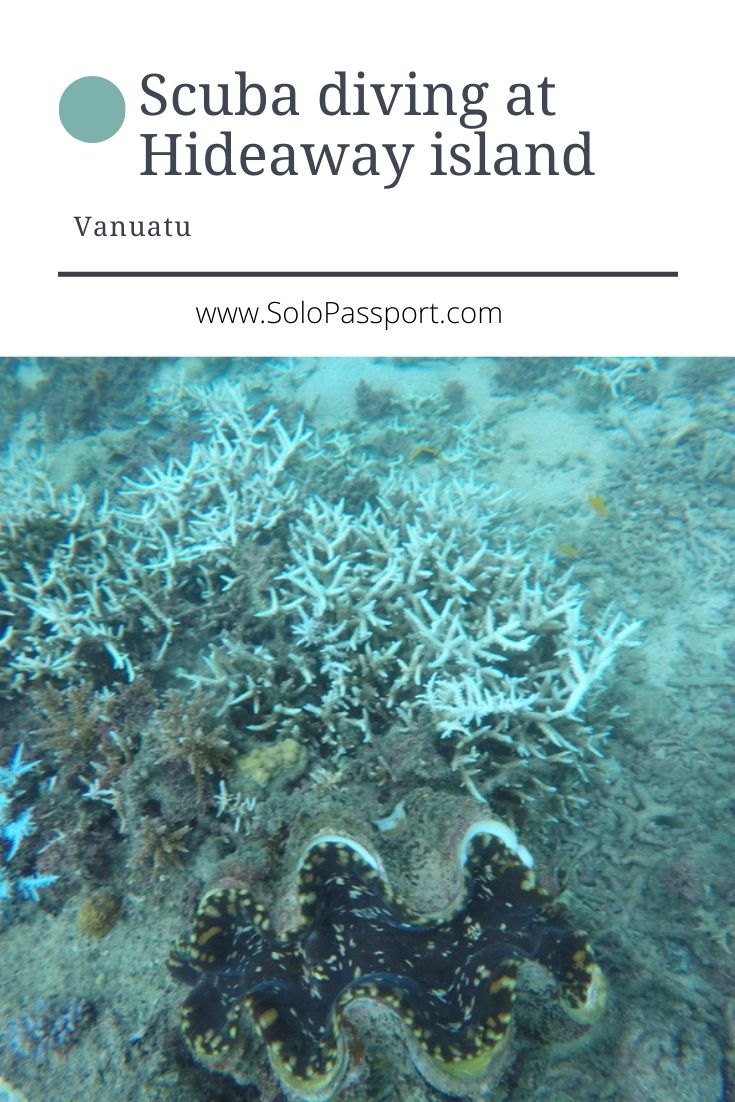 This article may contain affiliate links. For full information, please see our affiliate disclaimer here.
Disclaimers:
The prices mentioned in the post are valid only at the time of publication. Ensure to check the booking websites for up to date information and prices.
Opinions and views expressed solely mine and are unbiased. If the post is a collaboration, then they are specifically mentioned.
Ensure to check the relevant websites for up to date information on COVID protocols.
For any adventurous activities, please note that there is a risk that can be dangerous. Ensure to read the terms and conditions with individual agencies recommended and do them at your own risk.
For visas, it is best to see the embassy website for any changing rules.
Vanuatu underwater working post office
Vanuatu Post has setup an fully functional official working post office under water in Hideaway Island. Opened in 2003, the Vanuatu underwater working post office is the world's only underwater post office.
The kiosk at the Hideaway Island Resort sells the waterproof postcards and stamps that can be posted at this post office. The postcards are made of waterproof plastic and the messages are written using a pencil.
Address: Mele Bay, Vanuatu.
A flag is flown on the sea surface just to let visitors know that the post office is open for business. The post cards are collected at 3 PM every day from the underwater post office and are sent to their respective destinations. And guess what? I also posted a few postcards from this post box to myself and my friends. This is one of the unique kind of experiences one can have on Vanuatu.
Scuba diving in Hideaway Island Resort
One of the best ways to see the underwater working post office and to post the postcards is to scuba dive at the Hideaway Island resort. The island is a fully equipped 5 star PADI dive resort and offers variety of scuba diving packages. There are scheduled dives that depart every day at 8:30 AM, 10:30 AM and 2 PM.
There are more than 15 dive sites that are around the island with both shore and boat dives and they cater for all levels of divers. The dive sites range between 12 to 40 metres and there are a couple of shipwrecks too that sit between 24 to 27 metres.
Shore diving as a non-certified diver
Since I was not a certified diver back then, I had opted for the Discover Scuba diving (DSD) and had managed only to go up to 12 metres. It was a shore dive and it was around the underwater working post office. The instructor had been friendly and kind and I had enjoyed my relaxed dive.
About Discover Scuba Diving (DSD)
Discover Scuba Diving (DSD) is not a certification scuba diving course but is an easy and quick dive where the divers get an introduction into the underwater world. The only criteria to dive is to be older than 10 years. It does not require any scuba diving experience and the diver need not be a swimmer too.
During DSD, the instructors provide basic skills training to the divers and are always with them during the dives. This is the first and optional step before becoming a certified Open water diver. As the scuba diving courses are expensive, I highly suggest divers to first do a DSD and then get into a certification course as this allows them to know if they really enjoy diving.
Dive centre
The Hideaway island resort is a fully equipped 5 star PADI resort that has instructors and dive masters staying on the island. There are set times where the dives start and I took a morning dive at 8:30 AM.
Dive statistics
Type of dive: Shore dive.
Dive site: Open sea.
Wet suit required: Yes.
Depth: Maximum of 12 metres.
Visibility: 8 to 10 metres.
Ideal for: Beginners.
Current: No current.
Marine life
The dive sites have plenty of marine life which was amazing for underwater photography. There are bat fishes, clown fishes, butterfly fishes, angel fishes and damsels. I saw a lot of macro marine life than the big fishes like sharks. The sites are known to have a lot of reef sharks too.
Booking and price
The booking was very easy as I just walked up to the dive centre and paid the amount required. As the dive centre is just by the resort, it is very easy and convenient. The cost of a single dive for a DSD was around AUD 60 which may have changed now. Also, depending on the scuba diving packages, the prices vary.
Safety for solo female divers
I traveled to Vanuatu alone and I dived solo as well with the dive centre at Hideaway island resort. It was very safe and I did not feel awkward at any times during the dive. However, be careful and trust your instincts while visiting the island. Some of the common experiences on the island is that men usually ask if you have a boy friend or a husband and if you are fine getting married to them, which I was uncomfortable at the beginning but later on realised that it is a common nature on the island as I was asked everywhere.
Closing notes
I absolutely enjoyed my dive at Hideaway island resort. The perfect temperature, clear water and abundant marine life is what a diver needs and the dive site here provided all of those. Now that I am a PADI certified Rescue diver, I do hope to go back and explore the other dive sites, especially the wrecks.
Did you know about the underwater working post office? Let me know in the comments below.
How can you support me?
You know how much I love coffee, so you can buy me coffee – Buy me Coffee!
Or you can purchase from one of the below travel resources without any extra charge to you.

Travel Resources
Click to book your flight on Skyscanner.com
Click to book your accommodation on Stay22
Click to book a comprehensive travel insurance on Safety Wing
Click to book your tours and travels on Viator or GetYourGuide
If you liked this article and if it was helpful in your planning or traveling, do share, tweet, or pin this post.

Follow me on Instagram | Facebook | YouTube | Twitter | LinkedIn
Do you have a question? Or want any suggestions, and tips for travels, hikes and scuba dives? Use the Subscription box below to sign-up and get updates by email.
PIN for later reference