The Maldives is definitely a paradise on Earth! I just returned from this exotic country and I have madly deeply fallen in love with it. Be it the people or the blue clear ocean, I loved everything about this country. I was in Maldives for 4 days and I wanted to be there for even more longer period of time.
PIN for later reference
This article may contain affiliate links, meaning if you decide to make a purchase via my links, I may earn a commission at no additional cost to you. For full information, please see our affiliate disclaimer here.
About Maldives
Maldives is a country in Asia continent and is located in the Indian Ocean, south of Sri Lanka and India. The Maldives have 26 atolls and are spread across the equator. Did you know that the Maldives is named after its capital city Male? Maldives means the islands of Male.
Atolls are ring shaped island or chain of islands.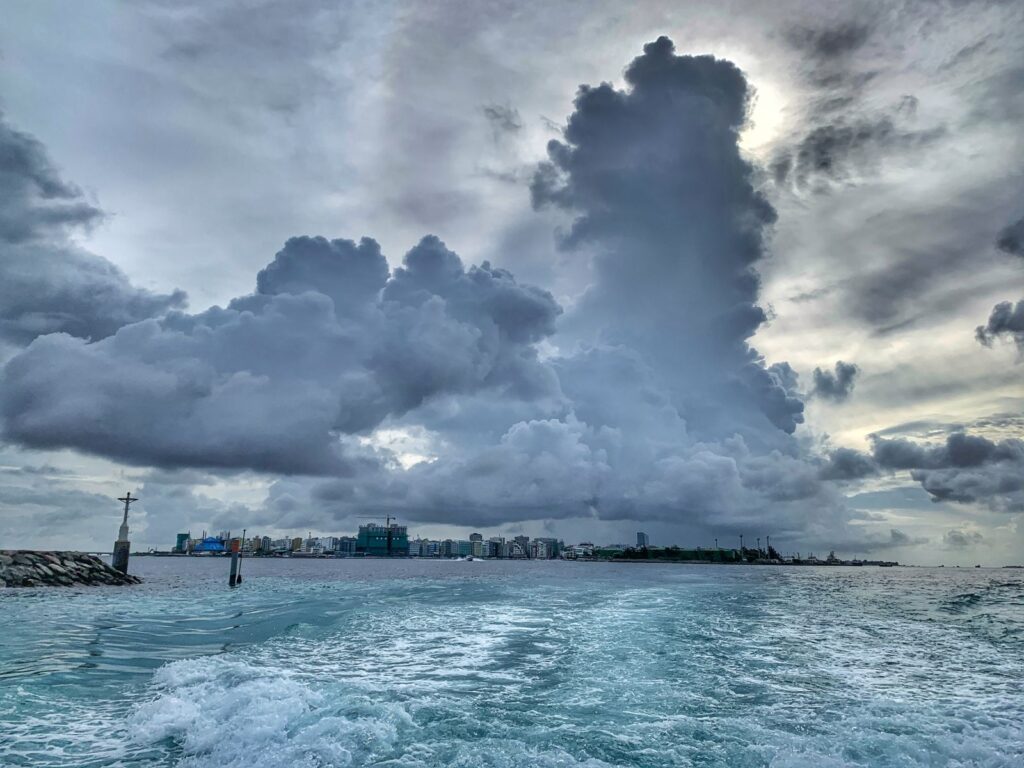 The best time to visit Maldives is during the dry season which is between November and April. For saving money, you can stay during the off peak season which is between March and May.
Even though I was there only for 4 days, I highly recommend visiting Maldives for at least 5 to 6 days.
About Male
Located on the southern edge of North Male Atoll/ Kaafu Atoll, the capital city Male is the largest and busy city in the Maldives. It is a gateway into the islands of Maldives as the main international airport is at Male. The city is perfect for a short stay before heading to one of the local or resort islands.
Tip: The best way to get around Male is by walking.
Atolls in Maldives
As I mentioned before, there are 26 atolls which comprises of more than 1000 small islands. These islands are grouped as local and resort islands. Most of the habited islands in Maldives are taken over by resorts and they have built the amazing water bungalows on them. The most beautiful island is Thulusdhoo Island.
Tip: To save money in Maldives, you can visit and stay at local islands, such as Mafushi and Hulhumale, as they are way cheaper and affordable than these resort islands.
Another beautiful island to stay at is the Dhigurah Island, refer Dhigurah Island for a detailed guide.
How to get to Male?
By Air – Velana International Airport is the biggest airport in the city of Male. There are frequent flights between Velana and many cities around the world. Air India and Indigo airline providers offer flight tickets for as cheap as Rupees 15,000 return from Bangalore city.
Note: There are around 12 airports in Maldives.
Staying in Maldives
Maldives has many resort islands and there are plenty of luxury and expensive resorts that you can choose from. I believe that if you are in an glamorous location like Maldives, then you have to experience staying at one of these exotic resort islands. But these resort islands are very expensive. When I was visiting Maldives, I found a way of staying at one of these resort islands without shelling a bomb of USD 1200 per night.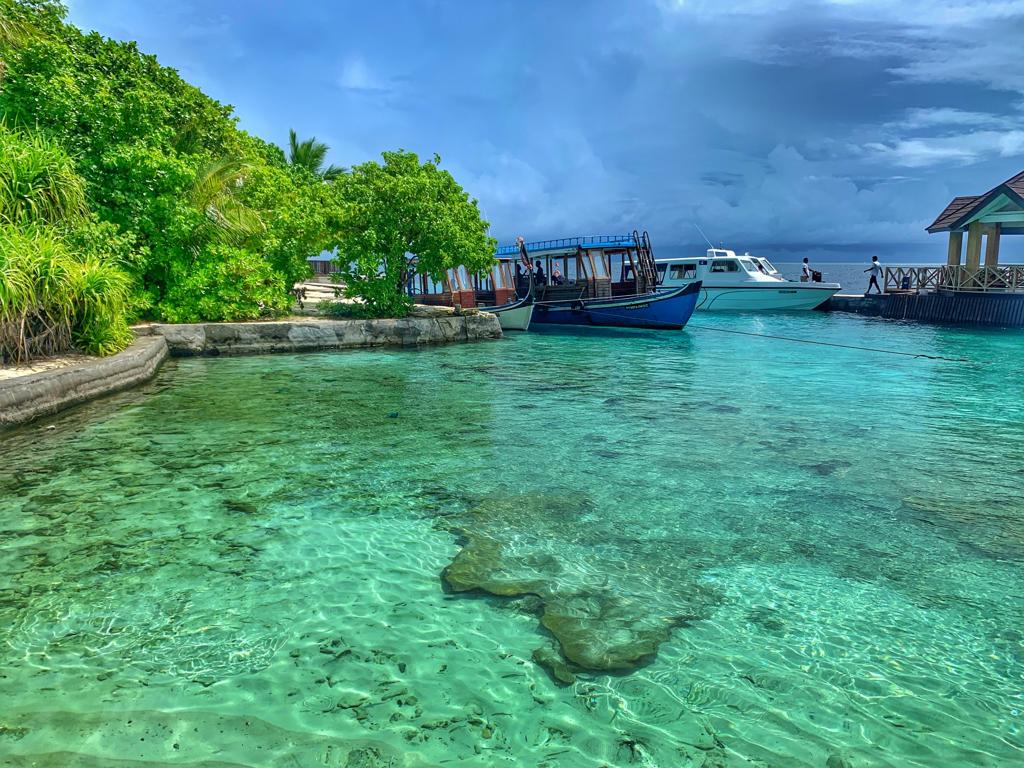 Budgeted stay at Male
At Male, I stayed at Nap Corner in Flamingo, Male for two nights. It is very similar to a dorm and the cost for one night is USD 25. It is a great stay for a short period of time and is perfect if you are a single budgeted traveler or a backpacker.
Click here to check for prices on Booking.com
Book a water bungalow at Ellaidhoo Maldives by Cinnamon
For me Maldives was all about scuba diving and staying at a water bungalow. And everyone knows that staying at a water bungalow in The Maldives is super expensive. It usually cost around AUD 800 to AUD 4000 per night.
Being a solo traveler, staying at a water bungalow was something that was way beyond my budget. I kept looking for cheaper options, every day from the time I planned for Maldives. Booking.com and Google were my only bet at that moment. Even speaking to many fellow travelers who had traveled to Maldives recently, did not help me. Everything was in vain and the answer was the same – it is expensive.
Until one night, as a routine I was checking for options and I decided to search again on Booking.com. I searched for 2 nights and the website displayed me a few results. After brainstorming different ideas, I concluded that I had to book the first night at a standard room and the second night at the water bungalow in the same resort which was allowing me to fulfill my dream and was in my budget.
I finalised on the Ellaidhoo Maldives by Cinnamon in Alifu Alifu Atoll. This was still not that as cheap as the standard rooms but it was something in my budget. I was staying at the resort for two nights:
One night at a Standard room and
Other night at the water bungalow.
Click here to check for availability and prices on Booking.com
The water bungalow including breakfast and lunch cost Rupees 22,352 (USD 273) per night. I know it is a lot of money for a single solo traveler. But I was going to the Maldives and I was not going to miss an experience of staying at a water bungalow.
The speedboat is not included in the stay package. For me it was an additional cost of USD 202.
Getting to the resort islands
The only way to get to these resort islands are either by sea plane or by speedboat. There are counters set up for each resort island at the Male airport, and the time of the speed boat or the seaplane is based on the flight arrival time. This means one can be transferred to the resort island on the same day as the arrival date. Ensure to call the resort and arrange for your transfers from the airport.
Currency exchange and ATM in Maldives
There are many money changers in the Artificial beach area in Male city. It is a bit hard to convert Indian Rupees into USD/Maldivian Rufiyaa as some of the money changers do not accept Indian Rupees. You can exchange some of your Indian Rupees at the airport.
Not all money changers accept INR.
There are plenty of ATMs at the airport as well as around Male, so there is no stress about carrying cash around. And credit or debit cards can be used as International credit cards to get cash.
Note: Almost all of them including the taxi drivers accept USD.
Local SIM card in Maldives
The local SIM card for 4 GB (7 days) is USD 15 and 20 GB (7 days) is USD 20. You can purchase the SIM card at the airport.
Activities in Maldives
Generally resort islands have plenty of activities to do. Ranging from indoor activities such as table tennis to outdoor activities such as scuba diving, the resorts have it all. You can also stay at a local island and travel to these resort islands as part of a day trip. This way you can enjoy all the facilities on a budget.
The islands in Maldives are all about water and the ocean. It is famous for the different water sports. Definitely explore these 7 water sports in Maldives. Water activities such as snorkeling and scuba diving are a must. I scuba dived three times at North Ari Atoll and still craved for more dives. I dived at two diving sites which was the resort's House Reef and Manta Ray Exploration dive site.
Do not miss the chance to snorkel or scuba dive in the pristine waters of Maldives. It is a must.
Is it safe for Solo female travelers?
Even though Maldives is known for honeymoon vacations, the islands are absolutely safe for solo female travelers. Not once did I feel unsafe or awkward during my stay in Maldives. I walked around Male all alone and I was completely fine. So, I would say that this has been one of the safest countries I have traveled in. However, like any other place always trust your instinct and be cautious especially at nights.
Total Expenses for 4 days in Maldives
Flights return = INR 15539 = USD 216.48
Ellaidhoo Resort Water bungalow = INR 22352 = USD 311.39
Ellaidhoo Resort Standard = INR 10167 = USD 141.64
Nap Corner for two nights = USD 50
3 dives = USD 162
Equipment hire = USD 48
Boat = USD 45
Speedboat = USD 202
Taxi = Maldivian Rufiyaa 220 = USD 14.28
Taxi to city from airport = USD 5
Food Thai restaurant = Maldivian Rufiyaa 340 = USD 22.06
Resort Food = USD 100
Groceries = Maldivian Rufiyaa 500 = USD 32.45
Total expenses = USD 1350.3
Closing Notes
I traveled solo to this heaven and unlike the notion that Maldives is all about couples and honeymoon, I really had a great time as a solo traveler. People went out of their way to help me out and take care of me and I truly had a fabulous time here.
How can you support me?
You know how much I love coffee, so you can buy me coffee – Buy me Coffee!

Or you can purchase from one of the below travel resources without any extra charge to you:
Travel Resources
Book your flight on Skyscanner.com or Trip.com
Reserve your accommodation on Stay22
Buy comprehensive travel insurance on SafetyWing and WorldNomads
Book your tours and travels or purchase tickets on Viator or GetYourGuide
For a universal SIM card, use DrimSim
If you liked this article and if it was helpful in your planning or traveling, do share, tweet, or pin this post.

Follow me on Instagram | Facebook | YouTube | Twitter | LinkedIn
Do you have a question? Or want any suggestions, and tips for travels, hikes and scuba dives? Use the Subscription box below to sign-up and get updates by email.
PIN for later reference