Scuba diving in North Ari Atoll (Maldives)
Traveling to Maldives is incomplete if one does not scuba dive in the pristine waters of Maldives. The water in Maldives is absolutely divine and gorgeous. It is warm and clear which is a perfect condition to have a relaxed dive.
The last three dives of mine, two dives in Rottnest Island and one dive in Sesimbra, had taken a toll on me and I had thought I would never come out of the anxiety or panic I had during those dives. However, diving at Maldives changed my anxiety and panic.
PIN for later reference
This article may contain affiliate links, meaning if you decide to make a purchase via my links, I may earn a commission at no additional cost to you. For full information, please see our affiliate disclaimer here.
Scuba diving in Maldives
I stayed at the Ellaidhoo Maldives Resort by Cinnamon in North Ari Atoll. The resort has its own diving centre and all the dives that I did while staying in Maldives were through that in-house diving centre 'Dive and Sail'.
There are plenty of all inclusive dive resorts around the world that offer great scuba diving experiences, here are best dive resorts that you need to have on your bucket list.
Dive Site 1: House Reef (North Ari Atoll)
Every resort in the Maldives has its own House Reef which is suitable for all kinds of divers. And similarly Ellaidhoo Maldives had its own dive site called the House Reef.
The dive at the House Reef was absolutely fine and I had no problems whatsoever with my dive. I also realised that the panic that I had during the three previous dives were because of the temperature of the water and not because I had forgotten how to dive.
After diving in House Reef, I realised that my body is not made for cold waters. I do not enjoy the cold and hence I had panicked at Rottnest and Sesimbra.
Marine Life at House Reef
The marine life was abundant at the House Reef and I saw so many corals and fishes. The corals had formed a wall which was a drop from the shore, and the corals were all kinds, shapes, and colours. And as every diver wants to see in the Maldives, there were so many sharks out there. The white-tip and the black-tip reef sharks were regular visitors at the House Reef.
The main highlight of this dive were definitely the sharks. I saw four of them, three Grey Reef Sharks and one White-tip Reef Shark. An absolutely exciting experience when they swim up close.
Dive centre and cost
Dive Centre: Dive and Sail
Dive Cost: USD 54 for an Open Water Certified Diver.
Equipment cost: USD 16.
I had an amazing time diving with Dive and Sail guys. They are extremely professional and they take care of their divers. The equipment was in a very good condition and the overall experience was very pleasant.
Dive logistics
Dive type: Shore dive.
Dive site name: House reef in North Ari Atoll.
Suitable for: Beginners and Certified divers.
Ocean conditions: Calm mostly but there is current underwater.
Wet suit: Yes.
Visibility: 12 to 15 metres.
Maximum depth: You can dive as deep as you want as the corals have formed a wall and it is deep drop from the shore.
PIN for later reference
Dive Site 2: Manta Kandu (Manta Exploration)
There are very rare days in life where one feels that the whole world comes together to make their dreams come true. I have told many times, I love ocean and anything that lives underwater. And this includes the love for Manta Rays. I had seen two Mantas come by when I dived in Amedee Island (New Caledonia). And it was magical and mesmerising. They had swam by very gently while I had struggled to stay in one place due the strong current.
The dive centre 'Dive and Sail' at Ellaidhoo had organised the Manta Exploration tour one morning while I was at the resort. After my dive at House Reef, I had immediately put my name for the Manta exploration. The only catch for this tour was that the boat was leaving at 6 AM, which meant that I had to be awake by 5 AM. Now, not being a morning person, this definitely was my huge concern. Nevertheless, I wanted to do the exploration.
The dive centre staff had instructed us to get all our gear set up previous night so they can be boarded onto the boat before we arrived that morning. I had my tray 64 with all the equipment needed. The boat was scheduled for two dives – first one at the Manta Ray cleaning station (Yes, they have their cleaning stations where they come and clean themselves – sounds really cool right?) and the second at a reef and both were the boat dives.
After 2 hours of boat ride into the Atoll, we reached the first dive site – Manta Kandu. The sea was rough and the weather was not that great that day. In spite of it, the temperature of the water was 29 degrees Celsius. My dive buddy was Athihi, an assistant instructor at the dive centre.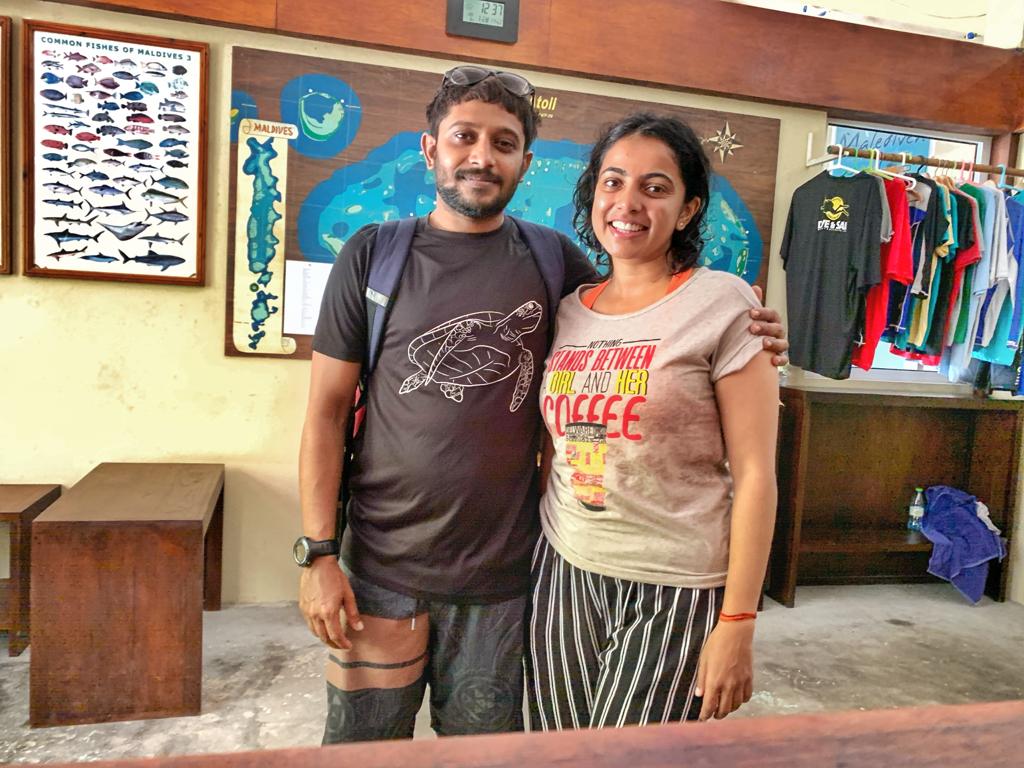 Athihi jumped into the water first and then I followed. After getting a bit comfortable in the water, we descended. Within a few minutes of going underwater, I saw a Manta at quite a distance. I saw other divers close to it and I was jealous. The current was too high for me to have gone ahead without my buddy. So I waited.
My best Manta-Ray moment
A couple of minutes went by and then Athihi took me to the edge of the reef and asked me to hold on to an edge of a coral. This time I was in the front and ahead of everyone else. A Manta came by. And it stopped right in front of me. It was so close to me that I could almost touch it. I refrained as one needs to respect nature and know the distance.
For the next 20 minutes or so, the Manta just stayed there in front of me. There were times where I had to dodge so the tail wouldn't touch me. It was an absolutely breathtaking moment for me. I had never seen a Manta Ray up so close. Oh, this moment was just so amazing.
I crave for such experiences and that day was the day where I was having one, a dream that I had dreamt of all the time. Maybe God was looking after me that day! And maybe the Manta loved me that it came so close to me. I don't know, but I want to believe both of these two statements are true. I can never forget this experience in my life. It was undoubtedly insane.
Dive centre and cost
Company: Dive & Sail.
Dive Cost: USD 54 for an Open Water Certified Diver.
Equipment cost: USD 16.
Boat Cost: USD 45.
Dive logistics
Dive type: Boat dive.
Dive site name: Manta Kandu.
Suitable for: Experienced and Certified Divers.
Ocean conditions: Strong current.
Wet suit: Yes.
Visibility: 30 metres.
Closing Notes
I had one hell of a time with these dives especially the Manta dive. It was so beautiful and awesome. All the dives at Maldives were different and each one of them was a unique experience. I would love to go back to Maldives and stay there for a longer time so I can dive and experience this untouched underwater world more. Till then, I can only cherish these memories and look back at my photographs.
How can you support me?
You know how much I love coffee, so you can buy me coffee – Buy me Coffee!

Or you can purchase from one of the below travel resources without any extra charge to you:
Travel Resources
Book your flight on Skyscanner.com or Trip.com
Reserve your accommodation on Stay22
Buy comprehensive travel insurance on SafetyWing and WorldNomads
Book your tours and travels or purchase tickets on Viator or GetYourGuide
For a universal SIM card, use DrimSim
If you liked this article and if it was helpful in your planning or traveling, do share, tweet, or pin this post.

Follow me on Instagram | Facebook | YouTube | Twitter | LinkedIn
Do you have a question? Or want any suggestions, and tips for travels, hikes and scuba dives? Use the Subscription box below to sign-up and get updates by email.
Also read
PIN for later reference