4 Islands in Sydney Harbour
Sydney Harbour is home to many beautiful secret places. And few such secret places are the islands in Sydney harbour. They are great spots to have picnics, snorkel and spend a day enjoying the spectacular views. These islands in Sydney have cultural and historical significance in shaping this city.
Even though in this post I have mentioned only the 4 island, there are totally 13 islands that showcase the naval and aboriginal history of Sydney.
PIN for later reference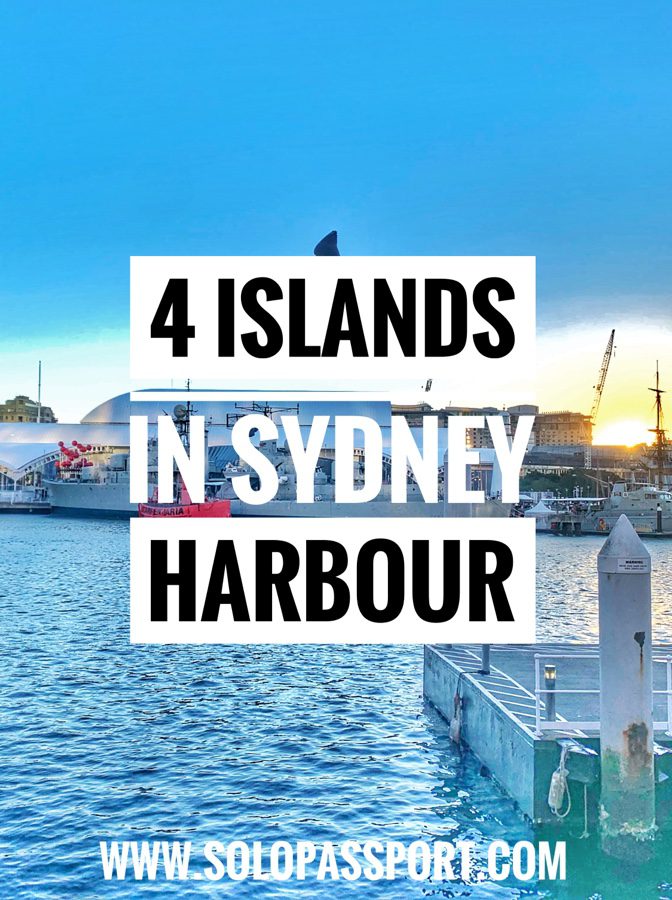 This article may contain affiliate links. For full information, please see our affiliate disclaimer here.
Cockatoo Island
History
Cockatoo island is the biggest island of all the islands that reside in Sydney Harbour. It is one of the sites that have been declared by UNESCO World Heritage as Australian Convict Sites. This island was used for keeping the convicts in the early days, but was later converted into shipbuilding industry.
The reason it was initially called as Cockatoo Island by the British was because of the huge flocks of the noisy and beautiful looking parrots. Contrary to the name, there are no Cockatoos on the island today. This is because of no vegetation on the island. However, there are plenty of sea gulls.
How to reach?
Frequent ferries run between Cockatoo Island and Circular Quay/Greenwich/Barrangaroo Wharf/Parramatta Wharf. These are operated by the New South Wales (NSW) Transport and they run between 6 AM till 9 PM.

Opal card is the transportation card that is used on the public transports in Sydney.
The fare to get from Circular Quay to Cockatoo Island by ferry is around AUD 6.12.
Admission fee
No admission fee to the island.
What to do?
Fiztroy Dock and Sutherland Dock – Both these docks are open for public to walk around and see where the ships were repaired. The factory and slipway are open too.
Lookouts and Convict's mess – There are plenty of lookouts to view the breathtaking views of the harbour. Definitely take a picture with the Sydney Harbour Bridge and Opera House in the background!
Grass tennis courts – There are grass tennis courts and they can be hired for AUD 10 per hour.
Camping – One can spend a night at the Cockatoo Island camping. They have a variety of options for stay and it ranges from AUD 45 to AUD 360.
Seagull chicks – Look out for the cute fluffy seagull chicks. They are absolutely adorable. Beware of the mother seagulls as they are extremely protective of their babies.
Cafes – There are a few cafes on the island where one can enjoy a coffee with some great views of the harbour.
Art installations – During a certain period of the year, Biennale of Sydney organises art installations on the island by various artists around the globe. I saw the art installations by Laure Prouvost during my recent visit to Cockatoo Island.
Walk around the island – Just 1.5 kilometres and taking only 2 hours, walking around the island is an awesome way to explore and see the important buildings on the island.
Gallery
Fort Denison/Pinchgut Island
History
Fort Denison, also known as Pinchgut island, is a heritage fort in the harbour. It is a small island which was once under attack from US friendly fire in WWII. It is definitely a top tourist attraction and it provides 360 degrees views.
How to reach?
Unfortunately, the island is closed currently.
Closed for maintenance and is scheduled to open in late 2019.
Admission fee
No admission fee to the island.
What to do?
Fort Denison museum.
Martello Tower – It is Australia's only Martello tower and don't forget the winding staircase to the tower. It is said to have been built in 1840s.
Cafe – It is a great place for a quick snack and tasty lunch. Note: The food is expensive.
Firing of 1 PM cannon.
Gallery
Goat Island/Port Jackson
History
Goat island is an heritage listed site. It was used for storing gunpowder. Over the years, the Goat Island served as a quarry and a convict stockade. It is also known as Memel or Me-Mel in aboriginal language, and it means the eye.
How to reach?
Booked through the tour. There are tours with deals available on Groupon.
Costs about AUD 40 per adult.
Admission fee
Inclusion in the tour.
What to do?
Heritage Convict Tour – There is a heritage/convict tour that was run to provide insights and history about the convicts that stayed on the island. The tours can be booked on the National Parks website or one can find deals on Groupon.
Gallery
Shark Island
History
Shark island is the island, just about 1 kilometre opposite to Rose Bay. The aboriginal name for Shark Island is Boambilly. This island has a history of being a dangerous island for both swimmers and ships. There have been a number of shipwrecks and drownings.
How to reach?
Ferries operated by Captain Cook run between Shark Island and Circular Quay. They are run on weekends and school holidays.
The cost to get there by ferry is around AUD 20 round trip per adult (includes the admission fee).
Admission fee
There is an admission fee of AUD 7 per person.
What to do?
Picnic spot – Definitely, grab your lunch and head to the island to have a delicious lunch with a view.
Gallery
Safety for Solo female travelers
Sydney is extremely safe for solo female travelers. And hence these islands in the Sydney Harbour are as safe as the city. However, like any other city be cautious especially at nights. Also if traveling to these islands, ensure to check the ferry timings so you can be back into the Circular Quay well in time.
Closing notes
Spending a few weekends exploring these spectacular islands is totally worth it. I would highly recommend visiting these islands and if possible taking the convict tour at the Goat Island. That tour provides a lot of insight into the way convicts were kept and punished.
How can you support me?
You know how much I love coffee, so you can buy me coffee – Buy me Coffee!
Or you can purchase from one of the below travel resources without any extra charge to you.

Travel Resources
Click to book your flight on Skyscanner.com
Click to book your accommodation on Stay22
Click to book a comprehensive travel insurance on Safety Wing
Click to book your tours and travels on Viator or GetYourGuide
If you liked this article and if it was helpful in your planning or traveling, do share, tweet, or pin this post.

Follow me on Instagram | Facebook | YouTube | Twitter | LinkedIn
Do you have a question? Or want any suggestions, and tips for travels, hikes and scuba dives? Use the Subscription box below to sign-up and get updates by email.
PIN for later reference
Also read