5 things to do in Circular Quay, Sydney
Circular Quay is the most happening place in Sydney. Supposedly the birthplace of both the city and the nation, this place is to be not missed while in Sydney. An evening stroll or a busy market, Circular Quay and The Rocks have everything to offer to get the feel of the Sydney city.
PIN for later reference
Please note: This post may contain affiliate links which means I may earn a commission if you make a purchase by clicking a link on this post. This will be at no additional cost to you. Affiliate links help me keep this website up and running. Thank you for your support.
Where is Circular Quay?
Circular Quay is a harbour area located in Sydney. It is the hub to the ferry transport of the Sydney harbour. The quay has an international shipping port and is a tourism hub in Sydney. It is also the home to the World famous Sydney Opera House.
Sydney harbour has some islands that can be visited by public and Circular Quay is the gateway to those islands. For a detailed guide on visiting these islands, read my post on 4 islands in Sydney harbour.
Are you in Sydney during the winter season? Then read my post things to do in Sydney winters to find all the cool things you can do in this beautiful city.
How to get there?
Circular Quay is part of the Sydney Central Business District (CBD) line. It has a connectivity from all modes of public transport in Sydney and is probably the best and cheapest way to travel to Circular Quay. There are frequent trains that run between the train stations of the CBD (Central, Wynyard, Town Hall, St James, Museum and Circular Quay). There are light rails that run between the various stops within the CBD. And Circular Quay is also reachable by buses and ferries.
Up-to-date information on the timings and the routes can be found on the Transport for New South Wales (NSW) website.
One can use Opal transportation card or debit/credit cards to pay for the fare on Sydney public transport.
Note: There is a baggage storage facility at the International terminal, refer the Stasher website for more details.
5 things to do in Circular Quay
There are plenty of things to do in Circular Quay. It has museums, islands, many restaurants and cafes where one can dine in with some amazing views of Sydney harbour and the Opera house. For a Sydney travel guide, read my ultimate travel guide.
Royal Botanical Garden
Established in 1816, Royal Botanical Garden is a collection of many gardens and plants from all around the World. It is a huge garden in the middle of Sydney CBD. The garden houses a curving glasshouse space with different species of plants.
The complex also has many statues and structures with fountains. One needs at least half a day to cover the botanical gardens. There are temporary exhibitions and events that are hosted at the Royal Botanical Gardens.
Refer Royal Botanical Gardens official website for more details on the species of plants and events.
Opening timings: The gardens are open everyday of the year. However, the timings are seasonal and vary between 7 AM and 8 PM depending on the month. Refer the website for information.
There is no entrance fee to visit the gardens.
Did you know that the garden has about 5000 kinds of plants under cultivation?
Sydney Opera House and Harbour Bridge
Sydney Opera House
Everyone in the World has definitely heard of Sydney Opera House. It is one of the most famous landmarks that did make it to the UNESCO World Heritage structures in the World. Sydney Opera House is opened officially in the year 1973. It is around 185 metres long and each roof weighs up to 15 tonnes.
Do not miss a performance at the Sydney Opera House. Refer the official website to see the events going on in the Opera house.
It is free to visit Sydney Opera house.
There are standard tours that are run everyday, which costs around AUD 42. Visit the official website for more information on the tours.
Did you know that more than 10 million people visit Sydney Opera house every year?
Sydney Harbour Bridge
Sydney Harbour Bridge is the largest and heaviest steel arch structure in the World. It weighs up to 52,800 tonnes. It is adorably known as a 'coathanger' by the locals.
The best way to experience the harbour bridge is to walk across it.
There is no entrance fee to walk on the Sydney harbour bridge.
One can climb Sydney Harbour Bridge to get the views of the harbour from a 134 high bridge. Read Bridge climb for more details.
Museum of Contemporary Art (MCA)
Opened in the year 1991, the Museum of Contemporary Art (MCA) is the collection of contemporary Australian art.
The entry into this museum is FREE.
The museum has a cafe at the top floor where one can enjoy coffee with views of the Sydney Opera House.
The museum is open every day except on Mondays between 10 AM and 5 PM.
Customs House
Opened in 1845, Customs House is a heritage listed museum space in the Circular Quay area. It is a gateway for newly arrived goods, and ideas.
There is no entrance fee to visit Customs house.
It is open every day:

between 8 AM and 10:30 PM between weekdays,
between 9 AM and 10:30 PM on Saturday and
between 9 AM and 5 PM on Sunday.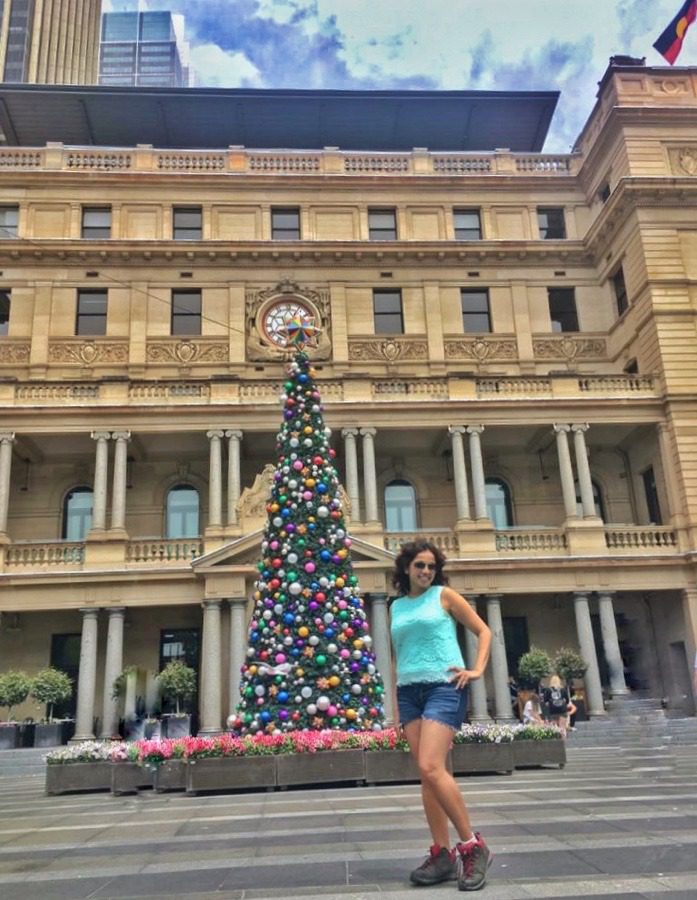 Cocktails at Opera Bar
Just below the Opera house is the Opera bar. Enjoying cocktails with some amazing views of the harbour makes it a great place for an evening to spend time with friends or family.
Open from 11:30 AM to 12 AM on Friday and Saturday and from 11:30 AM till late between Sunday and Thursday.
Enjoy some delicious cocktails with a view of the harbour.
Safety for solo female travelers
Sydney is very safe for solo female travelers. It is in fact one of the safest cities that I have traveled in so far. I have had no issues or concerns whatsoever. However, like any other city in the World, be cautious and know your surroundings especially while traveling at nights.
Closing notes
While traveling in Sydney, Circular Quay is definitely the must visit spot. It has great vibes and is an awesome place to spend a day easily. Traveling to Sydney is not complete without spending a day or two at the Circular Quay.
PIN for later reference