I generally travel every year for my birthday. And as part of that annual ritual, I randomly picked New Caledonia (by glancing through the map and finding something closer to Sydney). I had never heard of this island prior to that moment. After selecting the destination, I started researching on the country and its capital Nouméa. In this post, you will find information on how you can spend a day at Noumea.
PIN for later reference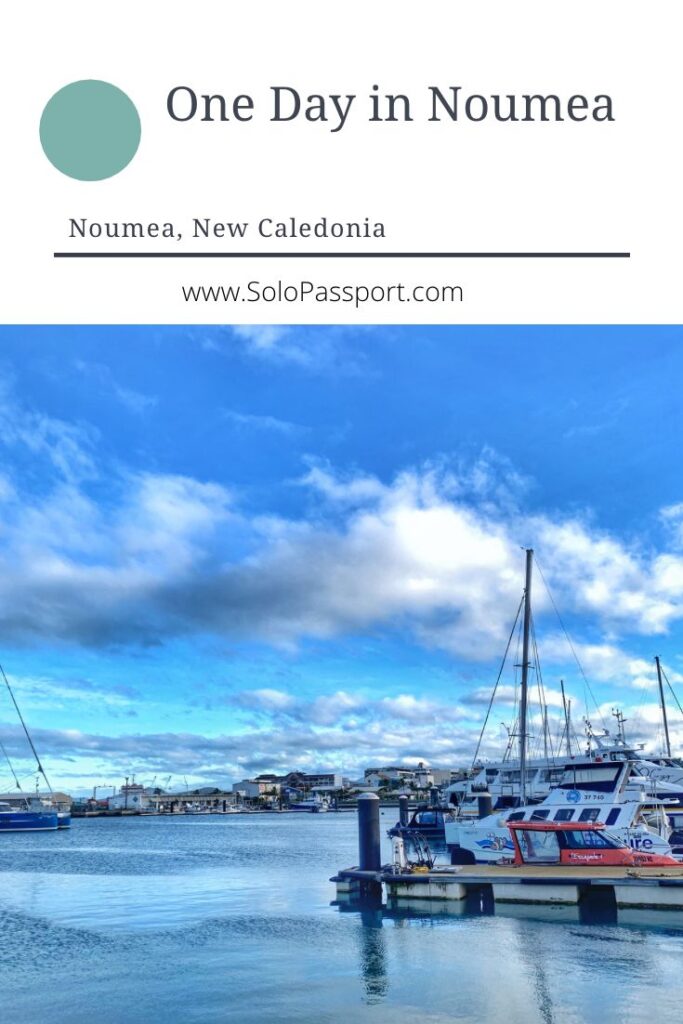 This article may contain affiliate links. For full information, please see our affiliate disclaimer here.
About New Caledonia
New Caledonia is situated in the south-west of the Pacific Ocean. It is one of the Pacific Island countries, known for its beautiful beaches and the lagoons around the island. The island is a special overseas collectivity of France.
Since Nouméa is the capital city of New Caledonia, I decided to go to Nouméa. As the flight duration between Sydney and Nouméa is about 3 hours, Nouméa makes a perfect weekend getaway.
The main language spoken at New Caledonia is French and there is definitely a language barrier to travel around. But the people are so friendly and they go out of their way to communicate and make the travelers comfortable.
Tourist visa requirements
Visa for Indian passport holders
As I had an Indian passport at that time, I needed a Schengen visa which had to be granted by the Consulate of France. Honestly speaking this was one of the most stressful visa processes that I have ever gone through.
For applying for a visa, you need to take an appointment from the Consulate of France, and the slots are made available only 10 or 15 days prior to the date of travel. And due to this reason, I was not sure even till the last moment if I was actually traveling to New Caledonia or not.
Below are the steps to follow to get a tourist visa if you are on an Indian passport:
Book your appointment at the embassy.
Arrive at the embassy, and then provide the required documents. The required documents for obtaining the tourist visa are:

Filled in application form.
Passport.
Flight tickets and accommodation details. Note: Always book a refundable flight tickets till you get an approved visa.

Once the visa is approved, you will be notified through your email.
Collect your passport with the visa.
Visa for Australian passport holders
For Australian passport holders, tourist visa is not required if the stay is for less than 3 months.
How to get to Noumea?
Flights – The flight duration from Sydney and Nouméa is less than 3 hours.

AirCalin operated frequent flights between Sydney and Nouméa.
Cruises – This is a more common way of traveling to New Caledonia. There are many cruises that travel between various Pacific islands and Australia or New Zealand. This is an awesome way to enjoy cruise travel and the places it stops by.
Where to stay in Noumea?
Le Pacifique
I have been to New Caledonia twice and the first time I stayed at Le Pacifique (also known as Nouvata) and I must say the stay was a very comfortable stay. The rooms were clean with spectacular views of the beach as the hotel was right opposite the beach. And the staff was very friendly.
Ramada Hotel and Suites by Wyndham Noumea
During my second visit to Noumea, I stayed at Ramada Hotel and Suites by Wyndham. The hotel was really nice and my stay was enjoyable. Rooms were spacious and very clean. The staff were very friendly and nice. The only problem I had was the food as they have set times where the restaurant is open. Other than that everything else was great.
On my birthday
Apart from my flights and my stay, the only other thing that I had planned was the Canopy tour that I wanted to do on my birthday.
"I am so sorry Raksha, it's pouring out here and we have canceled all the Canopy tours", the tour lady said apologetically. For the first time in my life, I was not upset (Strange! Maybe there was something magical in the air of Nouméa). It was 10 AM and I decided to head out and explore. The main street along the coast (opposite to my hotel, Le Pacifique) was buzzing with restaurants, tourist offices, jewellery stores, stationery stores, souvenir shops, and ice cream stalls.
I started my day with the first stop at an ice cream shop, where I bought a cup of Swiss chocolate ice cream (yummy and super delicious – came very close to Swiss chocolate ice cream in Movenpick). After my ice cream, I window shopped through the jewellery and souvenir stores. Even though I was tempted to buy a piece of jewellery, I stopped and I remembered my mother lecturing me not to buy any jewellery.
I made my second stop at a tourist office, where I booked my Nouméa city tour for the afternoon 3 PM. Since I had plenty of time, I strolled along the coast, experimenting with my camera (yes, I took lots of pictures).
Even after spending an hour clicking pictures, I still had plenty of time. I had two options:
One, to visit the aquarium and
The other, to take a taxi boat to a nearby island called Duck Island.
About Duck Island
Duck Island was about 20 minutes boat ride away from Nouméa. The water bed was crystal clear and had off-white sand. With an exhibition of sculptures on the island, it also had a restaurant in the middle. The views of both Duck Island and the main island Nouméa were spectacular.
The tickets can be purchased at the wharf.
Duck Island had plenty of sculptures as there was an art exhibition on the island. I was mesmerised by the huge sculptures that were everywhere on the island. They were very creative and each one of the sculptures had the beauty of its own. Of course, I clicked pictures of every single sculpture that was exhibited.
Once I was done with my photographic sessions, I settled down at a table in the restaurant, with one of Sidney Sheldon's novels. A perfect location, beautiful beach, very good novel, and a delicious lunch made the day all the more special. I loved every minute I spent on the island and I think it was one of the best decisions I took that day. And I came back to Nouméa just on time for the Nouméa city tour.
Nouméa City Tour
At about 1:30 PM, it was time for me to get back to the main island for my 3 hours city tour. The city tour was in a yellow long road train, a colourful way of seeing the city.
We had an English speaking guide. She briefed us about the tour and elucidated the history of Nouméa and we were driven through some of the most beautiful and expensive suburbs. As part of the tour, we were also taken to three viewpoints of Nouméa, all breathtaking and stupendous.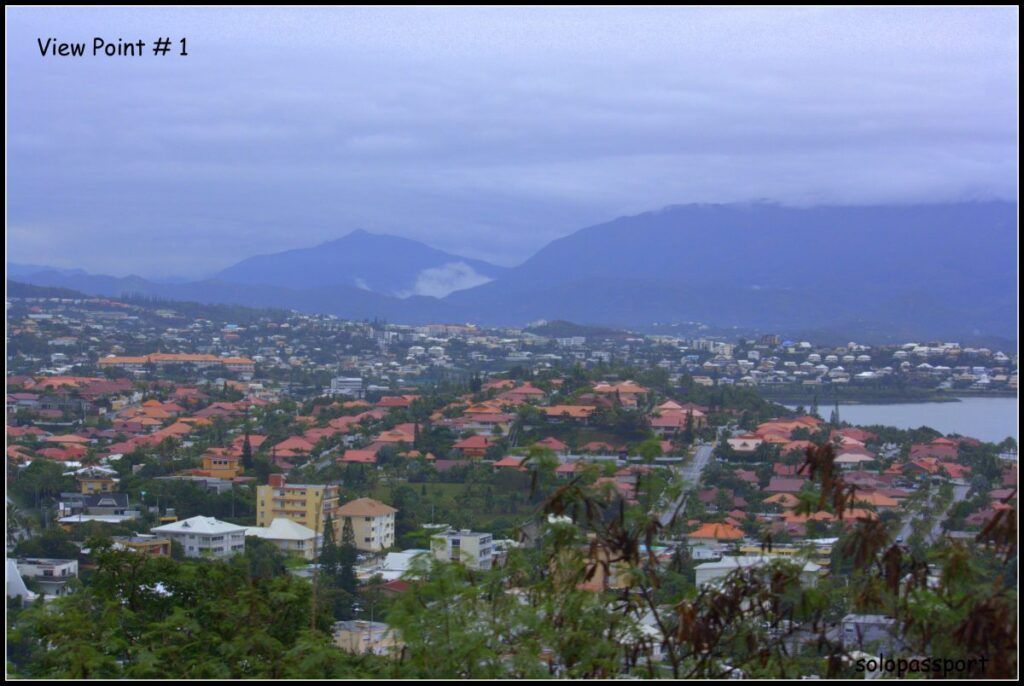 Is it safe for solo female travelers?
Yes, Nouméa is extremely safe for solo female travelers. However, I would be very careful at night as it gets really lonely and isolated. Other than that I did not have any issues or concerns while traveling in Nouméa.
Closing notes
The drop-dead gorgeous landscapes, the beaches, and the super friendly people made me fall in love with this beautiful country. I will definitely plan to visit New Caledonia again for a longer duration. And I did visit this island for the second time. During my second visit, all I did was visit Amedee Island and scuba dive at the pristine waters of New Caledonia.
How can you support me?
You know how much I love coffee, so you can buy me coffee – Buy me Coffee!
Or you can purchase from one of the below travel resources without any extra charge to you.

Travel Resources
Click to book your flight on Skyscanner.com
Click to book your accommodation on Stay22
Click to book a comprehensive travel insurance on Safety Wing
Click to book your tours and travels on Viator or GetYourGuide
If you liked this article and if it was helpful in your planning or traveling, do share, tweet, or pin this post.

Follow me on Instagram | Facebook | YouTube | Twitter | LinkedIn
Do you have a question? Or want any suggestions, and tips for travels, hikes and scuba dives? Use the Subscription box below to sign-up and get updates by email.
PIN for later reference