Chai Lai Orchid Eco lodge and café (elephant camp), unique stay near Chiang Mai
Chai Lai Orchid Eco lodge and café is one of the spectacular and unique places I have ever stayed during all my travels. Situated close to Chiang Mai city, Chai Lai Orchid Eco lodge and café makes a perfect getaway from the city to live amongst the elephants and nature. The property is an elephant camp where all the rescued elephants are given shelter to and the owners run these accommodations so they can provide the food and shelter to rescued elephants.
Also read - Places to visit in Chiang Mai.
PIN for later reference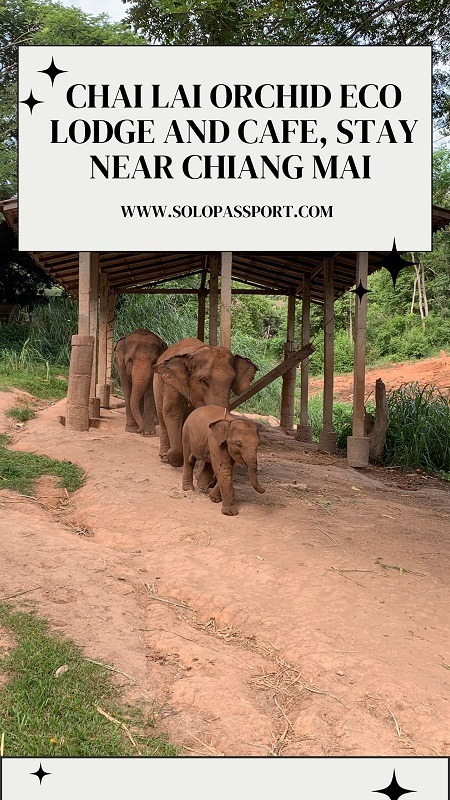 This article may contain affiliate links, meaning if you decide to make a purchase via my links, I may earn a commission at no additional cost to you. For full information, please see our affiliate disclaimer here.
About Chai Lai Orchid Eco lodge and café
Located in the mountains of Chiang Mai, Chai Lai Orchid eco lodge and café promotes ethical interaction between rescued elephants and the tourists. The property is in the homeland of Pga k' nyau indigenous people of Thailand and is a retreat among the nature and forest.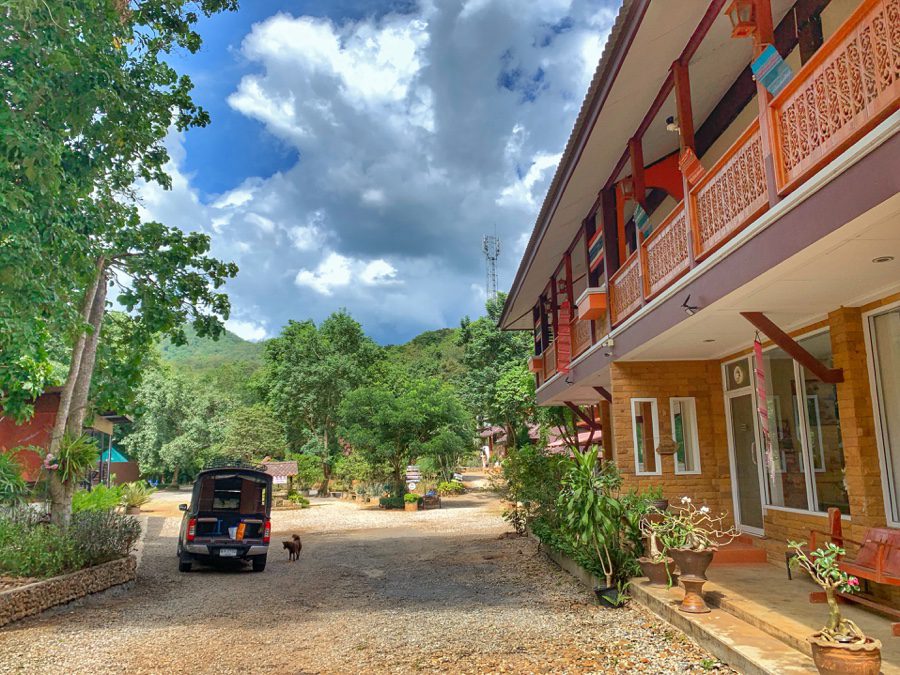 Elephants at the camp
Chai Lai Orchid Eco lodge and café currently have about 20 elephants, along with baby elephants. The elephants here are rescued 20 elephants, and they are rescued by renting them from the people who had them as captive animals. Since they were born in captivity, they cannot be left back again in the forest or in the wild.
While I was at the elephant camp, I observed two to three elephants constantly and I saw that these elephants were allowed to move around freely in the camp. They strolled around without chains or being tied. Only the baby elephants had a rope around them that was in turn tied to their mothers. The chains were tied only when the elephants returned to their rest area to feed.
When the elephants were not walking around the camp or taking a bath in the river, they would eat bananas that were fed by the tourists or guests. The tourists can interact with them by giving them a bath, feed them with in-grown bananas or by taking pictures with them.
Note: The pictures can be taken only if the elephants want to, I was told not to take pictures many a times because the elephant was not interested.
Booking and Cost
Types of rooms and cottages
Chai Lai Orchid Eco lodge and café has various room types such as bungalows and king rooms. There are rooms with river and mountain views. These rooms have different views and depending on the type of view, the prices differ. The cost of the Plern Malee balcony room, including breakfast was around AUD 80 for one night. This room accommodates two people.
Note: The rooms do not have air conditioning but they do have fans. And with all honesty, fans are sufficient in the mountains and retreat.
The camp is pet friendly. So if you have a fur baby, then do contact the property for more information about your stay.
The price of the room does not include the pick up and drop from Chiang Mai city. The cost for the transfer is around Thai Bhat 800 per ride. Ensure to call the reception for arranging the pick up.
Facilities at the Chai Lai Orchid Eco lodge and café
The camp provides free breakfast, prepared at their in-house café, for all their guests. There is free Wi-Fi in public areas but do not completely rely on the internet as it is intermittent. They also run many different wellness programs such as yoga, and massages.
Note: The massages are additional cost.
At the property, you are free to interact with the animals. You can pat them, give them a bath in the river (in the mornings), feed them bananas and take lots of pictures with them.
Ensure to have some staff from the camp when you are interacting with the elephants.
If the elephants are not liking the interactions, respect them and move away gently.
You can also hire a local photographer to click your pictures at the property and with the elephants. Contact the property for more information.
The camp also provides many paid services or activities that the guest can select from. Some of them include:
Thai cooking class.
Hiking.
Canoeing.
Massages.
In house café/ restaurant
The food served at the camp are prepared at the in-house restaurant/ café. They have A la carte menu and serve Thai and Asian cuisines. In the evenings and happy hour, cocktails are served as well. The food served at the café is fresh and delicious.
Only the breakfast is included in the price of the room. For the rest, there are additional charges.
My experience at Chai Lai Orchid Eco lodge and café
I am usually very sceptical when it comes to animals and the ethical way of interactions with them. As I am very fond of these giants, I want my interactions with them to be as ethical as possible. And hence I was hesitant about this property in the beginning. However, the reviews and the information I read on the internet convinced me to go and stay here for a night.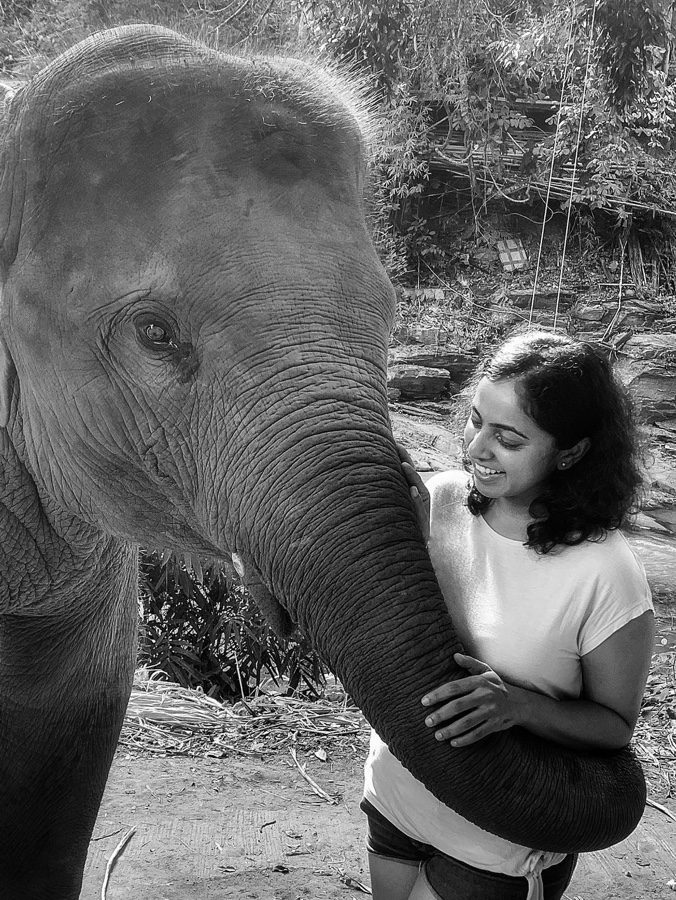 I am glad I visited the property as my belief changed after I saw the way the animals are treated in the camp. It is a property where elephants, chickens, cats and the dogs all lived at one place with harmony and freedom. The elephants were rescued elephants and they moved freely around without the chains.
How to get to Chai Lai Orchid Eco lodge and café from Chiang Mai city?
Chai Lai Orchid Eco lodge and café is around 40 kilometres from Chiang Mai city and the journey by road takes up to an hour. The pick up and drop is organised by the camp and the transfer is via a private Tuk Tuk.
Chiang Mai international airport is the nearest airport to Chai Lai Orchid eco lodge and café and is also around 40 kilometres away from the camp.
Closing Notes
Chai Lai Orchid Eco lodge and café is a place where elephants, cats, dogs and chickens roam around freely. They live in harmony and together. I am glad to have found this place as I enjoyed my stay here, being in the nature and interacting with elephants. I highly recommend Chai Lai Orchid Eco lodge and café for a couple of nights when you are in Chiang Mai.
How can you support me?
You know how much I love coffee, so you can buy me coffee – Buy me Coffee!

Or you can purchase from one of the below travel resources without any extra charge to you:
Travel Resources
Book your flight on Skyscanner.com or Trip.com
Reserve your accommodation on Stay22
Buy comprehensive travel insurance on SafetyWing and WorldNomads
Book your tours and travels or purchase tickets on Viator or GetYourGuide
For a universal SIM card, use DrimSim
If you liked this article and if it was helpful in your planning or traveling, do share, tweet, or pin this post.

Follow me on Instagram | Facebook | YouTube | Twitter | LinkedIn
Do you have a question? Or want any suggestions, and tips for travels, hikes and scuba dives? Use the Subscription box below to sign-up and get updates by email.
PIN for later reference