I am in love with Chiang Mai. It was one of the places I visited for my birthday travels a few years ago and I absolutely adored it. I loved everything about it, the places, the temples, the elephant camp and the people. I would love to go there and stay for a few months enjoying the amazing city of Chiang Mai.
Where is Chiang Mai?
Chiang Mai is a city in the northern part of Thailand. Found in the year 1296, Chiang Mai is famous for its beautiful ancient temples. It was the capital of independent Lanna Kingdom.
The best time to visit Chiang Mai is between the months of October and April.
How to get to Chiang Mai?
The distance between Bangkok and Chiang Mai is around 700 kilometres. The fastest way to get to Chiang Mai is by flight which takes just about 1 hour. The cost of the flight ticket one way on Air Asia is about USD 40 to 70.
If you have a transit stop in Bangkok and have very few hours in the city, then read my post 5 hours in Bangkok to see what all one can do in that short time.
Chiang Mai can also be reached by trains and buses from Bangkok. The train or a bus takes around 10 to 11 hours journey but are the cheapest mode of travel and costs less than USD 20 for one way.
Stay in Chai Lai Orchid (an elephant camp)
Chai Lai Orchid resort is a place where elephants, cats, dogs and chickens roam around freely. They live in harmony and together. I am glad to have found this place. Chai Lai Orchid is about 1 hour drive from Chiang Mai city and it is an elephant camp.
Ensure to call Chai Lai Orchid for a pick up and drop from the Chiang Mai city.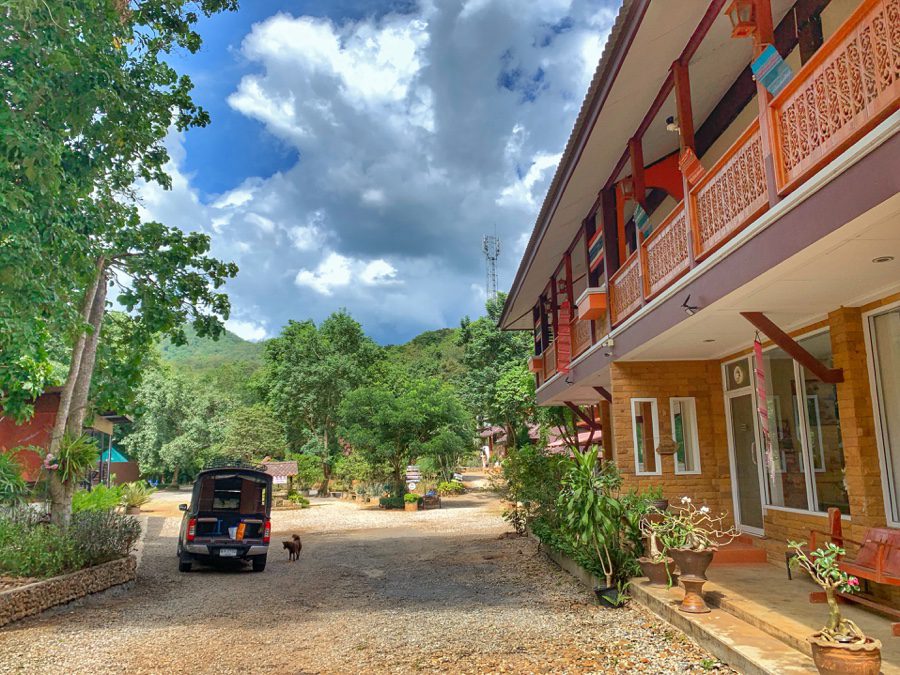 Elephants at the camp
They have about 20 elephants with small baby elephants as well. The camp has rented these beautiful 20 elephants from the people who had them as captive animals. Since they were born in captivity, it is hard to leave them back in the forest.
While I was at the elephant camp, I observed two to three elephants constantly and I saw that these elephants were allowed to roam freely. They roamed without the chains, only the baby elephant had a rope that was tied to its mother. The chains were tied only when they would return to their rest area to feed, rest of the time they were free of chains.
Most of the times, all the elephants do is eat bananas, which are fed by tourists, eat grass and plants, roam around, get a bath in the river by the tourists and get pictures clicked. Note: The pictures can be taken only if the elephants want to, I was told not to take pictures many a times because the elephant was not interested.
Cost
The cost of the Plern Malee Balcony Room costed around AUD 79.75 for one night. I booked this stay through AirBnB.
Note: There are pick up and drops from and to the city which costs around Thai Bhat 800 per ride. The pickups will need to be booked by calling the stay.
My experience on the property
I am usually very sceptical when it comes to animals. I love them so much and I want my interaction with them to be as ethical as possible. And hence I was hesitant about this property at the beginning. However, the reviews and the information I found on the internet convinced me to go and stay here for a night. I am glad I visited it. It is a property where elephants, chickens and the dogs all lived at one place with harmony and freedom. The elephants were rescued elephants and they moved freely around.
Things to do in Chiang Mai
There are many things to do in Chiang Mai but I had only a few days in Chiang Mai and did a very few things. I mostly visited the local markets, relaxed at a local restaurant and bar with some cold fresh mango juice. My main intention of this travel was to visit the famous White temple in Chiang Rai, which I will write about in the future sometime.
There are around 24 Buddhist temples in Chiang Mai alone.
Visit Wat Phra That Doi Suthep
While my friend and I were strolling around in Chiang Mai, and that's when we accidentally met a taxi driver. His name is Mon and he is the one who told us about Wat Phra That Doi Suthep temple. He said that it was the number one spot in Chiang Mai and the visit to Chiang Mai is not complete till we had visited this temple. I love temples, so even if it was not the number one I would have still taken the trip with Mon to see this spectacular marvel.
About Wat Phra That Doi Suthep
Wat Phra That Doi Suthep is a Buddhist temple, located on Doi Suthep mountain. The temple is said to have dated back to 1383. And this temple is considered as one of the most sacred temples in Thailand.
The temple can be reached by two ways – one by climbing around 309 steps and the other by taking a cable car (which costs around Thai Bhat 50 per person return). The visitors must dress appropriately and remove footwear before entering the temple.
The temple is spectacular with the gold coated domes. It is a large complex telling the story of Buddha. The various Buddha statues and the domes make it a very beautiful temple I have visited in Chiang Mai so far. I would now agree with my taxi driver that it truly is one of the must sees in Chiang Mai.
Cost
Taxi charges – Mon charged Thai Bhat 800 for two of us for a return trip. And the temple was about 30 minutes (15 kilometres) drive from Chiang Mai city.
Cable car ride – The additional cost for visiting the temple was the Thai Bhat 50 per person (return) for the cable car ride.
Mon's contact details
It was by accident that my friend and I met this amazing taxi driver 'Mon'. We took a three hours trip with him and he charged us a reasonable fare. He is very friendly and more importantly he is local. He knows most of the stuff and also tells you the history of the places. I would definitely recommend him, especially if you are a solo traveler and would want to explore Chiang Mai.
Mon's phone number is 065-6949404 if you wish to contact him. Say hello from me when you visit him!
Take the famous Thai Massage
Review | Gold Hand Thai Massage
Who doesn't love body massages? Who doesn't love pampering? I am sure everyone loves them. I love them too. While I was in Chiang Mai for my birthday, I got body massages done almost everyday. I tried places that had the best ambiance as well. But one place which was very nice and cheap was the Gold Hand Thai Massage. This is on the Night Bazaar road and I must say they were amazing. The massage was very relaxing and refreshing at the same time. I would definitely recommend them for the best massage in town.
Below is their pricing chart. However, I suggest looking at their website to know about their up to date prices.
Safety for solo female travelers
I would say yes Chiang Mai is safe for solo female travelers. I did not face too many issues as such. But I would definitely be cautious and vigilant while traveling in Thailand overall, especially at nights.
Closing Notes
Chiang Mai will always be very special and is one of the most beautiful places I have visited. I would suggest spending at least 3 to 4 days here to explore the city completely. I wish to go back there some day for a longer period to stay and cherish what a wonderful place it is.
Please note: This post may contain affiliate links which means I may earn a commission if you make a purchase by clicking a link on this post. This will be at no additional cost to you. Affiliate links help me keep this website up and running. Thank you for your support.