Diving at Shelly beach, Sydney
Everyone who visits and lives in Sydney has probably heard of Shelly beach. It is one of the most famous beaches to snorkel or swim in the summer season. The shades of blue and the visibility are absolutely amazing at the Shelly beach. There are flags where one can just swim at Shelly beach.
There is also a natural pool where one can swim and chill by the beach and this provides a contained area to swim and look at the spectacular views of the ocean.
PIN for later reference
This article may contain affiliate links. For full information, please see our affiliate disclaimer here.
Where is Shelly beach?
Shelly beach is in the suburb of Manly in Sydney, about 1 kilometre from the Manly beach. It is part of a protected marine reserve called Cabbage Tree Bay. The Shelly beach is extremely crowded as it is a very popular spot for snorkeling and swimming.
There are plenty of cafes and restaurants at the Manly beach and wharf where one can have delicious food and it caters for all food lovers.
How to get to Shelly beach?
Driving
The distance between Sydney Central Business District (CBD)/city and Shelly beach is about 18 kilometres (around 1-hour drive). There is ample parking (with cost) at the Manly beach where one can park their cars. However, the Manly beach is extremely crowded on a sunny day and at weekends.
Public transport
Manly Wharf is the closest public transport stop to get to Shelly beach. There are two ways to get to the Manly Wharf via public transport.
Bus – There are frequent buses (Bus numbers 136, 143, and 144) between Chatswood and Manly Wharf.
Ferry – A picturesque way of getting to Manly Wharf from the city is by taking a ferry from Circular Quay to Manly Wharf.
More up-to-date information can be found on Transport for NSW.
Dive Site at Shelly Beach
There are plenty of opportunities/sites to dive at Shelly beach. The dive centre had organised for a double dive during the day. In the first dive, we swam towards the right side of the beach with the rocks on our right. And on our second dive, we dived towards the left side of the beach. Even though the dive instructor mentioned that the second dive was more fascinating with more things to see underwater, I enjoyed the first dive. I felt more relaxed during my first dive and I saw plenty of things. Some of the things to look for in Shelly beach are the motorbike underwater (point 8 in the below map), Rays, Wobbegong sharks, and Port Jackson sharks.
The best season to dive in Shelly beach is during the Spring (between September and November) and Summer (between December and February) seasons as the water is warm and enjoyable. The water temperature ranges from 16 degrees to 20 degrees.
Logistics
Type of Dive: Shore dive.
Dive site: Open (Sea).
Depth: 10 to 12 metres.
Visibility: approximately around 5 metres.
Ideal for: All level divers including the beginners.
Wet suit: Yes (5 mm thickness), advised. The Australian waters are a bit chilly.
Current: Usually calm, even though we did get a very mild current when we dived.
Marine life
The marine life is absolutely amazing at Shelly beach and no wonder everyone goes gaga over the Shelly beach. There are lots of rays, Wobbegong sharks, Port Jackson sharks, and blue-ringed octopuses. Some people at the dive centre also mentioned that they had seen Grey Nurse Sharks at the site.
The best time to dive at Shelly beach is in the morning before lunch. However, the marine life is so abundant that I have been told that interesting things can be spotted throughout the day and it gets more interesting during sunsets.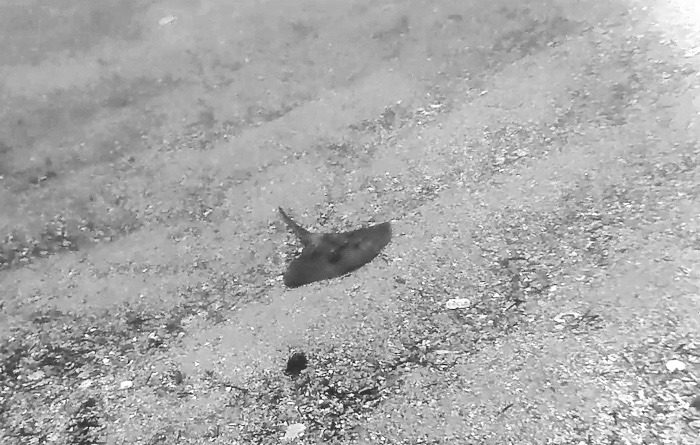 Dive Centre and Cost
Dive Centre: Dive Centre Manly.
Address: 10 Belgrave St, Manly NSW 2095.
Cost: Dive Centre Manly has a membership that costs AUD 100. Once you become a member, the shore dive become free for certified divers.
Equipment: The equipment can be hired and the hiring of equipment (full gear) cost me AUD 95 (for members).
Booking: On their website. The booking is easy and the equipment hire can is selected at their shop on the day of dive.
The staff is very friendly and I had a great time diving with the group. There was a dive instructor and a dive master who had joined us for both the dives. Both were absolutely fantastic.
Note: Ensure to check your weights correctly before heading for the dive. I was over-weighted and it was my terrible mistake during my second dive. I found it so hard to swim underwater with those extra weights. A big lesson learned during these dives.
The quality of their equipment was much better when compared to the other dive centres I have dived with. I definitely suggest diving with them.
Note: One needs to get to the dive centre shop at Manly in the morning and the staff will drive you to the dive start point (Shelly beach) with the equipment.
Is it safe for solo female divers?
As a general rule, one always needs to have a dive buddy while diving. So, always buddy up with another diver before diving at one of the sites. However, if you are going with a reputed dive school or a dive centre, then rest be assured that you will be safe. Ensure to read through the reviews of the dive school before selecting one.
Traveling to and from the dive site is extremely safe for solo female travelers. But like any other place around the World, be cautious and know your surroundings.
Closing notes
Diving at Shelly beach was definitely worth the hype. The marine life found here was absolutely mind-blowing with so many sharks and the rays. I will definitely dive here again and ensure I take a better camera to take pictures.
For the other diving sites in Sydney, refer Diving in Australia section.
How can you support me?
You know how much I love coffee, so you can buy me coffee – Buy me Coffee!
Or you can purchase from one of the below travel resources without any extra charge to you.

Travel Resources
Click to book your flight on Skyscanner.com
Click to book your accommodation on Stay22
Click to book a comprehensive travel insurance on Safety Wing
Click to book your tours and travels on Viator or GetYourGuide
If you liked this article and if it was helpful in your planning or traveling, do share, tweet, or pin this post.

Follow me on Instagram | Facebook | YouTube | Twitter | LinkedIn
Do you have a question? Or want any suggestions, and tips for travels, hikes and scuba dives? Use the Subscription box below to sign-up and get updates by email.
PIN for later reference