Feed Carrots to a Giraffe at Dubbo Zoo (2024)
Western Plains Taronga zoo at Dubbo is one of the most beautiful zoos I have visited so far. With lots of space for animals, this zoo is perfect for people who love animals.
From the time I migrated to Australia, I wanted to do an encounter or feed a giraffe. Being a crazy animal lover I am, I couldn't have let this gone. Back in the year 2012, when I first visited Sydney Taronga zoo, I tried to book the encounter with giraffes activity. The giraffe encounters are so famous that they get sold out a week in advance, which means unfortunately, I did not get the tickets.
My second attempt was in the year 2014, again at the Sydney Taronga zoo. I got the tickets for the activity fortunately. But the morning of my activity turned out to be a disaster and there were heavy rains. Due to heavy rains, the encounters for the day were cancelled.
I was not ready to compromise in my third attempt, which was in October 2015. During my visit to Western Plains Taronga zoo at Dubbo, I tried again and I was lucky to get the tickets. And this time, the weather was also perfect, a bright sunny day with absolutely zero chances of rain. At the Dubbo zoo, there was an opportunity for the visitors to feed carrots to the beautiful giraffes.
This article may contain affiliate links, meaning if you decide to make a purchase via my links, I may earn a commission at no additional cost to you. For full information, please see our affiliate disclaimer here.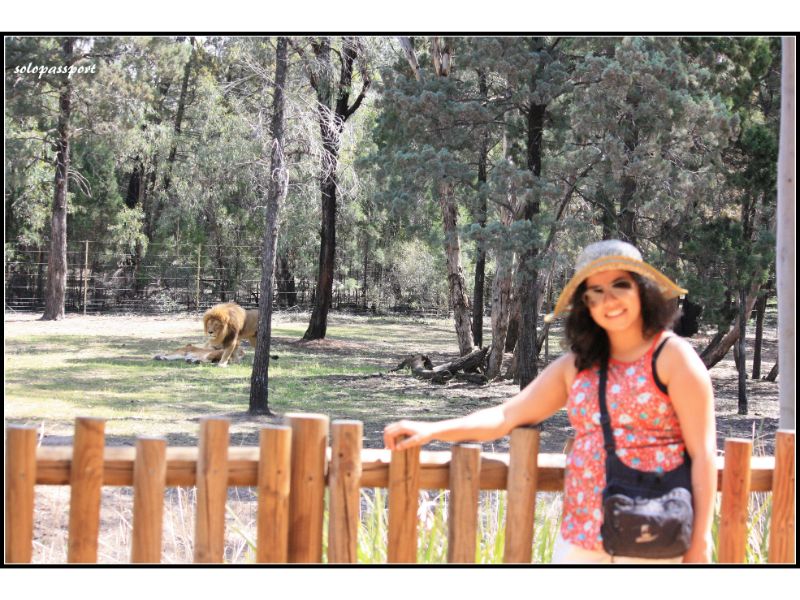 About Western Plains Taronga zoo at Dubbo / Dubbo Zoo
Also known as Taronga Western Plains Zoo, Dubbo Zoo is a large zoo in Dubbo city of Central New South Wales (NSW) region. Opened to public in the year 1977, the animals at the zoo are kept in huge enclosures where the animals can easily roam around. These enclosures are not caged but have open spaces. It is home to wide variety of animals and they help in the breeding and protection programs.
The Taronga Western Plains zoo has its own official mobile application. Download the app to get all the information and the map of the zoo.
You can see Australia's unique and native animals and birds at the zoo.
Booking Cost and Tickets for Zoo entrance
The tickets to the zoo can be booked on their website or at the entrance of the zoo. For general admission, the ticket cost is AUD 43.20 per adult. Note: For up-to-date information on the cost and availability, refer their website.
You definitely need an entire day to cover all the things in the zoo. Also, to move between the enclosures, you definitely need a vehicle like a bicycle or a car. Bicycles can be rented out from the zoo.
Disclaimers:
The prices mentioned in the post are valid only at the time of publication. Ensure to check the booking websites for up to date information and prices.
Opinions and views expressed solely mine and are unbiased. If the post is a collaboration, then they are specifically mentioned.
Ensure to check the relevant websites for up to date information on COVID protocols.
For any adventurous activities, please note that there is a risk that can be dangerous. Ensure to read the terms and conditions with individual agencies recommended and do them at your own risk.
For visas, it is best to see the embassy website for any changing rules.
Animal encounters at Western Plains Taronga zoo at Dubbo
There are a number of animal encounters visitors can do while being at the zoo. Some of them are:
Feed carrots to the giraffes – You get to feed carrots to giraffe. This is a very popular activity among the kids and they run out of slots very quickly. Ensure to book the experience well in advance or the first thing in the morning.
Morning walk behind the scene – In this, you are taken behind the scenes and given lots of information about how the animals are taken care of. There are morning educative walks conducted at the zoo and this is pretty awesome as well.
The visitors can also stay in the zoo for the nights. They offer different kinds of accommodation options. However, the cost of staying for one night per adult is very expensive.
How to get to Dubbo Zoo?
By Road – The Taronga Western Plains Zoo is around 400 kilometres from Sydney Central Business District (CBD). It takes around 5 hours 10 minutes to drive.

The route has toll roads.
For fun big things to see along the way, read 11 big things to see in NSW.
By Public transport – There are trains that run between Sydney Central train station and Dubbo.
Closing notes
The Taronga Western Plains Zoo must definitely be on the list of places to visit in NSW. It is an amazing zoo and it feels good to see animals in such large enclosures where they can freely move around. Have you visited the Dubbo zoo? If yes, I would love to hear what you thought about the place. Please send me an email on Solopassport@gmail.com.
How can you support me?
You know how much I love coffee, so you can buy me coffee – Buy me Coffee!

Or you can purchase from one of the below travel resources without any extra charge to you:
Travel Resources
Book your flight on Skyscanner.com or Trip.com
Reserve your accommodation on Stay22
Buy comprehensive travel insurance on SafetyWing and WorldNomads
Book your tours and travels or purchase tickets on Viator or GetYourGuide
For a universal SIM card, use DrimSim
If you liked this article and if it was helpful in your planning or traveling, do share, tweet, or pin this post.

Follow me on Instagram | Facebook | YouTube | Twitter | LinkedIn
Do you have a question? Or want any suggestions, and tips for travels, hikes and scuba dives? Use the Subscription box below to sign-up and get updates by email.