Road Trip on the East Coast of Tasmania with my mother
One of the most beautiful places in Australia that comes close to heaven is Tasmania. It is an island state, off the mainland Australia and is known for its rugged wilderness, lots of parks and reserves. The state is also famous for its food, wine and clean / fresh air. And Hobart is the capital city of Tasmania. In this post, I am writing about my road trip along the east coast of Tasmania and the lessons learned during my trip with my mother.
For information and itinerary to spend a weekend in Tasmania , refer A weekend in Tasmania.
This article may contain affiliate links. For full information, please see our affiliate disclaimer here.
Road trip planning
My mother was visiting me during Easter last year and I thought it was a perfect way to spend time with her. So, I spoke to her and planned a road trip to cover the Coast to Coast of Tasmania. I think I went overboard in planning and planned entire Coast to Coast road trip in just 4 days.
Lesson learned: Tasmania may look like a small island, but you do need at least 7 to 8 days to do the Coast to Coast road trip with sightseeing, especially when you are only the driver.
Lesson learned: The energy levels of my mother and I are different. I should have taken the road trip easy and planned it according to her energy level.
We took an evening flight from Sydney to Hobart via Melbourne. There are many flights that operate between major cities of mainland Australia and Hobart / Launceston. And Jetstar is the budgeted airline in Australia.
We reached Hobart at around 11 PM. It was freezing cold and my mother comes from a country (India) which has the tropical weather and this cold wet weather came as a shock to her. Even though we had taken all the essentials for cold weather, including the warm clothes required, but she was not mentally prepared for the cold.
Lesson learned: Make sure your mother acclimatizes to the weather slowly and there is no sudden change in the weather.
After picking up the car at the airport, we drove to the accommodation that we had booked. I had indicated to the hotel staff that we would arrive late during the booking process. But when we arrived at the hotel, there was absolutely no-one. As it was midnight already, I did not expect anyone to be at the reception but I expected an envelope containing a key in my name.
I searched around the property looking for a key or a contact number to call for half an hour. Since I had no luck, I decided to drive to the Travelodge near Hobart airport and spend the night. My mother is not a demanding person so she did not complain a word even though she was tired.
Click here to check for prices on Booking.com
Lesson learned: Make sure you call the hotel to confirm the reservation on the day you are expected to check in, especially when you are traveling with parents.
Road trip on the East Coast of Tasmania
Day 1 – Port Arthur, Moulting Lagoon Game Reserve, Freycinet National Park
The next day was the day where the adventure was to begin. But it was a cold wet day in Hobart and started gloomy.
We had the breakfast at Travelodge before starting the drive. The views of the snow capped mountains at the breakfast table were spectacular and it was sufficient for pumping in my enthusiasm and energy.
Our first stop was the Port Arthur. Port Arthur is a small town and former convict settlement. It is one of the most significant heritage sites in Australia.
I enjoyed the drive to Port Arthur as we came across some of the astounding landscapes.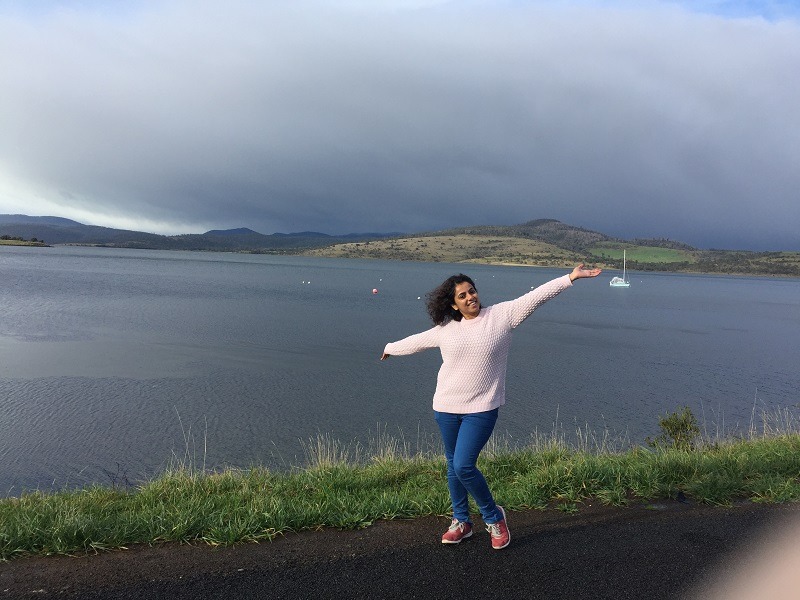 The second stop was the Moulting Lagoon Game Reserve. Moulting Lagoon is a composite wetland site and is a coastal lagoon or a largely enclosed estuary.
The third stop was at the Freycinet National Park. Freycinet is a national park that occupies a large part of the Freycinet Peninsula, named after French navigator Louis de Freycinet, and Schouten Island.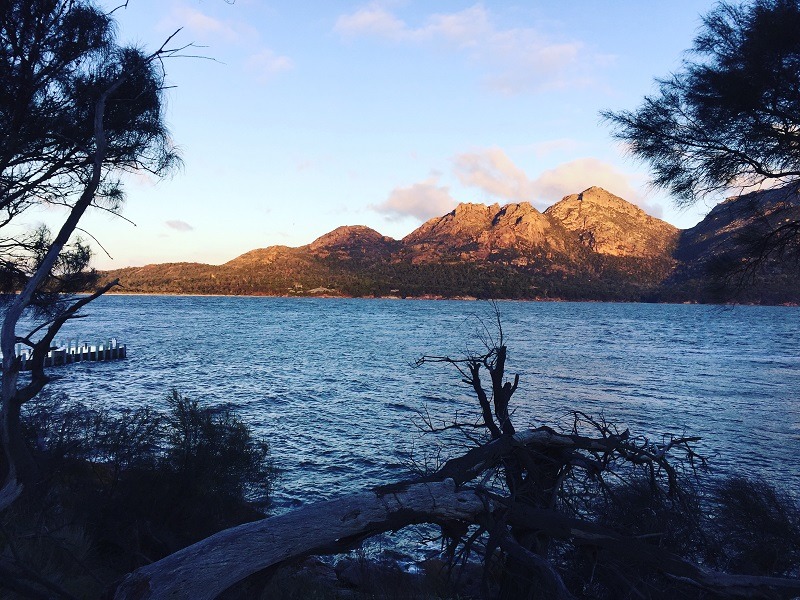 My mother is a fussy eater and always prefer Indian food over anything and unfortunately, I did not find any Indian restaurants on the way. So, by the time we reached our next destination St Helens, we were tired and hungry.
Lesson learned: Stop at a supermarket and shop for some groceries. At least carry fruits, chips, juices, chocolates and some snacks for the road.
The accommodation was booked at St Helens for the night. Luckily the hotel, Bayside Inn Hotel, had a restaurant and a bar. The food that we ordered was very good and we did enjoy the pastas and the garlic breads. Thank God for it!
Click here to check availability for Bayside Inn Hotel on Booking.com
Day 2 – St Helens, Binalong Bay, Great Oyster Bay, Cape Tourville, Swansea
In the morning we decided to explore St Helens. St Helens is the largest town and is known as the game fishing capital of Tasmania and is also renowned for its oysters. By now, I had already decided not to go ahead with my plan of Coast to Coast Tasmania and instead do only the East Coast.
After exploring the St Helens town, we headed to the Binalong Bay and the famous Bay of Fires. Undoubtedly, they were one of the beautiful places I have ever seen. Binalong Bay is a small coastal town situated at the southern end of the Bay of Fires.
The Bay of Fires (indigenous name: larapuna) is a region of white beaches, blue water and orange-hued granite (the color of which is actually produced by a lichen).
Highlight: My mother has always been a great photographer and the below picture clicked by my mother was featured on the official Tasmania Facebook page.
After spending some time at the Bay of Fires, I drove to the Great Oyster Bay. Great Oyster Bay is a broad and sheltered bay which opens onto the Tasman Sea.
The last stop for the day was the Cape Tourville. The Cape Tourville Lighthouse is an unmanned, automatic lighthouse built in 1971 by private contractors.
We called it a night at Swansea. Swansea is a town on the north-west shore of Great Oyster Bay and overlooking Freycinet National Park.
Day 3 – St Johns Catholic Church, Richmond
The first stop was at St Johns Catholic Church. St Johns Catholic church was built in the years 1846 – 1849 and is one of the prettiest churches I have seen.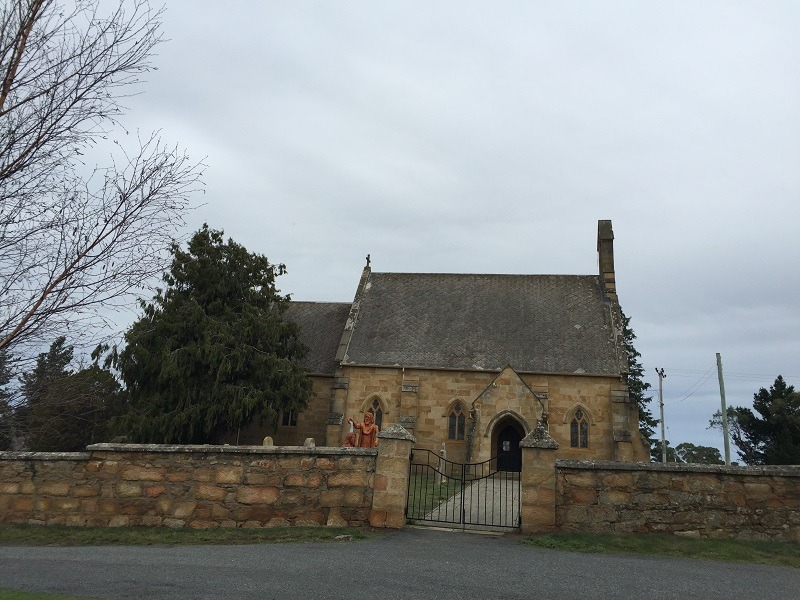 Before heading back to Hobart, we explored one last town Richmond. Richmond is a town in Tasmania about 25 km north-east of Hobart, in the Coal River region, between the Midland Highway and Tasman Highway.
We stayed at the Travelodge Hobart again as we had a comfortable night the first night in Tasmania.
Day 4 – Hobart
It was a slow easy day exploring Hobart. After exploring the cafes and restaurants, I wanted to spend the remaining day at the Tasmanian museum and art gallery. The museum was established in 1846, by the Royal Society of Tasmania, the oldest Royal Society outside England.
Did you know that Hobart is also famous for a unique museum called MONA?
In the evening, we took the direct flight back to Sydney via Melbourne.
Lessons learned: My mother does not enjoy cold wet weather. Any holidays that I need to plan with her must be to a warm hot weather.
Closing Notes
This road trip was a complete learning experience for me and I totally enjoyed it. It taught and reminded me what to do and what not to do when traveling with parents.
How can you support me?
You know how much I love coffee, so you can buy me coffee – Buy me Coffee!
Or you can purchase from one of the below travel resources without any extra charge to you.

Travel Resources
Click to book your flight on Skyscanner.com
Click to book your accommodation on Stay22
Click to book a comprehensive travel insurance on Safety Wing
Click to book your tours and travels on Viator or GetYourGuide
If you liked this article and if it was helpful in your planning or traveling, do share, tweet, or pin this post.

Follow me on Instagram | Facebook | YouTube | Twitter | LinkedIn
Do you have a question? Or want any suggestions, and tips for travels, hikes and scuba dives? Use the Subscription box below to sign-up and get updates by email.