Fraser Island – A complete guide!
It was a perfect time to visit Fraser Island. It was summers and my best friend was visiting me in Sydney. I spoke to one of my other friends and the three girls were all set to visit Fraser Island. Little did I know that this trip would be the most complicated travel I have ever done in Australia.
This article may contain affiliate links. For full information, please see our affiliate disclaimer here.
About Fraser Island
Fraser Island is a UNESCO World heritage listed island on the eastern Queensland coast. It is the world's largest sand island. It stretches about 123 kilometres. It is beautiful undoubtedly, but… there are few facts that you need to know before visiting this untouched beauty.
On Fraser Island, the only way to travel around is through a 4 wheel drive vehicle.
4 wheel drive cannot be driven on the beach on high tides.
The island has lots of sand.
There are very few restaurants on the island.
The restaurants and the bars on the island close early latest by 7:30 PM. On Sundays, they close at 5:30 PM.
There are many dingoes on the island and there are signs everywhere about the Dingo safety!
There are plenty of huge flies. And they bite! Yes, you heard it right, they bite and they are nasty bites.
Fraser Island is also very famous for its beautiful camping sites and here is a review of Bowarrady Creek on Fraser Island which has the best camping site.
Getting there (Flights + Barge)
The nearest airport to Fraser Island is Hervey Bay. There are flights from Sydney to Hervey Bay via a stop over at Brisbane.
There are barges between River Heads (River Heads is 20 minutes drive from Hervey Bay airport) and Fraser Island. They board the vehicles as well and drop you on the western side of Fraser Island at Kingfisher Bay.
Hiring 4W drive
The only way to commute on Fraser Island is through a 4 Wheel drive. Note: The car hire is per the calendar day and not as per the time you hire the car.
There are two options to hire a 4W drive:
Option 1:

Hire from Kingfisher Bay Resort on Fraser Island. The 4W cars cannot be hired from Kingfisher Bay Resort if you are not their guest. 'Aussie Trax' is the operator, who operate from Kingfisher Bay Resort. You can hire directly from Aussie Trax, but it was expensive when compared to hiring the vehicle through the Option 2.

Option 2:

Hire from Hervey Bay and take the vehicle to Fraser Island on the barge. There are many companies that provide 4W cars for hire. We decided to go with Fraser Dingo.
Fraser Dingo was charging us AUD 830 for 3 people for 3 days which includes the barge tickets and the island permits. The hire has come caveats:
AUD 1000 deposit is locked till the vehicle is inspected after the return.
The vehicle has to be re-fuelled and cleaned before return.
Stay at Fraser Island
The best suggestion I can give is that you stay on the east coast of Fraser Island. If you stay on the West Coast and have a self-driven 4W car, then you need to drive inland every day to get to the east coast. It is not allowed to drive on the West Coast of Fraser Island because of the quicksand.
We stayed at Fraser Island Retreat Resort in Happy Valley. The resort is about 100 metres from the beach. It is a very pretty and comfortable along the beach and is convenient to stay at this resort.
Click here to check prices on Booking.com
The other hotels and resorts to consider are:
PIN for later reference
Food at Fraser Island
It is advisable to take food from mainland Hervey Bay. We had picked up some ready to eat food items and lots of fruits.
There are very few restaurants, cafes and bars. The bistro at our resort closed at 5:30 PM on Sunday. And the food is very expensive on the island.
Total expenses
Flights (Sydney to Hervey Bay return) = AUD 1020 for 3 people
Accommodation (Fraser Island Retreat) = AUD 280 for Quadruple Room for 3 people
4W drive with cleaning charges = AUD 873.25 for 3 people
Food = AUD 431.23 for 3 people
Fuel charges = AUD 70 for 3 people
Total Cost = AUD 2674.48 for 3 people (AUD 892 per person)
PIN for later reference
3 Days Itinerary on Fraser Island
As I mentioned earlier, most of the things to see and do are on the east coast of Fraser Island. Our itinerary was planned by Fraser Dingo (company from whom we hired the car) as they had planned everything depending on the tides. We followed the itinerary with some modifications (of course, we girls have a problem with blind following 😉 ).
Day 1
We did not see or do anything or do anything. Our main objective for this day was to reach our accommodation in Happy Valley. We had to drive inland from Kingfisher Bay (which is where the barge dropped us) to Eurong Beach and from Eurong Beach to Happy Valley on the beach.
Day 2
This was day for exploring the island. We started the day late at around 11:30 AM (as there was a high tide at 9:30 AM). Our first stop was the Indian Heads. This was my most favourite place on the island. A little bit of hike, we were on top of the rock where the views were spectacular. We saw many pods of fishes and a stingray.
We swam at the beach below the Indian Heads rock.
Second stop was at Cathedral Beach where we were told that the cafe at this place serves the best coffee on island.
Third stop was at Maheno Ship Wreck. The wreck is beautiful. The ocean at the back drop provides a very dramatic photographic opportunity. Ensure you have the insect repellent, as I was bitten by the huge flies.
Day 3
We started the day really early at around 6:30 AM, as the high tide was at 10:30 and we had to get out of the beach into the inland by 8:30 AM. We had our breakfast at the bakery on Eurong village.
Our first sight seeing place was Lake McKenzie. Lake McKenzie is one of the famous landmarks in Queensland. There is no other lake I have ever seen which is as beautiful as this lake. It was mind-numbingly amazing.
The next stop was at Central Station. And that is where I realised that I had forgotten my bag at the bakery at Eurong beach. Of course, there has to be some drama. We drove for another one hour inland to go back to Eurong beach to get my bag.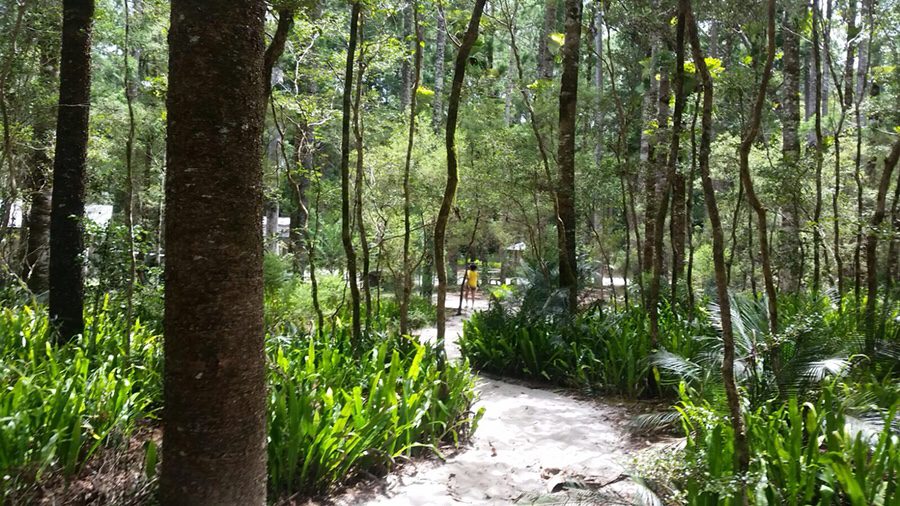 In spite of all the extra driving and drama, we managed to reach well ahead of time at the barge point – Wanggoolba Creek. Again, ensure you carry insect repellent and are prepared for the blood sucking flies. I was bitten very badly.
We took the afternoon barge and were at Hervey Bay for our flight to Sydney.
Closing Notes
Fraser Island is definitely beautiful and romantic. No wonder this island tops as the must do items in Australia.
And I had ticked off my bucket list item of 4W drive. I had driven about 250+ kilometres in total and I must say that it was adventurous and exciting.
PIN for later reference