Last year while I was in Bangalore, I discovered that there are plenty of small hills, like Kaurava Kunda, around the city where one can easily spend a day over the weekend. These are really amazing places for one day hikes. As they are not too far away from the city, the hikes can be completed in just half a day.
PIN for later reference
This article may contain affiliate links. For full information, please see our affiliate disclaimer here.
About Kaurava Kunda
Kaurava Kunda was another hill that I had never heard of before. One of my fellow trekkers during the Vattakanal Hike, suggested me to visit this hill for the early morning sunrise. He said that this hill was a better place to see the sunrise than the Skandagiri or Nandi Hills. The reason it was better than the other two was that this was not a very famous hill and because of which there were hardly any crowd.
The twin hills of Kaurava Kunda have its name derived from the mythological story of Mahabharata, given to both Kauravas and Pandavas. The base of the twin hills is in Kavaranahalli village. Also, there is a temple midway dedicated to Lord Shiva.
How to get to Kaurava Kunda?
Drive – Kaurava Kunda is around 75 kilometres (1 hour 20 minutes drive) from the Bangalore city and is situated in the Chikkaballapura district. The best and easiest way to get to the base of the hill is by driving a car or riding a bike.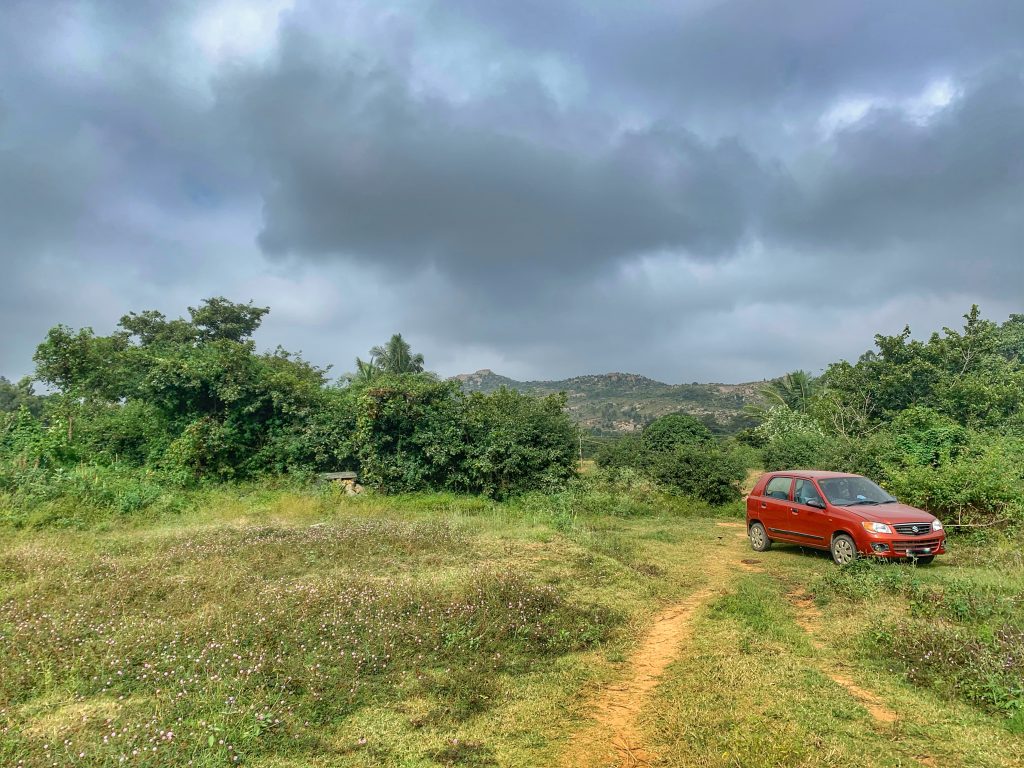 Buses – There are frequent buses between Bangalore city (Majestic or Hebbal bus stops) and Chikkaballapura. From Chikkaballapura, you can take an auto rickshaw to the base of the hill. The base of the hill is around 5 kilometres from the Chikkabalapura bus stop.

Note: This is an issue as you might not get an auto for the return journey and you will need to walk till the main road.
Best time to trek to the peak
The best time to be at the peak is around 7 to 8 AM and in the winter months (from October to February) as the weather is pleasant and it does not get too hot or rains. The summer and rainy seasons can be very risky as the path is quite steep and does not have any shade or cover.
Also read | One day trip to Nandi Hills.
Trek statistics
Distance: 5 kilometres return.
Grade: Easy (The hill is steep and it can get very slippery when it is raining and there is no proper trail to the peak; also the last part of the hike is a little risky with huge boulders).
Time taken: 2 to 3 hours.
This hill is very famous for its night trek so people can be at the top just in time for the sunrise.
This hike can be done on your own and does not require any trekking agency. However, if you are traveling alone it is not advisable to hike alone as the hike can get lonely.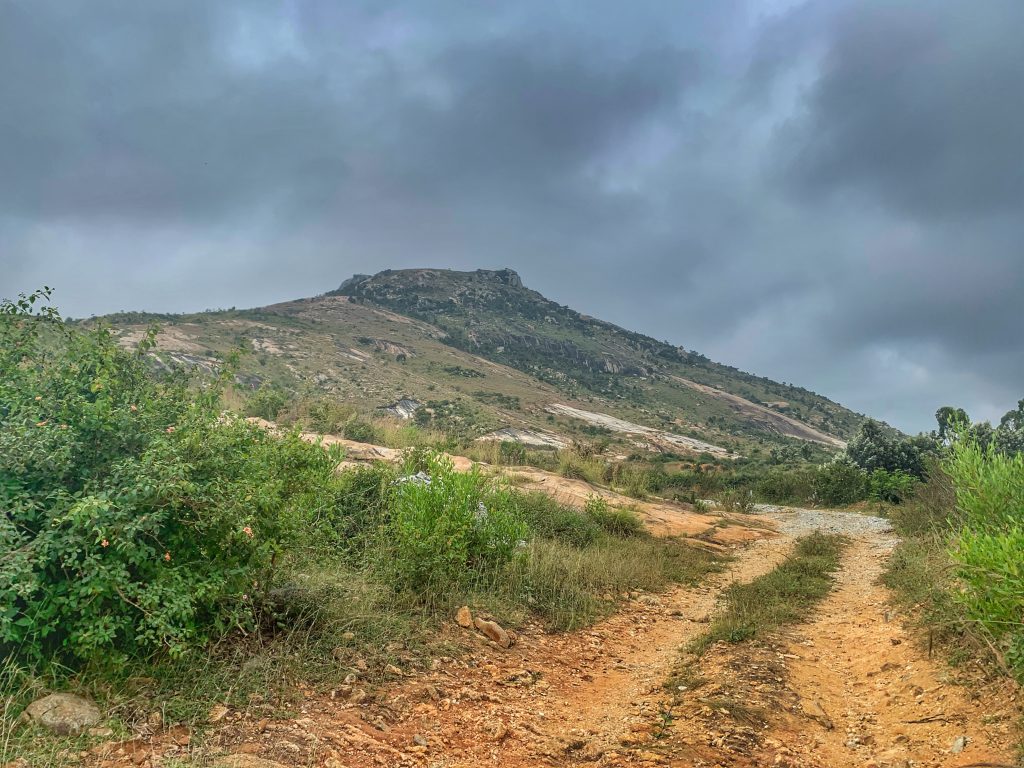 Important Information
Beware of the bushes and thorny plants on the way.
Beware of the monkeys especially if you are carrying a backpack or a packet.
Wear sturdy and comfortable shoes.
Carry sufficient water.
There are no shops around the hill. So ensure to carry some snacks and breakfast.
DO NOT throw your garbage and dirty the place. Take your rubbish with you and dispose it at a proper garbage bin.
Download Emergency Plus app for any unforeseen situations. The app does not require mobile network and it shows the location of where you are. This is useful to let the emergency services know, in case there is any emergency.
If you are a tourist, always make sure to have a good comprehensive travel insurance to cover yourself in case of any emergency.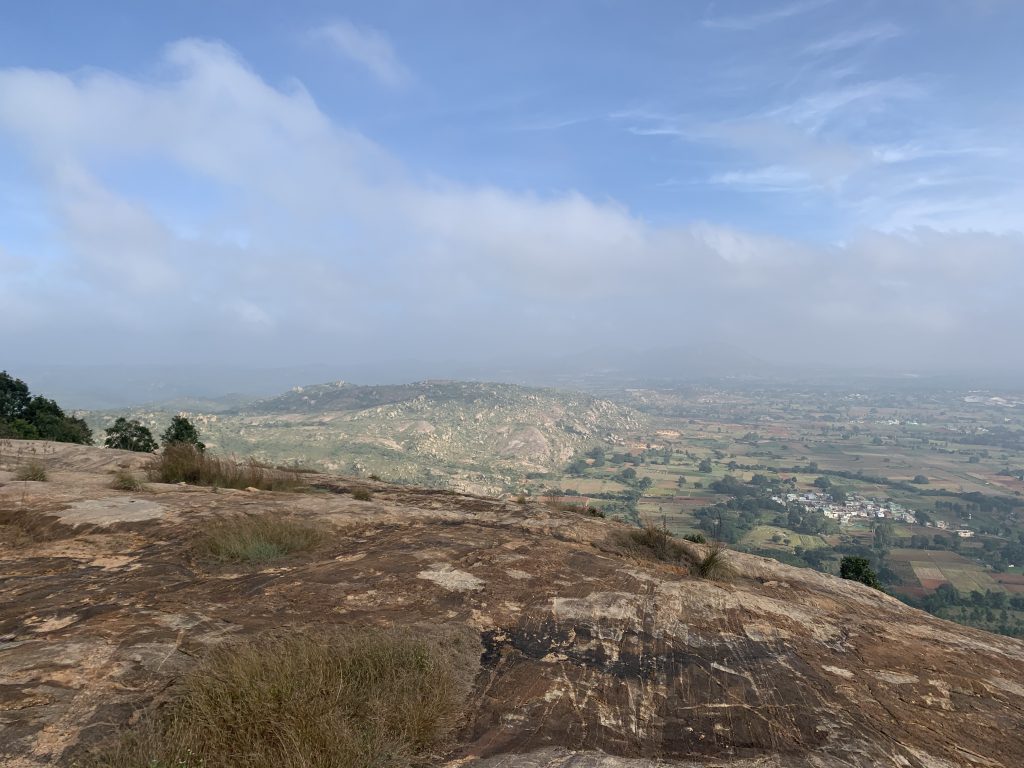 Itinerary
The trek is ideal for half a day and as mentioned, it is quite famous for a night trek so one can be at the peak before sunrise. However, my friend and I did not go in the night and we started very early in the morning. Below is the itinerary that my friend and I followed:
Note: This was a self planned trek and we did not go with any trekking agency.
4:00 AM – Start from Bangalore very early so to reach the peak on time. Generally, people start at around 1 AM so they can be at the peak by 3:30 AM.
5:30 AM – The drive from Bangalore takes around 1.5 to 2 hours. Reach the base of the hill and start the climb to the peak.
Ensure to take warm clothes as the weather can be extremely chilly.
6:30 AM – At the peak, enjoy the sunrise and the views of Chikkabalapura village.
Take some light breakfast or snack that can be enjoyed at the peak.

Do not throw any garbage at the peak.
7:00 AM – Start the descend after enjoying the sunrise.
8:00 AM – Start for Bangalore.
Note: There are so many darshinis (South Indian fast food joints) on the highway where one can enjoy a delicious South Indian breakfast.
Safety for solo female travelers
As I mentioned earlier in the post, this trek is not advisable to do it alone. There are very few people and it can get very dangerous. So a definite NO for a solo traveler. I would definitely advise having a friend or two while attempting this hike. Also as a good practice, it is always best to have a trekking buddy just in case of unexpected situations.
Unfortunately, no trekking agency goes to this hill for a hike.
Closing Notes
The views from the peak are undoubtedly worth getting up early in the morning. The scenic view from the peak is something to die for. And the views especially in the morning with the clouds surrounding the peak is absolutely divine. It was absolutely refreshing. But I would still rate this below Skandagiri, as that hill is simply magical. To be fair, I feel we should have started the hike even more early and had aimed to reach the peak before 6:30 AM or 7 AM. Maybe next time when I attempt to do this hike again I will try to do it a bit early.
This hill is very good for a one day trek/hike. It can be done in half a day if planned well and is a great weekend activity.
I cannot stress enough on this – DO NOT litter. Carry your trash and garbage with you and dispose of when you see a garbage bin. It is very disheartening to see rubbish at these pristine places. If we cannot take care of our nature then we definitely do not deserve such beautiful places.
Thanks for reading my post and I hope you do enjoy Kaurava Kunda trek. If you are aware of any such hidden gems around Bangalore, I would love to hear about it. Please leave a comment or write to me on Solopassport@gmail.com.
How can you support me?
You know how much I love coffee, so you can buy me coffee – Buy me Coffee!
Or you can purchase from one of the below travel resources without any extra charge to you.

Travel Resources
Click to book your flight on Skyscanner.com
Click to book your accommodation on Stay22
Click to book a comprehensive travel insurance on Safety Wing
Click to book your tours and travels on Viator or GetYourGuide
If you liked this article and if it was helpful in your planning or traveling, do share, tweet, or pin this post.

Follow me on Instagram | Facebook | YouTube | Twitter | LinkedIn
Do you have a question? Or want any suggestions, and tips for travels, hikes and scuba dives? Use the Subscription box below to sign-up and get updates by email.
Gallery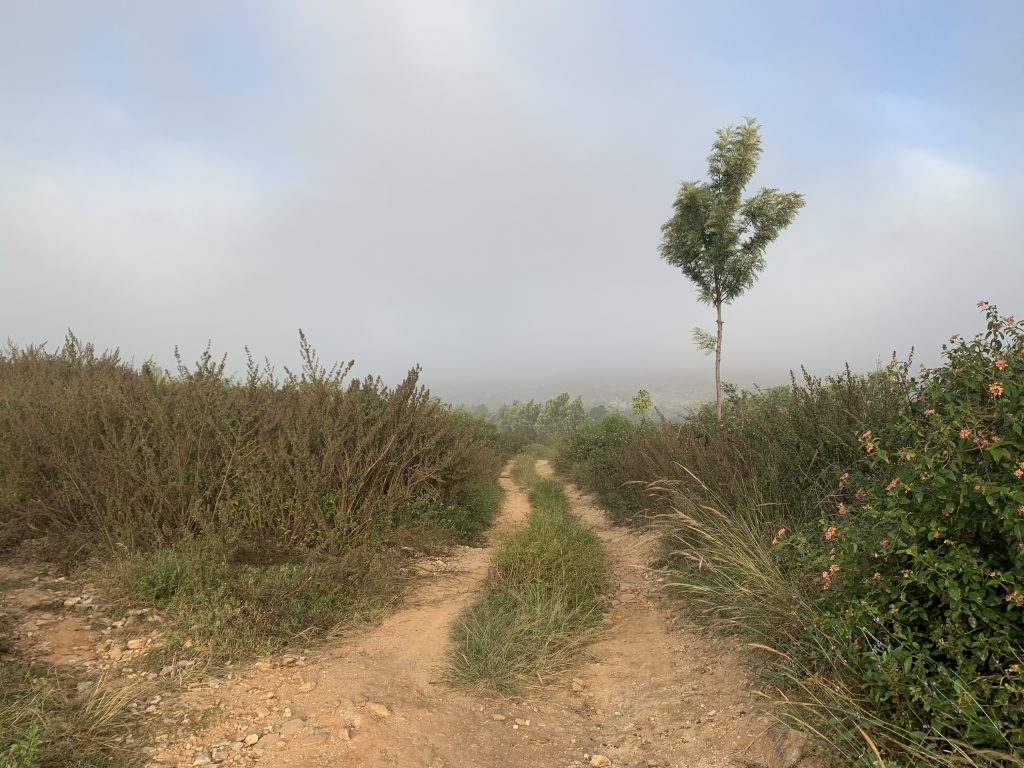 PIN for later reference