Night trek to Skandagiri peak
Every trekker in Bangalore knows about the night trek to Skandagiri peak. It is a famous trekking destination and a getaway for Bangaloreans during the weekends. This was my second time to Skandagiri and both the times I have done a night trek.
Note: Technically, the Skandagiri trail is a hike and not a trek but in India, even hikes are known as treks. So, I am using the word trek at times in this post.
PIN for later reference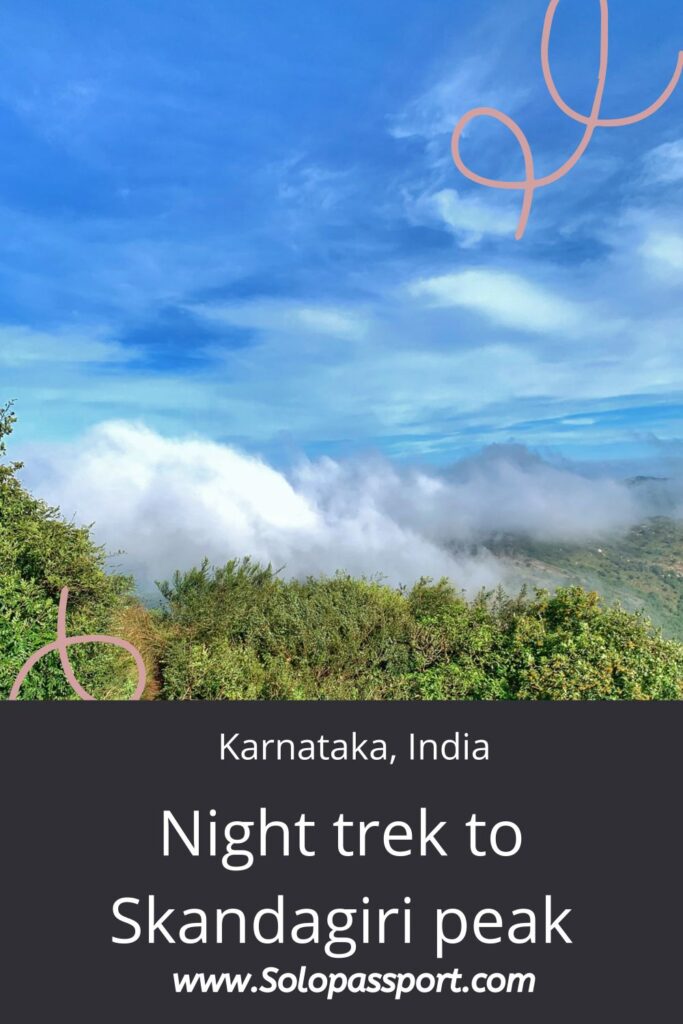 This article may contain affiliate links. For full information, please see our affiliate disclaimer here.
About Skandagiri betta
At a height of around 4430 feet, Skandagiri betta (hill) is a very popular hiking destination around Bangalore. Also known as Kalavara Durga betta, Skandagiri is located in Chikkaballapura district, around 60 kilometres from Bangalore. It is one of the five hills in Chikkaballapura called the Panchagiri. Panchagiri includes Nandi giri (also known as Nandi hill), Chandra giri, Skandagiri, Brahma giri and Hema giri.
A one day visit to Nandi Hill from Bangalore is also a very popular activity among the Bangaloreans.
The hill is popular for night trek because of its stunning views of the sunrise. It also provides views of Muddenahalli village and Nandi Hill. As it is so famous, the trail is very crowded at all times. The first batch of the trek starts at 4 AM so trekkers can reach the peak by 6 AM, right time for sunrise.
There is a stone temple dedicated to Hindu god and ruins of an old fort at the peak. Make sure to respect the religious beliefs and do not enter the temple with your shoes.
The best time to hike this trail is throughout the year but it is best to avoid during rains as the rocks and boulders do become very slippery. Also, it is better to do the trek in the morning as it can get very warm and difficult during the day.
How to get to Skandagiri base?
Driving
The starting point of the trek is in Kalawara village at the forest checkpoint. The Kalawara (also spelled as Kalavara) village is around 60 kilometres from Bangalore city and by road, the journey takes about 1 hour 20 minutes. Route is towards the airport. There are plenty of parking spaces available at the Papagni temple in Kalawara village. Note there are a lot of monkeys at the temple.
The only issue that I have heard is that locals try to puncture the car tyres. However, I saw many cars and bikes at the parking lot.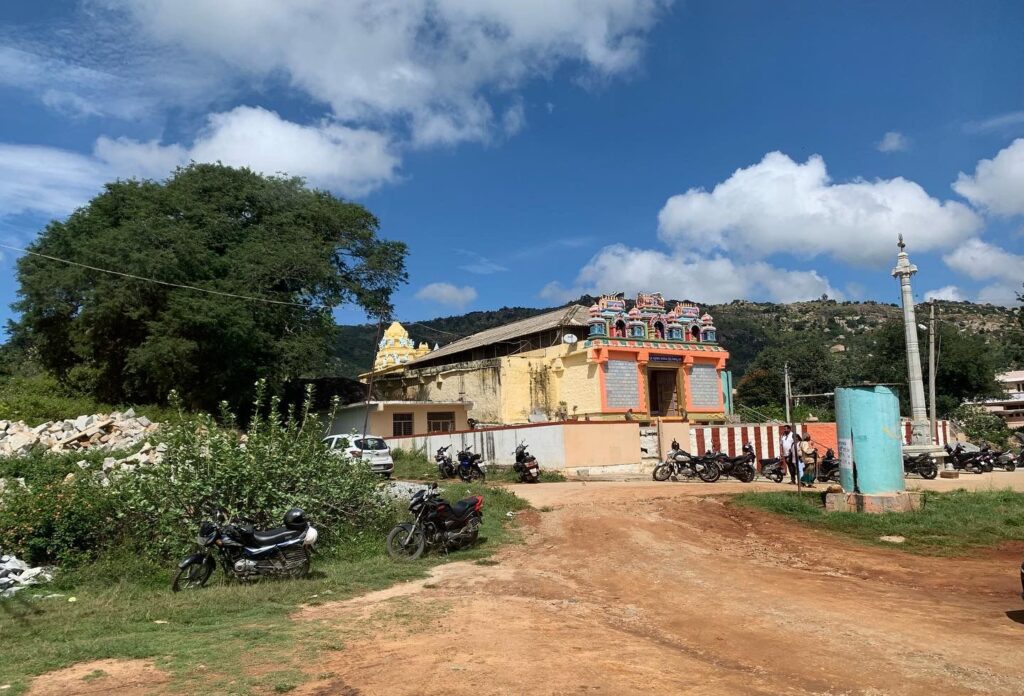 Public transport
The nearest bus and train stops is at Chikkaballapura. There are frequent buses and trains between Majestic in Bangalore and Chikkaballapura. And one can hire an auto rickshaw from the bus/ train stops to Papagni temple, which is around 3 kilometres.
Statistics of the night hike
The hike is 8 kilometres return of Hard grade. Hard because the entire 4 kilometres is steep to the peak and has a few boulders that needs to be climbed. One way (4 kilometres) to the top takes 2 to 3 hours.
Starting and finishing points: Forest checkpoint. The forest checkpoint is just 800 metres from the Papagni temple in Kalawara village.
Total distance: 8 kilometres return.
Time taken: 2 to 3 hours one way.
Grade: Hard.
Trekking agency
This was my second time to the peak. I had hiked this trail for the first time with my friends many years ago when it was not this commercialised and there were no permits required.
Now, to hike this trail, one needs to take permission from forest officials and the first batch starts at 4 AM. This second time, I did the hike with Plan the Unplanned and the entire trip from Bangalore was organised by them. The cost for the trek including the transportation to and from Bangalore is INR 1448. I really enjoyed meeting the trek leads as they were very friendly.
Even though I went with a trekking agency the second time, the trail can easily be done on your own. The permission can be obtained online for INR 300 per person and the trail is a straightforward trail with just one path and hence does not need any guide or lead. If you wish, you can also hire a local guide who is available at the checkpoint.
Important information
If you are doing this trail by yourself, take forest permission online before reaching the starting point. I was informed that only 200 trekkers are allowed in a day.
Ensure to take a photo identification with you (either hard or soft copy).
Wear comfortable and study shoes as the trail is slippery.
Carry a small day pack.
Carry an extra pair of socks.
Take sufficient drinking water, about 2 litres. Stay hydrated throughout the trek.
Pack small snacks for the trail and to enjoy at the peak.
Take first aid kit and jacket.
Be prepared to see lot of crowd on the trail and at the peak.
There are monkeys at the Papagni temple (in Kalawara village). Do not feed them.
Respect the nature and do not throw any garbage. Take your rubbish with you and throw them at dedicated bins.
There are toilet facilities at the base of the trek.
There are no shops on the trail or peak, except for a tender coconut vendor who also sells biscuits.
Be slow and alert on the trail. Remember to take small steps and do not race.
Safety for solo female hikers
The Skandagiri hiking trail is very safe for solo female hikers as it is one straight trail to the peak. There are also markings along the way. However, it is always best to take a hiking buddy for any unforeseen situations, especially because this trail involves rocks and slippery sections. Also, the drive to the Kalawara village can be isolated and daunting at night.
Download Emergency Plus app for any unforeseen situations. The app does not require mobile network and it shows the location of where you are. This is useful to let the emergency services know, in case there is any emergency.
If you are a tourist, always make sure to have a good comprehensive travel insurance to cover yourself in case of any emergency.
Closing Notes
Skandagiri night trek is surely one of the amazing hikes around Bangalore. The trail is worth all the effort as the views at the top are wonderful. But be prepared for a lot of people on the trail and at the peak.
How can you support me?
You know how much I love coffee, so you can buy me coffee – Buy me Coffee!
Or you can purchase from one of the below travel resources without any extra charge to you.

Travel Resources
Click to book your flight on Skyscanner.com
Click to book your accommodation on Stay22
Click to book a comprehensive travel insurance on Safety Wing
Click to book your tours and travels on Viator or GetYourGuide
If you liked this article and if it was helpful in your planning or traveling, do share, tweet, or pin this post.

Follow me on Instagram | Facebook | YouTube | Twitter | LinkedIn
Do you have a question? Or want any suggestions, and tips for travels, hikes and scuba dives? Use the Subscription box below to sign-up and get updates by email.
PIN for later reference