A romantic getaway to Kumarakom
One of the most romantic destinations I have ever visited in India is Kumarakom. It is a place that is straight out of a fairy tale. I love everything about the place, the backwaters, the sunsets and the people. I have been to Kumarakom twice and both the times, the place has surely charmed and made its way into my heart.
PIN for later reference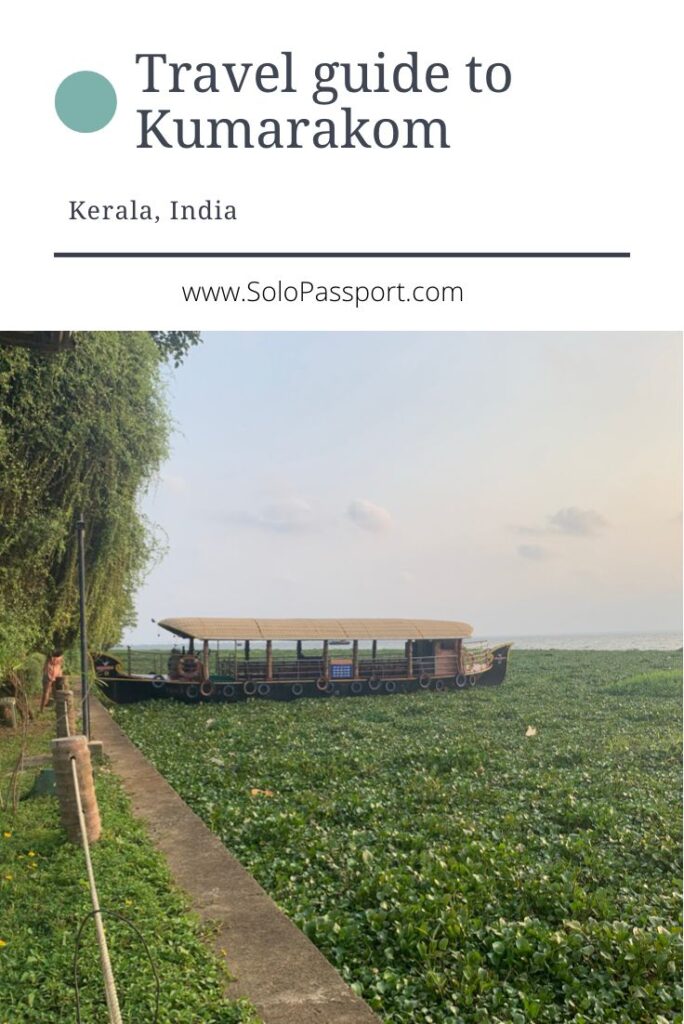 This article may contain affiliate links. For full information, please see our affiliate disclaimer here.
About Kumarakom
Kumarakom is a village in Kerala, on the backwaters of Vembanad Lake. The laid back village is famous for its canals and houseboats. It is also home to many species of Indian birds such as cuckoos. The name Kumarakom is derived from the deity of its oldest temple Kumaran.
The best time to visit Kumarakom is between the months November to February (winter season) and between the months June to September (monsoon season).
How to get to Kumarakom?
Train – The nearest train station to Kumarakom is Kottayam train station. The distance between Kumarakom and the Kottayam train station is around 16 kilometres and one can hire a local taxi at the train station.

Train tickets is purchased on IRCTC website.

Bus – Kumarakom has connectivity from all the major cities.

Bus tickets and routes can be found on RedBus website.

Airport – Trivandrum and Kochi airports are the nearest airports to Kumarakom. The distance between Trivandrum airport and Kumarakom is 171 kilometres and the distance between Kochi airport and Kumarakom is 106 kilometres.
Another beautiful city that can be included in the trip to Kumarakom is Kochi. Fort Kochi in Kochi is extremely beautiful and there are so many things to do in that city.
The distance between Bangalore and Kumarakom is around 592 kilometres and takes 11 hours 20 minutes by road.
Stay in Kumarakom
Coconut Lagoon by CGH
Luxury is what comes to the mind when thinking of Coconut Lagoon by CGH. I absolutely loved this property. Located about 10 minutes backwater ride from Kavanatinkara boat landing, the Coconut Lagoon is a mini Kerala town within the resort. Being a heritage backwaters resort, there are many activities one can do in Coconut Lagoon such as bird watching, kayaking, boat ride during sunset and watching cultural activities.
Lakesong Resort
The second time I visited Kumarakom, I stayed at Lakesong resort. The 4 star resort is picturesque and is along the Vembanadu lake of Kumarakom. It features the Kerala architecture and décor. Even though I enjoyed staying at this beautiful resort, I did feel that the rooms were a bit small. The resort also offers many activities such as boating in their own canals, and boat ride during sunset.
Note: I was hosted at Lakesong resort, in collaboration with the Kerala Travel Mart 2022. But the opinions expression here are solely mine and unbiased, and are based on my experience.
Coconut Creek Homestays
One of the most beautiful places to stay and at an affordable prices when compared to others is to stay at the Coconut Creek Farm. The homestay is an authentic Kerala style homestay and it perfectly placed with respect to the spectacular landscapes. It is just along the backwaters and the guests can have authentic Kerala food by the backwaters. I just loved this place and enjoyed my stay here. The best part was that they served me delicious breakfast, Appam with chicken stew, in the restaurant that is just next to the backwaters. How amazing is that!
Keep a watch on some of the deal and coupon issuing websites. I had received a huge discount for this property on buying from a deal website like Groupon.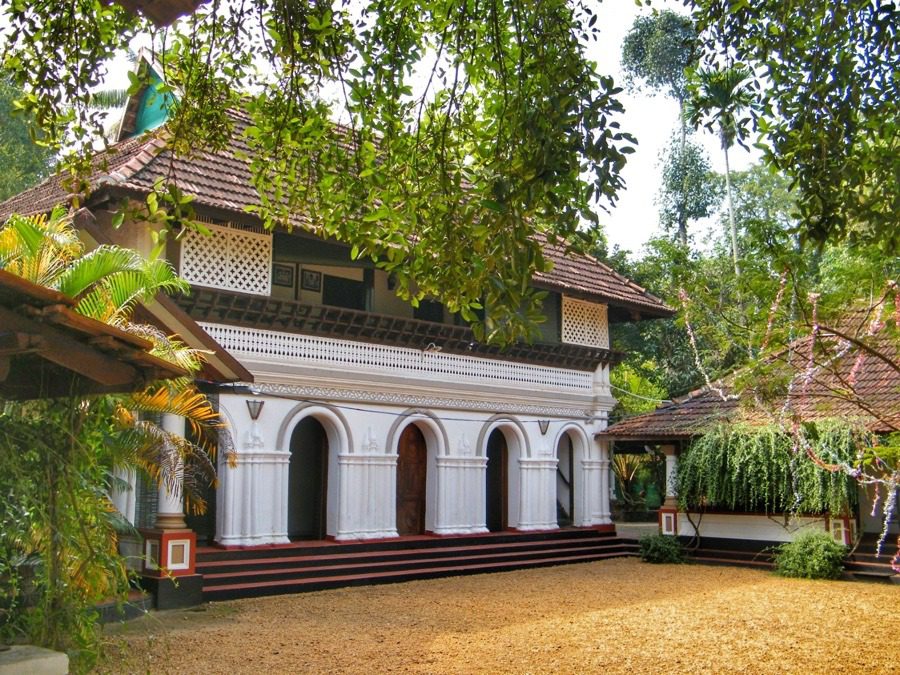 Things to do in Kumarakom
Stay at a houseboat
One of the best things to do in Kumarakom is to stay at a houseboat. It is absolutely relaxing and spectacular to just sail around in a houseboat all day. There is a dedicated staff assigned to the houseboat who takes care of the guests. Usually, the stay is for 22 hours including a night.
Sunsets viewed from the houseboat and the picturesque beauty of backwaters are something that can only be felt and cannot be put in words. The accommodation have some houseboats tied up with them and they can arrange for the stay at a houseboat for an additional cost.
Bird watch at Kumarakom Bird Sanctuary
One of the most famous bird sanctuaries in Kerala is the Kumarakom bird sanctuary. It has plenty of local birds such as koel, heron, egrets, kingfishers and many more. The sanctuary also has some migratory birds from Himalayas and Siberia.
Visit 1000 year old mosque
The Tahazhatangadi Juma Masjid is more than 1000 years old. It is unique because of its architecture and wood carvings. This is the only mosque where women are allowed inside on two days of the year.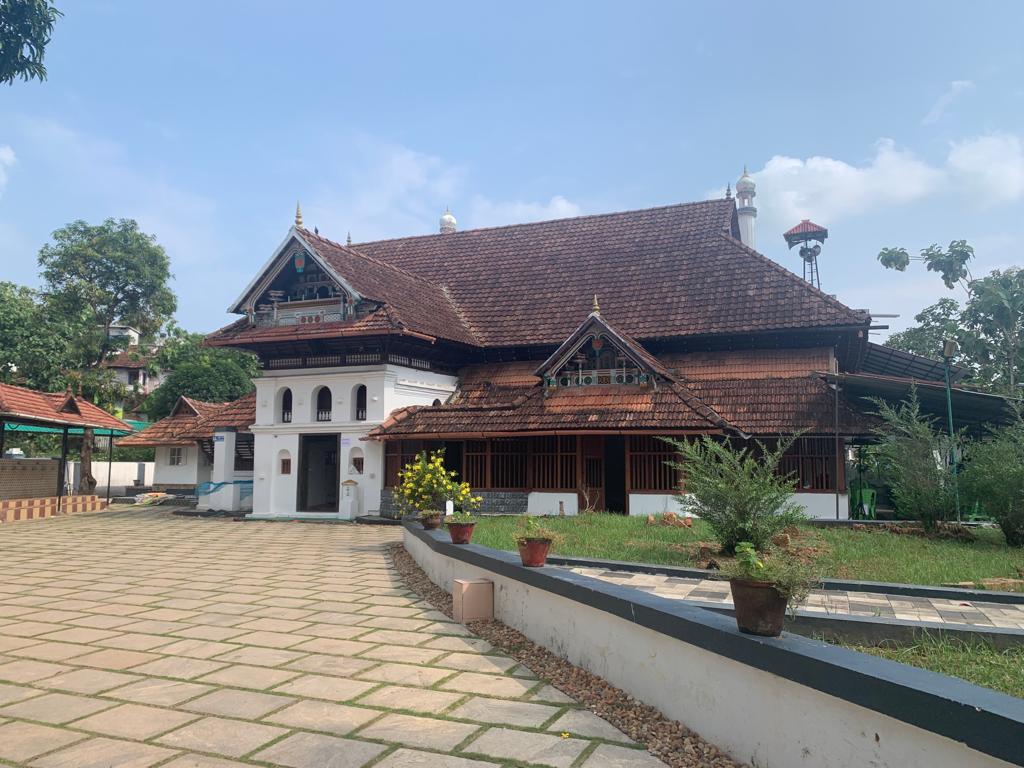 Village walk at Aymanam village
Setting for Arundhati Roy's novel 'The God of Small things', Aymanam village was featured as one of the 30 best places to visit in 2022 by Conde Nast Traveller. Aymanam village is wonderful to learn about the sustainable and responsible tourism initiated by Kerala tourism. The tour takes the guests through to various sustainable methods and techniques practised by the village. During our visit, we learned how the coir is made, ropes are created, mats are weaved and Toddy is made. The tour is around 2 hours and we were taken from one home to the other on a boat. We also saw a 300+ years old manmade bridge over the canal.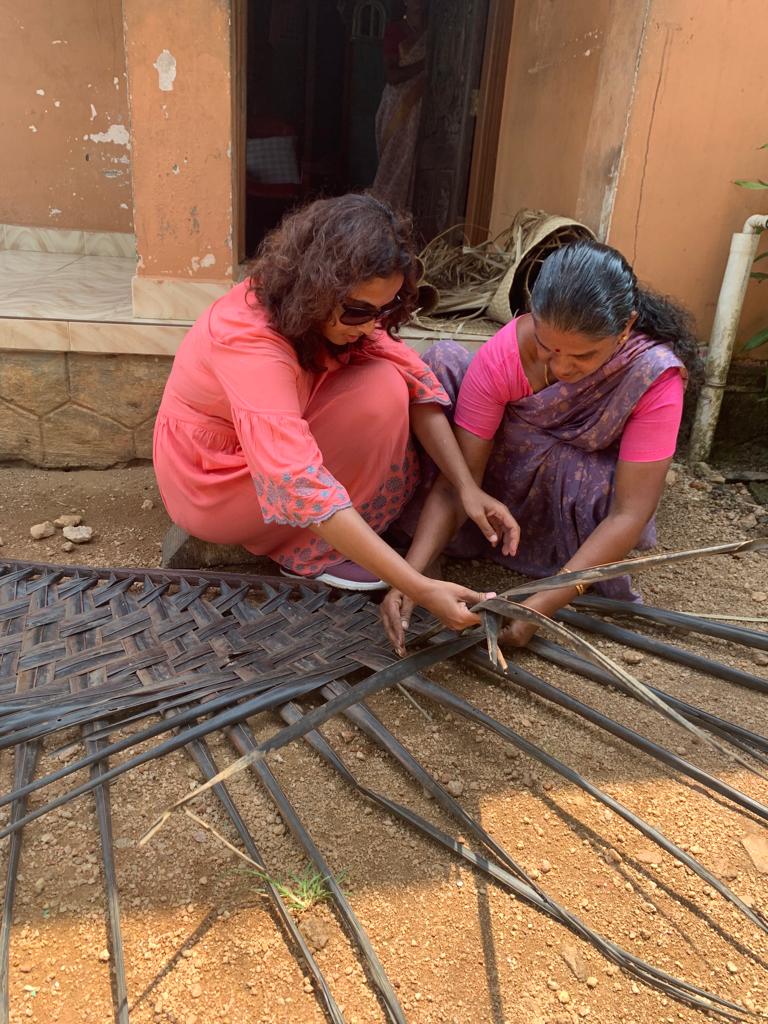 Kottayam Cheriapally Mahaedavaka
Commonly known as Kottayam Cheriapally, the Saint Mary's Orthodox Syrian Church is an ancient and well maintained church. Built in 1579 by a Hindu king, the church portrays a combination of Hindu traditions, such as a flag post and oil lamps, with Christian traditions. The church is open for visitors between 9:30 AM and 5:30 PM Monday to Saturday and between 7:30 AM and 3:30 PM on Sunday.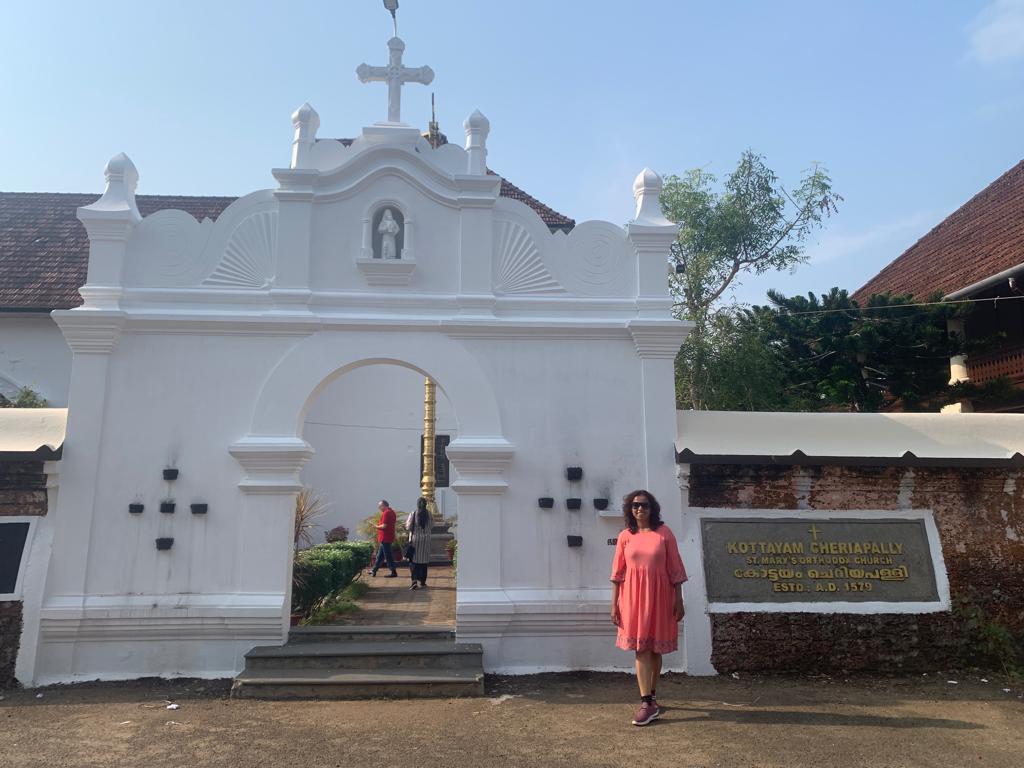 Sri Kumaramangalam Subramanya Swamy temple
Dedicated to Lord Murugan, Sri Kumaramangalam Subramanya Swamy temple is a very peaceful and serene place to visit. It is located on the banks of Vembanad Lake and is a hidden gem. The men have to remove their upper garments before entering the temple and the women need to dress appropriately.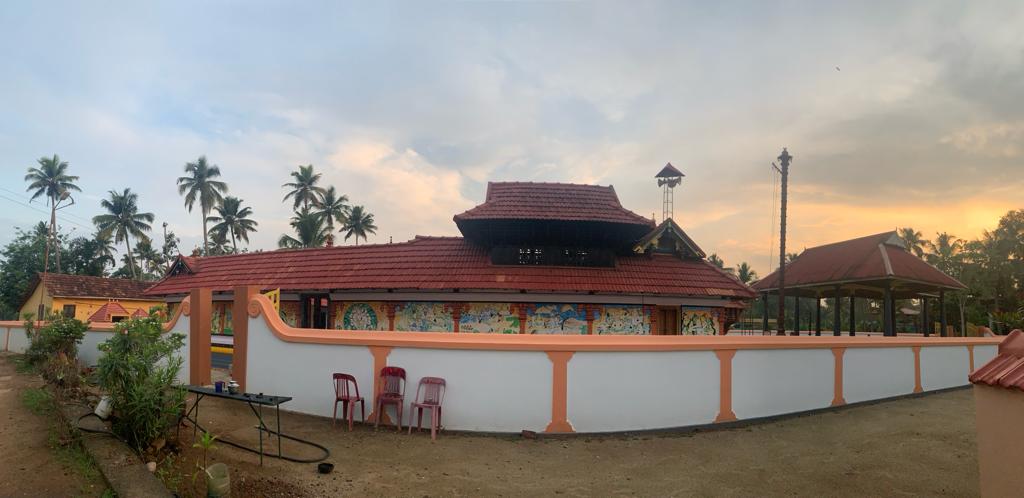 Sunset by the backwaters
The sunsets at Kumarakom backwaters are worth dying for. They are spectacular and it is truly mesmerising to watch them by the waters. Each sunset ends with a dramatic sky and I highly recommend witnessing one or two of these sunsets. I have seen the sunsets from houseboats, accommodation viewing areas and boats. Usually, the accommodations have boating at sunset activity planned for the guests.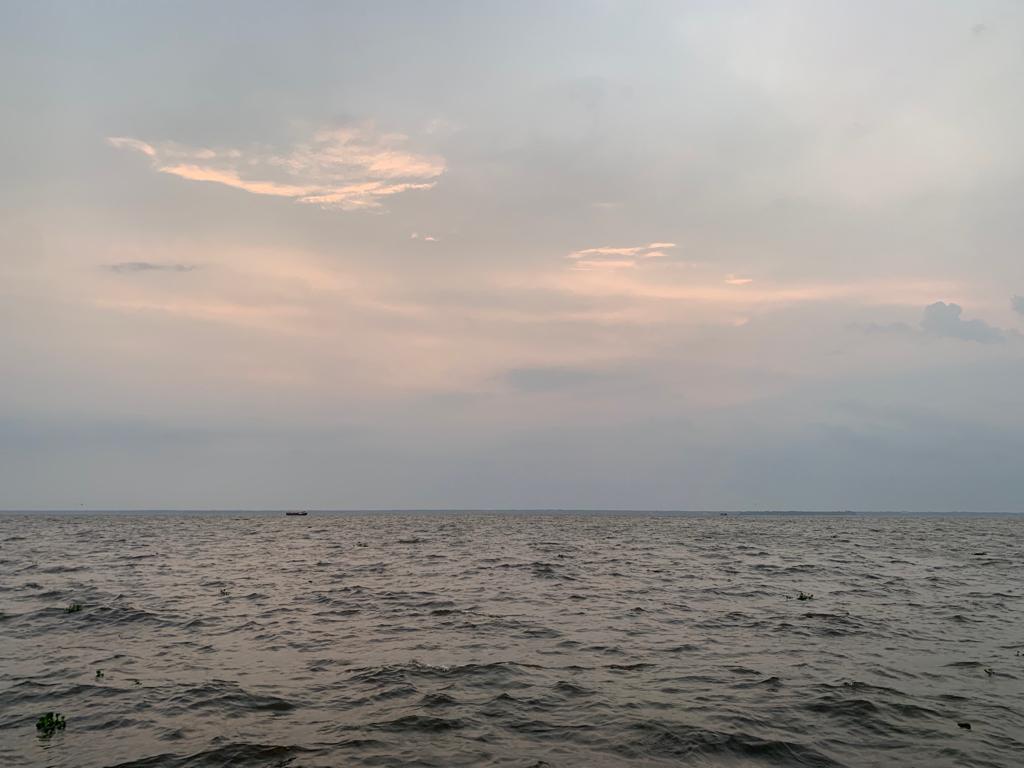 Cherish and relish Kerala cuisine
Undoubtedly, Kerala appam and stew are the best. They are very delicious and beautiful. Kerala cuisine is usually cooked in coconut oil that has a very strong smell and the coastal towns cook fish. So, definitely try out the Kerala cuisine. If you get a chance, also try out the Sadya which is Kerala authentic meal served on a banana leaf.
If you do not like coconut oil like me, then make sure to tell the chef while ordering to cook in a non-coconut oil.
Is it safe for solo female travelers?
I felt Kumarakom as one of the safest places for solo female travelers. Even though I traveled with a friend the first time and with a group of travelers the second time, I would still say that this place is pretty safe for female travelers. However, I would recommend going on a houseboat only with a reputed or known company if you are traveling solo. Also, be careful in isolated places, especially at nights.
Closing Notes
Kumarakom is my most favourite place in Kerala and I highly recommend visiting and staying here for at least two to three days. The lazy backwaters and the most amazing landscapes are totally worth it.
Have you been to Kumarakom? Let me know in the comments below.
How can you support me?
You know how much I love coffee, so you can buy me coffee – Buy me Coffee!
Or you can purchase from one of the below travel resources without any extra charge to you.

Travel Resources
Click to book your flight on Skyscanner.com
Click to book your accommodation on Stay22
Click to book a comprehensive travel insurance on Safety Wing
Click to book your tours and travels on Viator or GetYourGuide
If you liked this article and if it was helpful in your planning or traveling, do share, tweet, or pin this post.

Follow me on Instagram | Facebook | YouTube | Twitter | LinkedIn
Do you have a question? Or want any suggestions, and tips for travels, hikes and scuba dives? Use the Subscription box below to sign-up and get updates by email.
PIN for later reference