Do you love visiting places that have old architecture that is still stuck in time? Kochi is one place that has a mixture of both old and new cultures. I have visited the city many a times and still go back whenever I get a chance. The first time I visited Kochi, I visited the city only for a day and there were many places that I covered in that one day.
This post provides the places that you can visit in one day and also a rough itinerary that you can follow to cover these places.
PIN for later reference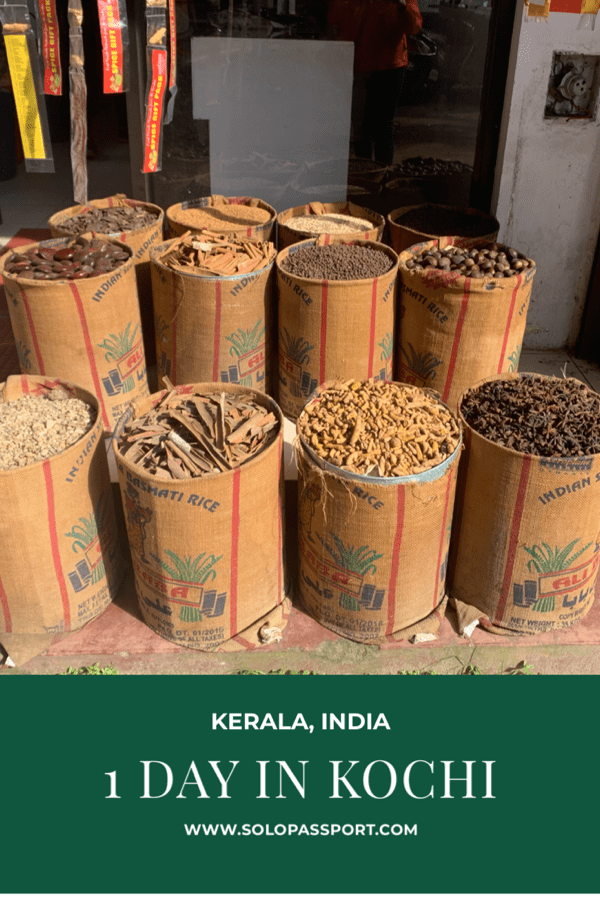 This article may contain affiliate links, meaning if you decide to make a purchase via my links, I may earn a commission at no additional cost to you. For full information, please see our affiliate disclaimer here.
About Kochi
Also known as Cochin, Kochi is a coastal city in Kerala state of South India and was once the centre of the world spice trade for many centuries. Popularly and adorably known as the "Queen of Arabian Sea", the city has one of the finest natural harbours in the world. The name Kochi is derived from a Malayalam word Kochazhi which means small lagoon. The city is also a major port city on the Malabar Coast of India, along the Arabian Sea.
From the 14th century, Kochi was an important spice trading centre on the western coast of India. After being occupied by the Portuguese in the year 1503, Kochi became the first European colonies in colonial India. Old Kochi has many islands, including Fort Kochi, Mattancherry and Willingdon island.
Did you know that Kochi was ranked as the sixth best tourist destination in India by the Outlook Traveller magazine and the city also ranked in the top 10 cities in the World to visit in the year 2020 by Lonely Planet?
The best time to visit Kochi is from October to February as the weather is pleasant and is not too hot. Even though it is the winter season during these months, the temperature still goes up to 30 degrees Centigrade and has a low of 20 degrees Centigrade.
Even though I suggest at least spending two to three days in Kochi, one day in Kochi is still sufficient to get a glimpse of what the city has to offer. If you have more than a day and are looking for a nice heritage hotel to stay for the night, then I recommend the Dutch Bungalow that is around 375 years old heritage property located in Fort Kochi.
How to get to Kochi?
Located in the Ernakulam District, Kochi is around 200 kilometres from Trivandrum, the capital city of Kerala.
Flights
Kochi has an international and domestic airport of its own which is around 25 kilometres or an hour from Kochi city centre. Kochi international airport is unique in its own as in 2015, the airport became world's first fully solar powered airport. It is also India's first airport to be built in a public-private partnership.
There are frequent flights between any capital city and Kochi. Air India, and Indigo Airlines are some of the budgeted airline providers.
The total cost for return flight tickets from Bangalore cost me around INR 5500.
Public transportation
Kochi is well connected by public transportation. There are frequent trains and buses that operate between major cities and towns, and Kochi. The public transportation is an economical mode of transport to Kochi. Up-to-date information on trains and buses can be found on IRCTC and RedBus websites.
Local transportation in Kochi
Airport to Fort Kochi or Kochi city centre
Airport is around 25 kilometres from Kochi city centre and Fort Kochi, and by road, the journey takes up to an hour.
Public bus – The most economical way to get to Fort Kochi from the airport is by a public bus. There are frequent buses between the airport and the city. The bus fare is only INR 88 one way (this is without any luggage).
Within Fort Kochi
There are auto-rickshaws, cabs, and cycle rickshaws. So, depending on the distance you can choose the mode of local transport.
Tip: Ensure to haggle with auto rickshaw drivers on whatever the money is demanded.
PIN for later reference
Things to do in one day
There are plenty of things to do in Kochi city and you can visit the different islands. But I had just one day in Kochi, and I spent most of my time in Fort Kochi. For more detailed information on other things to do in Kochi, read Places to visit in Fort Kochi.
Fort Kochi is really cool and a great place to hang out. It is the historical part of the Kochi city and is famous for its cafes, Chinese fishing nets and the Santa Cruz Basilica.
Note:

This is the itinerary/order in which I visited the places during my one day in Kochi.
One day in Kochi does not cover the flight timings and the transportation time.
See Chinese Fishing Nets operate
At Fort Kochi, one of the unique things to do is to watch the Chinese fishing nets in action. This is really an awesome experience. The Chinese fishing nets are the stationary fishing nets, which are operated by at least six fishermen. Introduced by Chinese explorers in the 14th century, the Chinese fishing nets are more formally known as 'Shore Operated Lift Nets'.
If you give the fishermen around INR 100, you can go close to the fishing nets and see them being operated.
If you are lucky, you may get to see some dolphins from the walkway.
Stroll through the fish market
A walk through the fish market along the coast is a must and a lovely way to see the locals. Even though the fish market is smelly, you can see different kinds of fishes being caught by the locals.
This is a free activity to do.
Meet the locals
I believe that the best way to know anything about a place is by talking to a local. The locals in Kochi are friendly and approachable. Sometimes they know the hidden gems and the insider information about a city. I spent a lot of time talking to the fishermen and interacting with animals, which was one of the highlights of my day in Kochi.
Ensure to trust your instinct before interacting with every local.
Take a picture with steam boilers
While walking along the coast, you can see two steam boilers along the walkway and they make a great opportunity for a photograph. According to the placard placed near the boilers, these were used in Kochi dry dock for 20 years from 1956.
Do not forget to get a picture with the two steam boilers which are historical landmarks.
This is a Free activity.
Visit the cafes
Fort Kochi is famous for cafes that have amazing decors and food. There are plenty of cafes along the beach and the inner lanes. Some of the notable cafes are Kashi Art café, Qissa café, and Loafers Corner café.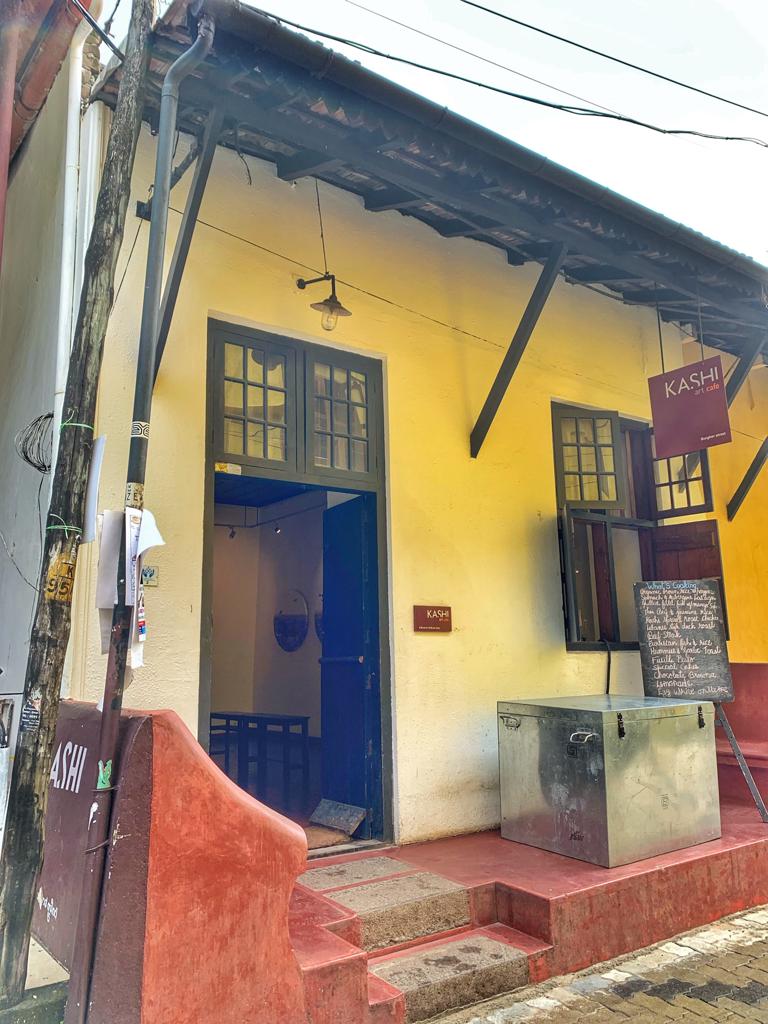 Click pictures with street art
Fort Kochi is decorated with street art and graffiti. There are so many of them and some of them have a beautiful meaning. Stroll through the streets of Fort Kochi and see the beautiful and colourful street art.
Visit the Santa Cruz Basilica
Fort Kochi is also popular for Santa Cruz Cathedral Basilica. Proclaiming its title as a basilica in 1984, the Santa Cruz Basilica is one of the nine basilicas in Kerala. The church was originally built by Pope Paul IV in 1558 which was demolished by British and was commissioned to build a new building in 1887. It is very beautiful and is one of the finest churches in India.
The church is open every day between 9 AM and 1 PM, and between 3 PM and 5 PM.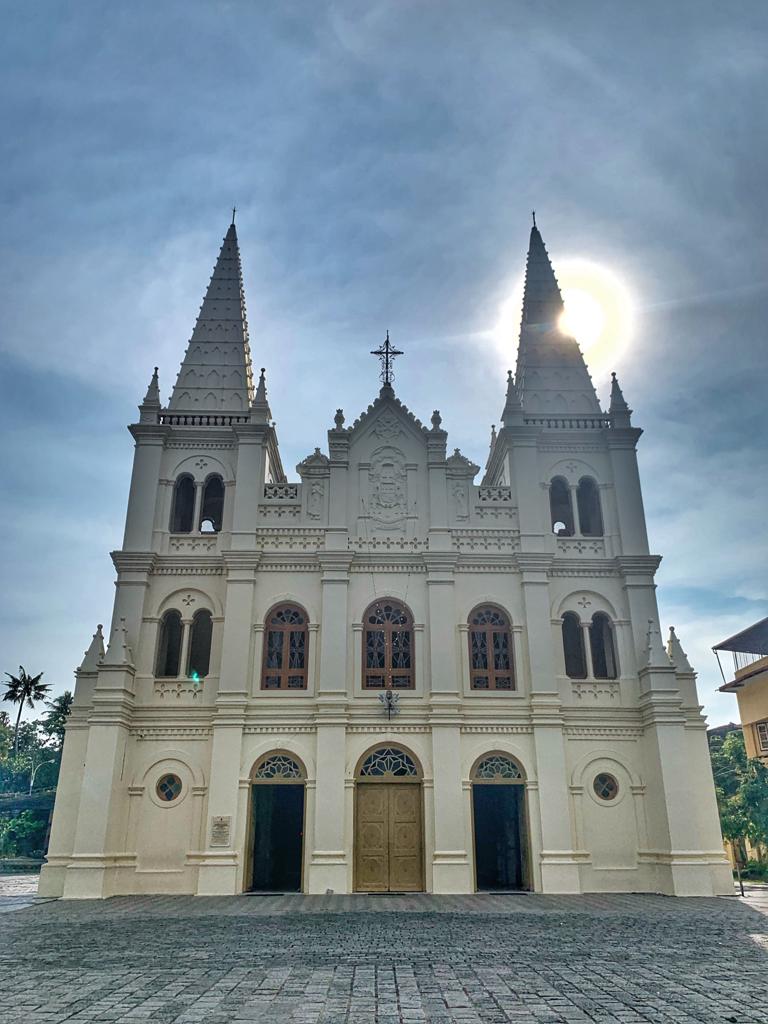 Go back in time at Dutch Palace Museum
Also known as Mattancherry Palace, the Dutch Palace which is now a museum is a must to get some insight into history. The museum is home to many paintings, from the 17th century, depicting scenes from the Hindu mythological story of Ramayana.
The palace is open to public between 9:45 AM and 1 PM, and between 2 PM and 4:45 PM.
There is an entrance fee of INR 5 per person.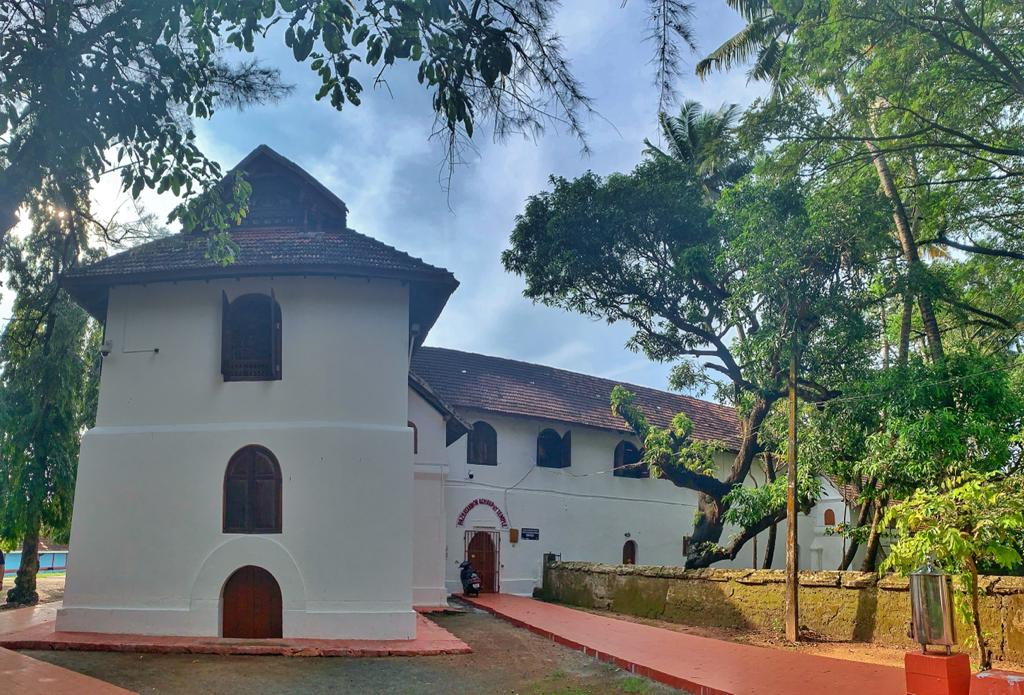 Buy some spices at spice warehouse
I really did not know that Kochi is famous for its spices before visiting and learning about Kochi. At Broadway street, you can shop for spices, and other popular things. It is a wholesale market with trading shops that sell all the quality spices and dry fruits at an affordable prices.
Other churches
Kochi also has many other churches that are as beautiful as the Santa Cruz basilica. Other notable churches include the Orthodox Church and St Francis Church.
Taste the banana chips
No body leaves Kerala without purchasing and tasting the famous banana chips. Banana chips are very crucial part of Kerala vegetarian meal called Sadhya. As the state has many banana plantations, it also provides these tasty chips to the world. The banana chips come in many different flavours, including salty to spicy chips.
Bonus things to do
If you have more time, then I recommend doing one of the below activities.
Fort Kochi heritage walk – If you love walking around a city and exploring the local gems, the the Fort Kochi heritage walk is surely for you.
Kathakali performance – With loud makeup and dance performances, the Kathakali performance must be on your list of things to do in Kochi. The Kathakali performance can be booked using the Kathakali Centre website.
Kochi can also be extended to visit Munnar as the distance between Kochi and Munnar is just around 130 kilometres. It takes only 3 hours 30 minutes by road to reach from Kochi to Munnar.
Is it safe for solo female travelers?
I found Kochi to be extremely safe. The locals were friendly and no one bothered me while I was in Kochi. In fact, I made a few local friends. I can vouch that this place is very safe for female solo travelers. However, like any other place, it is best to take precautions, especially at nights, and always trust your instinct.
Closing Notes
I love all the places in Kerala state and I just keep going back to the state over and over again. It is one state that is truly God's own country and the landscapes, people and culture within the state are absolutely stunning. Once again, the Kerala state, especially Kochi city, did not disappoint me. I had a great time in the city and I would definitely come back (again) to spend more time in this beautiful city.
How can you support me?
You know how much I love coffee, so you can buy me coffee – Buy me Coffee!

Or you can purchase from one of the below travel resources without any extra charge to you:
Travel Resources
Book your flight on Skyscanner.com or Trip.com
Reserve your accommodation on Stay22
Buy comprehensive travel insurance on SafetyWing and WorldNomads
Book your tours and travels or purchase tickets on Viator or GetYourGuide
For a universal SIM card, use DrimSim
If you liked this article and if it was helpful in your planning or traveling, do share, tweet, or pin this post.

Follow me on Instagram | Facebook | YouTube | Twitter | LinkedIn
Do you have a question? Or want any suggestions, and tips for travels, hikes and scuba dives? Use the Subscription box below to sign-up and get updates by email.
PIN for later reference