Wayanad Travel Guide (2023)
Wayanad is one of my favourite places in Kerala. I have been there multiple times and each time, I have fallen in love with it a little more. The sceneries, climate and the people, everything is nice about Wayanad. I have been there with friends and I have been there solo, and all the times my experience has been great. It is also a great destination for a workcation as the resorts and homestays provide very good internet connectivity and all the facilities required for working.
PIN for later reference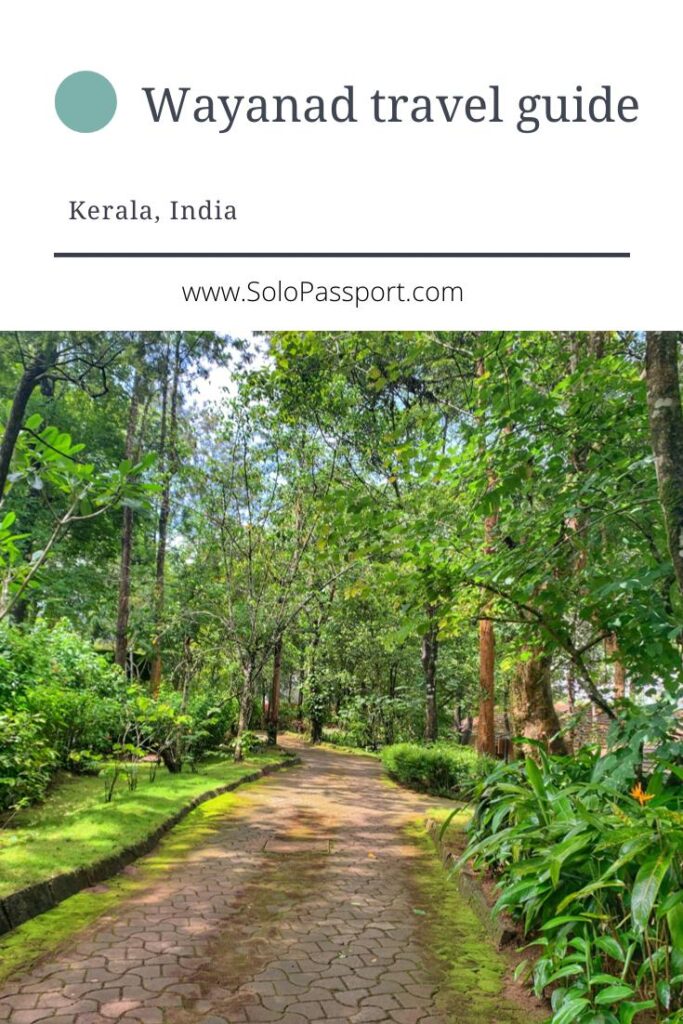 This article may contain affiliate links, meaning if you decide to make a purchase via my links, I may earn a commission at no additional cost to you. For full information, please see our affiliate disclaimer here.
About Wayanad
Famous for its stunning sceneries and landscapes, Wayanad is a district in Kerala state of India. Located at a height of 700 to 2100 metres above sea level, Wayanad is home to Wayanad Wildlife Sanctuary and Edakkal Caves. It is also known as the green paradise as it is in between the Western Ghats.
The district has three main towns:
Kalpetta.
Mananthavady.
Sulthan Bathery.
The best time to visit Wayanad is between the months of October and May as the weather is pleasant and cooler during these months. June to August are the monsoon season and it rains continuously in Wayanad.
Wayanad has plenty of hiking trails and places of interest, one needs at least 4 to 5 days to cover all the places. I have been to Wayanad twice and in spite of it have just scratched the surface.
How to get to Wayanad?
Airport
The nearest domestic and international airport is at Calicut/ Kozhikode. And the Calicut International airport is around 90 kilometres from Wayanad. All airline providers, such as Air India and Indigo, operate from Calicut International airport. One can take a taxi from the airport to Wayanad.
Driving
Wayanad is very well connected with all towns and cities. Note that the roads are narrow and some sections are not well maintained, especially when it rains.
Calicut to Wayanad – Wayanad is around 85 kilometres from Calicut.
Bangalore to Wayanad – Wayanad is around 290 kilometres from Bangalore.
Mysore to Wayanad – Wayanad is around 160 kilometres from Mysore.
Public transport
Train – The nearest train station is at Calicut/ Kozhikode. And the train station is about 85 kilometres from Wayanad. For up to date information on routes and availability of trains, refer IRCTC website.
Bus – The main bus stop for Wayanad is at Kalpetta. Kalpetta is a town in Wayanad district. For bus bookings, check Redbus website.
Transportation within Wayanad
The best way to travel within Wayanad is by car. It is economical and easier if you just have your own vehicle. Unfortunately, I did not have my car the second time I traveled in Wayanad and because of which I had to rely either upon taxi or auto drivers. There are public buses too but the times are not published and gets a bit tricky with the language barrier.
Be wary of the auto drivers as some of them cheat you. The first night I landed in Kalpetta, I hired a auto rickshaw to get to the Windflower Resort and Spa, the auto driver charged me INR 800 but when I inquired at the resort, I was informed that the fare is only around INR 250.
I did end up getting another auto and the auto driver Jason was very nice. He was reasonable with his fare and took good care of me throughout the time I traveled with him.
Things to do in Wayanad
Disclaimers:
The prices mentioned in the post are valid only at the time of publication. Ensure to check the booking websites for up to date information and prices.
Opinions and views expressed solely mine and are unbiased. If the post is a collaboration, then they are specifically mentioned.
Ensure to check the relevant websites for up to date information on COVID protocols.
For any adventurous activities, please note that there is a risk that can be dangerous. Ensure to read the terms and conditions with individual agencies recommended and do them at your own risk.
For visas, it is best to see the embassy website for any changing rules.
Note: A few of these attractions are closed due to bad conditions of road or heavy rains. Check with locals or staff at your hotels before visiting these.
Banasura Sagar Dam
Located 21 kilometres from Kalpetta, the Banasura Sagar Dam is India's largest earthen dam and Asia's second largest dam. The dam is built on Karamanathodu tributary of Kabini river. Also known as Kuttiyadi Augmentation Main Earthen Dam, the dam is constructed at a height of 38.5 metres and length of 685 metres. There are a set of islands that were formed on the reservoir.
The guests have to take a jeep to get to the dam. And the cost of the jeep ride is INR 20 for two way ride.
Beecraft Honey museum and factory
Even though a small museum, the Beecraft honey museum is one of the interesting museums I have ever visited. You are greeted by a guide when you enter the premises and he takes you through a lot of information about bees and honey such as types of honey, and who are the actual workers in a bee colony and why do honey colour change over the years.
The most interesting part was knowing the details about the bee colonies. Who is the queen bee, who are the workers and how is the queen bee selected. Really cool things to know and I was amazed by how systematic the whole process runs.
The museum is open everyday between 9:30 AM and 8:30 PM.
There is an entry fee of INR 50 per person which also includes honey tasting.
Chain tree
The Chain tree is one of the touristy spots to see and hear about a folklore. It is associated with a local tribal person called Karinthandan, belonging to Paniyas tribe. After the British took his help to discover the routes through the mountains, they killed him. During that time, the routes were covered in thick rain forests and only the locals knew the ways through them.
The Britishers later developed roads on these routes. But the soul of Karinthandan started haunting the passengers and visitors due to which a lot of accidents and wild animal attacks happened. To solve this problem, a priest did a lot of effort and contained the soul of Karinthandan to a Ficus tree by tying a chain.
There is no entrance fee to visit the Chain tree.
Chembra peak
At a height of 2100 metres, the Chembra Peak is the highest mountain in Wayanad. The peak is famous among the trekkers and is known for its breath taking flora and fauna. There is a heart shaped lake known as Hridayasarassu mid way along the trail.
The trek is around 3 kilometres, one way to the peak from the starting point.
Ensure to be at the starting point by 7 AM as only 200 people are allowed to trek in a day.
There is an entrance fee of INR 250 per person if you wish to join other group or INR 850 for a group or if you wish to trek solo and that needs to be paid to the forest officials at the starting point of the trek.
The best time to trek Chembra peak is between September and February. Monsoon (June to August) is not advised as the trail becomes extremely slippery.
Edakkal caves
Located 25 kilometres from Kalpetta, Edakkal caves are two natural caves that have pictorial writings believed to be dated to at least 6000 BCE from the Neolithic man. The youngest painting suggests that there was a possible connection to the Indus Valley Civilization. Evidence also suggest that Edakkal caves were inhabited at different points in history.
The caves are open everyday between 9 AM and 2 PM.
There is an entrance fee of INR 20 per person.
Jain temple (mirror temple)
Dedicated to Parswanatha Swamu, the third Thirthankara of Jains, the glass or the mirror Jain temple is one of the beautiful temples to visit in Wayanad. It is around 20 kilometres from Kalpetta.
The temple is open everyday between 6 AM and 4 PM.
There is no entrance fee to visit the temple.
Karlad lake
Located about 8 kilometres from Vythiri and 3 kilometres from Banasura Sagar Dam, Karlad lake is a freshwater later and is the second largest lake after the Pookode lake.
The lake is open everyday between 9 AM and 5 PM.
There is an entrance fee of INR 40 per adult.
Tourists can get into many activities, such as boating, zip lining, zorbing, kayaking and others, at the lake.
Kuruva Island
Spread across 950 acres of land, Kuruvadweep or Kuruva island is a protected river delta with rich flora and fauna. The island is around 40 kilometres from Kalpetta.
The island is open everyday between 9 AM and 5 PM.
There is an entrance fee of INR 80 per adult.
The island offers beautiful nature walks, boating and rafting.
Lakkidi viewpoint
The Lakkidi viewpoint is just along the road and on a good day, the viewpoint provides stunning views of the mountains and hairpin bends. It is situated at a height of 700 metres.
There is no entrance fee.
Meenmutty waterfalls
Located in Mepadi forest range, the Meenmutty waterfalls is a large and picturesque waterfalls. One needs to trek about 2 kilometres to reach the waterfalls. Even though the waterfalls is in South Wayanad, it is more close to Trivandrum city.
The waterfalls is open everyday between 9 AM and 5 PM.
There is an entrance fee of INR 30 per adult.
Neelimala viewpoint
Offering the view of Meenmutti waterfalls and valleys, the Neelimala viewpoint is a beautiful vantage point. It is one of the popular tourist points in Wayanad.
The viewpoint is open everyday between 9 AM and 6 PM.
Only jeep rides are allowed to get to the viewpoint which cost INR 500 per jeep.
Pookade Lake
Pookode lake is a natural freshwater and scenic lake in Wayanad district. It is surrounded by forests and scenic landscapes. Located around 15 kilometres from Kalpetta and 3 kilometres from Vythiri, this lake is at an altitude of 770 metres above sea level. The lake is well developed commercially and has many things to do such as boating and kayaking.
Timings: Everyday between 9 AM and 5 PM.
Entry fee for the lake: INR 40 for Indian nationals.
Boating costs extra:

INR 300 for a boat accommodating 2 members.
INR 450 for a boat accommodating 4 members.
And INR 700 for a boat accommodating 7 members.

Kayaking costs extra:
Tickets are purchased at the entrance of the lake.
Seetha Lava Kusha temple
Located at Pulpally, the Seetha Lava Kusha temple is a very famous Hindu temple in Wayanad. Surrounded by abundant green grasses, the temple is a place dedicated to the deities' Goddess Seetha, Lava and Kusha. Etymologically Seetha refers to soil or earth.
The temple was constructed by Kerala Varma Pazhassi Raja who was a great warrior of his period.
According to legend, Tipu Sultan, one of the rulers of Mysore, planned to demolish this temple. Using her supreme power, Goddess Seetha created darkness at noon and made Tipu Sultan and his soldiers to retreat without demolishing the temple.
Another strange thing about this temple is that even though leeches are very common in most areas of Wayanad, but they cannot be seen in this temple and surroundings.
Soochipara waterfalls
The Sentinel Rock waterfalls or Soochipara falls is a three-tiered waterfall located in Vellarimala near Kalpetta. It is surrounded by deciduous forests.
The waterfall is open everyday between 8 AM and 4 PM.
There is an entrance fee of INR 80 per adult.
Swing and glass bridge at Thollayiram
900 Kandi is forest property located at Thollayiram that is around 13 kilometres from Meppadi. The visitors can see and walk on a glass bridge which is at a height of 100 feet from the ground. It also features a swing that is social media famous.
The property is open everyday between 9 AM and 6 PM.
There are different entrance fees depending on the activity you choose. It ranges between INR 100 and INR 300.
Tea museum
One of the interesting museums to visit in Wayanad is the tea museum. Built in 1911, the tea museum exhibits and showcases the history of tea in India and how it was discovered. There are two levels, lower level with the display of history and upper level with the display of equipment and tools.
The museum is open everyday between 8 AM and 6 PM.
There is an entrance fee of INR 50 per person.
The upper level also tea tasting and tea shop where visitors can purchase different types of tea.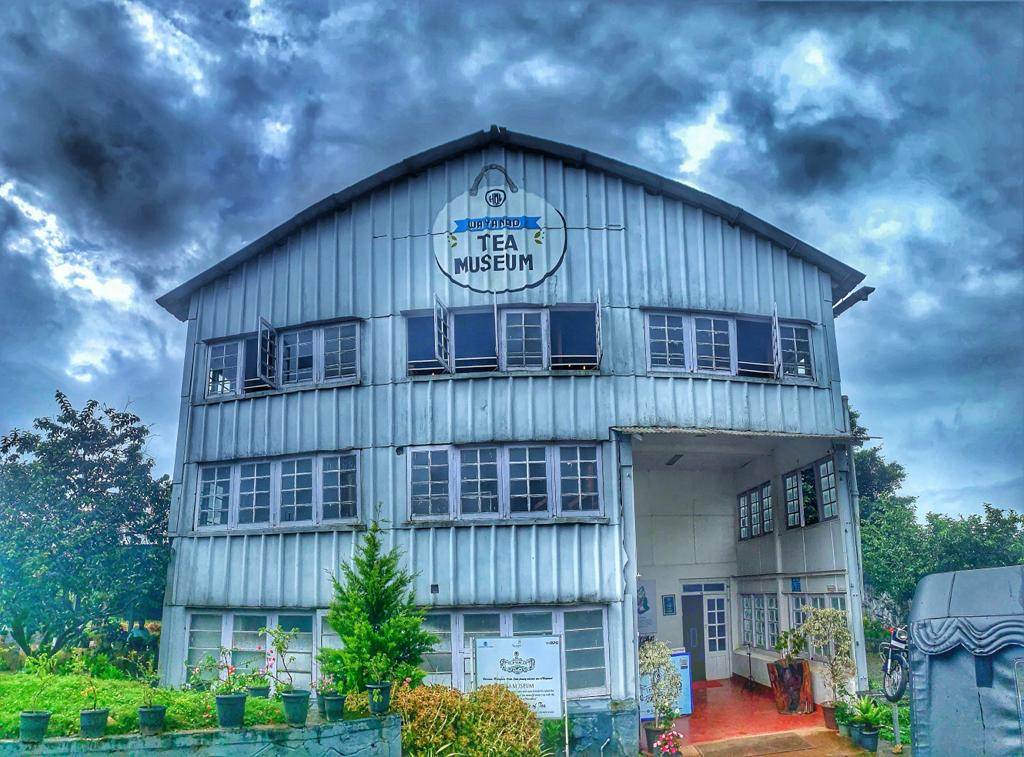 Thirunelli temple
Dedicated to Lord Vishnu, the Thirunelli temple is on the side of the Brahmagiri hills and it is a temple where devotees can perform rituals starting from one's birth till death.
The temple is open everyday between 5:30 AM and 12 PM, and between 5:30 PM and 8 PM.
There is no entrance fee.
Tribal village
En Uru or the tribal village is Kerala's first tribal village located in Pozhuthana village. It is an initiative from Kerala government to showcase the diverse tribal traditional knowledge and livelihood.
The village is open everyday between 9 AM and 5 PM.
The only way to get to the entrance of the village is by a jeep and the jeep ride for return cost INR 20 per person.
There is also an entrance fee of INR 50 per person to get into the village.
Varambetta mosque
Dating back to about 300 years, the Varambetta mosque is one of the oldest mosques in Wayanad and is about 15 kilometres from Kalpetta near Padinjarathara.
The mosque is open everyday between 5 AM and 9:30 PM.
As it is a mosque, women are not allowed inside.
Wayanad Wildlife Sanctuary
Located in Kalpetta, Wayanad wildlife sanctuary is the second largest sanctuary in Kerala and is mainly a rainforest. The sanctuary has four ranges including the Muthanga range.
The sanctuary is open everyday between 7 AM and 5 PM. The safaris are available at 7 AM and at 3 PM and the safari is around 1.5 hours.
There is an entrance fee of INR 20 per person and the jeep safari cost INR 300 per person.
The best time to visit the sanctuary to see the wildlife is during the summer season (April to June).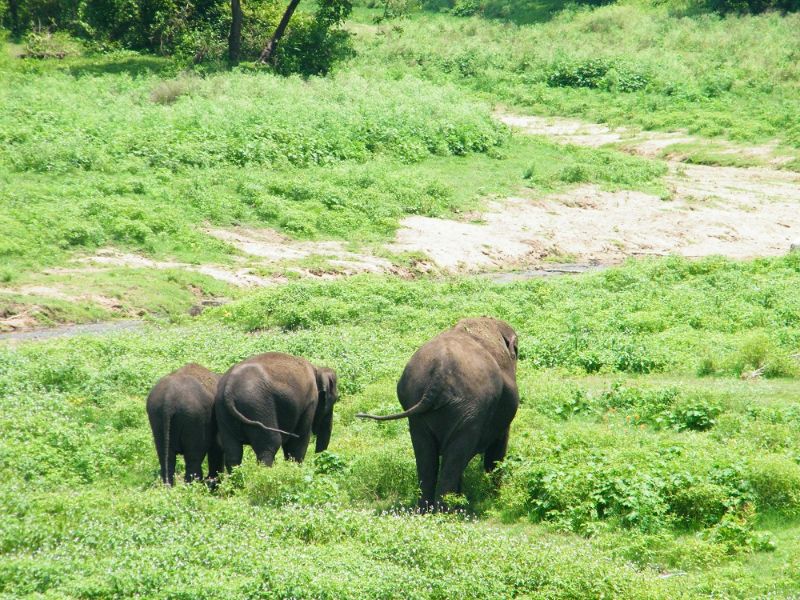 Zip lining
The best thing about Wayanad is that there are many places where one can do zip lining. The longest zip line is at Vellarimala and it cost about INR 300 per person. It is operated by Muddy Boots and the zip line is on a tea plantation.
Stay in Wayanad
Wayanad is a place to unwind and relax. It is also a place to enjoy and pamper yourself at luxurious resorts and stays. Here are 6 Best Resorts in Wayanad.
The Windflower Resorts and Spa, Vythiri
The Windflower Resort and Spa is a 5 star resort in Wayanad that screams luxury and comfort. Being a nature lover, this is a perfect stay between forests and coffee estates. The resort has many activities guests can indulge in.
Cost for suite and villa is different and for a villa, the stay costs around INR 12500 per night, including breakfast.
The resort is about 10 kilometres from Kalpetta town and if coming by auto, the auto driver takes around INR 200 to 250.
Vythiri Village Resort
Located in Vythiri region of Wayanad, the resort is again a 5 star resort and provides a very comfortable stay in Wayanad. After staying at The Windflower Resort and Spa, I shifted to Vythiri Village Resort in Vythiri. And I must say I absolutely loved staying there for close to a week. The hospitality, food, staff and the room were amazing and I had the best workcation here.
They have various options of stay. And the price starts from INR 8500 + taxes per night and goes up depending on the stay you choose from.
The other activities to do at the resort are:
Zip line.
Archery.
Cycling.
Indoor games.
Swimming pool.
And many more.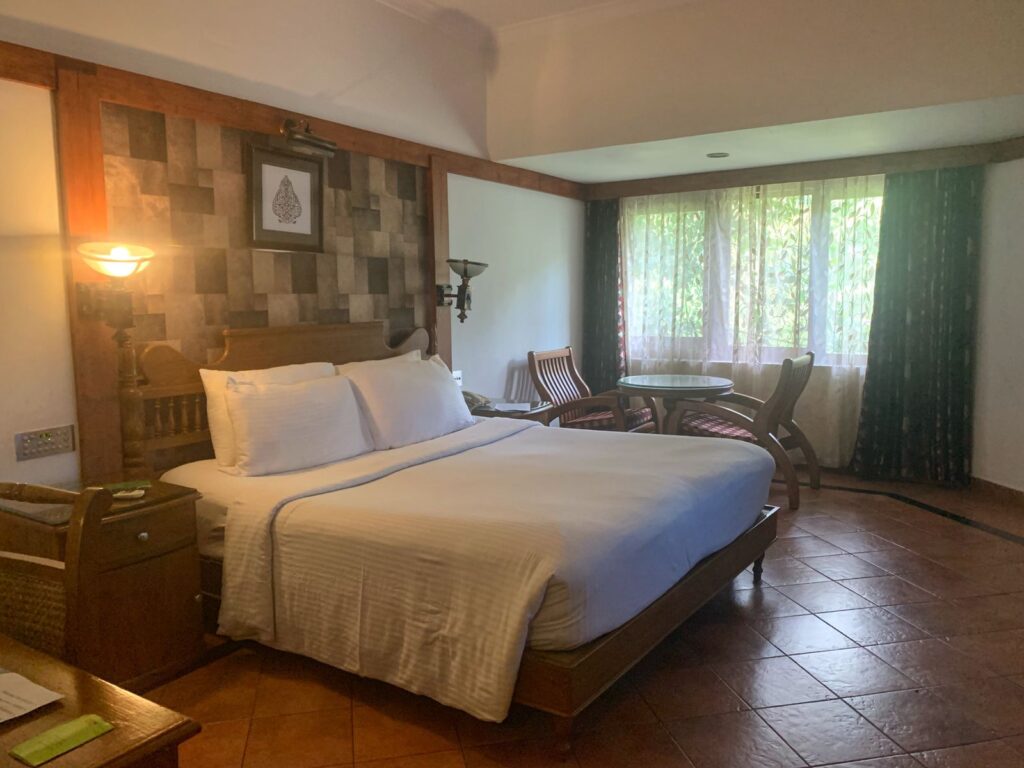 Woodrose Resort, Kalpetta
The Woodrose resort, even though not as luxurious as the other resorts I stayed at in Wayanad, was one of the most beautiful resorts. It had uninterrupted views of Chembra peak from the rooms. The rooms were comfortable and the staff were very friendly and nice. I really enjoyed staying at the Woodrose resort.
The resort has various cottage options but the one I stayed (deluxe room) at cost me INR 4040.
Tropical Forest Homestays, Lakkidi
The Tropical Forest homestay is located at Lakkidi inside a coffee plantation estate. The homestay is minimalist but comfortable. I had stayed at this homestay the first time I visited Wayanad. The staff and the experience of staying at this homestay was very nice and pleasant.
For one night stay, the cost was around INR 800 per night, including breakfast and dinner.
Safety for solo female travelers
Wayanad is very safe for solo female travelers. I was there for more than a week and I traveled solo everywhere. I never had any issues as such. But like any other place in the world, be careful and cautious, especially at night.
Closing Notes
Wayanad is surely one of the most beautiful places to see in Kerala. The vibes and the landscapes are stunning and it is totally worth visiting Wayanad at least once.
If you have more questions, let me know in the comments below or write to me on Solopassport@gmail.com.
How can you support me?
You know how much I love coffee, so you can buy me coffee – Buy me Coffee!

Or you can purchase from one of the below travel resources without any extra charge to you:
Travel Resources
Book your flight on Skyscanner.com or Trip.com
Reserve your accommodation on Stay22
Buy comprehensive travel insurance on SafetyWing and WorldNomads
Book your tours and travels or purchase tickets on Viator or GetYourGuide
For a universal SIM card, use DrimSim
If you liked this article and if it was helpful in your planning or traveling, do share, tweet, or pin this post.

Follow me on Instagram | Facebook | YouTube | Twitter | LinkedIn
Do you have a question? Or want any suggestions, and tips for travels, hikes and scuba dives? Use the Subscription box below to sign-up and get updates by email.
PIN for later reference