Tipu Sultan Summer Palace
Did you know that Bangalore has a summer palace that was once used by Tipu Sultan? I always wanted to visit this amazing piece of history but had never been able to do so until recently. As I have been exploring my own city these days, I decided to head to Tipu Sultan Summer Palace and Bangalore Fort. Both these landmarks are iconic and play a significant role in the history of Bangalore.
PIN for later reference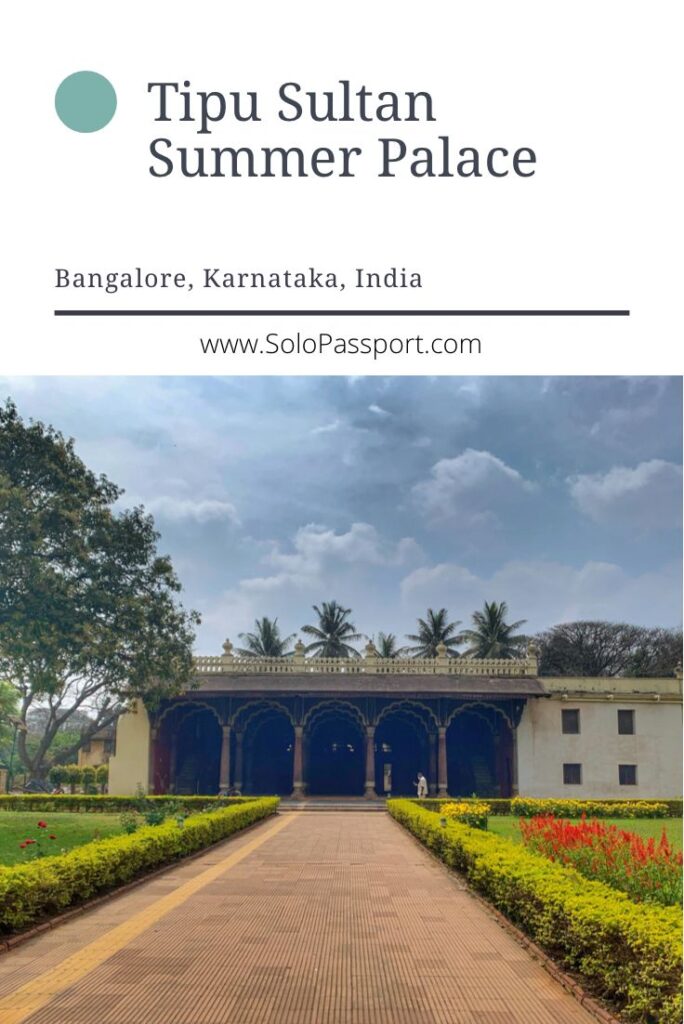 This article may contain affiliate links. For full information, please see our affiliate disclaimer here.
Disclaimers:
The prices mentioned in the post are valid only at the time of publication. Ensure to check the booking websites for up to date information and prices.
Opinions and views expressed solely mine and are unbiased. If the post is a collaboration, then they are specifically mentioned.
Ensure to check the relevant websites for up to date information on COVID protocols.
For any adventurous activities, please note that there is a risk that can be dangerous. Ensure to read the terms and conditions with individual agencies recommended and do them at your own risk.
For visas, it is best to see the embassy website for any changing rules.
About Tipu Sultan Summer Palace
Built in the Indo-Islamic architecture, the Tipu Sultan Summer Palace was used as the summer residence by the Mysore ruler Tipu Sultan. The palace currently is maintained by the Horticulture department, government of Karnataka.
Tipu Sultan had another summer palace which is called as Dariya Daulat Bagh located in Srirangapatna.

History of Tipu Sultan Summer Palace
The construction of the summer palace was started by Hyder Ali in 1781 AD within the walls of the Bangalore Fort. But it was only completed in 1791 AD during the reign of Tipu Sultan. Tipu Sultan used to conduct his court and held his audience from the eastern and western balconies on the first floor of the palace. After Tipu Sultan's death, the British administration used the palace for its secretariat before moving to the Attara Kacheri, that is currently located in Cubbon Park.
Structure of the palace
The visitors are welcomed with beautiful gardens on either sides of the path, that are located in front of the palace. Though the palace seems like a single storied structure from the outside, it is a double storied building. The palace has pillars, arches and balconies and is made of wood. One can only walk around the ground floor where the rooms have been converted into a museum. There is a display of silver utensils that were given to Hyder Ali by a general.
The upper and first floor is said to have four smaller rooms which were the Zenena Quarters. They are accessible by four staircases (that are closed to public now). The walls and ceilings of the palace are decorated with floral motifs on madder red surfaces. There is also an inscription on a stone describing the palace as an abode of Happiness and envy of Heaven.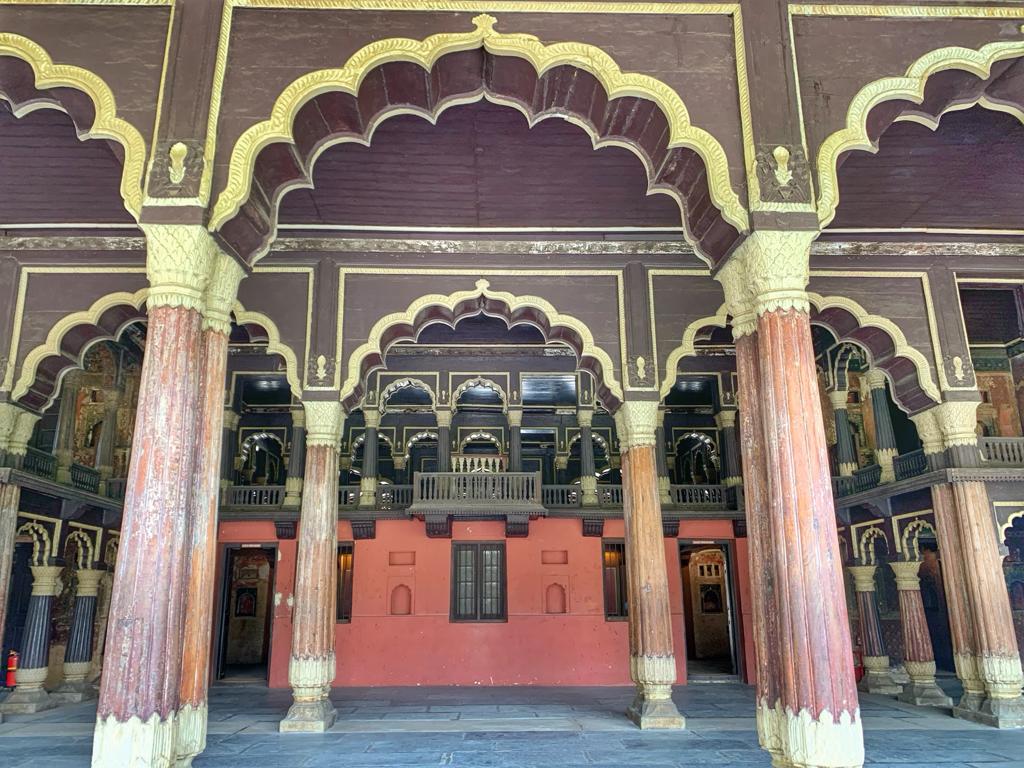 Visitor Information
There is an entrance fee of INR 20 for Indian nationals and INR 200 for foreigners.
The entrance fee need to be paid online by scanning a QR code that is available at the entrance.
Photography is prohibited inside the palace where the artefacts are displayed.
Tripods or camera stands cannot be taken inside and will need to be left at a locker stand (without locks) at the entrance.
The property is monitored at all times.
DO NOT throw garbage or write anything on the walls. The monument has been declared to be of national importance so doing any kind of hazard at the property will cost you a hefty fine.
How to get to Tipu Sultan Summer Palace?
Carry cash to pay the fare on all these modes of transport.
Metro – The best way to get to Tipu Sultan Summer Palace is by taking a metro. It is faster and the metro station Krishnarajapura (KR Market) is very close to the palace. For up to date information on routes and timings of metros, refer Namma Metro website.
Bus – There are Karnataka State Road Transport Corporation (KSRTC) buses that stop at KR Market.
Auto rickshaw – One more convenient way to travel in Bangalore is to take an auto rickshaw (tuk tuk). However, ensure to clarify the fare before getting into an auto rickshaw as they are supposed to charge as per the metre unless you are traveling at odd hours.
Driving – The palace is just around 4 kilometres from Bangalore city. There are a few parking spaces but as it is on the busy streets there could be an issue for getting a parking space.
Safety for solo female travelers
As the monument is monitored, it is completely safe for solo female travelers. The surroundings of the palace are crowded and there are a lot of auto drivers who may harass you to take a ride. But if asked to be left alone, they usually go away. Also, be careful of your belongings as the streets are busy.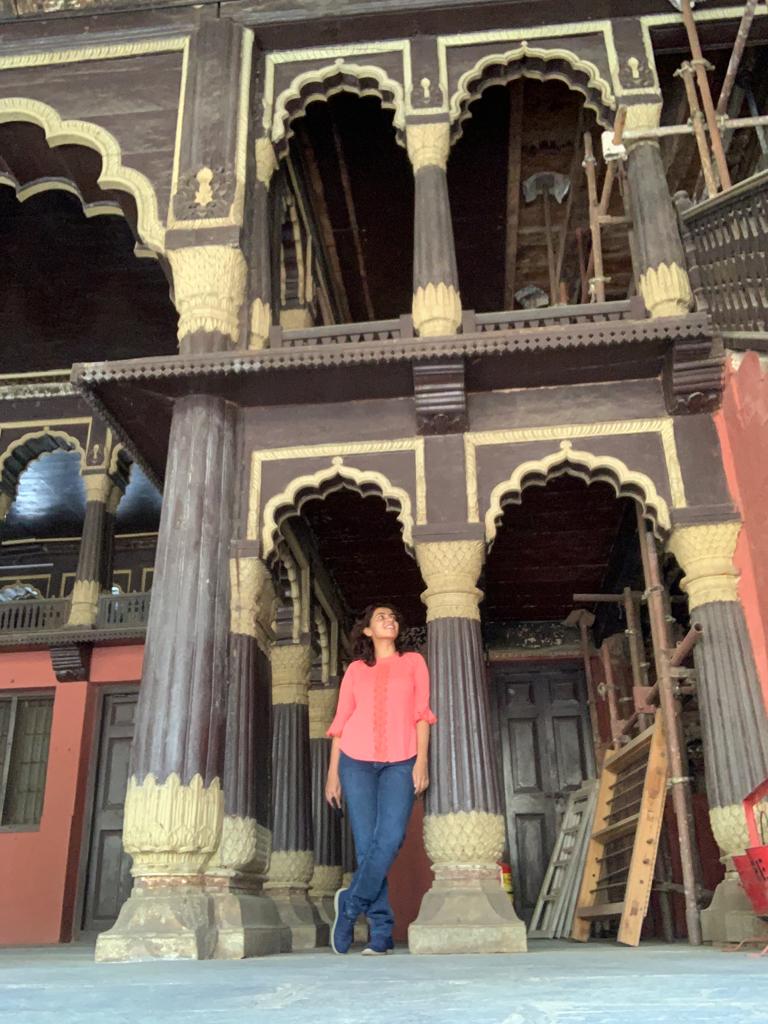 Closing Notes
Tipu Sultan's Summer Palace is worth visiting, especially if you love history. Even though it is not huge, but one can surely see the example of the Indo-Islamic architecture here. I highly recommend visiting this and Bangalore Fort when you are in Bangalore.
How can you support me?
You know how much I love coffee, so you can buy me coffee – Buy me Coffee!
Or you can purchase from one of the below travel resources without any extra charge to you.

Travel Resources
Click to book your flight on Skyscanner.com
Click to book your accommodation on Stay22
Click to book a comprehensive travel insurance on Safety Wing
Click to book your tours and travels on Viator or GetYourGuide
If you liked this article and if it was helpful in your planning or traveling, do share, tweet, or pin this post.

Follow me on Instagram | Facebook | YouTube | Twitter | LinkedIn
Do you have a question? Or want any suggestions, and tips for travels, hikes and scuba dives? Use the Subscription box below to sign-up and get updates by email.
PIN for later reference