10 places to see in Srirangapatna
Srirangapatna is often overlooked because of Mysore. Every traveler or tourist visits Mysore and spends so much time at the city but never manages to visit Srirangapatna. Don't get me wrong! Mysore is a beautiful city and I usually love to go back to the city over and over again but Srirangapatna also has so much history and many heritage sites that needs to be given equal importance.
PIN for later reference
This article may contain affiliate links, meaning if you decide to make a purchase via my links, I may earn a commission at no additional cost to you. For full information, please see our affiliate disclaimer here.
Disclaimers:
The prices mentioned in the post are valid only at the time of publication. Ensure to check the booking websites for up to date information and prices.
Opinions and views expressed solely mine and are unbiased. If the post is a collaboration, then they are specifically mentioned.
Ensure to check the relevant websites for up to date information on COVID protocols.
For any adventurous activities, please note that there is a risk that can be dangerous. Ensure to read the terms and conditions with individual agencies recommended and do them at your own risk.
For visas, it is best to see the embassy website for any changing rules.
About Srirangapatna
Once a natural island, Srirangapatna is a town located close to Mysore in Karnataka state of India. Srirangapatna was once surrounded by River Cauvery from all sides to form a river island. But today, the town has grown and the river flows only on one side of the town.
Famous for its religious and historical importance, Srirangapatna was part of Kingdom of Mysore from 1610 to after India's independence in 1947. The name Srirangapatna is derived from the town's celebrated temple, Ranganatha Swamy temple.
The best time to visit Srirangapatna is the winter season, between the months of October and March. And one needs at least two days to see and explore the town.
How to get to Srirangapatna?
Flight
The nearest airport is at Mysore. It is a small and domestic airport that has connectivity to Bangalore International airport. There are 7 domestic flights into the city and Air India operates through to Mysore. The distance between Mysore airport and Srirangapatna is around 30 kilometres.
Driving
Srirangapatna is around 130 kilometres from Bangalore city. It is towards the Mysore road and does not have any toll roads at the moment. The journey by road takes about 3 hours.
Public transportation
There are plenty of government operated buses (Karnataka State Road Transport Corporation (KSRTC)) from Satellite bus stop in Bangalore to Srirangapatna. The red coloured buses are the best way to travel between Bangalore and Srirangapatna and it usually costs around INR 280 per person. Ensure to give accurate and exact amount of change as the buses only accept cash.
Traveling within Srirangapatna
The best way to commute within Srirangapatna is either to have your own vehicle or to hire an auto rickshaw. Since, I did not travel by my vehicle, I hired an auto rickshaw for the two days. It cost me INR 1800 for both the days and the auto driver whom I hired was very good and friendly. Being a solo female traveler, I always look for safety and I felt that this auto driver was decent and he did not create any nuisance. Below are his details:
Name: Puneet.
Contact number: +91 89711 61689.
10 things to see in Srirangapatna
Tipu Sultan's Fort
The Srirangapatna fort or as the locals calls the Tipu Sultan fort is an old fort that is believed to have been built in 1454 by Timmanna Nayaka, a ruler of Vijayanagara empire. The fort changed its hands among the Wodeyars, Nawab of Arcot, Peshwas and the Marathas. Until it finally went under Tipu Sultan in 1782.
The fort is open between 9 AM and 6 PM every day.
There is an entrance fee of INR 25 per person.
One of the most amazing things to see at the fort is the light and sound show where visitors are told a story about Tipu Sultan and his fight against the British. Most of the structures in the Tipu Fort are the replica of the actual structures. These are created so that the story when told provides a good reference of how and where the history happened.
The light and sound show happen in two languages, English and Kannada. English show happens from 7 PM to 7:45 PM and Kannada show happens from 8 PM to 8:45 PM.
There is an entrance fee of INR 100 per person for the light and sound show.
The Tipu Sultan Fort has retained its original doors that was used when it was built in 1454. The doors have stood back in time watching each of the empire go by.
Sri Ranganatha Swamy temple
Srirangapatna is named after the deity Ranganatha Swamy. One of the two important temples in Srirangapatna is Sri Ranganatha Swamy temple. Dedicated to the God Ranganatha, an incarnation of Lord Vishnu, Sri Ranganatha Swamy temple was first consecrated in 984 A.D by a local chief called Tirumalaiah, as per an inscription found.
The temple is open every day between 7 AM and 1:30 PM, and between 4 PM and 8:30 PM.
As it is a religious site, make sure to dress appropriately.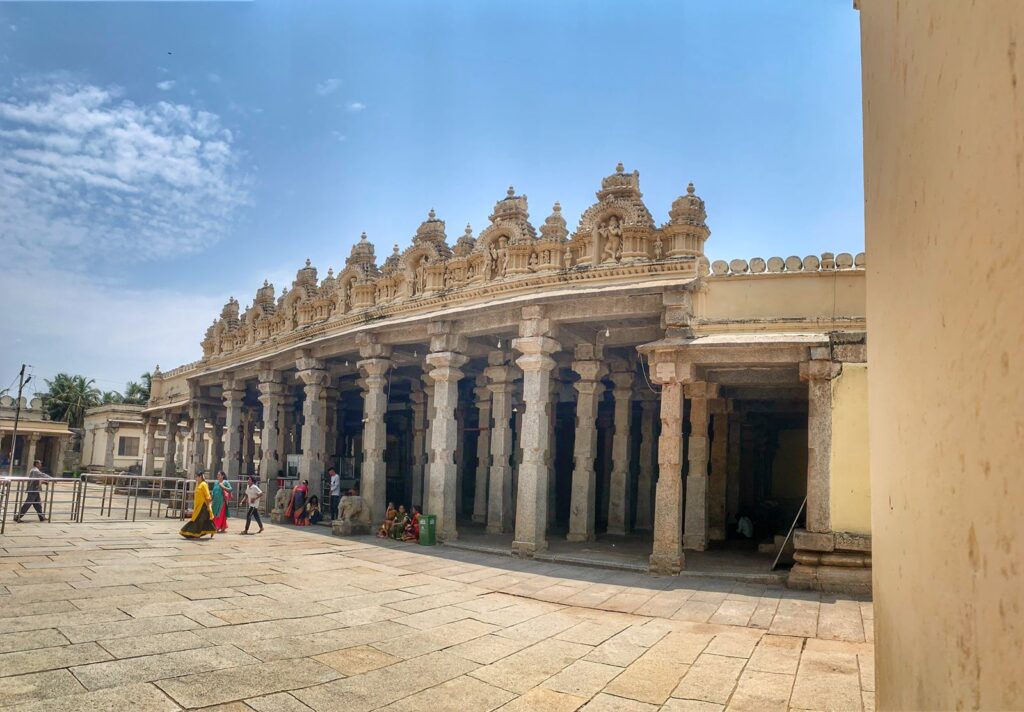 Lal Mahal Palace
Tipu's palace known as Lal Mahal palace was the official resident of Tipu. But it was destroyed by the British in 1799, after Tipu's death. The site currently are the ruins with a few walls and a foundation.
Colonel Bailey's Dungeon
The Colonel Bailey's Dungeon was used by Tipu Sultan to imprison and torture British prisoners. The dungeon is named after the British prisoner Colonel Bailey who died there in 1780. A cannon that was used at that time can be seen in the dungeon.
Water Gate
Water gate is one of the gates to the town and this is a secret gate that was used by locals to fetch water from River Cauvery. According to history, water gate was used by the Britisher soldiers to enter Srirangapatna to kill Tipu Sultan.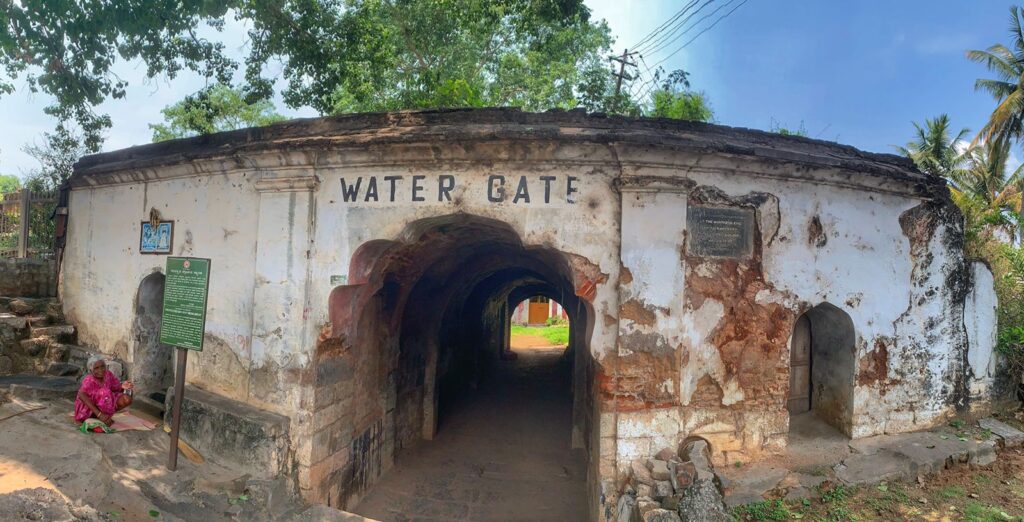 Jama Masjid
Also called Masjid-i-Ala, Jama masjid was built in 1786-87 by Timmanna Nayaka during Tipu Sultan regime. The mosque is said to have three inscriptions that mention the nine name of Prophet Mohammad.
The mosque is open every day between 6 AM and 6 PM.
Women are not allowed inside the mosque but they can walk around the mosque inside the premises.
As it is a religious site, ensure to dress appropriately.
Tipu Sultan's Summer Palace and museum
Also known as Dariya Daulat Bagh, Tipu Sultan's summer palace was the resident of Tipu Sultan that was used during summer season. The palace was often referred as Abode of Happiness and Envy of Heaven. It is now converted into a museum with Tipu Sultan's memorabilia.
The palace is open every day between 8:30 AM and 5:30 PM.
There is an entrance fee of INR 20 for Indians and INR 300 for foreign nationals.
No videography is allowed inside the palace.
Ensure to not use flash while taking pictures in the palace as the flash harm the paintings.
Guide details
My guide Shivkumar at Tipu Sultan Palace was absolutely brilliant and knowledgeable. He not only gave information about the palace, he narrated and explained the entire history of Srirangapatna and Tipu Sultan. I highly recommend hiring him as your guide when you are in Tipu Sultan summer palace.
Name: Shivkumar.
Contact number: +91 93421 19261.
Cost: INR 350.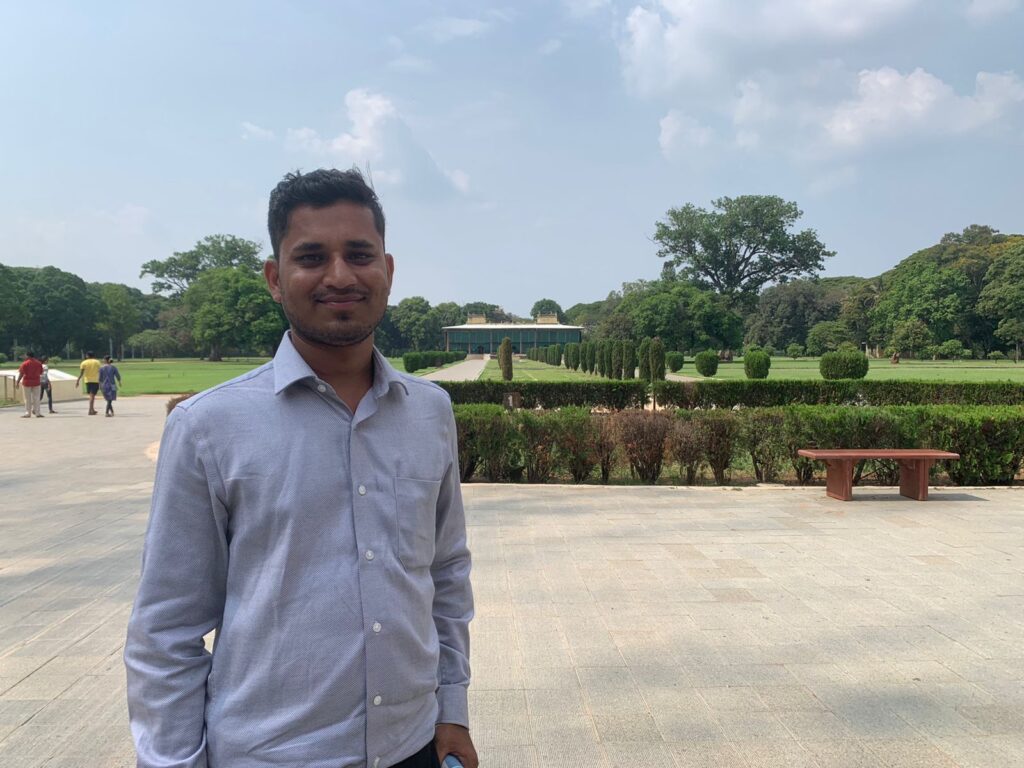 Sri Nimishambha temple
The other important temple in Srirangapatna is Sri Nimishambha temple. Located on the banks of River Cauvery, the temple is dedicated to Goddess Nimishambha, an incarnation of Goddess Parvathi. The locals believe that Goddess Nimishambha removes all the problems and troubles of her devotees within a minute. It is believed that the temple was constructed at the time of Mummadi Krishnaraja Wodeyar around 300 to 400 years ago.
The temple is open every day between 6:30 AM and 8:30 PM.
As this is a religious site, ensure to wear appropriate clothes.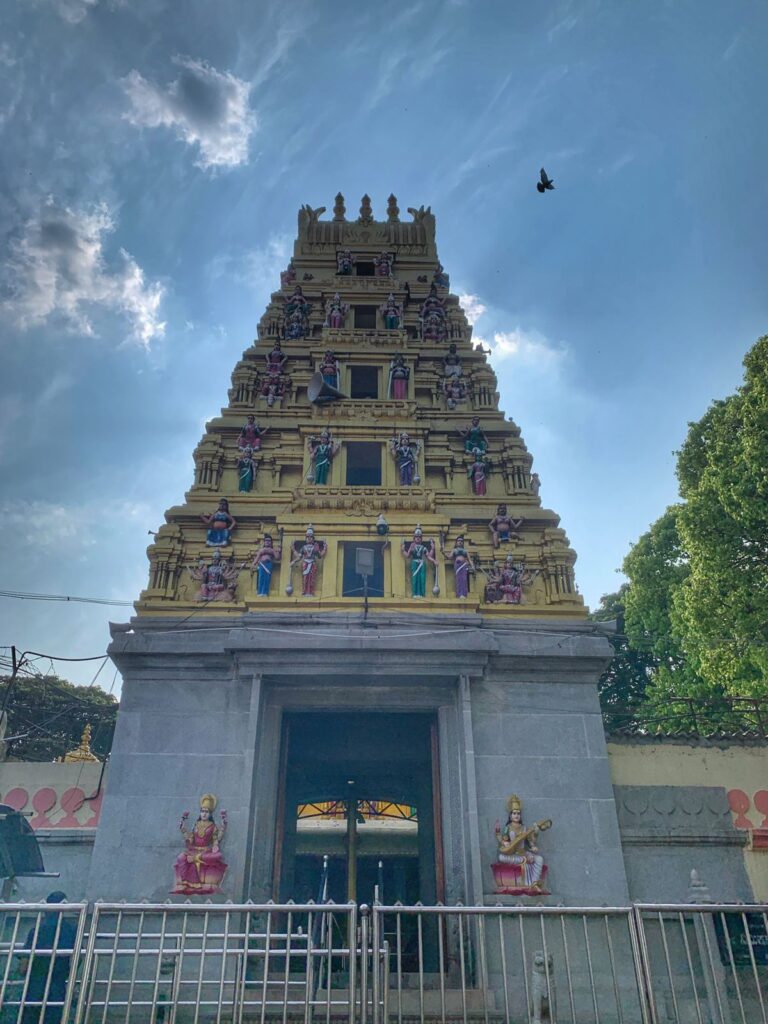 Gumbaz-e-Shahi and The Hajrat Tipu Sultan's tomb
Gumbaz-e-Shahi is a Muslim mausoleum that houses the graves of Tipu Sultan, his father Hyder Ali and his mother Fakhr-Un-Nisa. It was built by Tipu Sultan in 1782-84 to serve as a mausoleum for his father and mother.
Gumbaz-e-Shahi is open every day between 8 AM and 6:30 PM.
There is an entrance fee of INR 20 for Indians.
Ranganatittu bird sanctuary
Spreading over 40 acres of land and 6 islets on the banks of River Cauvery, Ranganatittu bird sanctuary is the largest bird sanctuary in Karnataka. In 2014, the sanctuary and the area around the sanctuary have been declared as an eco-sensitive zone.
The sanctuary is open every day between 8:30 AM and 5:30 PM.
There is an entrance fee of INR 50 for Indian nationals and INR 300 for foreign nationals.
Visitors can take a boat ride for extra cost to go see the birds up close. Note that the river has lots of crocodiles.
Safety for solo female travelers
Srirangapatna is very safe for solo female travelers. I traveled solo and I did not have any issues whatsoever. The people usually mind their own business and do not engage in any kind of conflict. However, be careful of the fake guides as they do try to extort money in exchange of very little information. I got duped many times, especially during my visit at Tipu Sultan fort and Gumbaz-e-Shahi. Also, be cautious at night and know your surroundings at all times.
Closing Notes
Srirangapatna is a lovely town that must surely be on your list when visiting Karnataka. It has so much of history and stories that are very fascinating and interesting. I highly recommend visiting Srirangapatna at least once.
Have you visited Srirangapatna? Let me know in the comments below.
How can you support me?
You know how much I love coffee, so you can buy me coffee – Buy me Coffee!

Or you can purchase from one of the below travel resources without any extra charge to you:
Travel Resources
Book your flight on Skyscanner.com
Reserve your accommodation on Stay22
Buy a comprehensive travel insurance on SafetyWing and WorldNomads
Book your tours and travels or purchase tickets on Viator or GetYourGuide
If you liked this article and if it was helpful in your planning or traveling, do share, tweet, or pin this post.

Follow me on Instagram | Facebook | YouTube | Twitter | LinkedIn
Do you have a question? Or want any suggestions, and tips for travels, hikes and scuba dives? Use the Subscription box below to sign-up and get updates by email.
PIN for later reference