Kathakali dance drama, Kerala's traditional and classical dance form
Did you know that India has diverse dance forms? Each state has its own dance form and each one of them are spectacular and unique. One such dance form that is the most beautiful Indian dance form is Kathakali. Kathakali dance drama represents the culture and traditions of Kerala state in India.
I always wanted to see the live performance of Kathakali dance which fortunately came true twice. The first time was during the pre-Kerala Travel Mart (KTM) tour in Kerala that happened earlier this year. Pre-KTM tour was a 7 days travel where a group of bloggers and vloggers were on a road trip visiting different places of Kerala, including Munnar and Kochi.
PIN for later reference
This article may contain affiliate links. For full information, please see our affiliate disclaimer here.
About Kathakali dance drama
With beautiful and loud make-up, costumes and face masks, Kathakali is a classical and traditional Kerala state's dance form. The Kathakali performance is a story play enacting art and stories that draws inspiration from the mythological stories of Ramayana, Mahabharata and from Shaiva traditions. The dance form has elaborate costumes, detailed gestures, and colourful make-up.
Did you know Kerala also has another dance form? It is called Theyyam and it is Kerala's ritual dance form.
Kathakali name is derived from Katha, which means story in Sanskrit and Kali, which means play in Malayalam. The dance illustrates the eternal fight between the good and evil.
History of Kathakali
Originated in the 17th century, Kathakali dance drama is believed to have existed around the same time as that of Shakespeare's. The origin dates back to the Natya Shastras, which is one of the oldest Sanskrit texts written by Bharata Muni.
Considered as the best performers of Kathakali, Kottarakkara Thampuran is the founder and father of Kathakali. Depicting the story of Ramayana, named as Ramanattam, Kottarakkara Thampuran was the pioneer of writing down the first dance drama. There is also a museum dedicated to Kottarakkara Thampuran, which is located at the birthplace of Kottarakkara Thampuran in Kollam district.
Kathakali dance form was taught in old boarding schools under strict supervision and mentorship of a teacher. It is believed that the training of the dance would happen for around 10 to 11 hours in a day and the dancers would place weights on their feet while learning the dance.
Elements of Kathakali
There are many elements that form part of a Kathakali dance drama. They include the plays, costumes, make-up, mudra (movements), and raga (music).
Plays called Attakatha
Kathakali's dance performances are structed around the stroy telling plays called Attakatha, which means enacted story. These stories traditionally were inspired from Hindu mythological stories such as Ramayana and Mahabharata. They were also taken from Bhagavata Purana.
In the previous centuries, Kathakali dance dramas would start from dusk to dawn making it really long. But now, they have been shortened and are only for a maximum of couple of hours.
Costumes and make-up
Kathakali has loud make-up and costumes. It consists of heavy painted faces, head dresses, face masks and elaborate clothing.
The make-up helps in the plays by showing clearly the archetypal characters such as the gods, goddesses, daemons and others. There are mainly seven types of make-ups used to portray the characters.
Pachcha (green)
Kathi (knife)
Pazhuppu (ripe)
Kari (black)
Thaadi (beard)
Minukku (radiant)
Teppu (red)
There are four kinds of costumes that determine the hero, villain, and females. They include:
Minukku for females
Sathwika for the hero
Kathi for the villain
Thatti
The costumes are complimented with ornaments and jewelleries like necklaces, bangles, and others.
Mudras
Kathakali dance drama has around 24 mudras (movements) and many are done with facial, eye and hand movements. There are 9 facial expressions called Navarasas, and they express love, anger, sadness, sarcasm, brave, fear, disgust, curious and silence.
Music and ragas
Sung by trained singers and vocalists, the music is in synchronous with the dance and story telling. The musical instruments used in the ragas and music are:
Maddalam which is the barrel shaped instrument
Chenda which is cylindrical drum played with curved sticks
Idakka which is the hour glass shaped drum
Where to see Kathakali in Kerala?
Unlike Karnataka's dance form Yakshagana, Kathakali is performed regularly and is open for public to go watch in many parts of Kerala. The performances have been reduced to an hour or two, so people get a glimpse of what the dance form involves. I have watched the dance form in two cities, Munnar and Kochi.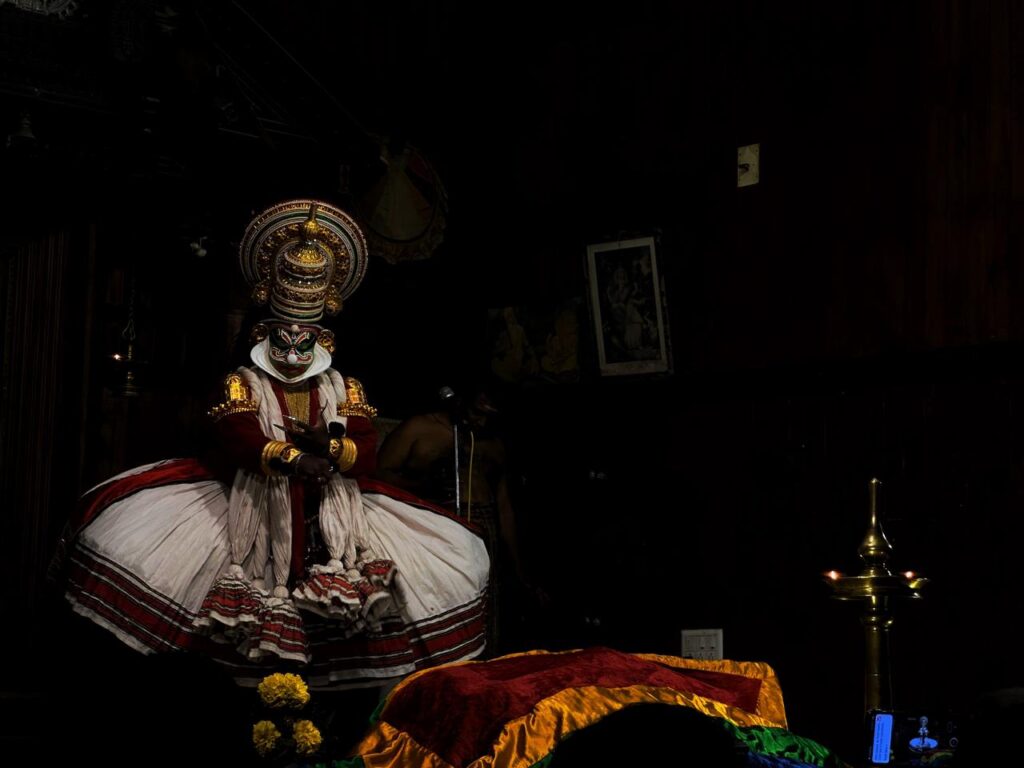 Kathakali in Kochi
Established in 1990, Kerala Kathakali Centre in Fort Kochi is the place to see the Kathakali performances along with behind the scenes make-up and preparations. This centre promotes both the Kathakali dance drama and Kalaripayattu martial arts.
The main Kathakali performance is for one hour and in that one hour, the first half an hour is the demonstration of what is involved in Kathakali and the second half an hour is the illustration of a scene from a Hindu mythological story.
Timings: 5 PM to 6 PM is the make-up and 6 PM to 7 PM is the performance.
Cost for the show: INR 1000 per person.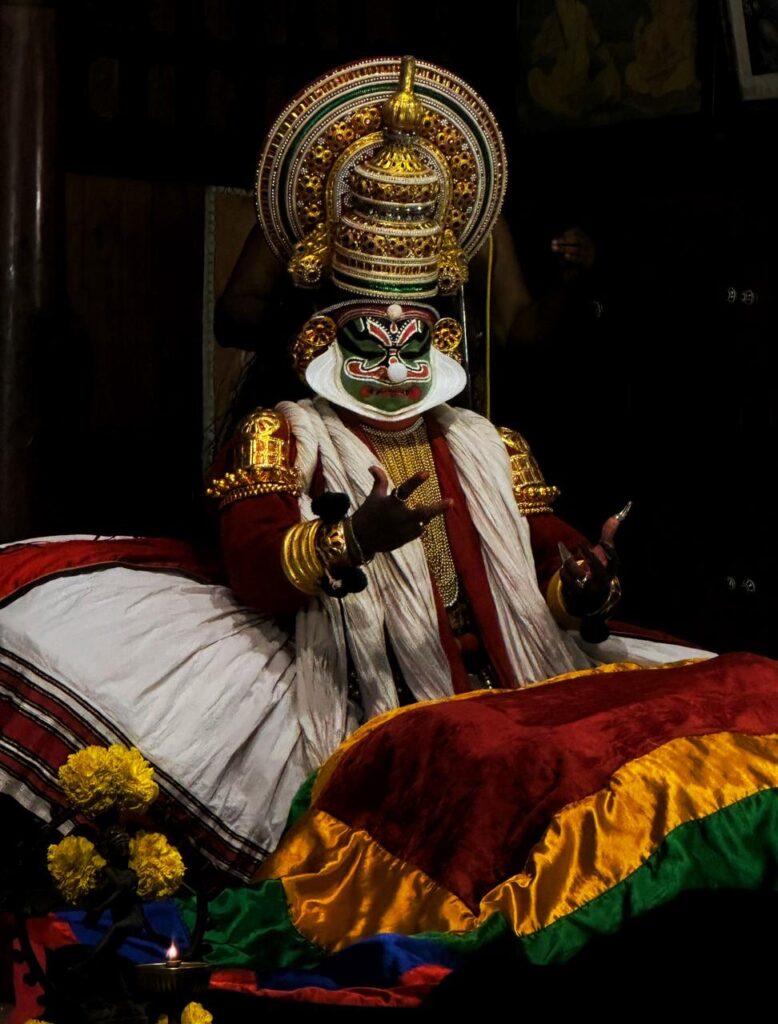 Kathakali in Munnar
Munnar has many places where one can see Kathakali dance drama and performances. But I watched the performances at Punarjani traditional village, that is around 7 kilometres from Munnar city centre. It is a small and traditional performing art theatre that has shows of Kathakali, Theyyam, Bharatnatyam and Kalaripayattu martial art.
Timings: Starts from 5 PM every day.
Cost for the show: Platinum – INR 500, Gold – INR 400 and Silver – INR 300.
Closing Notes
Kathakali is a very interesting art form and the stories that they portray are the stories that we have heard in our childhood. I highly recommend seeing the act at least once when you get a chance.
Have you seen Kathakali before? Where and how was it? Let me know in the comments section below.
How can you support me?
You know how much I love coffee, so you can buy me coffee – Buy me Coffee!
Or you can purchase from one of the below travel resources without any extra charge to you.

Travel Resources
Click to book your flight on Skyscanner.com
Click to book your accommodation on Stay22
Click to book a comprehensive travel insurance on Safety Wing
Click to book your tours and travels on Viator or GetYourGuide
If you liked this article and if it was helpful in your planning or traveling, do share, tweet, or pin this post.

Follow me on Instagram | Facebook | YouTube | Twitter | LinkedIn
Do you have a question? Or want any suggestions, and tips for travels, hikes and scuba dives? Use the Subscription box below to sign-up and get updates by email.
PIN for later reference