Theyyam, Kerala's ritual dance form
When we think of a dance form of Kerala, we always think of Kathakali and not Theyyam. But did you know that Theyyam has a long history in Kerala and is one of the ritual dance forms? It is as vibrant as Kathakali and has many stories to tell. It consists of thousand year old traditions that have been passed on through generations. And the dancers perform with beautiful costumes and folk music. I had an opportunity to watch this dance form live when I was on a Pre-Mart tour 2022, in collaboration with Kerala Travel Mart and Kerala Tourism.
PIN for later reference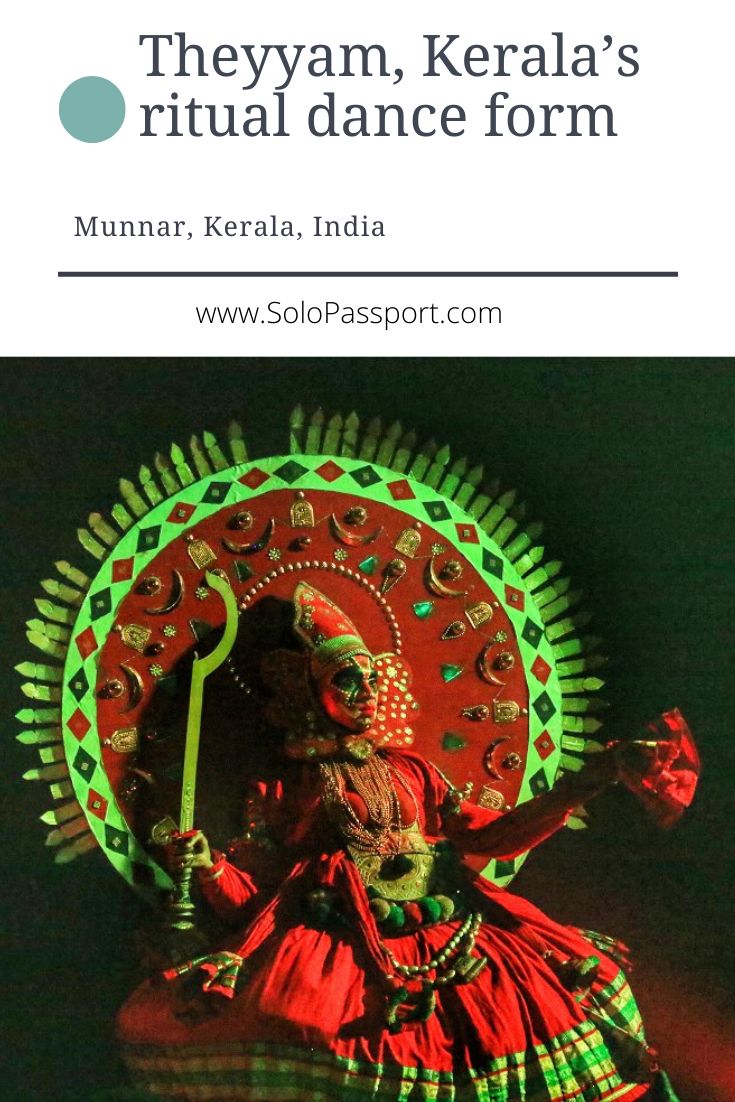 This article may contain affiliate links. For full information, please see our affiliate disclaimer here.
Disclaimers:
The prices mentioned in the post are valid only at the time of publication. Ensure to check the booking websites for up to date information and prices.
Opinions and views expressed solely mine and are unbiased. If the post is a collaboration, then they are specifically mentioned.
Ensure to check the relevant websites for up to date information on COVID protocols.
For any adventurous activities, please note that there is a risk that can be dangerous. Ensure to read the terms and conditions with individual agencies recommended and do them at your own risk.
For visas, it is best to see the embassy website for any changing rules.
About Theyyam
Also known as Teyyam, Theyam and Theyyattam, Theyyam is Kerala's ritual dance form that consists of thousands of years of traditions, customs and rituals. The locals of Kerala consider Theyyam as a channel to god and seek blessings from Theyyam. Theyyam means God in Malayalam.
Also read | Yakshagana, Karnataka's dance form.
The performance of Theyyam consists of dance, cultural drama and expression, vocal recitations, peculiar makeup, costumes and music, and is generally performed in front of a village shrine. These performances last for 12 to 24 hours with intervals.
The dancers perform the ancient tribal beliefs worshipping the heroes and spirits of the ancestors. Dances are accompanied with folk music played using the folk musical instruments. Traditional dance performers wear exotic dresses with face paintings and perform ritualistic dances in an open theatre.
History of Theyyam
Theyyam has been referenced in many old literatures and historical documents such as Keralolpathi and Sangam. It is believed that Parashurama, the sixth incarnation of Lord Vishnu granted the land of Kerala some of the festivals such as Kaliyattam, Puravela, Daivattam and Theyyattam. Theyyam originated from Kaliyattam which lasts for 3 to 11 days and the indigenous tribal people were given the responsibility of performing the Theyyam dance form.
The Sangam literature talks about Velan, one of the Theyyam dancers, who was employed by the mothers of love rejected girls to drive out the malignant spirits from their daughters. There are also evidences that prove that Theyyam may have originated during the earliest period of Neolithic, Chalcolithic settlement and expression.
Types of Theyyam
In Kerala, there are more than 400 types of Theyyam. All of the types are performed by males except the Devakoothu Theyyam, which is performed by women. The Devakoothu Theyyam is performed only at Thekkumbad Kulom temple that is located in Kannur region of Kerala.
Out of 400 Theyyams, among 112 are the most famous ones and are performed even today at various shrines and festivals. Some of the famous types are:
Vishnumoorthi – The most popular is the Vishnumoorthi Theyyam and it narrates the story of Hiranyakashipu's death by Lord Narasimha, who was one of the Lord Vishnu's avatars.
Muthappan – The Muthappan Theyyam consists of two divine figures, Thiruvappana Muttapan (Vishnu) and Vellatom Muttapan (Shiva).
Padikutti Amma – The Padikutti Amma Theyyam narrates the story of Padikutti Amma, the mother of Muthappan.
Gulikan – The Gulikan Theyyam represents Yama, the Hindu God for death.
Padamadakki Bhagavathy – The Padamadakki Bhagavathy Theyyam tells the story of the goddess who helped Nileswarr Raja against an invading army from Karnataka. Upon seeing Padamadakki Bhagavathy, the attacking army fainted and hence the war was averted.
Kathivanur Veeran – The Kathivanur Veeran Theyyam narrates the story of a warrior Mandhappan.
Manakkott Amma – The Manakkott Amma Theyyam narrates a story of Manakkott, who was killed by the head of the family as she broke one of the caste rules. At that time, she was pregnant and her murder caused a lot of problems for the family later destroying it completely. Manakkott later emerged as a goddess.
Kuttichattan – The Kuttichattan Theyyam is associated with a deity from the Brahmin family Kalakattu illam. There are many myths and stories associated with Kuttichattan.
Chamundi – The Chamundi Theyyam narrates the stories of Chamundi slaying daemons. Chamundi is the form of Goddess Kali or Durga. The Chamundi form representing Kali is immersed in colour of blood and is also known as Rakta Chamundi or Rakteshwari.
Where to see Theyyam in Munnar?
Theyyam is usually performed in North Kerala, especially in Kannur and Kasargod districts. But some of the traditional and cultural performances in the other parts of Kerala also include Theyyam performances and I was fortunate to see a live performance in Munnar.
The best place to see Theyyam performance is at Punarjani traditional village in Munnar, around 7 kilometres from the town. There is a daily show at 5 PM where visitors can enjoy the fusion of Kathakali, Bharatanatyam and Theyyam. The ticket prices vary based on the classes such as Platinum, Gold and Silver and they usually range between INR 500 and INR 300 per person. You can purchase tickets at the entrance of the theatre.
How to get to Munnar?
Munnar is a hill station in Idukki district of Kerala. At an altitude of 1600 metres, Munnar is a town in the Western Ghats mountain range of India. The town is called the Kashmir of South India and is a popular destination.
Airport – Munnar does not have an airport of its own and the closest airport is the Kochi International airport. The Kochi international airport is around 110 kilometres from Munnar and the best way to travel is by hiring a taxi.
Bus – There are many buses that operate between Kochi and Munnar. These buses are government and private operated buses. For routes and availability, check Redbus website.
Drive – The distance between Kochi and Munnar is around 130 kilometres and the journey by road takes about 3 hours 30 minutes. The roads are very picturesque surrounded by tea estates but are windy.
Closing Notes
Theyyam is surely one of the most amazing dance forms of India and I highly suggest seeing it as a live performance at least once. It is absolutely beautiful and is totally worth spending time watching it. If you are a dance or an art form lover, then the Theyyam performances are surely for you. Have you watched Theyyam? Let me know how you found it in the comments below.
I was hosted by Kerala Travel Mart 2022 and partnering hotels and resorts as a media invitee. I did this activity or stayed at the resort as part of their Pre-Mart tour and I thank them for the hospitality. However, all the opinions mentioned in the post are solely mine and unbiased. The information mentioned is based on the inputs provided from various sources and on my personal experience.
How can you support me?
You know how much I love coffee, so you can buy me coffee – Buy me Coffee!
Or you can purchase from one of the below travel resources without any extra charge to you.

Travel Resources
Click to book your flight on Skyscanner.com
Click to book your accommodation on Stay22
Click to book a comprehensive travel insurance on Safety Wing
Click to book your tours and travels on Viator or GetYourGuide
If you liked this article and if it was helpful in your planning or traveling, do share, tweet, or pin this post.

Follow me on Instagram | Facebook | YouTube | Twitter | LinkedIn
Do you have a question? Or want any suggestions, and tips for travels, hikes and scuba dives? Use the Subscription box below to sign-up and get updates by email.
PIN for later reference